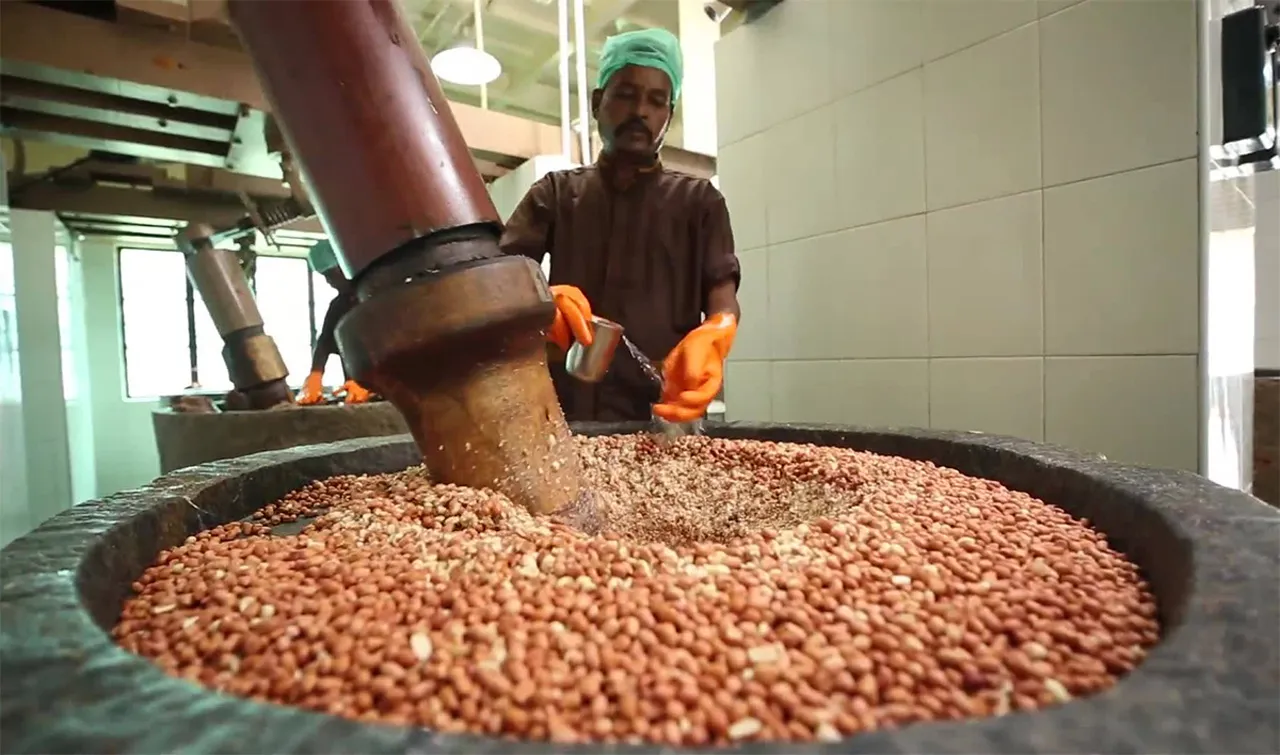 When Trichy-based Sibi Manivannan wanted to purchase oils in bulk for his restaurant business in 2015, he was shocked and disappointed with the heavy usage of chemical solvents and adulterations in them. "These refined oils are bland, colourless and flavourless. When you buy groundnut oil, you will find that almost 80 percent of it is actually cotton seed oil or rice bran oil," he says.
In contrast, the oils used about two generations back, produced at local stone mills, were minimally processed, preservative-free and flavourful.
To bring grandma's cold-pressed oils back to Indian kitchens, Sibi joined hands with his college friends Mohamed Yaseen, an engineer who went on to study design, and Naveen Rajamaran, a software developer and set up Gramiyaa in 2019.
Today, Gramiyaa produces 30,000 litres of cold pressed oils per month using the traditional stone mills inside its modern facility in Trichy. It has sold around 7 lakh litres of oil to over 30,000 families to date.
The startup has also provided employment to several traditional oil makers and their families who were forced to quit their inter-generational profession due to the dwindling demand for cold-pressed oils.
From the start
Sibi's grandfather was involved in making traditional oil (chekku oil) in the 1960-70s and supplied them to nearby villages. Traditionally, seeds of peanut, coconut, sunflower or other raw materials were ground into a paste which was pressed with a heavy stone mill until it expelled the oil. This first-pressed oil, obtained without any heat, was packed with nutrients and sold unrefined without additives. 
Also Read: From a daily wager to a food entrepreneur, how Assam's Diganta Das set up a successful business
Although Sibi's father moved to automobile manufacturing, he was always passionate about reviving the business. The family was still making these oils for friends and acquaintances when Sibi discovered the dark side of the commercial industry. That's when he decided to restart the family's oil business.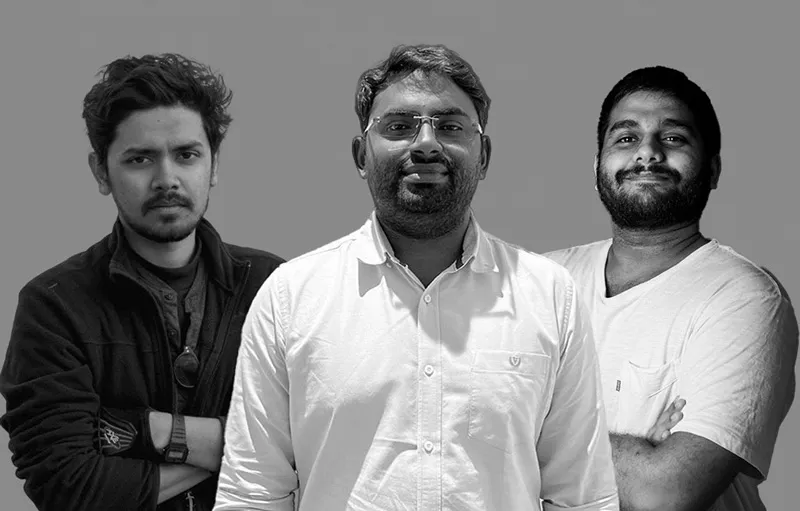 Gramiyaa began operations in 2017 as an unbranded small-scale company that sold cold-pressed zero trans fat oils in offline stores in Chennai and Trichy. "The response we received was tremendous, and we started getting enquiries from all over the world. We bootstrapped this venture and built a factory in 2019 to produce large quantities of oils," says Sibi.
Also Read: Tage Rita: Arunachal woman entrepreneur making India's first organic kiwi wine Naara Aaba
Modernising traditional oil-making 
Automation was essential to commercialise a handmade product like chekku oil as it could bring speed and hygiene. An engineer and MBA graduate, Sibi developed an automated oil-making machine through trial and error. 
It took two years to research and finalise the manufacturing process. The stones required for oil extraction were sourced from quarries after receiving approval from the central and state governments.
While attending the Gulfood exhibition in Dubai in 2018, Sibi met a manufacturer from the US who specialised in packaging materials for juice, dairy boxes and cleaning solutions. The cartons he got as samples to store Gramiyaa's oils, unfortunately, failed as the paper packaging absorbed the oils.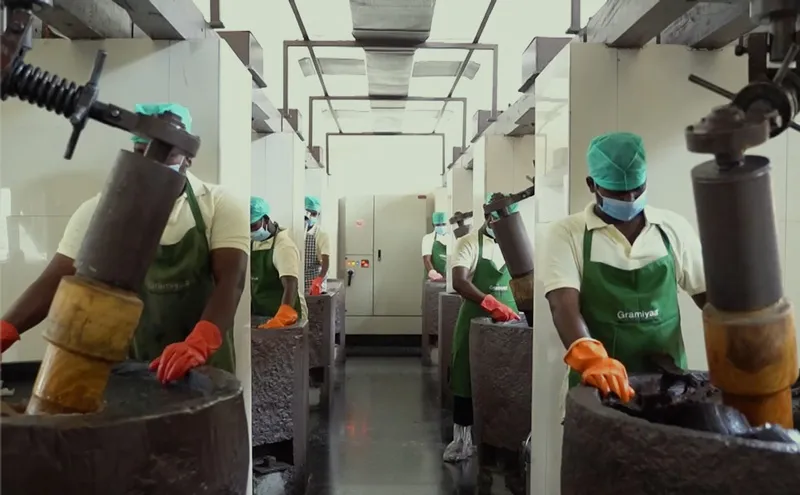 Later, Sibi sourced his materials from a paper manufacturer in Germany who worked on the design for two months to make it eco-friendly and durable. These tabletop packing machines were then supplied from the US. 
"If you give our oil containers to a local recycling unit after use, they would separate the outer paper packaging and the inner aluminium which can be reused. Only the cap is plastic," Sibi notes. 
The founders realised that there was a huge demand for chekku oils but the product had to be standardized before reaching out to a larger market. So they decided to work on their products' consistency. "With minimally processed foods like ours, it is very difficult to maintain consistency as we do not do a lot of heating, post-processing or add preservatives. We had to ensure that every tasted the same," says Yaseen, one of the co-founders of Gramiyaa.
Also Read: How a daily wage earner set up Rs 250-crore breakfast company ID Foods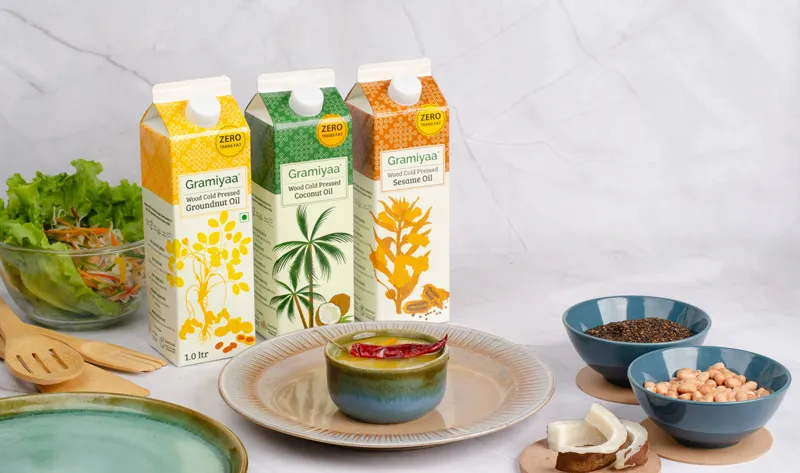 The Gramiyaa team chose Trichy to start their business as the city is a hotbed of agriculture and fresh raw materials like sesame, groundnut and coconut can be procured easily. The hot and dry climate makes it easier to sun-dry the seeds before oil extraction. The seeds are sourced from farmers with whom Gramiyaa has tie-ups.
The process of making cold-pressed oils
Sibi explains that there are two methods to produce refined oils: expeller and solvent extraction. In the expeller method, the seeds are roasted and run in high-speed machines to crush them. When the oil comes out, it will have a minimum of 120 degrees temperature where all the health benefits are drained due to the high heat. Solvent extractions, on the other hand, involve adding chemical solvents to separate the fats from the seeds.
"In cold-pressed oils, the oil is pressed and collected using a stone collector and wooden pestle. Similar to the old-fashioned ox-driven mills, the pestle rotates at a very slow speed of 19-20 rotations per minute. This keeps the overall temperature below 50 degrees, which preserves the food's essential nutrients, aroma, density and flavour," Yaseen says. 
Since this process has been automated, one person can crush 20 kg of seeds in 45 minutes in one chekku.
Once the oil is extracted, it passes through a filter press to remove any residues. The pure oil is then stored in a tank, packaged and distributed. The oils have a shelf life of one year, except for coconut oils which can be stored for six months.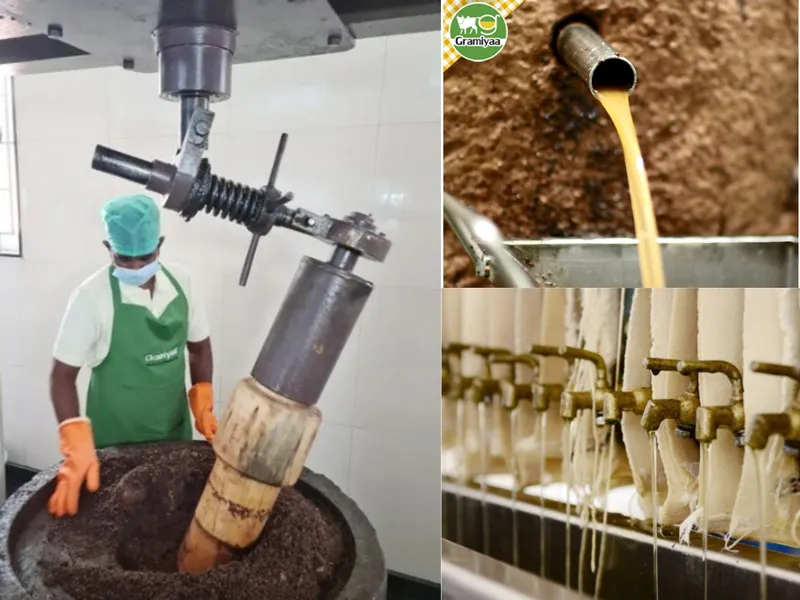 The oil cakes which remain as a byproduct are made into fine pellets and supplied to dairy farms all over Tamil Nadu, where they are used as cattle and poultry feed. The cakes are also crushed and given as fertilizer to organic farmers. 
Currently, Gramiyaa's best seller is their cold-pressed groundnut oil, which is sold for Rs410 per litre. Their coconut and sesame oils are priced at Rs440 and Rs620 respectively. They also sell A2 ghee made from Kangayam cows' milk for Rs 990 per 500 ml. Kangayam is an indigenous breed of draught cattle from Tamil Nadu.
Also Read: Triguni Eze Eats: How 79-year-old Radha Daga's ready-to-eat meals travelled the world with Indigo airline
Both Sibi and Yaseen agree that their products are priced higher than the regular oils available in the market. 
"In the expeller method, if one kg of raw materials is added, 500 ml of oil can be extracted whereas with the same amount of raw materials, we can only get 300 ml of oil in the traditional method. That is why these oils are priced slightly higher," Sibi says.      
Although their cold-pressed oils are a healthier option than commercially-made store-bought oils, the founders suggest mixing and alternating between the oils and consuming them in moderation.
Bringing back traditional oil extractors
When the wave of commercially branded oils hit the markets in the late 1990s and early 2000s, traditional oil makers lost their jobs and moved to other businesses or low-skill jobs. Gramiyaa takes pride in bringing back around 30 of these traditional oil makers on board from Trichy and surrounding areas. The knowledge of the process and practices helped in their product development.
Speaking about the challenges while working on this, Sibi says, "Initially, they were not ready to come back to the business, so we roped them in on a commission basis. When they saw the demand and money in the industry, they started working with us on a full-time basis," he says. 
"Now, the next generation of traditional oil makers is getting trained in this industry again. Some of the extractors' families earn close to one lakh per month."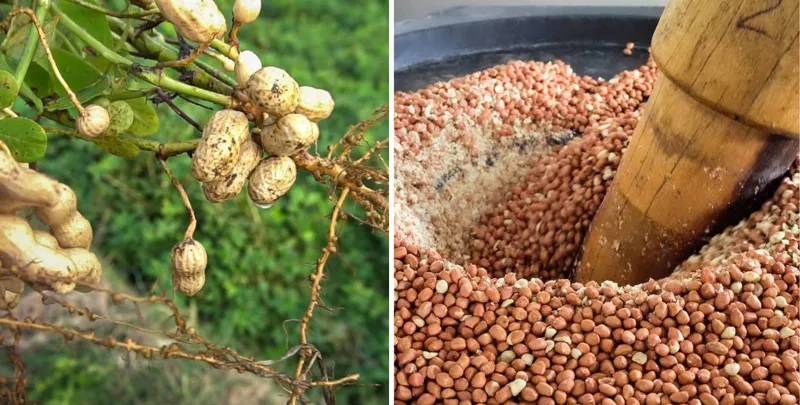 "It was very rewarding and fulfilling for us to bring these people to do a job that they are trained in which also benefitted them as they were able to work and get paid well from their hometowns," says Yaseen adding that their knowledge and inputs helped immensely in clearing initial hiccups in processing of the products.
Gramiyaa's highway to success 
Gramiyaa's revenues received a boost when they opened micro warehouses in five metros - Chennai, Bengaluru, Hyderabad, Mumbai, and Delhi. "Usually, brands have one warehouse and deliver their products with the help of popular delivery partners. Through micro warehouses, we were able to ensure next-day delivery with local delivery companies. We have also launched our products in Delhi," says Yaseen. 
This led to more customers buying their product while lowering their delivery costs. Once their products received International Organization for Standardization (ISO) 22000, and US Food and Drug Administration (FDA) approval in 2020, it slingshot the brand to greater visibility and revenue, especially in south Indian population-dominated regions of the US including New Jersey, and Lulu markets in the Middle East.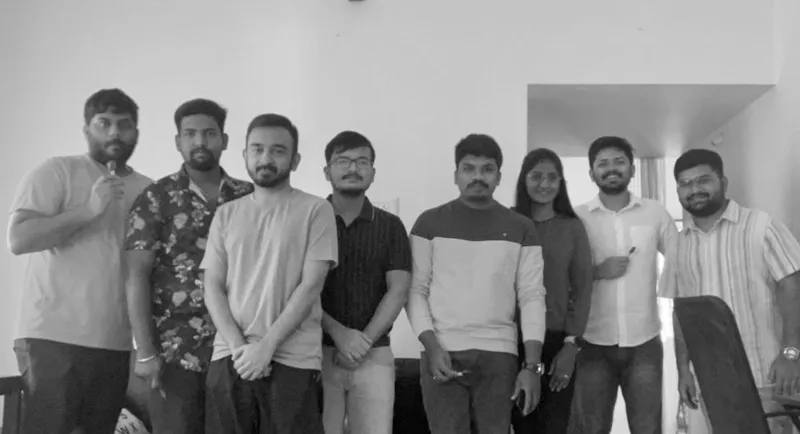 "We are pushing our reach in other states such as Texas, California, and other mid-west regions. Half of our revenue comes from exports," says Yaseen.
"We send 25,000 litres to the US every month. On average we earn Rs50 lakh per month through exports and around the same amount from domestic sales," says Yaseen.
"We are looking at expanding our market to the NRIs in Canada, the UK, the Middle East, Singapore and Malaysia."
Sibi shares that the company has been growing 25 percent year-on-year. Gramiyaa posted revenues of Rs 8 crore in FY23 and is hoping to cross Rs 12 crore in FY24. 
"Our buyer profile consists of 80 percent of middle-aged consumers who are health conscious. In the last one year, star hotels and Ayurveda hospital canteens have also approached us. Adyar Ananda Bhavan chain has also asked for 100 litres per outlet," says Sibi.
Gramiyaa's products are currently sold on several e-commerce websites such as Amazon, Jio Mart, Flipkart and Big Basket, but their focus, since they began, was to scale up sales on their website. Currently, two-thirds of their revenue comes from their site. Dunzo has been their key delivery partner. Their e-commerce journey, during the COVID-19 pandemic, helped cater to older customers who usually buy at offline stores. "We are also experimenting with placing our products in offline retail stores like Amma Naana Supermarket in Chennai and a few stores in Bengaluru," says Sibi.
While their manufacturing plant is in Trichy, their operations, customer support and marketing team work from Bengaluru. For the past few months, the founders are working on raising their first round of institutional funding in order to make their product portfolio wider. 
With their success in the southern part of India, Gramiyaa hopes to venture into the North and Northeast regions of the country with the production of mustard oil which is to be launched next month. "We also want to produce secondary oils from neem, flax seed and moringa. We have also applied to the third season of Shark Tank India show," says Sibi enthusiastically.
(Narayani M is a Chennai-based writer specialising in longform writing and human interest stories.)
Also Read: From Rs 3 per day to Rs 842 crore dairy business, how this Bengal man scripted a success story