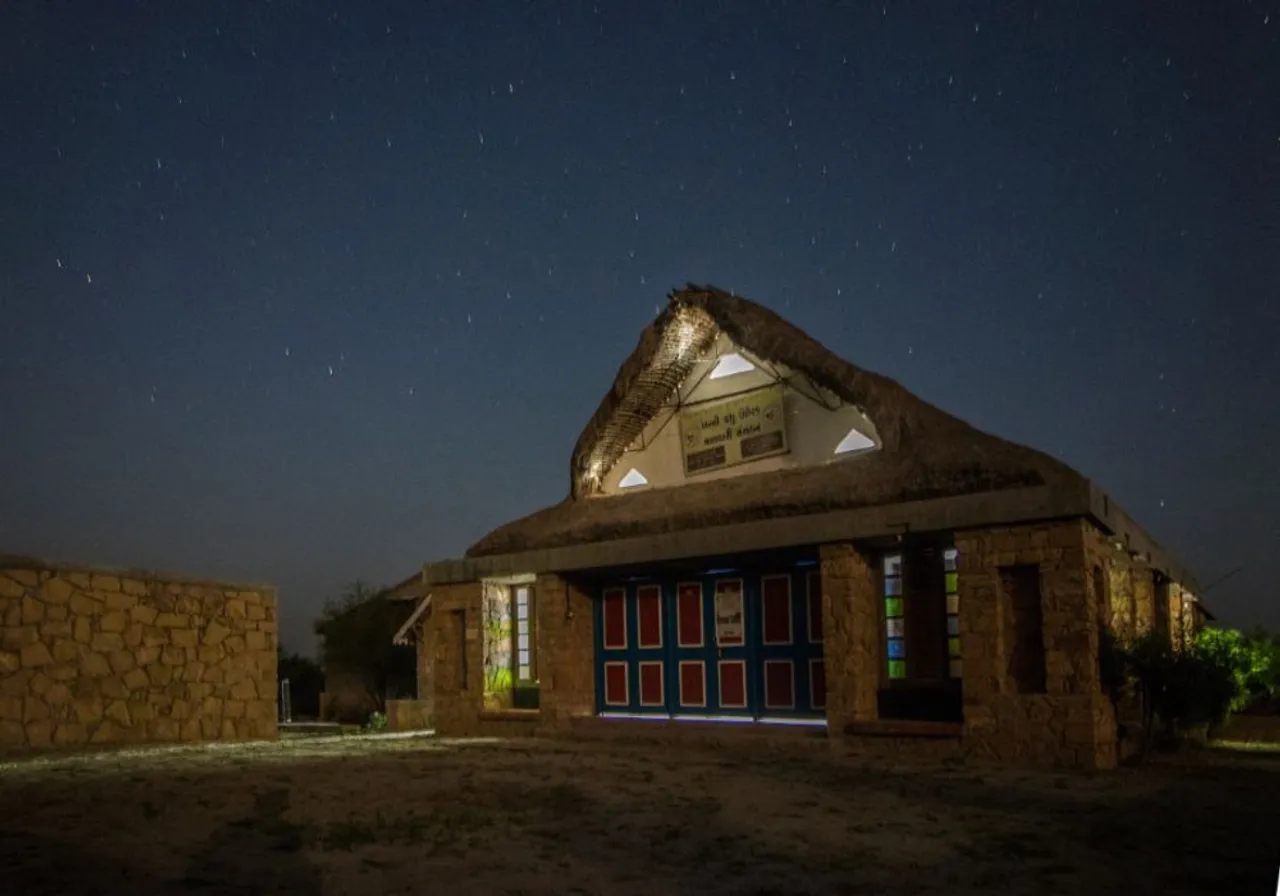 The devastating 2001 earthquake in the Kutch district of Gujarat caused widespread devastation, killing over 13,000 people, injuring another 1,67,000 and destroying almost 30,000 buildings.
The silver lining in the massive reconstruction effort after the Bhuj earthquake was perhaps the emergence of knowledgeable artisans who were skilled in the traditional building techniques once prevalent across India.
Rakesh Vesta was one such skilled earth artisan from Madhya Pradesh. Though well-versed in traditional building techniques from the age of 15, he worked as a labourer, sold tea, laid sewer pipes in Ahmedabad and worked on road-building projects.
Rakesh along with some other tribals reached Bhuj after the quake to work on the massive rebuilding effort underway in the area. Many organisations were working in Bhuj at the time. One of them was Hunnarshala Foundation which was working on a project to build rammed earth buildings. Rakesh joined the project.
Sandeep Virmani, an architect and director of Hunnarshala Foundation, recalls that when the soil was brought for the project, Rakesh said it was saline and not of good quality.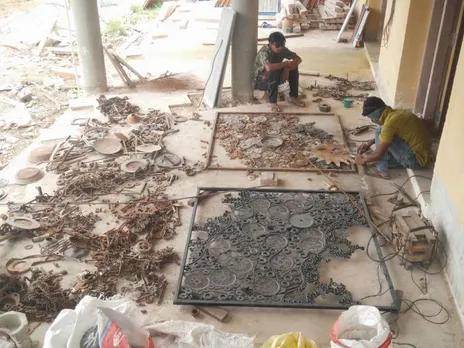 "On testing, the soil was found to be saline and it would have eroded the wall over time. Given Rakesh's experience, he was made the quality supervisor for the project and helped build 600 homes with his team," recalls Virmani.
Also Read: Nalukettu: Kerala's eco-friendly traditional homes
Tapping the strength of the community
Bhuj-based Hunnarshala was formed after the 2001 earthquake in Kutch. Prior to that in 1998, when a cyclone ravaged parts of Gujarat, a collective of NGOs called Kutch Nav Nirman Abhiyan was formed to aid reconstruction and rehabilitation efforts. Post the 2001 earthquake, the Abhiyan formed a Building & Innovation Cell to aid the reconstruction activity. This cell went on to become Hunnarshala in 2003.
Hunnarshala is a collective of professionals, artisans and craftsmen. They work with masons, carpenters and people in the building trade and also provide vocational training, skill development and research on traditional systems of knowledge. They consistently work with communities with the idea of inclusive development and resilience against climate change. 
Virmani says they organise communities and artisans in normal times and also after disasters to work for their own housing. "We get them together to reflect on their situation and understand the meaning behind traditional practices.
"The aspiration is to live in a cement house but in a disaster, the traditional techniques work better than cement and steel," says Virmani.
The master artisans play an important role as they do construction for the community and they know why things are done in a particular way, he adds.
Also Read: How one family has taken India's 1,000-year-old temple architecture to the world
Over the past 10 years, Hunnarshala has done housing studies to recommend designs to five state governments. Communities everywhere come together to help one another in construction. "In Kutch where I come from, this practice is called Abhat. They make homes, wells, clear fields, and do anything where the trust and faith of a group, the social capital, can be used for mutual benefit."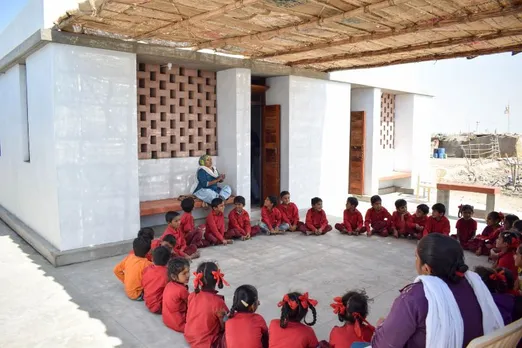 Virmani says Hunnarshala has taken the traditional techniques and upgraded them. 
"We do tests to see how to improve the traditional technique and make it suitable for contemporary living situations."
He says the construction industry is exploitative and has a large carbon footprint. "To set this system right is difficult. We are working with the state government to have guidelines about the use of earth, mud block, bamboo and such materials in the schedule of materials used in construction. Once these are approved, we can talk to developers," he says.
Hunnarshala's teams of experts are also working on pushing earth construction techniques with banks which give credit to developers.
Skilling artisans, creating entrepreneurs
At Hunnarshala, Rakesh and his team were trained in standardising technical parameters for stabilised earth blocks, rammed earth, adobe (mud brick) and the wattle and daub construction technique in which vertical wood is woven with horizontal twigs and then daubed with clay or mud.
Rakesh and his team also learnt accounting and finance, rate analysis and how to give quotes for projects and read drawings. 
Virmani asked Rakesh if he would form a company which would give him negotiating power and respect in the market. He agreed and today, Rakesh's company has a turnover of Rs 20 lakhs and he provides intermittent employment to 100 others in his village.
In 2012, Rakesh was part of a team of over 100 artisans from India who used their expertise in adobe to restore two 17th-century mud forts in Abu Dhabi. 
This helped Al Ain and its buildings win the UNESCO World Heritage Site status.
Rakesh has also helped in the rebuilding effort in Aceh, Indonesia, after the 2005 tsunami. Indian artisans trained local artisans to work with these traditional technologies for rebuilding.
Also Read: Malak Singh Gill: This architect creates sustainable & sturdy homes without using cement or steel
Creating Karigars, restoring respect
Hunnarshala has helped scores of such artisans across the country to upskill and use their traditional knowledge of building techniques. Some of the trained artisans have formed their own companies while others are working with architects and firms promoting sustainable architecture.
To institutionalise the process of continuous learning, revelation and application in different contexts, Hunnarshala was registered in 2003 as an organisation under section 25 of the Companies Act.
To train the artisans, Hunnarshala set up Karigarshala in 2011. The residential school has trained over 500 children to regain their lost traditional skills. Many have set up their own ventures in carpentry and walling systems.
Atul Vyas, who heads Karigarshala says the main aim behind the school is to give back the respect that is due to an artisan. "We want them to be capable to earn but more importantly, enjoy their job and get the respect as a creative artist, an artisan, which they once had," he says.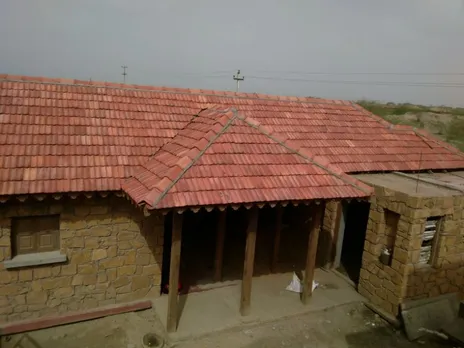 Children of artisans as well as those who have dropped out of the formal schooling system are taught carpentry, walling systems, masonry, basic math, accounting and engineering drawing, material science, and life sciences. 
The three-semester course is spread over 18 months and the students are taught free of cost. 
"We thought it was better to train the students in some skills which would provide them a decent job rather than working as a daily wager," he says.
Vyas says about 60 percent of the students have started their own ventures or workshops while others have found work with senior artisans in cities like Surat, Ahmedabad, Indore Delhi, Mumbai, Bengaluru and even abroad.
Virmani says the school helps build the confidence and dignity of artisans. "Initially they didn't know how to calculate and quote rates for construction nor could they read the drawings. But after training, they feel empowered as they are able to understand the process and negotiate better," he says. 
Also See: In pictures: Morena's Chausath Yogini temple that inspired the Indian Parliament's design
Reviving traditional techniques
Hunnarshala, and the artisans it has nurtured, have revived several traditional building techniques in practice in different parts of India.
"We have come across several building techniques in our villages that have potential for use in urban and rural spaces," says Virmani.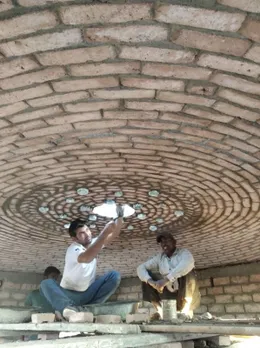 For instance, in Uttar Pradesh, the Hunnarshala team learnt about shallow masonry domes from master mason Nawab. "These domes are shallow enough to flatten the top and make another story above. The technique enables a load-bearing building to use 70 percent less steel, has a longer life span than RCC (reinforced cement concrete) and is 25 percent cheaper," says Virmani.
The 500-year-old tradition of building cloisters or shallow domes, on any shape of the room, was earlier also practised in southern India but not anymore.
Now Nawab is working with an MIT professor to standardise the technology. Nawab also helped the Hunnarshala team build houses for a slum rehabilitation programme in Bhuj using this technique.
After the 2001 Kutch earthquake, most concrete buildings collapsed but the circular homes of pastoral communities, called Bhunga, survived.
The Meghwal community artisans who built the Bhungas explained that the circular form can withstand horizontal thrusts of an earthquake as the forces transfer through a circular form like in an arch.
"We built around 1200 Bhungas with stabilised earth with the Meghwals," he says. 
Another way to stabilise a wall under the tension of lateral thrusts in a quake is by confining the masonry in between wooden frames, says Virmani. 
This technique is used in Uttarakhand and Himachal which are also prone to earthquakes. The technique locally known as Kathkuni uses alternate layers of wood and stone masonry that are held in place without using mortar.
Hunnarshala has built 200 homes for Buddhist nuns along the border of China in Nepal using the Kathkuni technique from Uttarakhand. 
In the Tangdhar Valley of Kashmir after the 2005 earthquake, the only buildings that stood were those that did not anchor their foundations into the ground. 
The locals detach the foundation from the superstructure by placing a wooden frame over it. 
This technique, called the floating foundation, allows the forces of the quake to dissipate at the foundation thereby restricting them from entering the superstructure. 
The Hunnarshala team helped the local community use this floating foundation technique to build 7000 interim shelters.
Also Read: Mumbai's David Sassoon Library: A Baghdadi Jew's contribution to the Maximum City's architecture & reading culture
Promoting tradition for modern construction
 Hunnarshala Foundation offers its knowledge and skills for building designs, settlement planning, social housing, disaster reconstruction, wastewater treatment systems, and infrastructure development. 
It has worked in several other places hit by natural disasters, for instance in Bihar after floods, in Nepal after an earthquake in 2015 and in Bam, Iran, after an earthquake in 2003.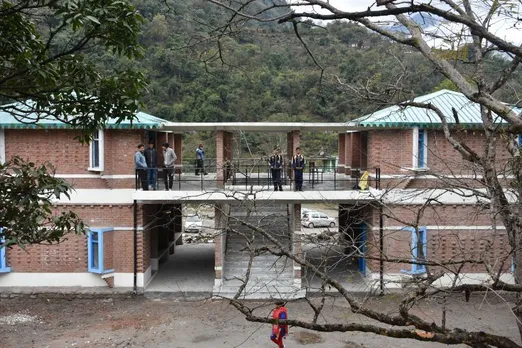 Hunnarshala has also undertaken educational and institutional projects using its expertise. Its teams have built a school in Baram village in Uttarakhand.
It has also built a school in Jodhpur, Rajasthan using traditional techniques as well as a school for the children of the pastoralists who roam the grasslands and salt workers and fisher folk who live in the Kutch salt pans for a major part of the year. The schools, like their homes, are made of temporary make-shift materials like gunny bags, tents and plastic sheets. 
Also Read: Assam's Rang Ghar: Asia's oldest amphitheatre
Hunnarshala Foundation along with other organisations is working on the Indira Awas Yojana, a rural social housing programme of the central government and is also involved in RAY, an urban slum redevelopment scheme of the central government.
Through its Aina workshops, it has documented the traditional building techniques, thus preserving them for posterity.
Virmani says the traditional techniques are increasingly being used in cities as they have a minimal carbon footprint. 
"This makes me hopeful that the techniques will survive as climate change will force more and more alternative techniques that are eco-friendly and sustainable to be used."
However, about the future of the artisans, he is non-committal.
"About artisans, I am not so sure because for them to get a better deal will require more generosity from society and strict laws from governments," he says.
(Urvashi Dev Rawal is a Jaipur-based journalist specialising in development, gender, and political reporting)
Also Read: This Bengaluru architect blends traditional architecture with modern construction techniques to create sustainable homes