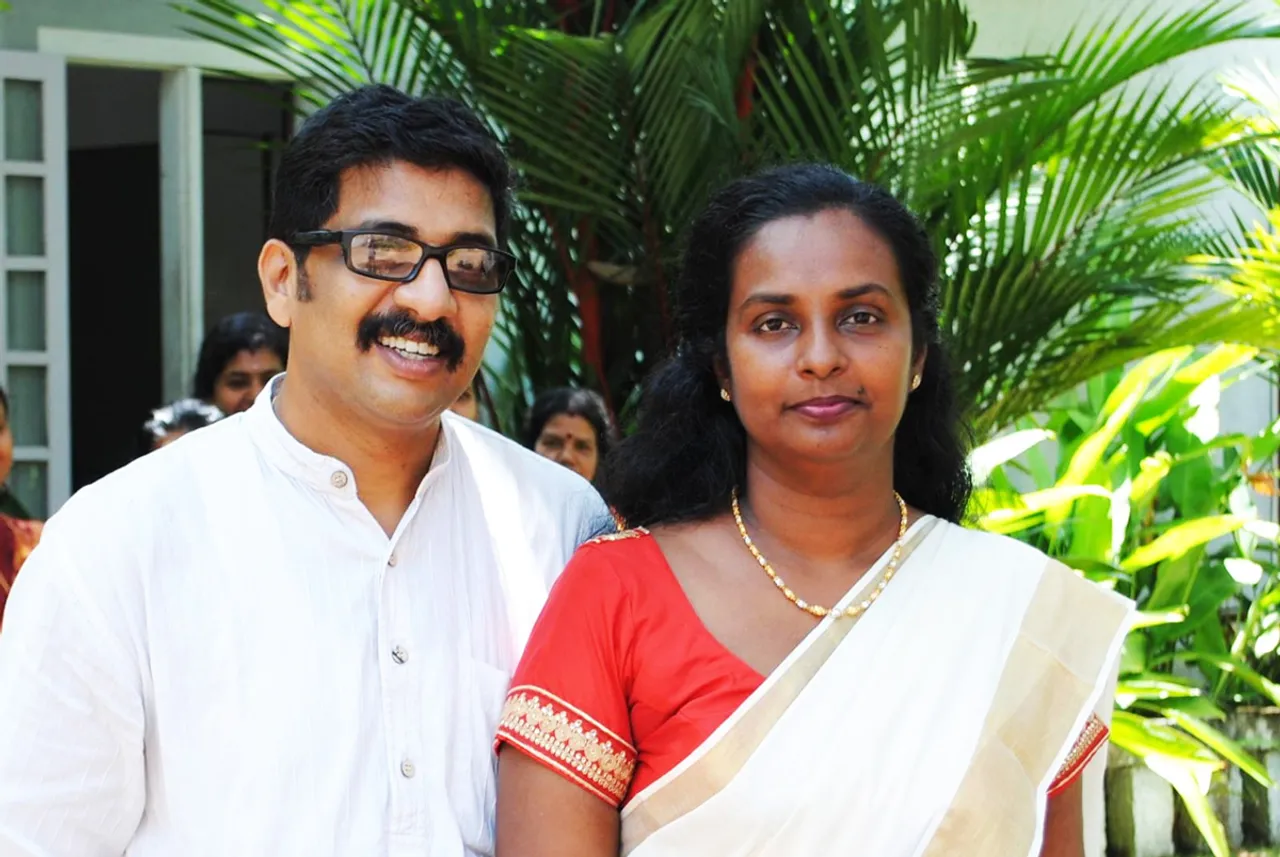 In the sleepy backwaters of Kerala, a couple has been quietly empowering local women who were struggling to make ends meet due to the low market prices for their agricultural produce and poor wage rates for on-farm work. About 15 years back, Seema Soby Kurian and her husband Soby Jose Kurian began a small initiative to help a worker employed on their own farm.
That initiative has today morphed into EarthCare – an enterprise providing employment to several women in Poochackal village near Alappuzha, Kerala. EarthCare's flagship project is Grama (meaning village), which supports the village community through the sale of handmade, natural and chemical-free personal care and home care products.
Seema says she and her husband started EarthCare as a soap-making unit to help workers, who worked on their farm. "We come from an agrarian family. Around 2007, we observed that farming activity in our village was slowing down due to pest attacks, climatic factors and a lack of fair prices for the produce. We did not have regular work on our farm. But we wanted to give back what we got from the community over many decades," she says.
Also Read: Graamya: Kerala startup takes naturally-grown spices from Idukki to the world
"So we started producing soaps at our house with the help of one of our farm workers, Ashogan," she says.
Ashogan helped in manufacturing and packaging, and the extra income he earned improved his family's finances. "Gradually, we expanded our work and started employing more people to support other families," she says.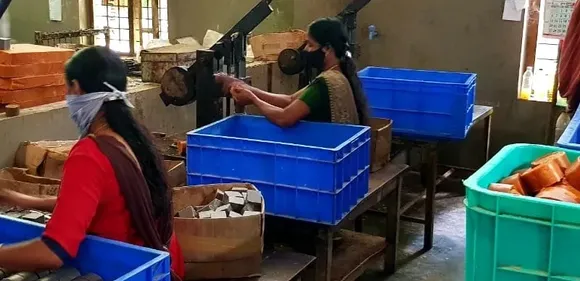 Today, EarthCare works with cooperatives, individuals, and Women's SHGs to create sustainable and ecofriendly products like soaps, shampoo bars, scrubs, home care products and hand-woven towels (which keep wooden handlooms running). 
"All our products are made from naturally available raw materials and are completely biodegradable. We use recycled paper for packaging and encourage recycling of other packaging materials," Seema says.
"We decided that the primary beneficiaries of Grama through direct or indirect employment should be women since they are the pillar of the household," she adds.  
Apart from its soap manufacturing business, EarthCare also runs small initiatives like notebook banks and recycling projects to support the local community.
Handcrafted soaps
As their soap manufacturing business expanded, EarthCare started outsourcing work to women SHGs. Seema trained these women in making herbal handcrafted soaps.
Seema says most of the soap manufacturers use harmful chemicals and palm olien -- the liquid component of palm oil. Palm oil or palm olien is mostly mixed along with coconut oil to stabilize the lather and harden the soap bar. However, it can have several negative effects on the skin.
Also Read: Surat: 22-year-old engineer's startup recycles temple flowers into soaps, colours, candles & compost
At Grama, all the raw materials are inspected for quality before use. "Since a lot of herbal products are added to our soaps, we need to ensure that they are free from any foreign particles and fungi, which is common due to the humid atmosphere in the backwaters," she says.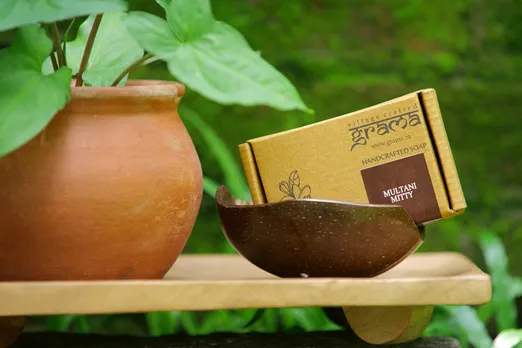 "After inspection, all the ingredients are measured and then the manufacturing process starts," Seema says.
Herbal soap bars sold under the Grama brand, contain 75 percent coconut oil and other herbal and natural extracts such as red sandal, castor oil, coconut milk, goat milk, honey, aloe vera gel, green gram, and turmeric, which nourish the skin.
Some of the Grama products include Neem and Tulsi Soap, Shikakai Soap, Goat Milk Soap, Green Gram Soap, and Nalpamaram Soap. The soaps are priced at around Rs125 per bar.
The women earn Rs 450 to Rs 600 per day depending on the time spent at work. 
The company's annual turnover stood at Rs22 lakh in FY21. Their monthly sale varies from Rs 2 lakh to Rs 2.5 lakh, says Soby, an alumnus of TISS (Tata Institute of Social Sciences) and founder of Flavours of Kerala.
He helps his wife with the marketing and legal aspects of the business. Now Grama has emerged as a bread earner not only for the villagers of Poochackal but also for other families. "These artisans now have stable work and regular income, which in itself is a big thing," says Soby.
Also Read: Kerala: How this 12th-pass woman turned her organic food processing home business into a successful start-up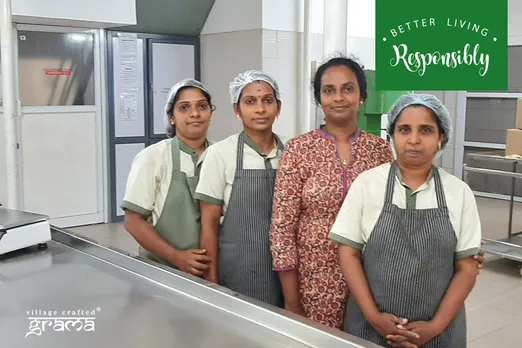 However, when they were starting out, the couple wasn't sure of succeeding in its mission. "We were apprehensive about how we would get people to work for us. That was a big challenge. Women have families and they are managing other tasks. Having them come in to work daily seemed difficult. But we got a good response."
Another issue was selling the products since the pricing is on the higher side given the amount of time and effort artisans put into their work, he adds. However, with the increasing awareness towards handcrafted sustainable products, the duo found a stable customer base.
Local to Global 
EarthCare has employed around 16-17 artisans for the soap business and works with around 40-50 people indirectly through SHGs and cooperatives. 
EarthCare sources coconut oil from local farmers and herbs from local stores, and it also has its own coconut plantation and processing plant.
Seema says the duo invested Rs 2 lakh to set up the business. The company's soap bars are sold through its own website, as well as various offline stores in Mumbai. It has also collaborated with online platforms like Amazon, Flipkart, 1 mg, and Brown Living. EarthCare exports its products to international destinations like the US, Canada, and the UK.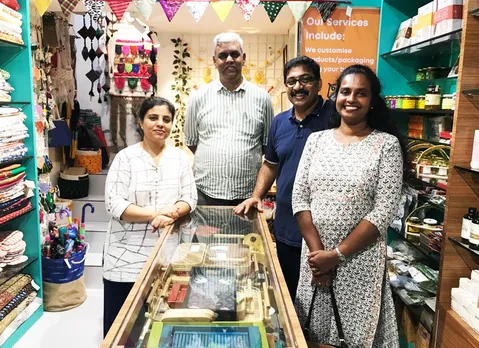 Community initiatives
In August 2021, the company ventured into a new product line -- handcrafted cotton bath towels. The initiative was aimed at reviving the tradition of using handlooms.
"We decided to revive an ailing co-operative society by launching cotton handloom designer bath towels, hand towels and kitchen towels under the Grama brand," Seema says.
The towels are made using natural soft cotton yarns and are made by women of the traditional weaving community. These towels are also popular for gifting.
They currently employ eight artisans in the handloom division. The Kurians plan to install a loom on their own premises and expand the handloom business to make table mats and table runners. 
Apart from soaps and bath towels, the company also manufactures shampoo bars, soap stays, dish wash bars, laundry and toilet cleaners.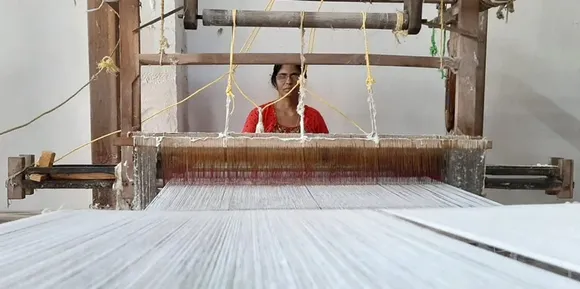 Other initiatives taken by the couple include employing a carpenter who makes soap stays with upcycled wood. 
The couple rolled out a notebook bank in 2021 to distribute free notebooks and pencils. 
They have put a box in front of their house which is open for children from morning till 7 in the evening. They have distributed around 14,400 notebooks and pencils so far and also distributed mobile phones to students during the pandemic to support their education. 
Also Read: Last Forest takes honey & beeswax products from Nilgiri forests to global markets
The Kurians carry out personality development training for the artisans annually. They bring people from different walks of life to hold these training sessions where they take up various topics like substance abuse, yoga, psychology, etc.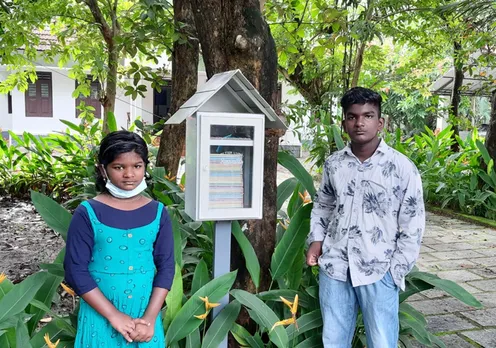 EarthCare also houses a tourism project -- Grama Farmstay, which has been approved by the government of Kerala. Tourists can visit their homestay and try their hand at soap making or indulge in leisure activities like bicycle rides, backwater cruises and village walks. The tourists are served homegrown and homemade meals. The charge for one room is Rs7,000 per night. EarthCare hosts only one to two persons or a group at a time to ensure a wholesome experience for its guests.  
Seema and Soby Kurian remain committed to their cause of providing employment to farmers and villagers, and their efforts have been successful in creating a sustainable and alternative source of income for many families in the Poochackal region.
(Riya Singh is a Ranchi-based journalist who writes on women empowerment, environment & sustainability)
Also Read: Millet mompreneur: Banker turns entrepreneur to give the best to her baby; sets up zero-preservative healthy food business