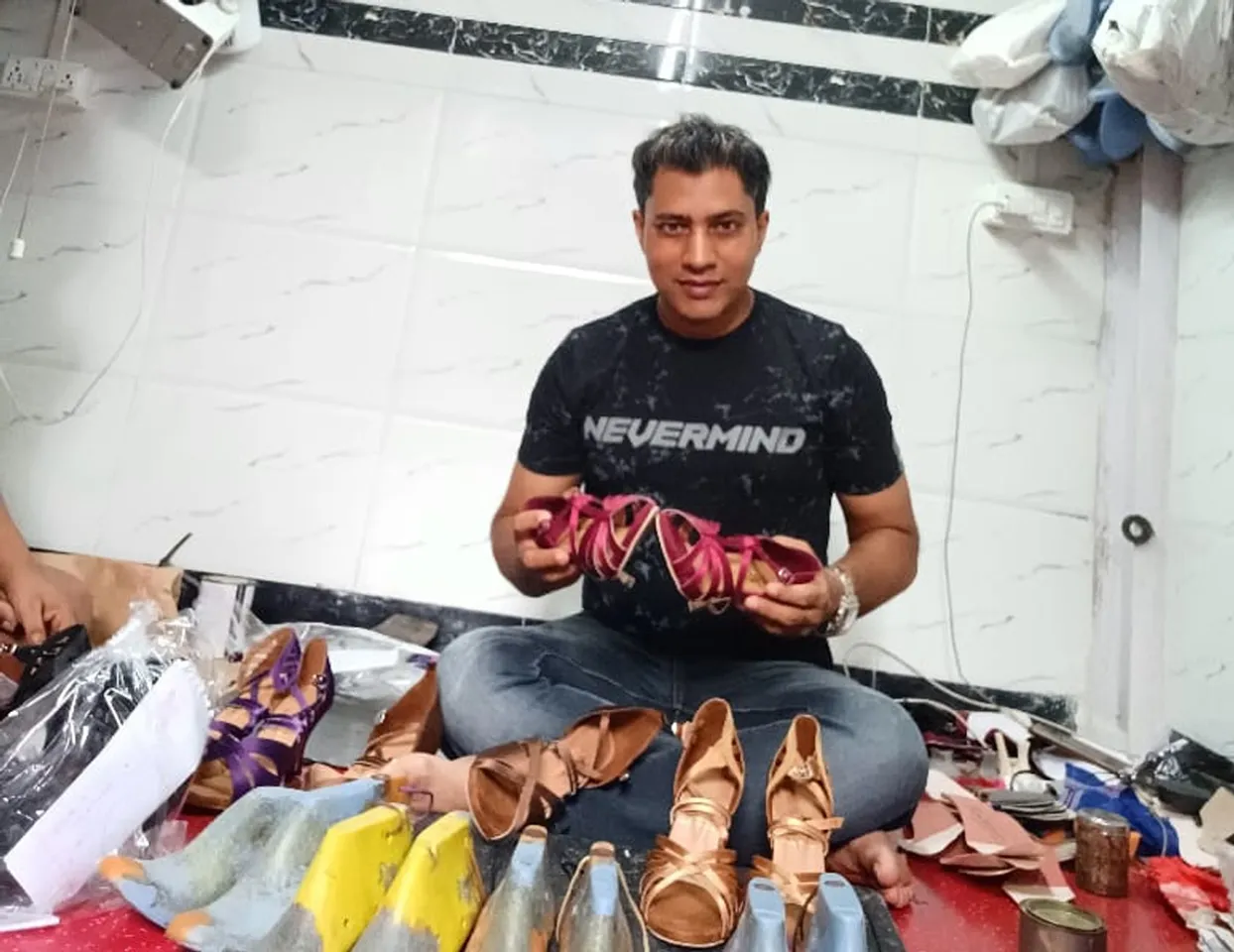 The iconic dance moves of Bollywood actors like Hrithik Roshan, Madhuri Dixit, Kajol, Priyanka Chopra and Katrina Kaif are followed by fans across the world. But the man who makes the stars dance is Jameel Shah, a pioneering dance shoe designer.
From his 10 ft x 10 ft room in Mumbai's Dharavi slum, Jameel, 40, has been making dancing shoes for celebrities since 2007. His celebrity client list also includes Norah Fateh, Farah Khan, Sonali Bendre and Kylie Minogue among others.
Before 2007, Bollywood movie stars wore dancing shoes imported from Supadance International Limited in England. When Jameel Shah, himself an avid Latin Ballroom dancer, started making personalized, handcrafted dance shoes in India, he put an end to shoe imports.
But the path to success was paved with difficulties.
Jameel had to struggle for many years to get from extreme poverty to celebrity. He worked as a daily wager in a leather factory, served as a watchman and occasionally operated as a valet, and is now a self-made entrepreneur and Ted X speaker.
This shoemaker has the utmost regard for choreographer Sandip Soparrkar. Jameel admits that without Soparkar's support and encouragement, he would have never become what he is now. His mentor was the driving force behind both his success in the footwear industry and the realisation of his dream of meeting Bollywood celebrities.
Also Read: How a Manipur mother's hand-knitted shoes found global market
Journey to Mumbai
Jameel is a native of Doghra village in the Darbhanga district of Bihar. Raised in an agricultural household, he is the oldest among eight children. He wanted to study but his father could not afford to pay for his education. Jameel attended a local Madrasa where he studied till class 5.
In 1995, poverty forced the 13-year-old to migrate to Delhi in search of work. He worked in a bag-wallet factory to supplement the family income.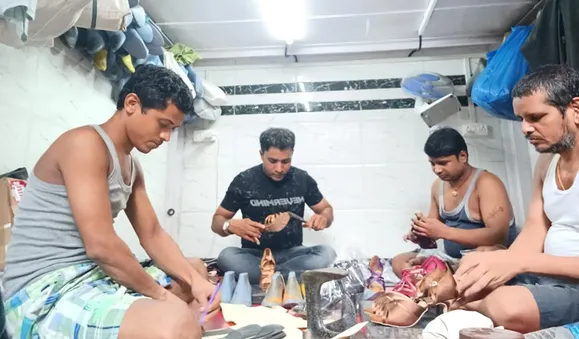 On a Sunday evening, while out with friends exploring Delhi's streets, he saw a billboard featuring Bollywood movie stars. This sparked a strong desire in him to see movie stars up close.
In 1996, Jameel moved from Delhi to Mumbai with the aim of making money and meeting Bollywood stars. He initially stayed with his uncle in Bhiwandi but moved to Dharavi where he worked for K. Lal Enterprises, a manufacturer of leather products.
Also Read: Tage Rita: Arunachal woman entrepreneur making India's first organic kiwi wine Naara Aaba
Meanwhile, one of his acquaintances conned him of Rs25000 on the pretext of making him meet some Bollywood celebrities and fled to Bengaluru. Jameel pursued him but was unable to track him.
He worked as a watchman in a residential complex in Bengaluru where he learnt driving and began working as a cab driver.
One day, a friend took him to a dance workshop in Bengaluru and that became the trigger for change. "I couldn't stop staring at the people dancing there. I was given permission to dance with one of the women. Since I danced well, the instructor added me and the girl to a dance show. For a lad from Bihar, dancing on stage was a fantasy," Jameel acknowledges. 
Jameel thought about becoming a dancer and visited the dancing teacher but since he couldn't pay the fees, the instructor turned him down. In 2000, a despondent Jameel returned to Mumbai and re-joined the factory where he previously worked.
Dance drew him to shoemaking
While working in the factory, Jameel still nursed a passion for dance.
"I started looking for newspaper ads for dancing workshops. I read about Bollywood choreographer and Latin and ballroom dancer Sandip Soparrkar. I went to meet him and told him that I wanted to learn dance but I could not pay the fees," Jameel says.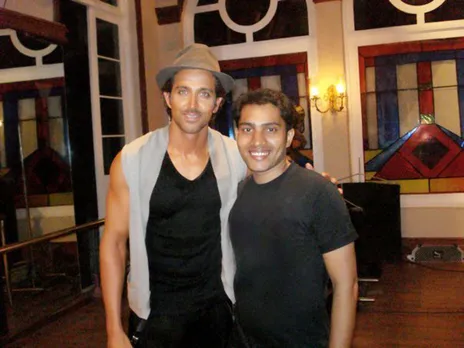 After hearing his story, Soparrkar asked him to join his classes. "When I finally made it to the dance floor the next day, I was stunned. All the students were speaking in English. I did not know a word of English. But I concentrated on improving my dancing techniques," says Jameel. 
Also Read: Triguni Eze Eats: How 79-year-old Radha Daga's ready-to-eat meals travelled the world with Indigo airline
Jameel mastered some fundamental dance moves. He took part in Goa's 65-Hour Nonstop Dance Completion in 2004. 
He danced continuously for 55 hours and 20 minutes and his effort earned him a spot in the Limca Book of Records.
Once, before a dance contest, Soparrkar asked Jameel to get dancing shoes.
Soparrkar gave him a pair of dancing shoes which he said were from England and priced at about Rs10,000. Soparrkar asked Jameel to find similar shoes in Dharavi. Jameel failed to find matching shoes so he created about a dozen trial pairs of handmade shoes till one design was found acceptable.
Jameel undertook extensive research for making dancing shoes. His break came in the 2004 film 'Holiday' where the stars danced in a scene wearing shoes made by Jameel.
After that, Jameel received back-to-back orders. thanks in large part to Soparrkar's word-of-mouth marketing efforts. He created footwear for Amisha Patel, Farah Khan, Kajol, Sonali Bendre, Aamir Khan, Ajay Devgun, Hrithik Roshan, Katrina Kaif, Priyanka Chopra, Urvashi Rautela and Nora Fatehi among others.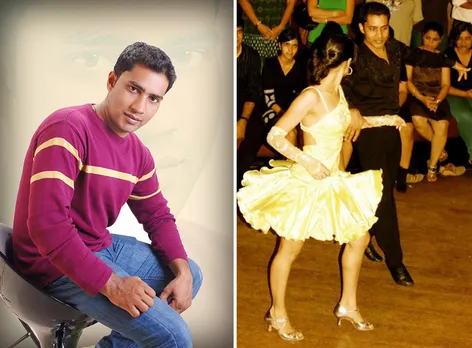 With business picking up, Jameel invested Rs15000 and hired three people to start his firm "Shah Shoes", in the 10ft x 10ft room in Dharavi in 2007. 
"Though dancing did not fulfil my dream of meeting celebrities, making shoes made it possible. This proves the saying that if you truly want something with all your heart, you will get it," says the self-made entrepreneur.
Making dance shoes 
Jameel's shoes are much sought after since hundreds of contestants on reality shows like Jhalak Dikhhla Jaa, Nach Baliye, Dance India Dance, Super Dancer and Dance Deewane need dancing footwear. Madhuri Dixit frequently buys shoes from him for her performances. 
Jameel says each dance style calls for a particular shoe design. Tap, ballet, jazz, Latin, salsa and tango all require different shoes.
Also Read: How a daily wage earner set up Rs 250-crore breakfast company ID Foods
Ballet shoes are entirely flat and resemble socks in appearance, but Latin dance shoes are mostly formed of heels and are flexible at the toe end. Flamenco shoes should be flexible and offer assistance, power and injury avoidance. Most of the shoes have straps and a stable 2.5-inch heel while being lightweight and flexible.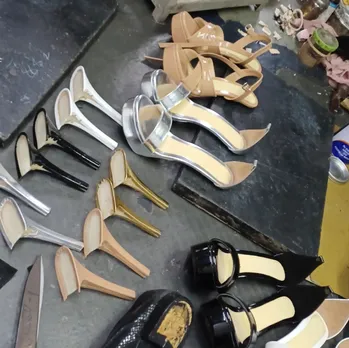 The heels' stability is crucial. These shoes are well-made and comfortable for hours of dancing. 
The fashionable dancing shoes provide plush, comfy padding that helps prevent foot stress. Metal shanks are used in the arch of tap dancing shoes to provide stability on both ends. 
Aamir Khan used a pair in the film Dhoom-3. "Regular soles are heavy and don't offer traction. The soles of classic dancing boots, however, are usually made of suede. The sole of the shoe is made smooth so that one may glide over the dance floor with ease," says Jameel.
Also Read: From Rs 3 per day to Rs 842 crore dairy business, how this Bengal man scripted a success story
Extra cushioning is provided by the insole's padding to shield feet from damage. The flexibility of the shoe's front is required, and the stability of the heel must be preserved. 
Women's shoes are made of high-quality satin and their heels are between one to three inches. Men's shoes are made of leather. 
The raw material is available locally in Mumbai, says Jameel.
Jameel says there is no set number of shoes that are made. "The orders determine everything. On occasion, we produce up to 100 pairs of shoes every month," he says.
Latin, Salsa, Ballet and Jazz dance shoes start at Rs2000, while Flamenco and Tap shoes are priced upwards of Rs3500 and can cost up to Rs5000," says Jameel.
His marketing strategy is mainly word-of-mouth. Dance students who sign up for courses, purchase shoes from him. Today, eight people work at his firm and he makes Rs 8 lakh annually.
Celebrity moments
Jameel says his workshop is frequented by college students who are interested in leather technology or shoe design. They sit and learn how to make shoes, discuss ideas and follow my recommendations for creating dancing shoes. 
"I've had a few life experiences that will never be forgotten. When I first met Aamir Khan, instead of asking for ideas to make shoes for him, he asked me to recommend the style of shoe that would fit him," Jameel adds.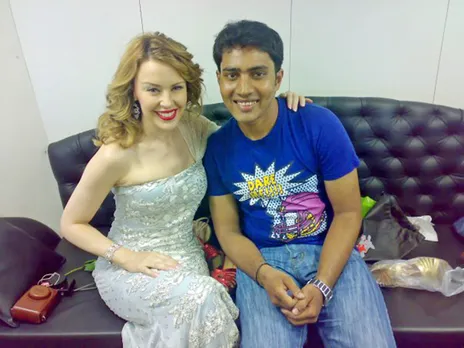 "Meeting Australian singer-songwriter Kylie Minogue in Mumbai was another amazing experience. She needed new dancing shoes, so she invited me through Farah Khan. I was unable to access her room due to her security. She came out to greet me, which surprised me."
Jameel has four national Latin Ballroom Dance titles under his belt and has made four appearances as a Ted X speaker.
Jameel's wish is to travel to England to see the factory where dancing shoes are made. He also wants to organize dance shows and open a one-stop shop where all dance-related products will be available.
"I rose to hero status from zero. I am grateful to the Almighty for everything he has given me," says Jameel.
(Partho Burman is a Kolkata-based award-winning journalist. He writes inspiring human interest and motivational stories.)
Also Read: From a daily wager to a food entrepreneur, how Assam's Diganta Das set up a successful business