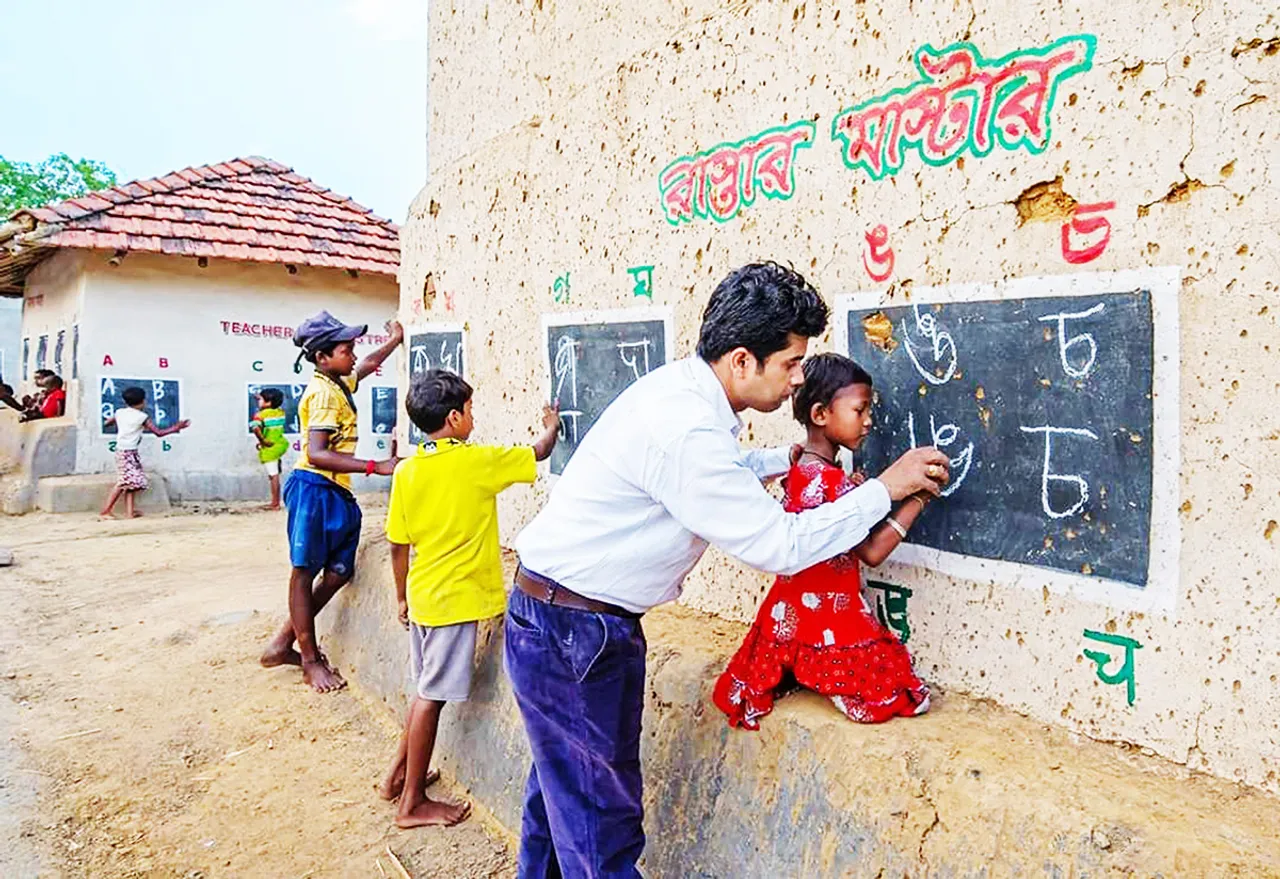 When Deep Narayan Nayak was growing up in a family of ten, the only thing he saw was deprivation. The lone provider for the family was his father Satya Narayan Nayak, a daily wager in Nandi village, Asansol, West Bengal. He had work on certain days and no job on others. 
The family had to go to bed without food on many nights. Since cow's milk was beyond his father's means, he bought powdered milk that lasted more than a month. 
Nayak, the youngest among five siblings, had a difficult childhood. "As a youngster, I never experienced anything new. I received used stuff, whether they were school bags, books, copies, clothes or uniforms. I carried on studying with worn-out clothes and tattered textbooks. Pages were missing from a few of my books. In my copy, I used to write down the contents of pages that were missing," Nayak told 30Stades.
He laments not completing his MSc after graduating from Burdwan University's BB College, Asansol in 2006 with a degree in Biosciences. His family's financial crisis forced him to abandon his studies. 
Nayak began working at a young age to help pay for his education and family. He worked as a caterer for Rs200 at night and accepted tutoring in the morning.
Teaching, noble profession
Today, 17 years later, Nayak has received worldwide fame as Raster Master or the 'Teacher of the Streets'. Among the top ten contenders for the Global Teacher Prize, he will be honoured in Paris, France today (November 8). Nayak made it to the top out of 7,000 entries from 130 countries. The one million dollar award will be given out by the Varkey Foundation in collaboration with UNESCO and Dubai Care.
Also Read: Coimbatore's Kalvi Thunai: How a retired couple's zero-fee education centre is giving a bright future to thousands of underprivileged children 
"I am thrilled to receive this global recognition. It transcends dreams. I noticed as a youngster that when a player represents India, the entire village cheers. In the sphere of education, I am representing my nation today," says the 36-year-old, who started working as a teacher at Bamunia Primary School in Burdwan in 2010. 
Also Read: Madurai Seed's zero-fee education gives a bright future to underprivileged children
Since 2018, Nayak has been a teacher at Tilka Manjhi Adivasi Free Primary School in Jamuria, Asansol, a small village about 183 km from West Bengal's capital Kolkata.
To eradicate illiteracy, he founded the first open-air classroom in 2010 in Satgachia, Asansol, with two children. Today, around 10,000 children are receiving free education at 50 centres in West Bengal and Jharkhand.
Nayak not only teaches first-generation students from disadvantaged backgrounds like Dalits and tribal families but also offers food and other essentials to those in need. His students are between three and 20 years of age.
The MBA dropout
Though Nayak could not pursue an MSc due to financial constraints, he later saved money for his MBA. He finished the second semester at ICFAI, Kolkata, where he had registered. But once again, financial constraints prevented him from continuing his studies. He suffered from depression but pulled himself up once again. 
"I am an MBA dropout and overcame depression to find a purpose in life," says Nayak.
"Sadness affects the majority of dropout students, and some even end their lives. Others like me fight back. Working consistently keeps one going," he adds.
When he was working as a teacher at Bamunia Primary School in Asansol in 2010, a father of two children who could not afford their education sought his help. Since Nayak had experienced a similar situation, he was moved by their plight.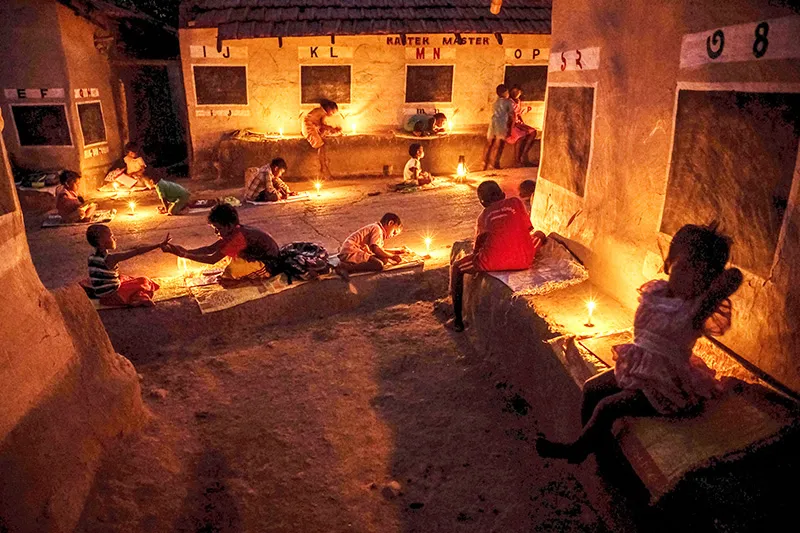 "My job at the school gave me a steady income and lots of leisure time. I was inspired to help these youngsters who had similar problems as I had faced. With them, I set out on a journey to help others. Soon, the word spread and students started pouring into my open-air classrooms," Nayak says.
As a government employee, Nayak complied with all rules and regulations. He started taking classes after school hours. He first began instructing them at a nearby club in the evenings. But he was unable to focus due to the cacophony created by the neighbourhood youths congregating there.
After that, he decided to move his temporary classroom from the club to a temple floor. Here, the disruption came from the evening prayers and the bell ringing. Once more, he moved to a tree from the temple.
Where There Is a Wall, There Is a Blackboard 
Everything was going well in the under-the-tree classroom until a student complained of being bitten by a bug one day. It made him aware of the risk posed by snakes. He ultimately decided to teach children in their village streets.   
Also Read: Abha Kunj: Zero-cost education gives a better future to Indore's underprivileged kids
In 2014, mud walls became the blackboards in Nayak's open-air school. He made blackboards on mud walls, which can be coated with a mix of mud and water and reused any number of times. 
"The approach turned out to be more economical than providing stationery to every child. More importantly, it brought education right at their doorsteps," explains Nayak.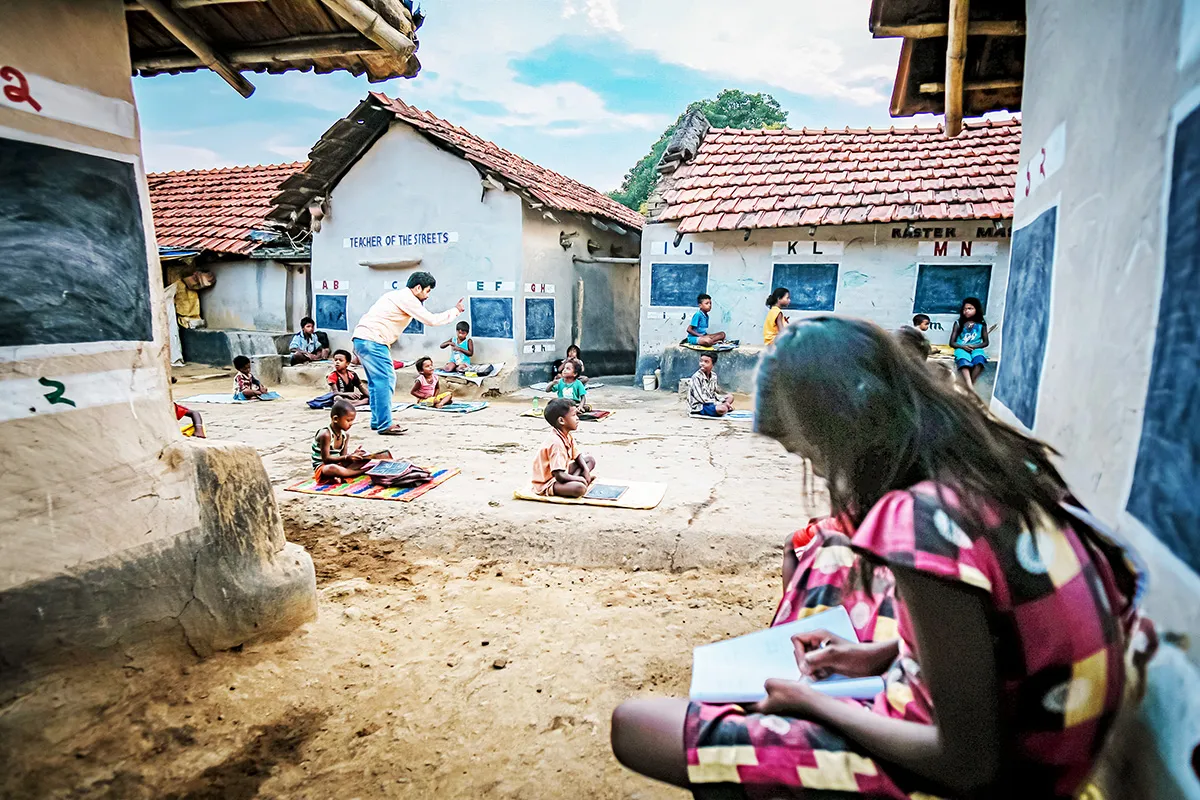 The number of blackboards varies from village to village depending on the number of students. Some villages enroll less than 100 students, while others enroll more. So some communities have 50 blackboards, while others have just 30.
Using Innovative Teaching Methods 
Nayak observed that children from underprivileged communities begin school at age three or four and drop out at 12 or 13. That's because boys were compelled to choose employment to support their families, and girls were married off to decrease the family's financial burden.
Dropouts continued to trouble him since he also had to drop out of his studies. He quickly concluded that his three or four years of teaching would have gone in vain if students dropped out. He thought of a way to encourage children to complete their education.
Nayak introduced the 3-Generations Learning Model. Here, the kid receives education along with his parents and grandparents. 
So the youngster learns first and then instructs his parents and grandparents. This is the first model of its sort in the world that provides education to three generations simultaneously.
"It's an education system at your doorstep. The educational institution may be brought to these underprivileged people's doors if they are unable to attend one. I'm using the 3G model to combat poverty and illiteracy. This strategy has shortened the time it takes to teach a whole community. Our mission is to educate everyone," states Nayak.
Approximately 10,000 students receive primary education from 50 academic institutions called Raster Master Research and Development Centres. 
Raster Master centres are functional in parts of Jharkhand and some districts of West Bengal like Purulia, Bankura and West Burdwan. Children study Bengali, English, Hindi, Urdu, and Ol Chiki (Santhali language).
Fifty teachers, 100 assistants and several volunteers work at the educational facilities. Nayak describes the Raster Master Research and Development Project as an attempt to establish a global development method through which the issue of education may be addressed wherever in the world. This novel approach might be used to address the problem of illiteracy.
Impact of Raster Master Research and Development Project
Nayak's students are also his teachers. They impart knowledge to their parents. "This helps us in two different ways. A pupil receives revision of the teachings he has learned when he teaches his mother how to write by holding her arm," says the educator.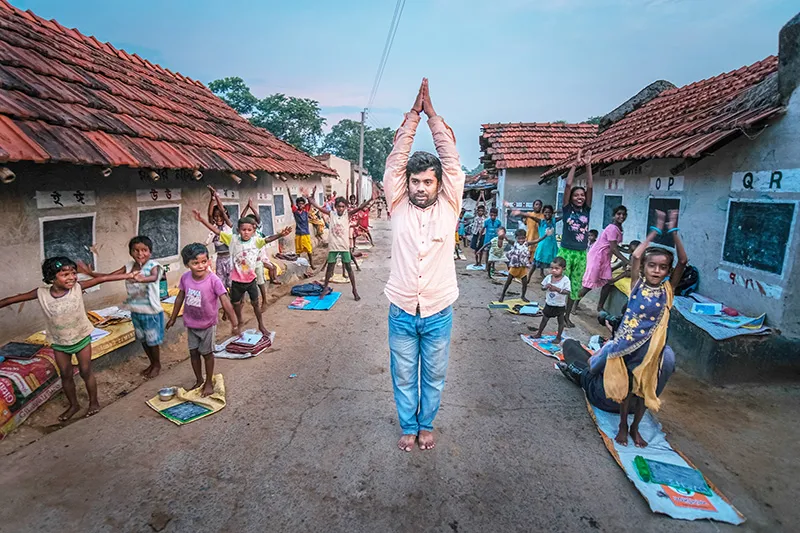 "A whole village can be converted into a school," believes Nayak. 
With an investment of Rs100 for the painting of blackboards on walls, a thousand individuals may acquire literacy.
Some of his students like Shalini, Anindita and Surojit are first-generation learners pursuing higher education. While Anindita is pursuing a nursing degree Surojit is studying engineering and Shalini is studying psychology at Delhi University.     
Community Development
Nayak focuses on a three-dimensional model that focuses on employment, nutrition and sports. For the indigenous women who got married at the age of 12 and became mothers between the ages of 15 and 18, Nayak has set up a Mothers' Football Team.
On every student's birthday, he or she is presented with a sapling and the student must take care of it. "A youngster who spends ten years studying here will plant ten trees; the number of trees increases as pupils do," Nayak says.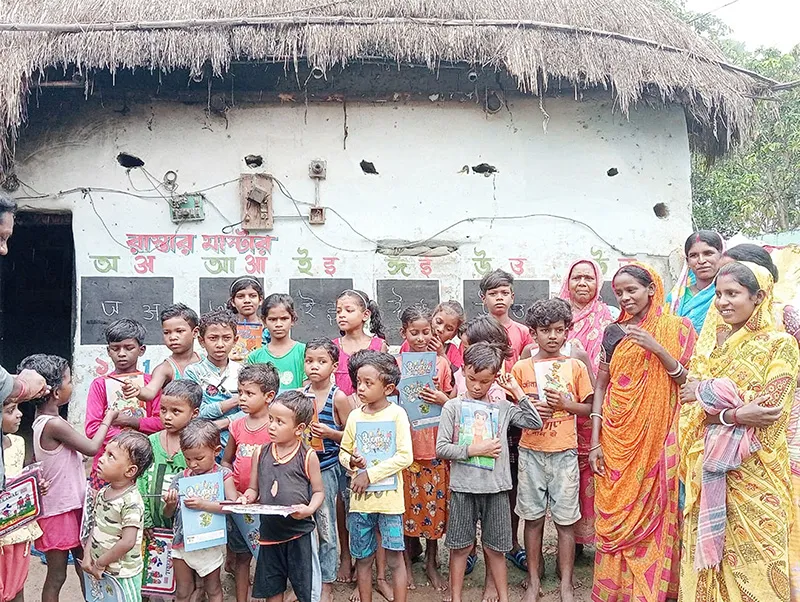 He also provides children under the age of ten with milk, fruits and other food to support nutrition. The third dimension of employment involves mothers, as they can provide better education to children if they earn. Women are encouraged to create artwork using palm and date leaves, as well as kantha embroidery.
They recently sold some of their artwork at the German Consulates. In this way, they earn and keep their lost art alive. They don't have a hi-fi setup; everything is done on the streets by unskilled workers. It is a business that requires no investment. Some villages lack infrastructure, electricity and access to digital learning.
After marriage to Jhuma in September 2023, the street teacher intends to expand Raster Master Research and Development Centres in Assam, India and Bangladesh.
(Partho Burman is a Kolkata-based award-winning journalist. He writes inspiring human interest and motivational stories.)
Also Read: How a Santhali folk singer & orphans turned barren land into forest at Bengal's Ajodhya Hills