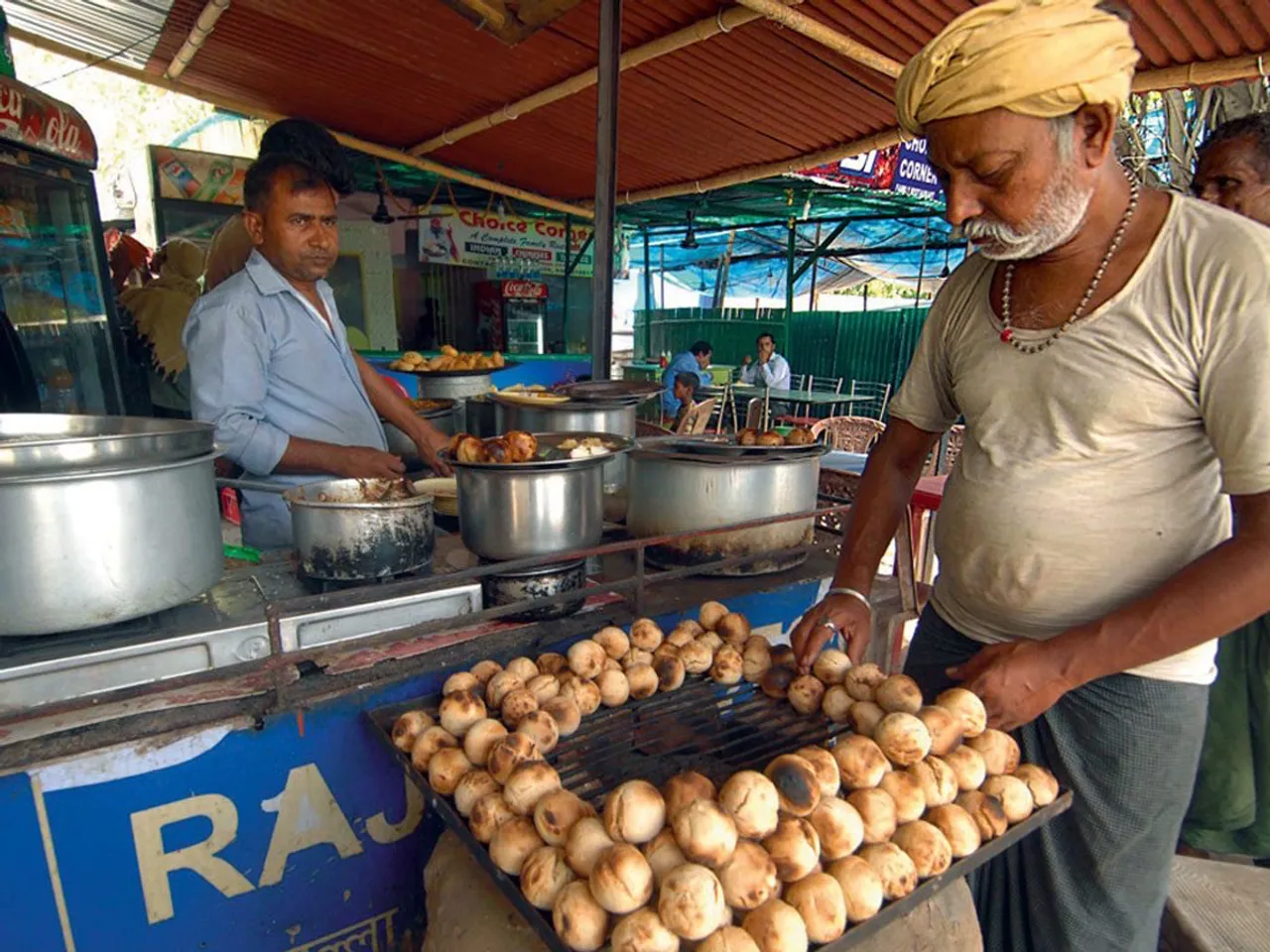 The word street food is enough to tantalize one's taste buds. Sold through hole-in-the-wall outlets, kiosks and restaurants and by hawkers, lip-smacking street food is a convenient way to grab a quick bite on the go or just take a break from home-cooked food.
Street foods vary from state to state and region to region. From Kashmir's nadru mounji (lotus stem fritters) to Kerala's kumbilappam (steamed jackfruit dumplings), India's street food repertoire is almost unparalleled in the world. 
This variety is also seen in the sweet and savoury fast foods of Jharkhand, which is well known for its waterfalls, hills and temples. The state shares its borders with West Bengal, Uttar Pradesh, Chhattisgarh, Bihar and Odisha. So the influence of these states' cuisines is also visible in Jharkhand's street food.
Also Read: Kashmir's street food: Lotus stem & fish fritters, chickpea tacos, sweet snowballs & more
The staple foods of Jharkhand are rice, dal and vegetables and most of the street snacks also revolve around these staples. Like both Dhuska and Dal Pitha use rice and lentils as the main ingredients while sweets also use rice and wheat flour instead of too much milk. 
With around 27 percent tribal population, Jharkhand's cuisine is also heavily inspired by indigenous foods.
Tribal food is earthy and the dishes are made with minimal spices as the emphasis is on natural flavours and medicinal benefits. 
Handia or Haria is a fermented rice beer sold by tribals in almost every local market in Jharkhand. They typically bring earthen pots full of Handia from home, sell them in a few hours and go back. Handia is also supposed to have cooling properties and locals also drink it to get relief from minor stomach-related disorders. 
Here are ten famous and much-loved street foods from Jharkhand though the list is not exhaustive.
1. Dhuska: Made using rice flour, chana dal, and urad dal, Dhuska is a famous tribal dish which is synonymous with Jharkhand. It is prepared by soaking rice and the two lentils for 4 to 5 hours and then grinding them with green chillies and ginger into a thick batter.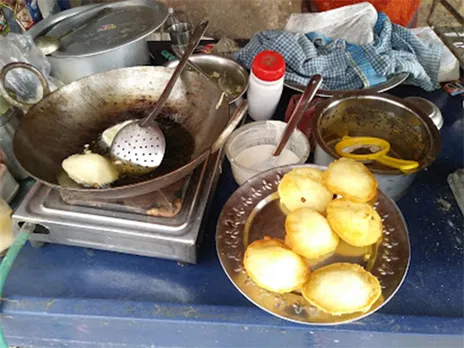 Other spices are added and the batter is dropped in oil using a ladle. It takes the shape of round disks which fluff up. It can also be shallow fried on a girdle. Dhuska is usually served with potato curry and tamarind and green chutneys and is one of the most popular street foods in Jharkhand. 
Also Read: Uttarakhand: Garhwali & Kumaoni food in pictures
2. Pot Kaleji: This is one non-vegetarian snack that has quickly become the darling of food lovers in Jharkhand. Kaleji is liver and Pot or Pota refers to chicken. 
One can find carts lined up on the Birsa Chowk in Ranchi frying chicken liver dipped in a batter of cornflour, sauces and spices. 
Gravy is prepared separately, mostly on a girdle, using garlic, onion, green chillies and other ground spices like coriander powder, black pepper powder etc.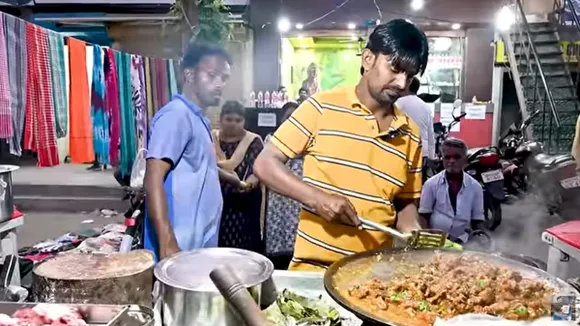 The kaleji and gravy are then cooked together on a girdle till the meat absorbs all the flavours of the spices. It is topped with sliced onion and is served usually in leaf bowls or donas made from sal leaves. 
3. Pittha or Pitha: Made using rice flour and chana dal, this dish can be served for breakfast, dinner, lunch or as a snack. Rice flour is added to boiling water to get the dough, which forms the base of the Pitha. 
Also See: Maharashtrian food in pictures
The chana dal is soaked, coarsely ground, mixed with spices and then cooked in oil for a few minutes. This mixture is stuffed inside flattened rice dough balls and can be given any shape. The stuffed Pithas are then steamed in a greased steamer. They can be served with any gravy or tomato chutney or coriander chutney.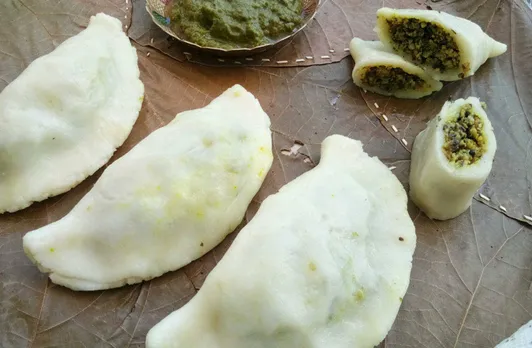 4. Litti Chokha is Jharkhand's street food that has seeped in from neighbouring Bihar. And it's no surprise that litti chokha is a hit here because Jharkhand and Bihar were one until November 15, 2000 when it was carved out as a separate state.
Littis are wheat balls stuffed with sattu, pickle masala and other spices and they are baked on coal, earthen chulha or in an oven. 
Chokha is made using boiled and grilled potatoes, tomatoes, green coriander, garlic, mustard oil and salt. From homes to streets, litti chokha rules the plates as the dish is wholesome, and filling and uses easily available ingredients.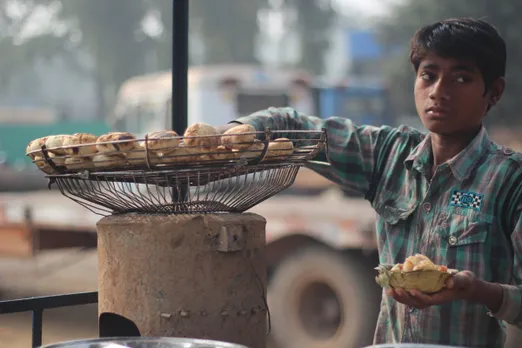 5. Haria or Handia drink: It is made by tribal women by fermenting boiled rice in an earthen pot for at least two-three days. Some local herbs are added and they act as fermentors. As mentioned above, the drink has cooling properties and is sold for Rs 10 to Rs 20 per glass by tribal women, who make it at home and bring it to local markets for sale, mostly on hot summer afternoons.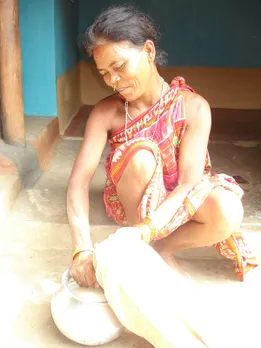 6. Puchka: Almost everyone who steps out of the house in the evening for shopping or other chores will invariably end up eating a plate of Puchka, which is called Pani Puri in Maharashtra and Gol Gappa in Delhi. 
Puchka is a fluffy and crunchy small wheat puri stuffed with a mixture of boiled black gram and mashed potatoes. 
Sweet and tangy tamarind chutney is added to it before dipping it in salty and sour water. The stuffing and spices in the water vary from stall to stall and most people settle with one street vendor, whose Puchkas they patronize for life.
Also See: Pickles of India: From orchids & peaches to banana flowers & bamboo shoots, Indians pickle just about everything
7. Churmur Chaat: This is Jhakhand's very own zero-waste dish made using Phuchkas that did not fluff up in oil. The flat disks are spread over a base of spicy white peas (matra) and tamarind and coriander chutneys are added to it. Mostly topped with onion slices, Churmur Chat is a treat for the taste buds.
8. Kanji Wada: Kanji vada or wada is made with fried urad dal dumplings. These dumplings are soaked in kanji, made by fermenting crushed mustard seeds and carrots in water with oil and salt for at least two days. Kanji also has probiotic properties, which help digestion.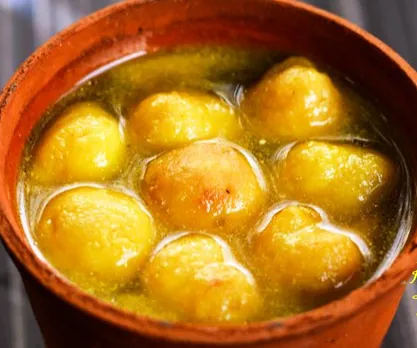 9. Malpua: These are fried sweet pancakes made using wheat flour. A thick batter is made using wheat flour, milk, cardamom and fennel seeds. Ladles of this batter are poured into oil, resulting in pancakes which are fried till golden.
Malpuas are dipped in syrup made using sugar, water and some cardamom. Usually served warm, they taste good even when cold.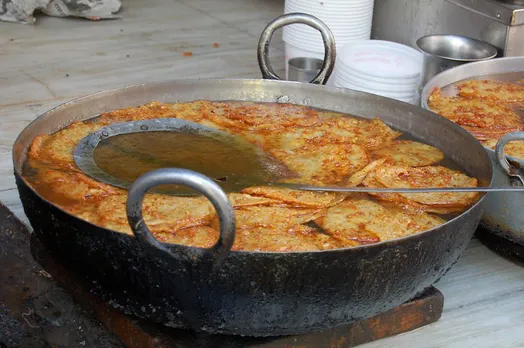 10. Anarsa: This is made using rice flour, which is added to boiling sugar syrup and stirred continuously to avoid lump formation. Small balls of this dough are stuffed with a mix of khoya or mawa and cardamom powder and rolled onto white sesame seeds. The flattened balls are then deep-fried and put in sugar syrup. Heaps of Anarsa can be seen in most markets in Jharkhand, making it one of the most popular sweets in the state.
Also Read: Kashmir's local bread-baking thrives as kandurs serve up delectable breads