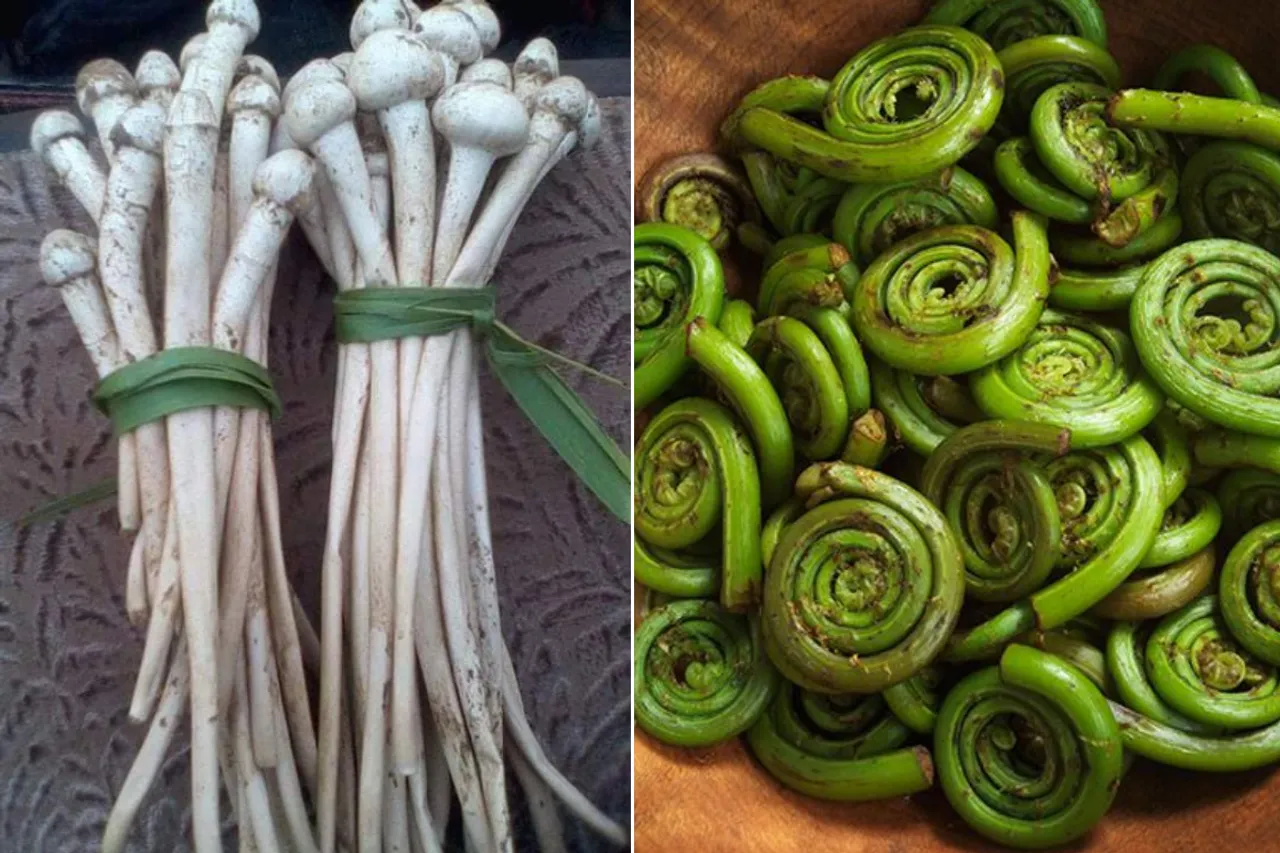 India eats as per season. If summers are synonymous with mangoes and kulfi, winters are all about gajar ka halwa and dry fruit laddus. Seasonal foods follow the traditional wisdom of keeping the body warm during winter and cool during summer. 
The rainy season is no exception. Just when the first rains hit the parched earth in June-July, the craving for adrak chai and pakodas goes up many notches. As the earth brims with life once again, it throws up a range of vegetables, mostly wild, which have medicinal properties. These rare and edible greens, tubers, mushrooms and shoots fortify the immune system during wet monsoons. 
Alongside, these monsoon-only foods are also associated with local customs and rituals. 
The Konkani community, concentrated on India's western coast, celebrates Prathama Ekadashi or Ashadhi Ekadashi (which falls during June-July) by preparing Gajbaje. The dish is made using vegetables available only during the monsoon months. 
Up north, in Jharkhand, people give up non-vegetarian food during the Shravan month (July-August), which is dedicated to the worship of Lord Shiva. Their substitute for meat during the monsoons is the Rugda mushroom, which sprouts under the Sal tree during the rainy season. 
Here are ten little-known foods that you can relish only during the Monsoons:
1. Fiddlehead Fern: In Himachal Pradesh, Assam and Jammu and Kashmir, fiddlehead is not cultivated but found in plenty in the wild or along streams, rivers and freshwater swamps during the monsoons. Also known as Dhekia Shaak, lungra or lingad, they have a long green stalk and are coiled up towards the top.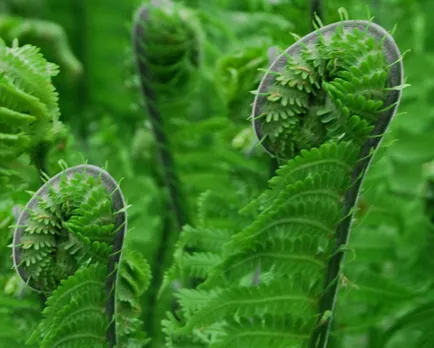 The tightly curled new shoots of fern are used to make pickles. Scales present on the stem are removed with a wet cotton cloth and washed before being cooked into stews or pickled. Young fronds are rich in calcium, phosphorous, iron, and vitamin B. These are ideally mixed in salads, cooked for stews and some are pickled too.
2. Rugda Mushroom: Better known as the vegetarian mutton of Jharkhand, Rugda is a mushroom that grows naturally at the base of Sal trees in the forests of Jharkhand. Tribal women of Bundu, Pithouriya and Tamar communities dig up Rugda from under the roots of the trees during Monsoons and sell it in the local markets.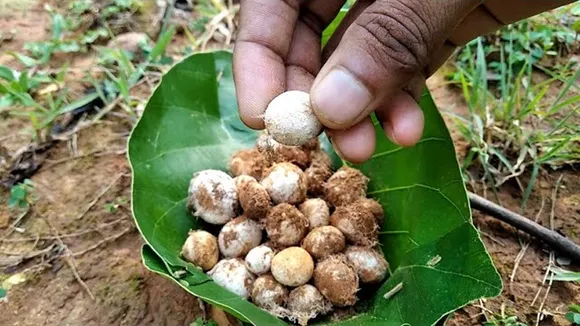 Its grape-shaped white or brown balls have a rubber-like tough exterior and a yolk-like black substance inside, which provides a potent meat-like flavour to Rugda. Rich in protein and with zero carbohydrates, Rugda or Rugra is packed with minerals and vitamins. 
Also Read: Jharkhand's tribal women take indigenous cuisine to urban plates
3. Bamboo Shoots: From the forests on the foothills of the Western Ghats to Assam in the North East, tender bamboo shoots are a monsoon delicacy loved by all. With a delicate sweet flavour and a crunchy taste, they are available only during the two months of Monsoon. 
The tender shoots are peeled to remove the exterior thick layer and are used for pickling, preparing gravies or adding to sambhar and stews.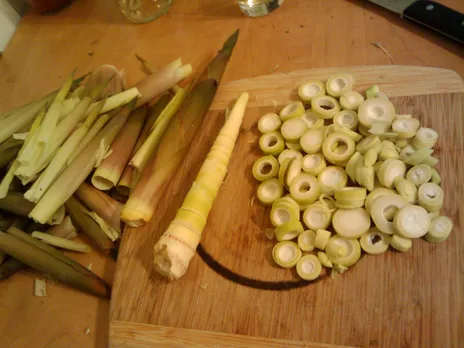 In Assam, bamboo shoots are cooked with chicken (khorisa diya murgir mangxo) or with pork (baah gajor gahori). And Goans prepare kirlachi or killachi bhaji with bamboo shoots using poppy seeds, coriander powder, and other spices. Many Konkani recipes too have bamboo shoots as the main ingredient. Bamboo shoots are immunity boosters, regulate blood sugar levels and fight inflammation. They are also rich in vitamins, iron and other minerals.
4. Colocasia leaves: Also called taro or kesu, these big heart-shaped leaves grow untamed during the monsoons. From Gujarat to Kerala, every home in coastal India uses colocasia leaves to prepare monsoon delicacies. 
In Gujarat, colocasia leaves are used to make Patra or Patrode, where they are smeared with a mildly sweet and spicy coating of gram flour batter, placed one on top of the other, rolled and steamed. The roll is then cut into pieces which are either fried or tempered. In Kerala, the leaves are used to make chembila curry while Konkani households prepare a spicy and tangy curry called Alvati. 
Also See: In pictures: Bihari food beyond litti chokha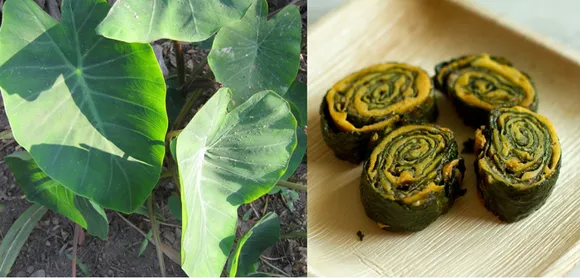 The leaves are rich in micronutrients including Hyaluronic acid, which is good for eyesight and bones and joints. 
5. Hog plums: This sour fruit, which resembles mango, is available only during Monsoons. Known as Aambade or Amte Kaayi in Maharashtra and Amra in Bengal, it is used to prepare sweet and sour pickles, chutneys and even gravies.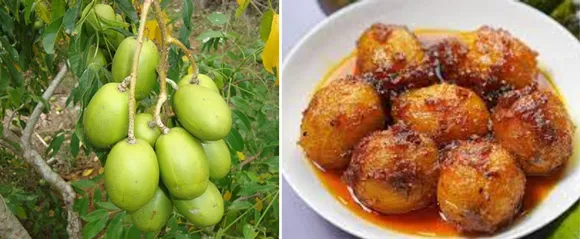 Goan Saraswat Brahmis use Aambade in preparing prawns or fish curries and also bitter gourd. Hog plums belong to the cashew family and are rich in vitamin C and antioxidants.
6. Bihiden Mushroom: Found only in Odisha and in some places in Jharkhand, this mushroom has a long stalk and a small head. White in colour, the Bihiden mushroom is considered a maha prasad (offering to Gods). Among the tribal communities, there is a custom to put Bihiden mushrooms behind the ears of a newborn baby and after that, the baby can see the mushrooms in front of her. This is supposed to bring good luck.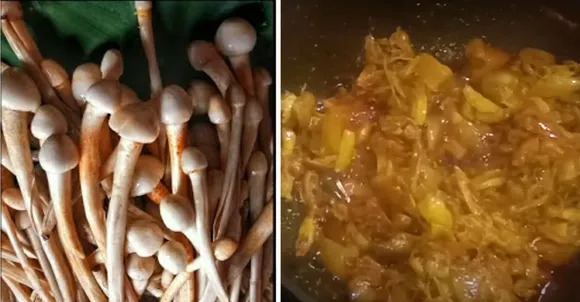 Tribal communities forage for Bihiden mushrooms during the rainy season. Since they are available only during the rains, coinciding with the Hindu month of Shravan, they are also called Sraban Kadha. They are priced upwards of Rs1,000 per kg.
Also Read: Kashmir's street food: Lotus stem & fish fritters, chickpea tacos, sweet snowballs & more
7. Kantoli or Spine Gourd: Also called kantola or jangli karela, this spiky vegetable belongs to the gourd family. Its outer skin is scraped and then cut into pieces for making a simple stir-fry vegetable with onion garlic and other spices. It can also be stuffed and cooked in gravy.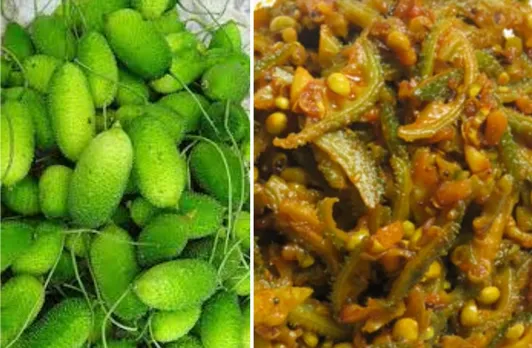 Kantoli helps to keep seasonal colds and infections away. It is a good source of dietary fibre, vitamins A and C, and minerals potassium and calcium. Kantoli also has anti-inflammatory and antimicrobial properties.
8. Dragon Stalk Yam: Known in Marathi as Shevale and as Jangli Suran in Hindi, these wild yams sprout in the tropical forests of peninsular India with the onset of monsoons. They are foraged by locals, mostly tribal women, and sold in the market. It is a critically endangered medicinal plant in South India, as per the International Union for Conservation of Nature.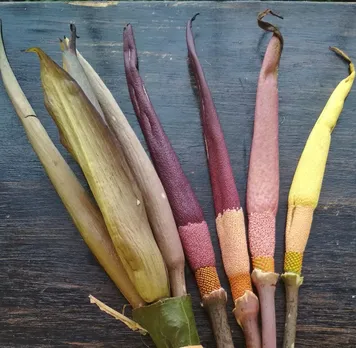 It can be cooked into a gravy with kakda while the Pathare Prabhu community cooks this wild yam with prawns. Rich in iron, potassium, micronutrients and fibre, dragon stalk yam boosts immunity and strengthens gut bacteria.
Also See: Uttarakhand: Garhwali & Kumaoni food in pictures
9. Sand Mushroom: Known as Bali Chhatu or Bali Chhati, this rare mushroom is found in northern and western Odisha with the onset of monsoons. It grows wild on sandy soil near river banks, streams and other water bodies. The mushrooms are very small in size, just about the size of a coin, and grow in bunches. Extremely delicate, they need to be cooked on the day of the harvest to avoid spoilage.
They are wiped clean with a moist cloth and mostly shallow fried with onions and other spices. It has a very distinct taste and aroma. 
10. Varsha Dodi: Called Jivanti in Sanskrit, it grows among hedges in the monsoon in sub-Himalayan regions of Uttar Pradesh, Punjab and Gujarat. Gujaratis use Varsha Dodi flowers to make shaak or sabzi.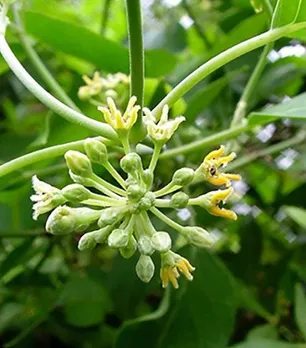 Rich in antioxidants, micronutrients and minerals and vitamins, Varsha Dodi is used in ayurvedic preparations as well. It is known for boosting immunity and improving memory. 
Also Read: 10 lip-smacking street foods of Jharkhand