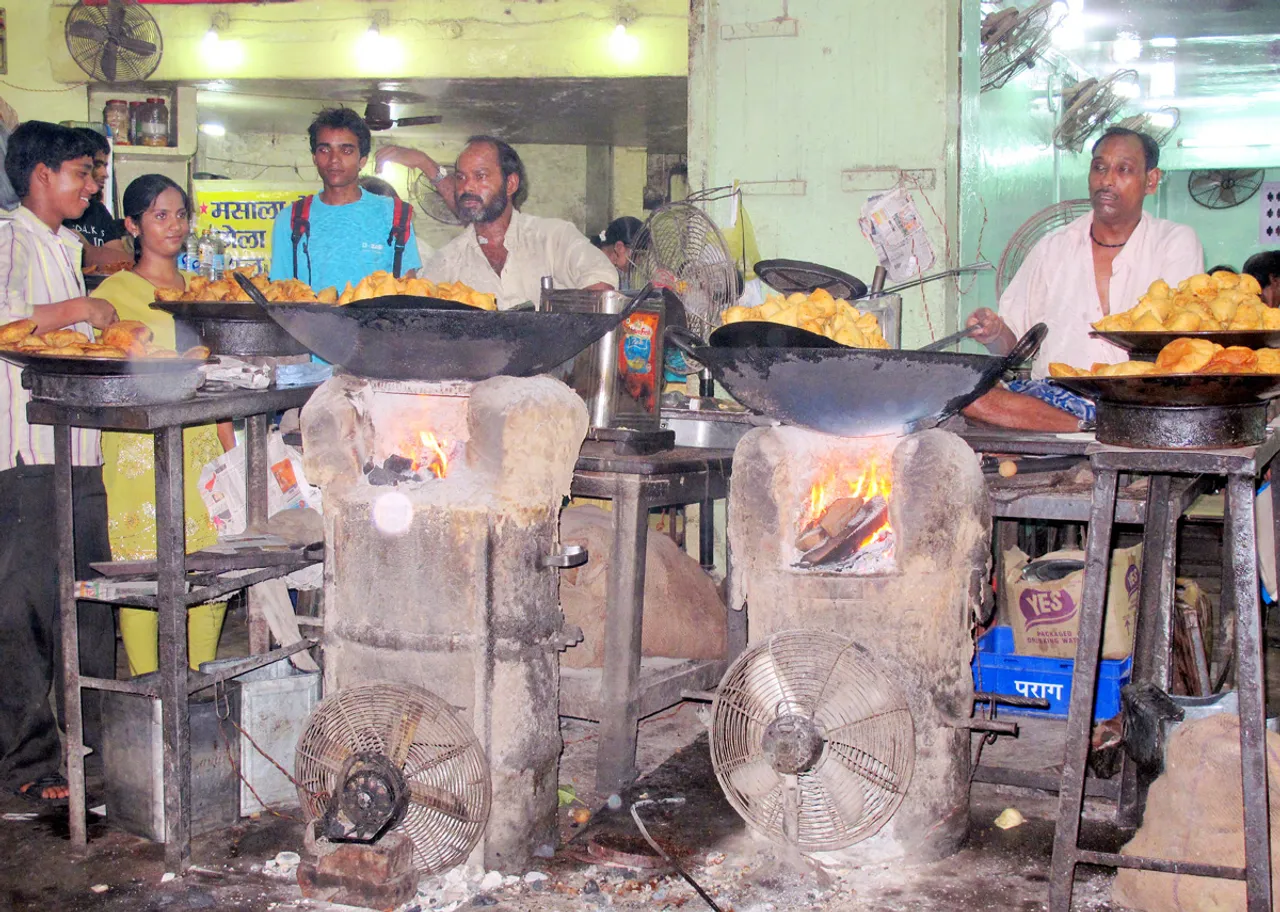 Varanasi in Uttar Pradesh is not just a city. As Mark Twain famously said, "Banaras is older than history, older than tradition, older even than legend, and looks twice as old as all of them put together." Famous for its ghats, Ganga aarti, ancient temples, and hundreds of years old shops and houses, Varanasi or Kashi is also the seat of Indian art and culture. 
The birthplace of mystic and poet Kabir, the inspiration behind Ustad Bismillah Khan's shehnai and the city of salvation (moksha), Varanasi means different things to different people. But one thing brings together all aspects of Banaras – the street food. A unique blend of flavours and traditions, Varanasi's street food is prepared with mustard oil or desi ghee.
With most of the dishes not using onion and garlic, there is a liberal (but not unnecessary) use of heeng or asafetida and ginger which gives a unique flavour to food.
Bhang or cannabis leaves are blended with milk and curd to prepare bhang ki lassi, without which celebrations of Holi and Shivratri festivals are incomplete. Most of the street food items in Varanasi are served in pattal or dona (leaf plates), paper or earthen bowls, reducing plastic pollution to an extent.
Also Read: Kashmir's local bread-baking thrives as kandurs serve up delectable breads
These street foods in Varanasi stand out for their distinct flavours and use of local ingredients. They offer a taste of the city's rich culinary heritage and are a must-try for anyone visiting this historic place. Here are ten of them:
1. Kachori Sabzi: Made with refined or whole wheat flour, kachori is stuffed with a spicy mixture of lentils and then deep-fried. It is served with chutney and aloo sabzi (potato curry) made without onion and garlic. It is also a popular Sunday breakfast in Varanasi households.
2. Chaat: Varanasi is known for its tangy and spicy chaat, a delightful mix of crispy papdi, boiled potatoes and chickpeas, thick yoghurt, and two types of chutneys – one made with tamarind and jaggery and the other using coriander and mint. It is topped with besan sev to add extra crunch and flavour.
3. Lassi: Varanasi's lassi is creamy and refreshing, made with yoghurt and sugar and flavoured with saffron or cardamom. Now, fruit flavours are becoming very popular like mango lassi, strawberry lassi and banana lassi among others. 
The shops continue to blend yogurt, and sugar, with a dash of water manually even today. Electric blenders or mixers are not yet mainstream among vendors and shopkeepers in Varanasi. 
Also Read: Uttarakhand: Garhwali & Kumaoni food in pictures
4. Malaiyo or Malaiyyo: Also called Makhan Malai or Nimish, this sweet, frothy dessert is a speciality of Varanasi and is made from milk and saffron.  Since it takes eight hours to make the dish, preparations start a day before. It is made using cow's milk which is boiled and then fresh cream is added to it. The milk is boiled again and cooled under the sky. 
This milk is exposed to the dew under the open sky and is churned for three hours the next morning.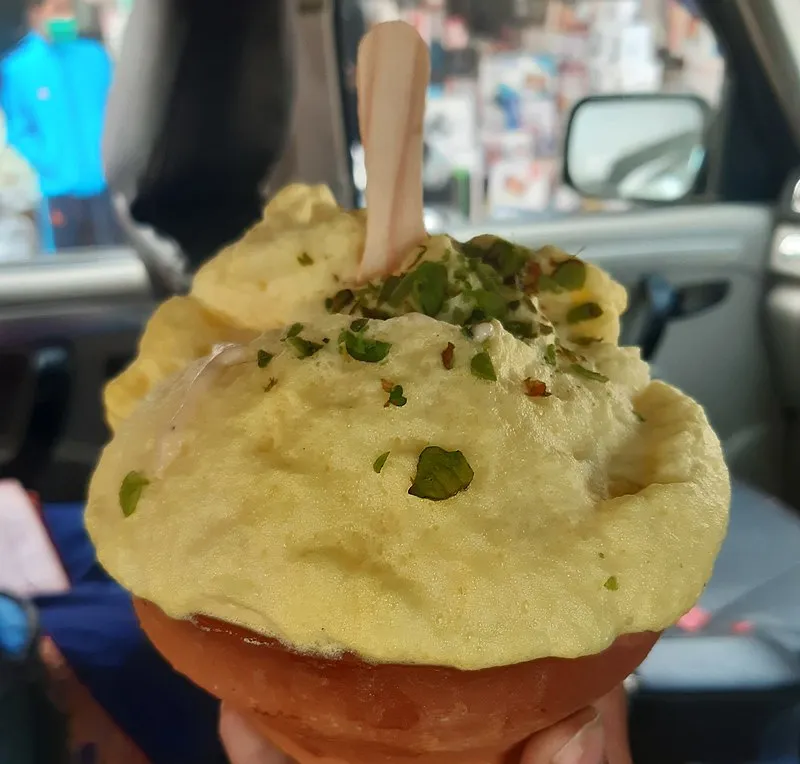 The final flavour is given by adding powdered sugar, yellow colour, and cardamom powder. It is served in earthen pots.
5. Banarasi Paan: Varanasi is famous for its paan, which comes in many flavours like sada, meetha, amavat paan (with aam papad) and zarda paan. The betel leaf contains areca nut, slaked lime, and sweet or savoury fillings. It is folded into a triangle and secured with a clove. Paan is considered a digestive aid and is also a symbol of hospitality. 
Also See: Pickles of India: From orchids & peaches to banana flowers & bamboo shoots, Indians pickle just about everything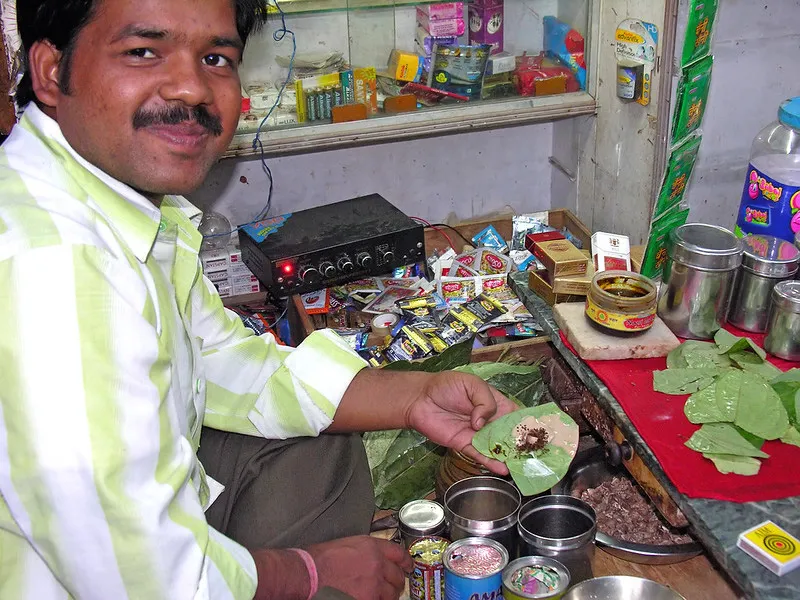 6. Tamatar Chaat: As the name suggests, the main ingredient in this chaat is tomato followed by potato. Ripe and red tomatoes are peeled and cooked with spices, including cumin, black salt, and red chilli powder to which boiled and mashed potatoes are added. Tamarind or its chutney is added for a tangy and spicy flavour. Some shops top it with namak pare while some others add besan sev. It is also served in earthen pots.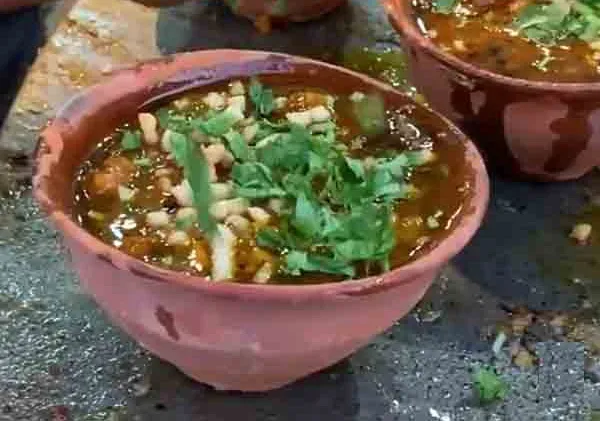 7. Baati Chokha: This dish originated in the neighbouring state of Bihar but is hugely popular street food in Banaras as well because of being wholesome, filling and tasty. Baati is made by mixing wheat flour, ghee, and water and baking or frying its flattened balls until golden. Chokha or choke is a spiced mash of vegetables like eggplant, tomatoes, and potatoes and is seasoned with minimal spices. 
Also Read: How desert, drought & wars inspired Rajasthani cuisine
8. Jalebi: Varanasi's jalebi is known for its thinness, crispiness and sweetness. These deep-fried, syrup-soaked spirals are a popular dessert alone or can be had with rabari – thickened sweetened milk flavoured with saffron and cardamom.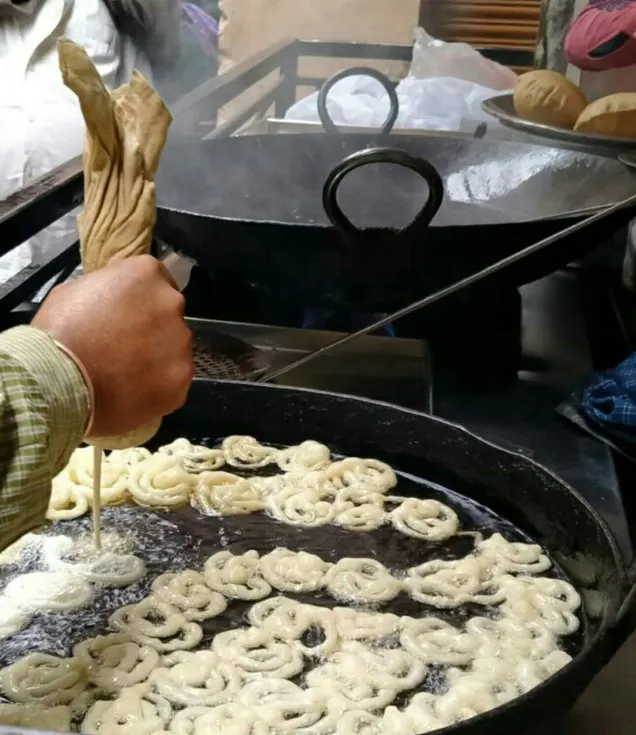 9. Chenna Dahi Vada: This dish is the savoury version of rasmalai! It is made using chenna, which is similar to cottage cheese. The dumplings are fried and topped with sweetened thick curd. Garnishing is done with tamarind sweet and sour chutney, green chutney, black salt and roasted jeera powder. The melt-in-the-mouth dish is sweet and savoury.
10. Choora Matar:  It is a delightful and wholesome street food made with choora or poha (flattened and dehydrated rice flakes). It is prepared in ghee with tender green peas using minimal spices like cumin seeds, green chillies, and coriander leaves. Earlier, it was available only during winters when peas were in the market in plenty. However, frozen peas have made choora matar available throughout the year now.
Also Read: 10 lip-smacking street foods of Jharkhand