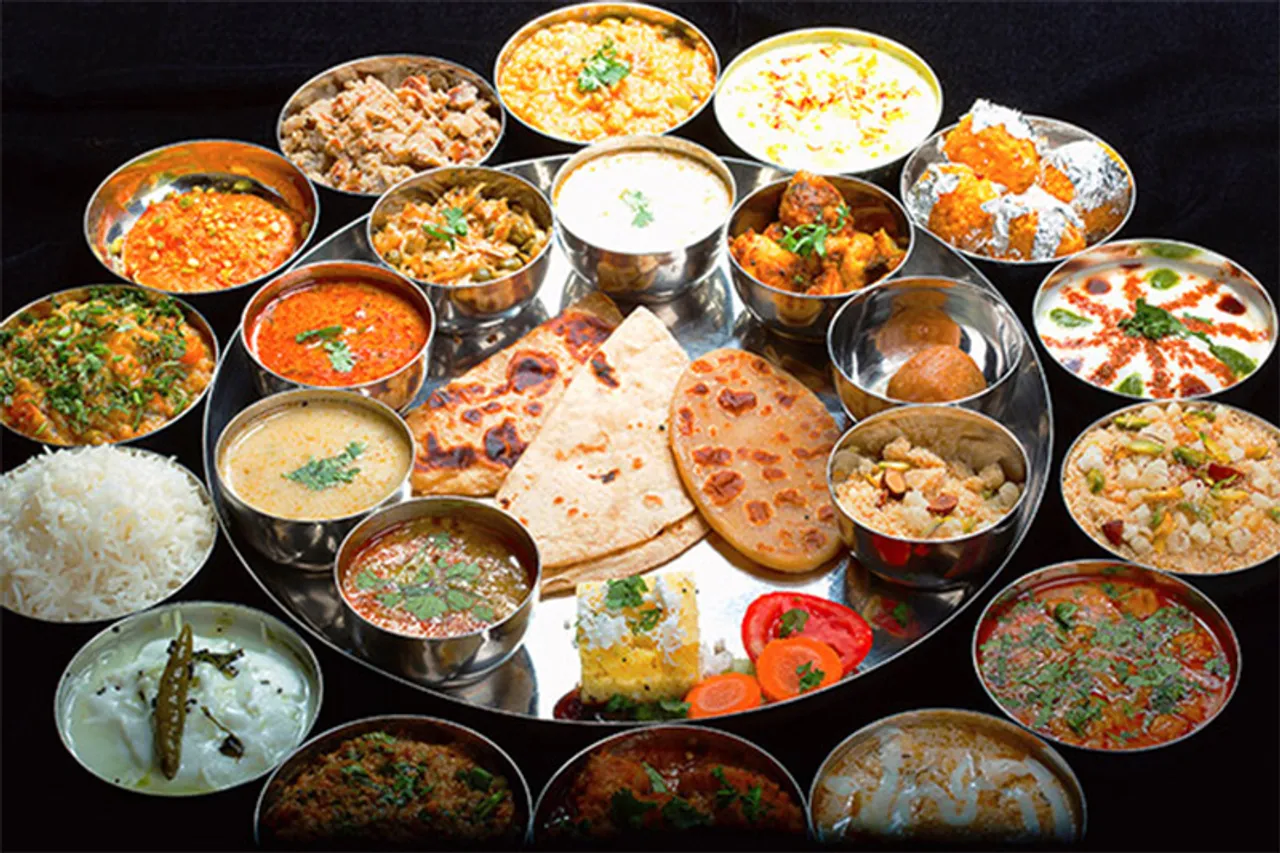 Rajasthan - the very mention of India's largest state conjures images of the desert, dunes and parched Mother Earth; extreme weather conditions that once made survival a daily fight. Add to this the frequent droughts. And the picture that emerges certainly does not inspire. Yet rarely has land with such sparse cultivation curated a spread so lavish as the Rajasthani cuisine.
It was James Todd, the great historian, who wrote in his book Annals and Antiquities of Rajputana that the Rajput hunts and eats the boar and deer, and shoots ducks and wildfowl.
The influence of Rajputana wars on food
The warrior class, while camping, depended on what was available in the dry Thar terrain. Also, wars rarely allowed a kitchen with its fanciful paraphernalia to be transported from one battle to another. Hence a distinctive method of desert cooking developed. 
Game, for the warrior class, was the mainstay of the menu.
Also See: In pictures: Bihari food beyond litti chokha
Referred to as sula by the local community, it remains a delicacy all over the state to date. 
With hunting banned by the law, Rajputs have come to depend more on mutton and lately chicken. Fish, though available in pockets of Rajasthan, was not always a favourite. The junglee maas, a very popular dish of the desert state, evolved from a very basic method of barbecuing by the warrior tribe. 
Also See: Maharashtrian food in pictures

The Mughal influence on Rajput cooking is also very apparent. One of the finest dishes, safed maas – mutton in a thick white gravy -- uses coconut kernel, white pepper, poppy seeds, almonds and cashew nuts. This all-white dish is one of the best examples of Mughalai impact on Rajasthani cuisine. The white gravy, also a signature dish of Rajasthan, is also popular with vegetarians who replace the mutton with vegetables. 
Add to this the spices which were readily available because some of the erstwhile Rajputana states were part of the Silk route and you get a fragrant cuisine.
Also See: Uttarakhand: Garhwali & Kumaoni food in pictures
Bajra, besan & buttermilk
Much later, the British imparted some blandness, with the inclusion of soups, stews, salads and baked fare. Lavishness and variety was almost the sole preserve of the royalty or the rich traders of Rajputana.
East Rajasthan, blessed with seasonal rivers and depressions that serve as lakes, witnessed livestock rearing. Hence the overwhelming presence of gravies made from curd or the use of ghee and buttermilk in Rajasthani cuisine.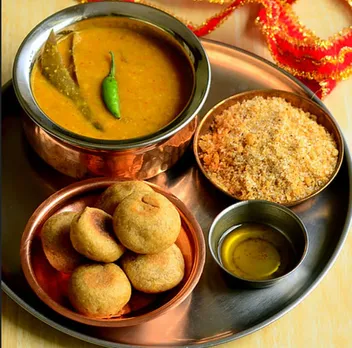 Gram flour or besan continues to be a staple in Rajasthani food alongside bajra and other millets. Sangri and gwar phali are varieties of beans that grow easily in the desert. Along with kachri, they were dehydrated and stored for future use. 
Also See: In pictures: From Sindhi gheeyar to kanji vada & bhabhra, traditional Holi food as colourful as the festival
Similarly, dumplings made from moth, a local lentil, were dried and stored. It found its way into Rajasthani thalis as badi ka saag and was made with papad – the thin wafers which were sun-dried for use throughout the year. 
Gatte ka saag made from besan is another signature dish of Rajasthan.
Khichra is a porridge made with millet, moth or lentils and water. The khichra is eaten with jaggery and kadhi or khatough as it is known in the local parlance. The latter is made by boiling a mix of buttermilk and gram flour with mustard seeds, ginger and garlic. The longer it stays on fire the finer it tastes. Savoured across the state, no Rajasthani meal is complete without the kadhi.
Also Read: Farohar: How a mother-son duo is popularising Parsi cuisine through authentic recipes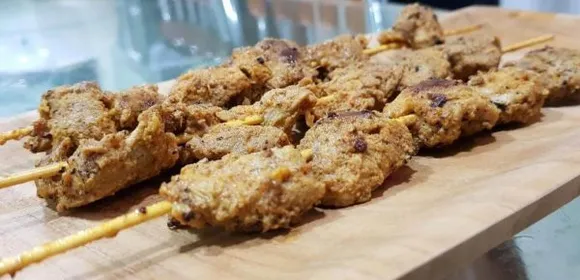 Red chilli-garlic chutney has been a hit for centuries.
Most cooking was done in pure ghee. Oil from groundnut or sesame, grown locally, was also used widely. In summer, rabori millet flour cooked in buttermilk was an antidote for heat strokes if consumed daily. Simple and wholesome as the cuisine was it, most certainly catered to the sweet tooth also.
Also Read: How 2 sisters are reviving cuisine of Bannuwal Hindus who migrated from Pakistan after Partition
Sira or halwa made from ghee and wheat flour or gram flour, sugar or jaggery and lapsi made with broken wheat and sugar were commonly prepared. Rice flavoured with sugar and dried fruits in the desert state was reserved for special occasions when bhai or jawai (brother or son-in-law) came visiting.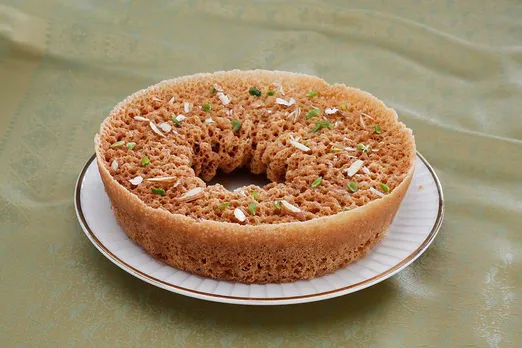 Any tell all review of Rajasthani cuisine remains incomplete without the mention of regional specialities. If Bikaner is famous for its savouries like bhujias, badi and papad, then Jodhpur remains unparalleled for its sweet mawa kachori and mirchi badas made with fresh green hot chillies. 
Also Read: Kashmir's street food: Lotus stem & fish fritters, chickpea tacos, sweet snowballs & more
Bharatpur, a wetland, is famous for its sweet milk pedas andKota for its spicy mouth-tingling savoury kachori. Shekhawati is renowned for its hair-thin pheni – flour strands deep fried into balls and laced with sugar syrup and dry fruits.
Jaipur too has a rich repertoire of delicacies and the chief among them is ghewar – a sieve-like flour pancake dipped in sugar syrup and topped with mawa and dry fruits. Rajasthan may be a desert state but its rich and varied cuisine is every connoisseur's delight.
(Sadhana Garg is a Jaipur-based writer & social entrepreneur. She is the founder of Raasika - a brand promoting handcrafted, hand block printed textiles – and Raghukul Trust, which works to preserve living traditions and the performing arts.)
Also See: In pictures: Traditional Goan Christmas foods