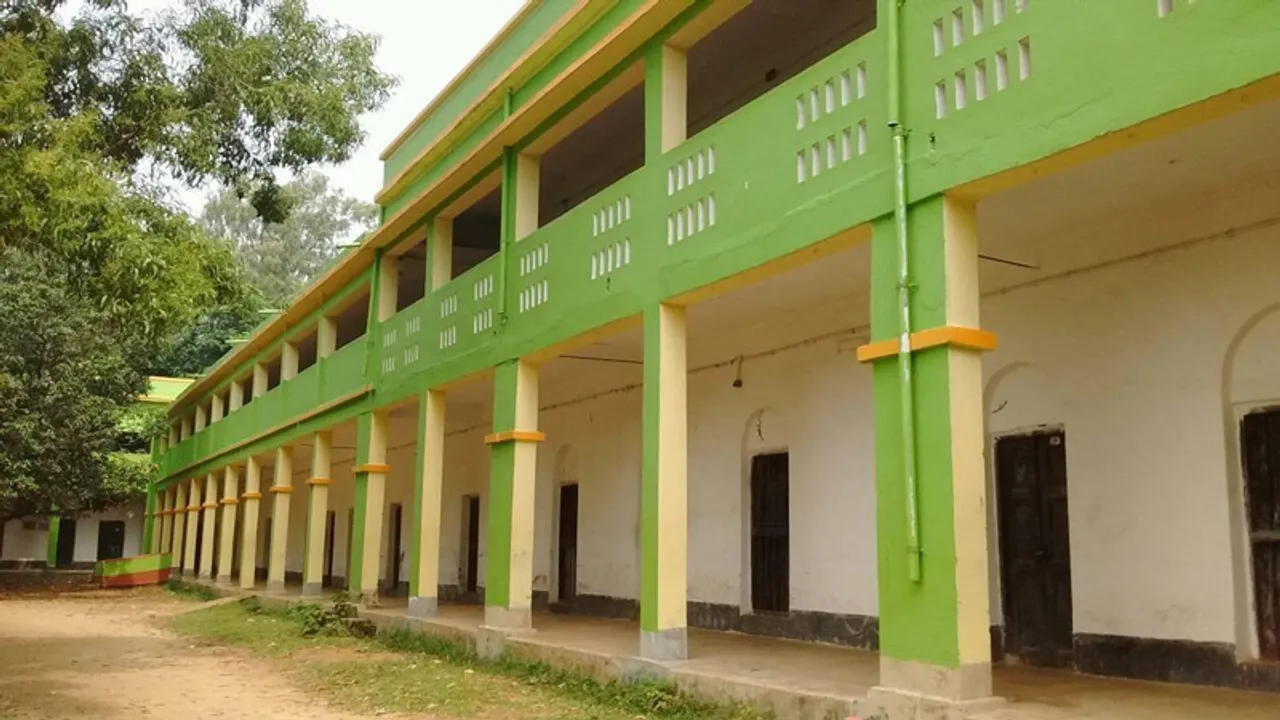 Tucked away in Gopalpur in West Bengal's East Burdwan district is a 100-year-old school that has a tradition of observing its weekly holiday on Monday instead of the conventional Sunday. The roots of the tradition lie in the struggle against British rule.
Gopalpur Muktakeshi Higher Secondary Vidyalaya in East Burdwan district was founded on January 5, 1922, with 13 students in Gopalpur village, 73 km from Kolkata. The school was named after a nearby temple dedicated to Goddess Muktakeshi, an incarnation of Goddess Durga. Since 1922, the school has kept alive the tradition of working on Sundays.
The school came upon 3.3 acres of land that was donated by two wealthy landholders, Abhinash Chandra Halder and Bijoykrishna Kumar, both from Gopalpur. Inspired by Mahatma Gandhi's Non-Cooperation Movement, the duo decided to contribute towards opposing British rule by setting up a school that would echo the ethos of Indian freedom struggle. They put into effect the rule that the school would open on Sundays.
Second, they decided not to teach the English language in the school. This was another way of defiance as the British had made English compulsory in all schools. English was, however, added to the curriculum in 1925. But the decision to keep the school open on Sundays carries on till today.
Also Read: From chalk-and-talk to doing-and-learning, how Bangalore's Mantra4Change is transforming education in under-resourced schools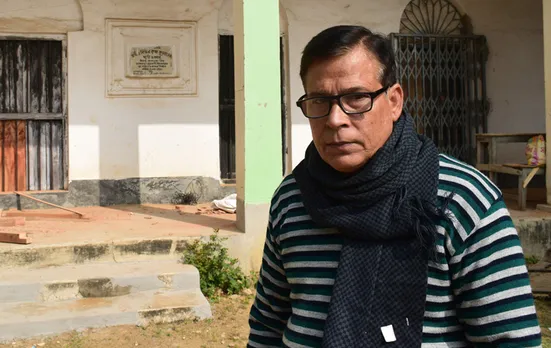 The school timings are from 10:35 am to 4.30 pm with off on Mondays. The institution has 950 students, more girls than boys and has classes from 5th to 12th.
 Centenary celebrations
The school celebrated its centenary on January 5, 2022, and had planned several events but Covid has played spoilsport.
Acting headmaster, Debabrata Mukherjee says, "We had many dreams to commemorate our centennial. We considered a celebration lasting three to four days but Covid has marred the festivities."
Also Read: How free education became a passport to London and Rome varsities for underprivileged Kerala boys
"The students might have been the third or fourth generation of learners, but their enthusiasm is unmatched. We have disciplined pupils and energetic staff," Mukherjee continues.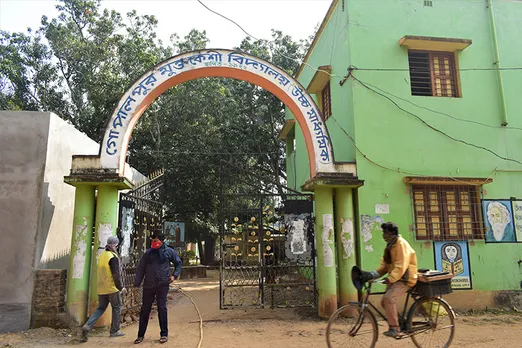 Chaiti Ghosh, a class 9 student, seemed rather forlorn as she came in to attend her school's birthday party. She said none of her classmates had come for the celebrations due to the pandemic.
Supreeti Ghosh, an 11th-grade student, on the other hand, was overjoyed to be a part of the occasion and the chance to perform a song. "Being a student at this institution makes me proud. It is a staunchly anti-British organisation. With a chuckle, Supreeti explains, "Our school is special because we have Mondays off. It has retained its century-old legacy."
Despite the fact that the school officials had issued a Covid-19 notice instructing students to stay at home, some elderly former students joyfully returned to their alma mater for the event.
They reminisce about their days in school. It's interesting to note that family members of many students attended this institution.
Also Read: How Barmer's NGO Fifty Villagers is helping underprivileged students become doctors
Satyapriya Kumar, 77, who attended school between 1955 and 1962, believes there are also other reasons behind the school remaining open on Sundays. Abhinash Chandra Halder and Bijoykrishna Kumar both had businesses in Calcutta.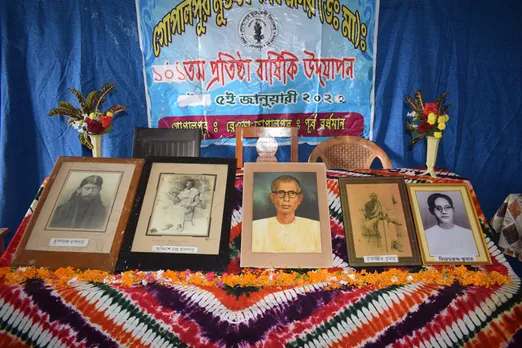 On Monday, they would return to what was called Calcutta back then.
Another ex-student and former school secretary, Badruddin Mohammed Omar, who did his schooling from 1952 to 1966, echoed a similar view. He said the founders would be in town on Sundays and would interact with the school administrators on that day and so the school was opened.
Also Read: Krishnalal Maity: Bengal police officer whose rhymes & poems are part of school syllabus
Samir Kumar Ghosal, a teacher, who passed his tenth in 1986 and joined the teaching profession in 2009, points out that the freedom movement was in full swing during 1920-22. "These two visionary people - Abhinash Chandra Halder and Bijoykrishna Kumar, along with Rajballav Kumar, stepped forward to establish this educational institution, hired the teachers and paid them for their services."
He is of the opinion that the founders disobeyed British directives to close educational institutes on Sundays.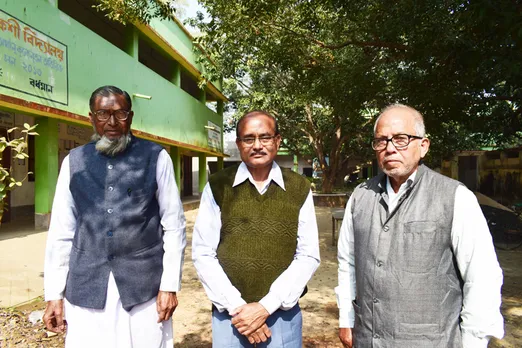 "Even after independence, a succession of education ministers shuffled, but they were unable to change the school's tradition. The routine was not disrupted by the state administration. We have written to the Prime Minister's Office, the President's Office and the West Bengal government to get it declared a National School," says Ghosal.
Sharing childhood memories, Satyapriya Kumar highlighted some forgotten tales of his school. 
Also Read: Badlav: How Lucknow's Sharad Patel is helping beggars set up micro-enterprises to lead a dignified life
Kumar says in 1925, headmaster Kalipada Bandopadhyay left Garhbeta High School in West Medinipur where he was getting a salary of Rs.200 to join his school at a salary of Rs.30 per month. Bandopadhyay belonged to Gopalpur village and was a man of principle. He joined this institute at the request of the people and contributed to the school's reform. In the same year, his school received accreditation from Calcutta University.
"School is significant in providing a spark in a person's life. The roof of the school was covered in hay. This institution educated my father and uncle," Kumar recounts his association with the school.
Also Read: Sakhi for Girls' Education: 100% pass, zero dropouts among girls in Mumbai slums
Omar recalls the lack of facilities in the school. "We didn't have a toilet back then. The majority of our teachers showed up to school barefoot. There was no school uniform and practically all students arrived at school wearing a half-pant strung with ropes or secured with safety pins. In our day, the results of primary and secondary school were jointly announced by the headmaster while standing beneath a mango tree. I consider my school to be a temple and I always look forward to coming here," Omar says enthusiastically.
Also Read: How i-Saksham's young education leaders are driving change in Bihar's most backward districts
Nasirul Haque, a 1967 batch pupil who passed out in 1976 and is now the school secretary says the school's 101st anniversary is a joyous occasion. "The school lacked funds for infrastructure growth during my school years. But now we have access to a range of funding options, allowing us to make some progress."
According to Haque, planned renovations include improving the school park, constructing boundary walls around the school and including the study of optional subjects in the curriculum.
(Partho Burman is a Kolkata-based award-winning journalist. He writes inspiring human interest and motivational stories.)
Also Read: From 'rat eaters' to lawyers & engineers, how Bihar's SSK School is helping Musahar community rise above poverty & stigma