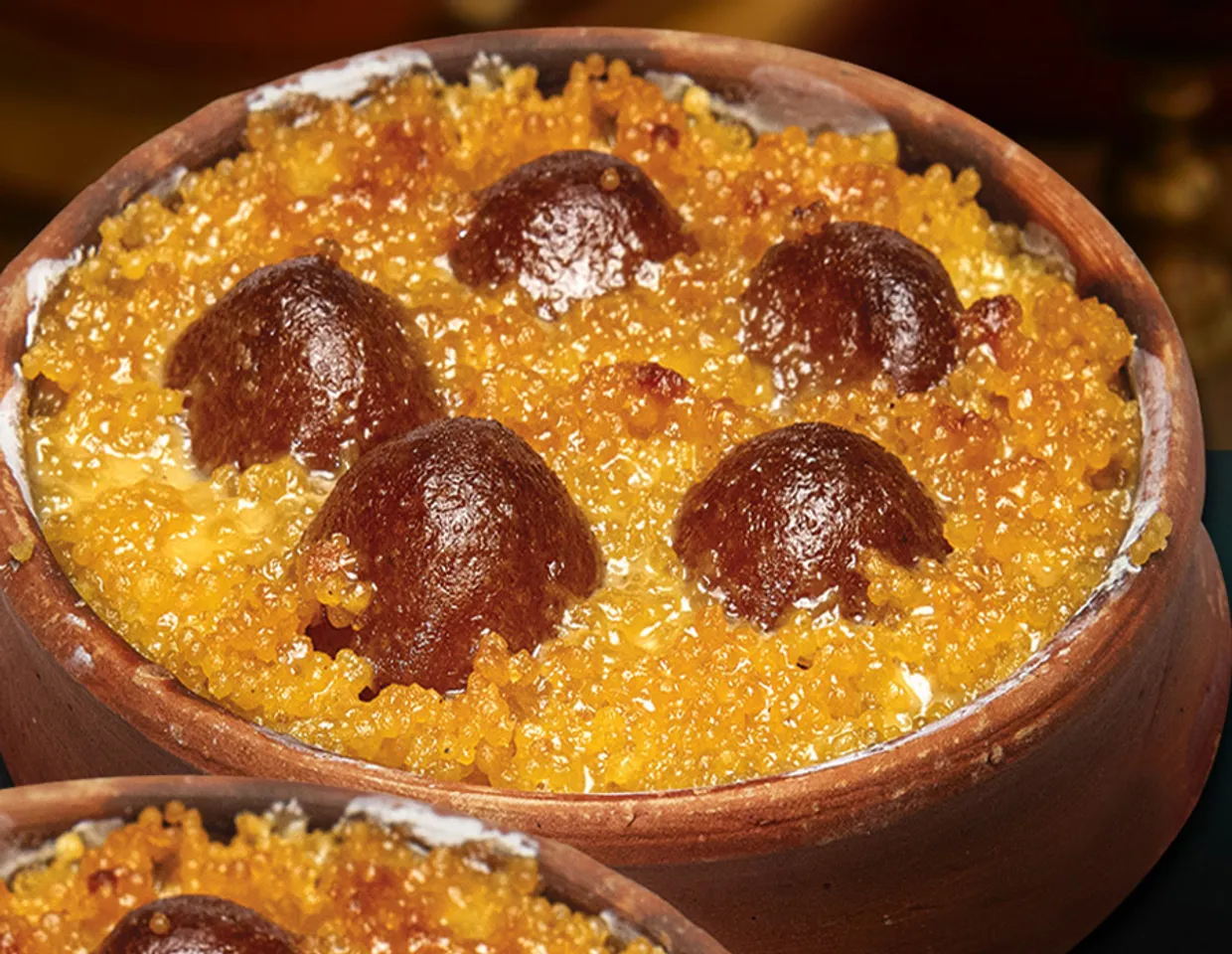 Rasgulla, rasmalai, bal mithai, malpua, Mysore pak, sandesh, laddu, kheer, kulfi, jalebi and the list of Indian sweets is endless. Each state has its distinct sweets made from locally available ingredients.
In fact, the English words 'sugar' and 'candy' trace their root to Sanskrit. Sugar is derived from 'sharkara' and candy from khaand (unrefined sugar). Besides using sugar in its various forms and jaggery, Indian sweets are made with milk, flour, grounded pulses, rice etc.
Also See: Christmas: 5 desi cakes made using petha, murabba, mawa & more
Some sweets have also received the Geographical Indication (GI) tag, which indicates that they use ingredients and processes that are unique to the area of their origin. Mostly, local sweet makers' associations safeguard the use of GI tags, ensuring that only the authorized people use the certification while marketing the sweets.
The tag ensures that none other than those registered as authorised users are allowed to use the popular product name. Here are ten Indian sweets that have received GI tag:
1. Bardhman Sitabhog: It is a dessert that looks like white rice or vermicelli and is served with small pieces of Gulab Jamuns with just up to half cm radius. Made in Bardhaman, West Bengal, the sweet uses flour of Gobindobhog rice variety.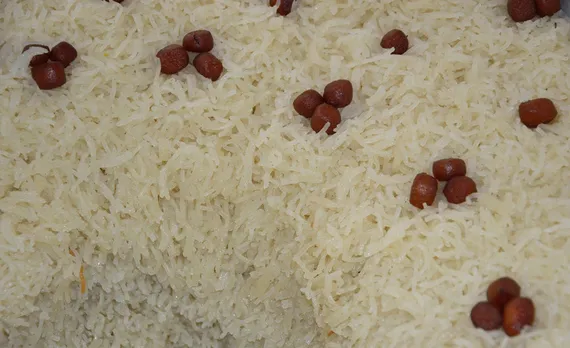 The rice flour and chenna or cottage cheese are used as the base while other ingredients used are ghee, pulao (Annapurna) plant leaves, sugar, cashew nuts and raisins. The cottage cheese and rice flour are rolled into a smooth dough using ghee and the dough is passed through a 'sev mould' so to make thin threads of vermicelli which are deep-fried in ghee. The fried strips are then soaked in sugar syrup flavoured with bay leaf, cloves and saffron.
Also See: In pictures: From Sindhi gheeyar to kanji vada & bhabhra, traditional Holi food as colourful as the festival
Sitabhog was first made in Bardhaman about 150 years back for the local royal family, but its name spread after the arrival of Lord Curzon in 1904 who took a liking for the sweet.
2. Bardhman Mihidana: It is the micro cousin of the traditional boondi, which is famous all over India. 'Mihi' means fine, and 'dana', means grain. It is made using powdered Gobindabhog or Kaminibhog rice grown in Bardhman, West Bengal.
Also See: Maharashtrian food in pictures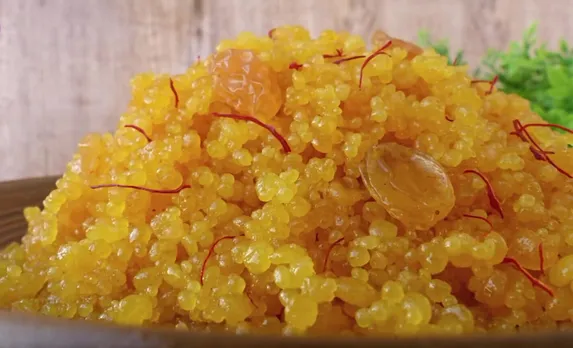 A small amount of Bengal gram flour and saffron are added to the rice powder to give it a golden colour. The mix is blended with water and passed through a large perforated brass ladle into a wok with ghee and deep-fried. The fine danas are put in sugar syrup flavoured with bay leaves. The syrup is drained once the sweet soak it up.
3. Joynagar Moa: Also called Joynagarer Moa, it is a light round-shaped wintersweet, which received the GI tag in 2015. It is said that a sweet maker Ashutosh Das first made the Moa in Joynagar, West Bengal, nearly 150 years back.
To make it, nolen gur is put on a fire in a large iron wok and stirred using a wooden ladle. As soon as the jaggery is fully melted, the wok is removed from the stove and when it cools down slightly, fried kanakchur rice -- a slender and scented paddy variety cultivated in Joynagar – is added to it. After an elaborate process requiring periodic addition of warm jaggery besides thickened milk, the moa is ready.
Also Read: Kashmir's local bread-baking thrives as kandurs serve up delectable breads
4. Silao Khaja: Silao is a village in Bihar that produces the GI tagged sweet Khaja. It received GI certification in 2018. The manufacturers grind and sieve Murariya wheat, which is harvested in the region only during May‐June. The flour is mixed with pure drinking water to prepare the dough.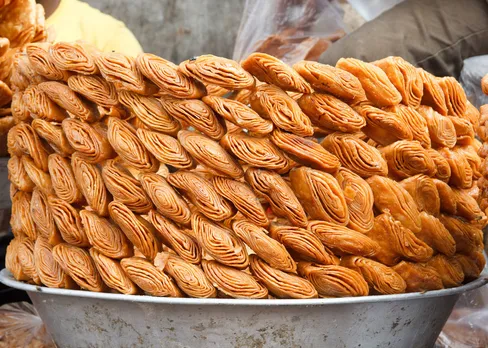 Traditionally, water drawn from a few especially earmarked wells is used for the dough. Small flour balls made from the dough are flattened by wooden roller pins into fine sheets on wooden tablets coated with pure ghee.
Each piece is deep‐fried till it turns crisp and light yellow. ln, a separate pan, jaggery and water are heated to form a syrup. This syrup is sprinkled on Khaja. Due to the delicate nature of the Khaja, special is used while packaging the product.
Also Read: Kashmir's street food: Lotus stem & fish fritters, chickpea tacos, sweet snowballs & more
5. Srivilliputtur Palkova: The Palkova, made in Srivilliputtur, Tamil Nadu, uses only cow's milk and sugar. Its taste lies in the quality of local milk. The climatic conditions of Srivilliputtur promote the growth of a variety of crops, which are used as fodder for livestock. The fodder intake of cows and their rich grazing habit gives a very unique and high-quality flavour to the milk.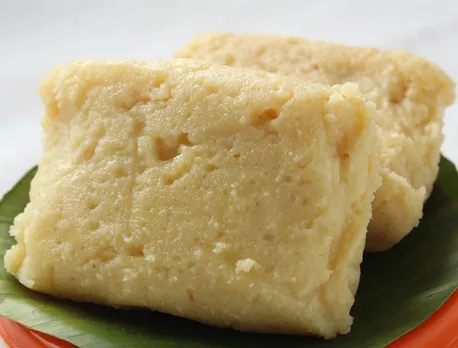 For every 10 litres of milk, only 1.2 kg of sugar is added to prepare the sweet. Dried Tamarind wood or puliyamaram is used as firewood in traditional mud stoves as it gives a constant amount of heat for a long time. It also lends a smoky flavour to the Palkova.
It is then allowed to cool for 5 to 6 hours in the open air and is ready for packaging.
Also See: In pictures: Bihari food beyond litti chokha
6. Dharwad Peda: Dharwad is a city in Karnataka and this peda was first made by a Thakur family who migrated from Unnao, Uttar Pradesh after the plague broke out in the early 19th Century. The first generation sweet maker was Ram Ratan Singh Thakur who prepared the sweet from the milk of Dharwadi buffaloes. They are reared by the Gavali community in and around Dharwad.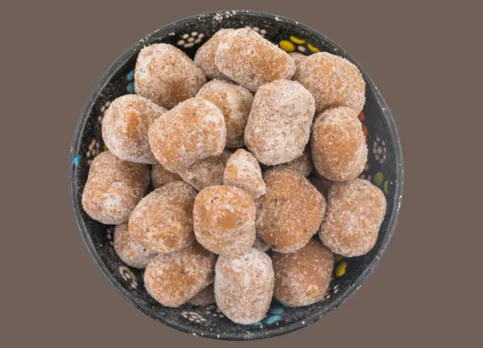 Later, his grandson helped grow the business in their store at Line Bazaar. The family closely guards the recipe of the Peda as a trade secret and the detailed process has not been publically documented. It is made by condensing the milk of the Dharwadi cow with sugar.
7. Banglar Rasogolla and Odisha Rasagola: Both West Bengal and Odisha lay claim over what the rest of India calls rasgulla. It is rasogolla in West Bengal and rasagola in Odisha.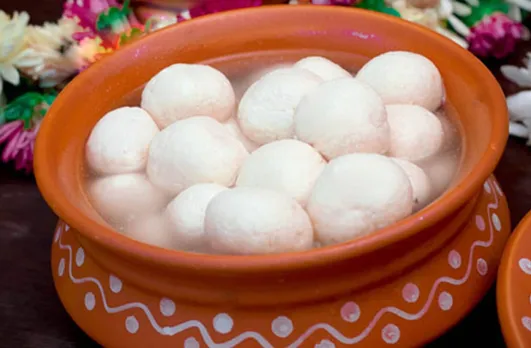 Bengal's rasogolla was first made by Nobin Chandra Das of Kolkata about 200 years back. It is a spongy white delicacy made of small balls of Indian cottage cheese (chhana) with diameters ranging from about 2.5 cm to 4 cm. It is cooked in sugar syrup till it achieves a soft consistency with a high binding capacity.
In 2019, Odisha too won a GI tag for its rasagola, which dates back to the 12th century as the sweet was offered at the Jagannath Temple in Puri.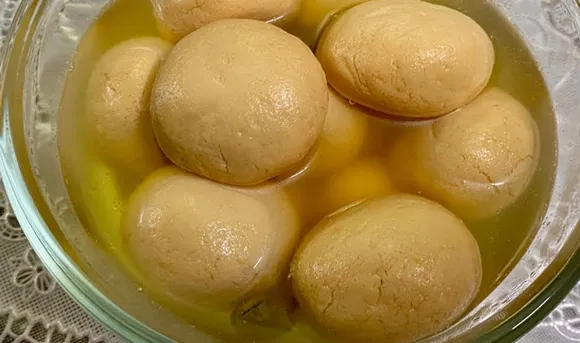 Tangible sponginess is the uniqueness of Odisha rasagola, which is very soft and tender. The sugar syrup is light and the sweet is famous for its 'melt-in-the-mouth' quality.
8. Kovilpatti Kadalai Mittai: This is a sweet made of peanuts and jaggery and topped with wisps of grated coconut. In Kovilpatti, Tamil Nadu, it is sold in rectangular chunks. The groundnuts are grown in the native black soil in and around Kovilpatti, which imparts a distinct flavour.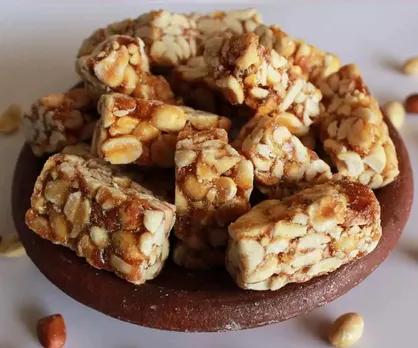 Groundnuts are shelled and roasted. Natural jaggery called 'vellam' from selected locations is used and water from the river Thamirabarani enhances the taste. It is made by adding ground nuts to the hot jaggery syrup. The kadalai mittai takes the form of a slab of squares wedged together.
9. Tirupathi Laddu: These laddus are made at the abode of Lord Balaji in Tirupathi, Andhra Pradesh. The laddus are made in a special place called 'potus', meaning a kitchen in Telugu. Only pure cow ghee is used for the entire preparation.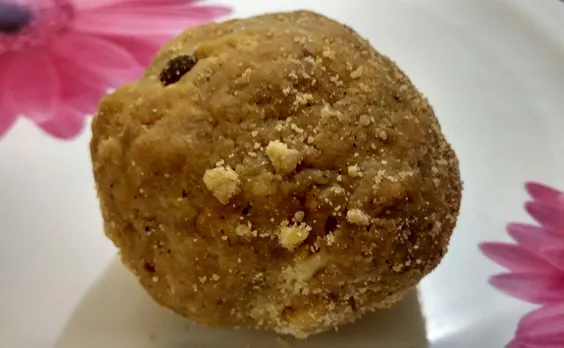 About 130 laddu workers produce lakh laddus per day at the main potu called 'Srivari Potu'. There is also an additional potu with about 60 contract workers who make only small laddus. The potus have firewood ovens and also gas stoves.
10. Goan Khaje: Goan Khaje is a famous sweet dish of Goa prepared for temple processions (jatra) as well as church feasts. After the religious ceremony, devotees walk through the jatra fair and one of the common and popular snacks piled high is Goan Khaje. It is a fried sweet item prepared using chickpeas flour, ginger, and jaggery with sesame seeds.
They are finger-sized sticks encrusted with jaggery infused with ginger and sprinkling of sesame seeds. Traditionally, chickpea flour dough is rolled into thick sev (cigarillo shape), deep-fried and then dunked in ginger-infused jaggery syrup. It is then allowed to dry. The colour of Goan khaje is orange and red depending on the jaggery syrup and preparation methodology. It is crunchy yet delicate with a smooth structure.
Also Read: In pictures: Traditional Goan Christmas foods