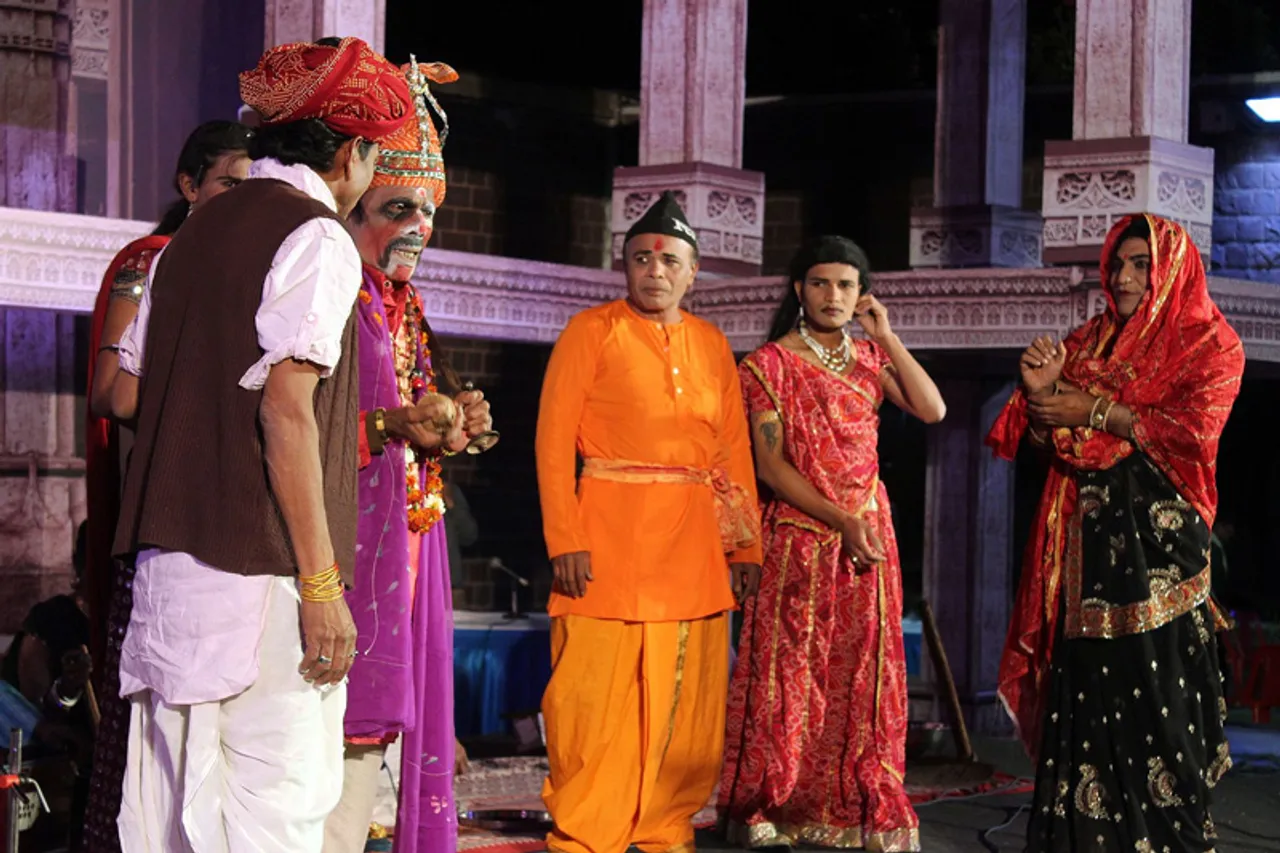 wp:html /
Bhavai, a traditional folk theatre form of Gujarat, is a mix of narrative (based on religion, mythology, history and folklore), songs, dance and drama. Dating back to the 14th century, Bhavai has sought to raise awareness about social evils while entertaining villagers. 
Asait Thakar is credited with creating Bhavai. It is said that Thakar, a Brahmin, was ostracised from his community as he claimed that a girl from another caste was his daughter to save her life. In exile, he took to writing over 360 'vesh' (skits) performed as Bhavai.
Thakar was a social reformer and tried to make audiences aware of social evils in society and spread communal harmony through his Bhavai performances
Over the years, the Targala community has been engaged in farming with Bhavai being a part-time activity.   
Also Read: With Baul songs, Bengal's Mansur Fakir preaches the message of humanity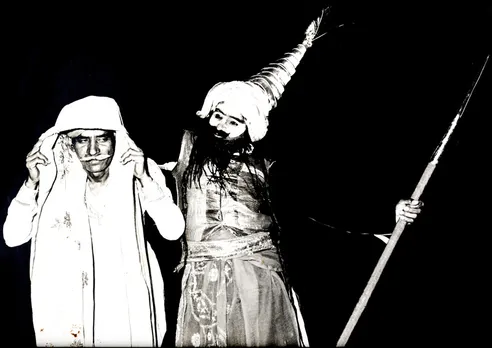 The origins of the word Bhavai seem to come from the Sanskrit word 'Bhava', which means emotion. Another theory is that it is derived from the word 'Bhav' (meaning universe) and 'Aai' (meaning mother) as it is an art form dedicated to the Goddess Amba.
The declining popularity graph
How popular is Bhavai these days? Well-known Gujarati film and television actor and reputed Bhavai exponent Archan Trivedi says, "To be honest, it is on the decline. Not because of a lack of audience, but lack of performers."
Families do not encourage their youngsters to learn and perform Bhavai. "They do not want them to take it up as a profession as it does not pay well. It is a very difficult time for the art form. In the olden days, Bhavai performers were greatly respected and villagers would give them lavish gifts of clothes and rations."
Also Read: Thali ki Ramayan: The 150-year-old farmers' performing folk art from Uttar Pradesh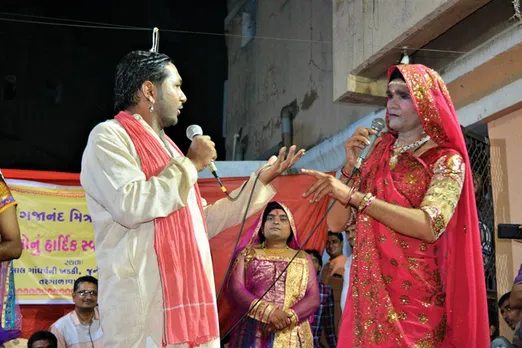 Bhavai is still popular in Patidar dominated villages, says Academic J.V. Patel. One example is Kanthravi village near Unjha. Bhavai is performed at marriages and religious festivals, particularly during Navratri, in small villages of North Gujarat, Saurashtra and Kutch, he says. 
Other issues that are discussed today in Bhavai performances are malnutrition, open defecation, substance abuse, dowry, female foeticide and infanticide, illiteracy, and gambling. Bhavai has even been utilised by a few companies to advertise their products!
Ahmedabad-based Bhavai artist Laljibhai Nayak agrees that Bhavai performances are on the decline and artists cannot sustain only on performances. "With TV and mobile phones reaching even remote villages, there is no dearth of entertainment for the people and audiences at Bhavai performances are scanty," he rues.
Also Read: Yakshagana: Karnataka's ancient theatrical dance art adapts to reach global audience
Laljibhai's Bhavai group has been performing in half a dozen villages in Unjha block of Mehsana district for many years. As a survival method, Bhavai groups have designated villages in which only they can perform. The performances are done usually on religious occasions in February, March and April in six villages in Banaskantha and Mehsana districts of north Gujarat.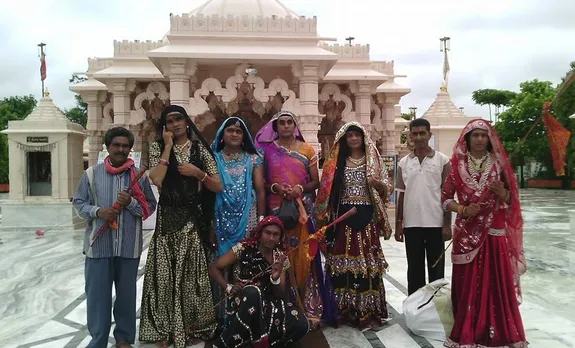 Laljibhai, who is an organiser in the government's mid-day meal scheme, says the performances last three days and the troupe gets around Rs3000 for the entire show. His troupe has 10 people and they all have some small jobs to earn their livelihood.
"For these performances, we get Rs7000 per day. But such programmes are few and far between. Generally, there are 10-15 such programmes in a year."
Also Read: How Ustad Moinuddin Khan is keeping the rich legacy of sarangi alive
Laljibhi says during Covid, only the religious performances took place. "We modified the performances keeping in mind the Covid protocols. Only 10-12 people were allowed to watch wearing masks. We also shortened the performance. A three-hour performance was cut to 30 minutes," says Laljibhai. 
Flexibility and spontaneity
To perform Bhavai, there is no need for curtains and stage props. It is usually performed in the evenings in village squares and temple courtyards and goes on well into the night. Colourful costumes and musical instruments are all that is required.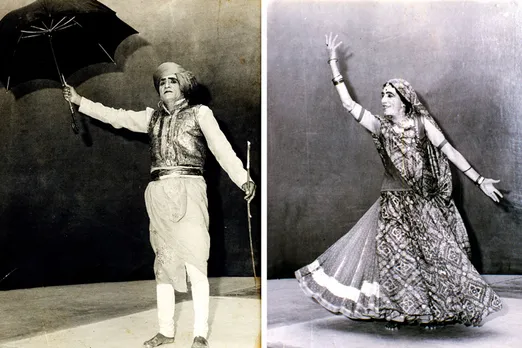 The narrative includes traditional Gujarati couplets, romantic songs, satirical songs and religious verses. 
Also Read: Pala: Odisha's 16th-century folk ballad with roots in Hindu-Muslim unity
Drums, cymbals, harmonium and sarangi are also used. The style of music is Hindustani mixed with local tunes. The language used is a mix of colloquial Gujarati and Hindi-Urdu as well as other local dialects. The dialect is adapted to suit the village where it is performed. 
This flexibility, spontaneity and ability to contemporise the content have endeared Bhavai to villagers. Compositions of Kabir, Meera and Tulsidas are used in the performances. The style of dance does not belong to any particular classical school but Garba and Raas are widely performed. While female characters wear ghaghra cholis or saris, men wear dhoti or traditional Kathiawadi attire. 
Also Read: Five Indian performing arts that might soon be lost forever
Why did men take on women's roles too? "While women never performed in traditional Bhavai, in modern Bhavai called 'Rangla Rangli', women also participate. The first two women who performed Bhavai were well-known theatre artist Dina Pathak (earlier Gandhi) and Damini Mehta," says Trivedi. Pathak was responsible for bringing the Bhavai touch to modern plays in the 1950s, he adds.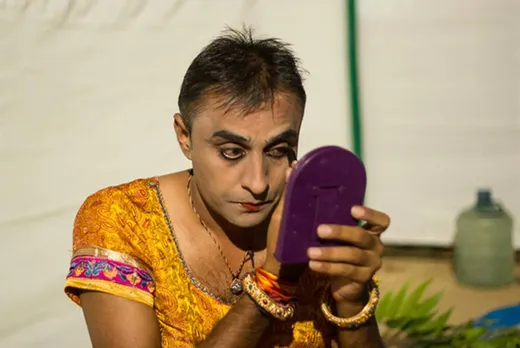 "Bhavai is a very interesting art form. The costumes, dance steps, songs and presentational style make the performances very attractive. The limitation is the language is not understood by all, especially in towns and cities," says Trivedi.
Social commentary
Academic J.V. Patel, in the 2018 paper 'Gujarati Bhavai as Performing Arts - Folk Theatre Drama', authored by him, writes: "There are several interpretations of the word Bhavai. One is that 'bhav' means life and 'vahi' means a diary. Thus, Bhavai could mean 'a diary of life.'"
This explanation highlights that Bhavai was intrinsically social commentary wrapped in an entertaining garb.
Also Read: Jaipur's Bhatt family struggles to keep alive the Tamasha tradition
What were the various social issues taken up during Bhavai performances? Trivedi says: "Asait Thakar was a great visionary and social reformer. He tried to spread communal harmony and unify the village communities. He also fought casteism. In fact, he insisted that the Harijans would light the 'mashals' (flaming torches) to illuminate the performance area. Thakar also spread awareness about child marriage and inter-religion marriages. He sought to promote small businesses. For instance, he wrote one skit specifically about the occupation of knife sharpeners."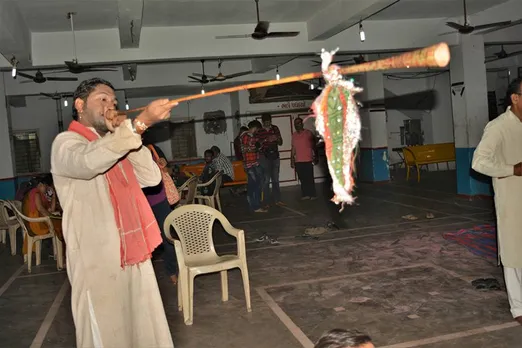 A 1984 paper titled 'Bhavai – Gujarati folk drama' by Alahari Sai Prasad, published by Sangeet Natak Akademi, New Delhi gives examples of how social evils were exposed during a Bhavai performance using satire, mimicry and taunting the audience and making it introspect. For instance, 'Achooth' depicts the condemnable practise of untouchability while 'Khajudao' is about a couple with a wide age difference.
Also Read: From online performances to vaccination, Bangalore's StillSpace Theatre helps artists keep alive their arts during the pandemic   
The paper also quotes Dr Sudha Desai, a scholar in traditional art forms, as saying that Bhavai originated as a ritual to propitiate Goddess Shakti. It then transformed into a people's art drawing inspiration from the emotional lives of the rural people. This transformation gave Bhavai vitality, variety in content and wider appeal, she says.
Darpana's contribution
It was serendipity that led Archan Trivedi to Bhavai 35 years ago. "I saw an advertisement in the newspaper about a nine-month training for Bhavai. It said that those who would attend would get a diploma and Rs 400 a month as a stipend. At that time, I did not know what Bhavai was. But the stipend attracted me," he says with a laugh. The advertisement had been placed by Darpana Academy. He gave an audition and was selected.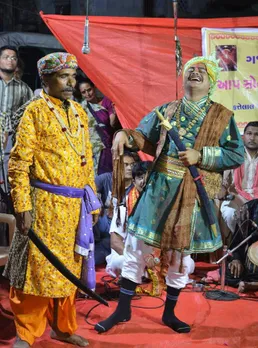 The training was fantastic, says Trivedi. He fell in love with Bhavai. Darpana founder Mrinalini Sarabhai, Dr Govardhan Panchal, Chimanlal Naik (a Bhavai great of the 20th century and winner of the President's award), Kailash Pandya and Damini Mehta were the teachers, he narrates. The training was rigorous. Initially, they were 35 students. Only six remained after a month!
Also Read: Buried at birth, how Gulabo Sapera survived to become the global ambassador of Rajasthan's Kalbelia folk dance:
"As soon as the training was over, Amma (as Mrinalini Sarabhai was fondly called) gave me a job in Darpana as a performer. I performed all over the state and in a few places abroad. In 2012, I had the good fortune to perform at London's Globe Theatre in a Shakespearean play Bhavai style! The play was the musical production 'All's Well that Ends Well'. I even had the joy of opening the performance with a 'Ganesh Vandana," narrates Trivedi.
Can Bhavai be revived?
Patel in his paper analyses the challenges facing Bhavai and what can be done as follows:  
The poor financial condition of the Targala community which traditionally performs Bhavai is a challenge.
Myriad forms of entertainment even in rural areas offer stiff competition to Bhavai. Technology should be used effectively to promote Bhavai and introduce it to youngsters.
The lack of training centres is another hurdle. Darpana Academy in Ahmedabad still attempts to keep the art form alive by conducting workshops.
The government should promote research as well as include Bhavai in the educational syllabi for students of literature and performing arts.
Many Gujaratis in the UK, US, Canada, France, Australia and Germany organize cultural programmes inviting Indian artists. This is a good opportunity to popularise Bhavai in foreign countries.
"Still, there are efforts to keep this ancient folk theatre form alive. I myself am conducting a Bhavai workshop at Darpana soon. Bhavai, or any folk art from, will never completely die," says Trivedi optimistically.
(Aruna Raghuram is a freelance journalist based in Ahmedabad. She writes on parenting, personalities, women's issues, environment, and other social causes.)
(Lede pic through Wikipedia/Suyash Dwivedi)
Also Read: Gotipua: Odisha's 16th-century dance that freed devadasis from temples is now struggling for survival