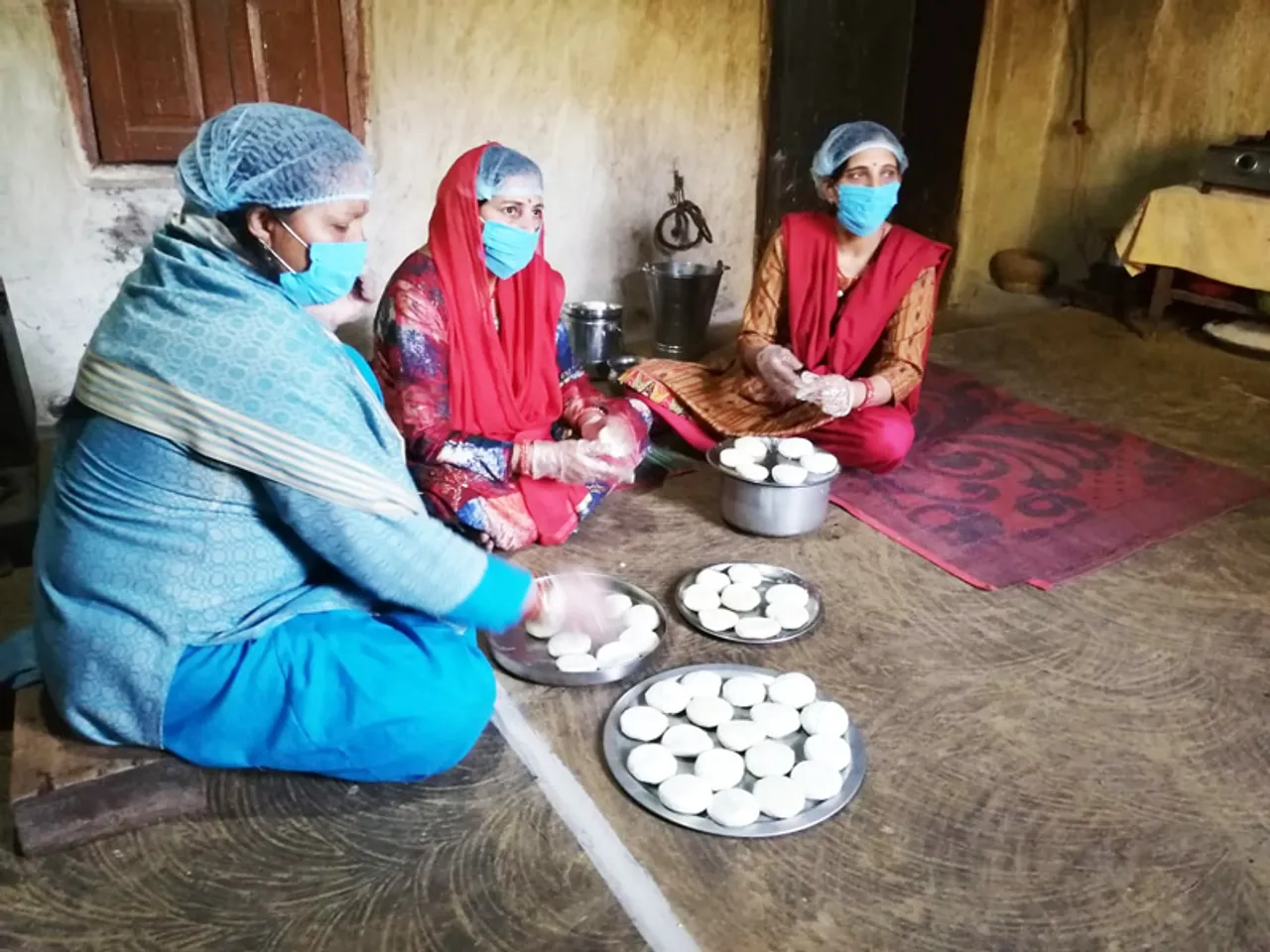 For hundreds of women in the Udhampur district of Jammu and Kashmir, a local, tangy cheese called Kalari has turned out to be a tasty mix, doubling their incomes and bringing them self-confidence and respect.
The Udhampur district administration in collaboration with the Jammu and Kashmir National Rural Livelihood Mission (NRLM) is assisting the women's self-help groups to promote the production of Kalari. In March 2021, the department tied up with a Jammu-based private marketing firm, The Himalayan Bliss, to market the product under the same name.  
The chewy cheese similar to mozzarella can give celebrated cheeses from Europe a run for their money.
Shambi Devi who joined the SHG in her village in 2019 says her income has risen after she started selling it to the private firm. "Earlier, I was at the mercy of the middleman who purchased the Kalari from us. He would buy it as and when he required it. There was no guarantee of the rate he paid or the quantity he bought," she says.
Also Read: Käse Cheese: Chennai's all-women artisan cheese startup empowers people with hearing impairment; expands operations to Gujarat & Rajasthan
"But after joining the SHG, I get good rates and don't have to worry about selling my product. I feel proud that I can contribute to my family," she adds. Shambi, 53, lives with her son, daughter-in-law and daughter in the Rasli Chakrai village, about 90 km from Udhampur.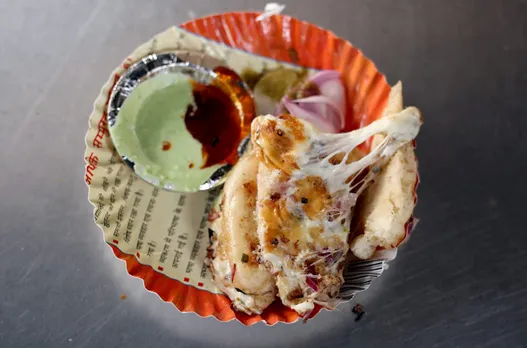 She has three indigenous cows and a buffalo who give about 15 to 20 litres of milk per day. She makes Kalari from the entire milk. 
"Our cows graze in natural pastures in the hills which do not have any chemicals. So, the flavour and taste of their milk is superior and the taste of the Kalari too is better," she says.
Initially, the women were reluctant to join the NRLM department initiative, questioning how it would benefit them. 
Also Read: From 9-to-5 job to making artisanal cheese, how Nitin Dayalu built Old Hill Foods in the Himalayas
Say cheese!
Naresh Mathur, Block Programme Manager, Dudu-Basantgarh, JKRLM, says the department has engaged with women SHGs, educating them about the potential of commercial production of Kalari and training them on producing good quality products.
"Kalari is indigenous to this region and is made by women in almost all households. Earlier, women were making it and selling it locally. They had to be content with whatever rate the middleman gave them," he says. The middlemen would pay Rs180-210 per kg of Kalari.
Also Read: From German language teacher to millionaire dairy farmer, how Milan Sharma whipped up a success story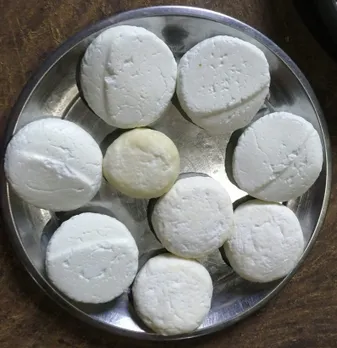 The department staff held meetings with the SHGs and instructed them on standardising the product. "Since Kalari is hand-made, the size of the product varies. The process used by the women also has slight variations. So, the staff told them how to maintain hygiene and keep a standard size so there was no compromise on the quality. We have to ensure good quality if we want to market it successfully," he says.
"A major roadblock for the women is that they cannot successfully market their product. We have tried to assist them by tying up with a private firm that does the marketing," says Mathur.
Indu Kanwal Chib, mission director, JKRLM, says the Kalari project has had three positive outcomes. "First, the women who confined themselves to making Kalari for family and friends realised that there is money to be made from their skill. So, not only are they earning additional income but also have a newfound self-confidence," she says.
Also Read: Rajasthan's Camel Charisma builds a superfood business with camel milk and cheese
"Second, standardisation was important. Women who were making Kalari at home were careless about hygiene and standardisation. Therefore, we imparted training on wearing gloves, masks and caps while making the Kalari, wrapping the cheese in clean cloth while hanging it to dry instead of dupattas or any other unclean cloth."
The third challenge was the packaging for which a tie-up was done with the private firm, she says.
Chib has been instrumental in giving impetus to the Kalari project during her earlier tenure as deputy commissioner, Udhampur.
"I tell women that you should do what you have been doing traditionally. But do it in a better manner and professional manner. What seems ordinary to you is an accomplishment for people outside. So, capitalise on that," says Chib.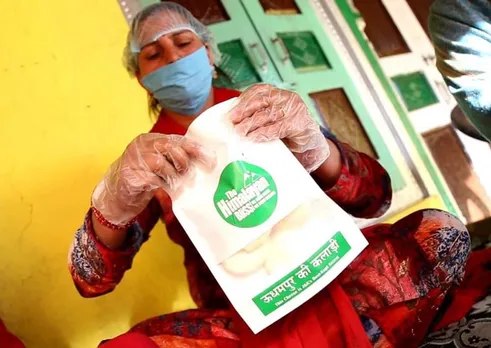 Apart from Kalari, the NRLM department is also providing women training in other livelihood options such as mushroom farming, poultry, horticulture and organic farming.
The collection route
Mathur says the JKRLM department has appointed community mobilisers in each village. These women are tasked with collecting the Kalari from SHG members.
The community mobiliser checks the quality of the cheese and decides the rate to be paid. The money is directly transferred to the women's accounts.
Also Read: Jharkhand: Tech graduate duo's dairy venture Puresh tastes success amid COVID-19
The community mobiliser collects the cheese from the women. It is then picked up by vans and transported to the Himalayan Bliss outlet and then to retail outlets in Jammu. A 250 gm packet is priced at Rs140.
Mathur says currently there are seven-eight selling points in Jammu.
Mathur estimates that the local production of Kalari is about 1-2 quintals per day. But the department's collection is only around 600 kg per month. There are plans on the anvil to increase procurement as demand increases.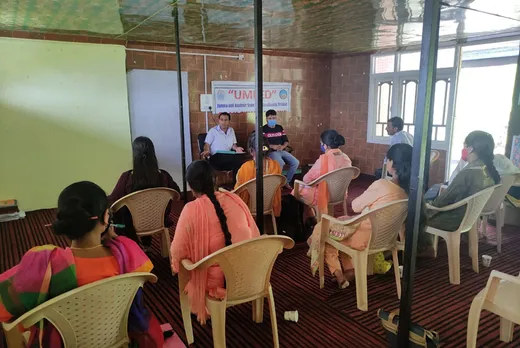 "Transportation is a challenge for us. Kalari cannot be stored at room temperature or it will go bad. It has to be refrigerated at below zero degrees Celsius. To transport it across India, we have to send it in refrigerated trucks which will increase the cost," he says. The department tried using ice packs but that too turned out to be very expensive.
"We have found that well-dried Kalari can stay for 4-5 days. So, we are focusing on procuring correctly dried and hygienic Kalari that can be sold online," he says.
Also Read: How all-women dairy Shreeja has created one lakh milk entrepreneurs in Andhra Pradesh
Making the Kalari cheese
Kalari is an indigenous cheese that is native to the scenic Udhampur region set in the Shivalik ranges of the Himalayas.
According to some researchers, Kalari was made by tribal Gujjars as well as households in the region to store milk in a stable form for a long time as the milk proteins remain intact.
Kalari is dense and chewy with a faint tangy taste. It is usually made from cow or buffalo milk. Kalari made from goat's milk is also available but is less popular. 
Kalari is a popular snack and is traditionally eaten as fried with lime, chilli or tamarind chutney. The fried cheese is stuffed between bread, pav or kulcha to make the Kalari kulcha.
Kalari is made by heating milk mildly and stirring it vigorously. It is then curdled using whey. The coagulated milk is pressed together tightly into round balls. This solidified dough-like substance is put into small baskets made from pine leaves and covered with cloth. It is then left in the sun to dry for one to two days.
Also Read: Sundarini: the organic milk revolution by women of Sundarbans
Since the sunshine is strong in the mountains while the ambient temperature is low, the cheese becomes dry from the outside but retains moisture inside. Sometimes, fungus grows on it, giving it a unique flavour.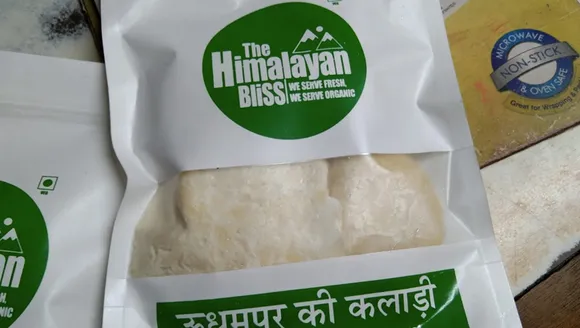 Mathur says people are under the impression that the cheese with fungus is spoilt. "However, the fungus known as mould that grows on the cheese is safe to consume and gives it better flavour and texture," he says.
Several varieties of cheese in Europe and the US such as Brie, Camembert, Humboldt Fog, Roquefort, Stilton, and Gorgonzola have moulds and are safe to eat.
After frying, it gets a crispy brownish layer on the outside while the inside is creamy and soft like melted cheese.
Untapped potential
While Europe and the US boast of a wide variety of cheese, indigenous varieties from India are less known. Mathur feels Kalari has strong potential in India and abroad but needs to be marketed well so there is more awareness about it.
Mathur says the JKRLM department in association with the Cooperatives department has set up a few cooperative societies on the lines of Amul, run and managed by the milk producers and milk unions.
Also Read: Koraput Coffee: How Odisha tribals brew a global coffee brand
"If we establish a cooperative society or Farmer Producer Organisation, then it will help in scaling up and give more bargaining power to the farmers. Currently, our operation is on a small scale but if the dairy farmers want to expand commercial operations, they will need such an entity," he says.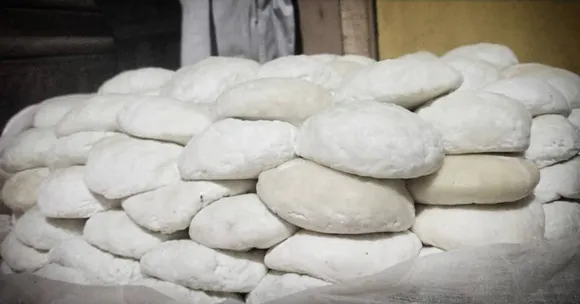 The FPO or cooperative will also bring in standardisation, hygiene and quality of the product. There are plans around mechanisation too. Machines can be bought and installed which can make Kalari as per quality requirements.
The department has already set up 18 automatic milk collection centres in the district where milk producers can deliver the milk.
A wide variety of milk products can be made at these centres and can be sold by the cooperative society or FPO under their own brand. "The goal is to generate employment and increase incomes through all these initiatives," says Mathur.
(Urvashi Dev Rawal is a Jaipur-based journalist specialising in development, gender, and political reporting)
Also Read: Engineer friends turn entrepreneurs to popularise Udhampur's Kalari cheese, a Dogra delicacy