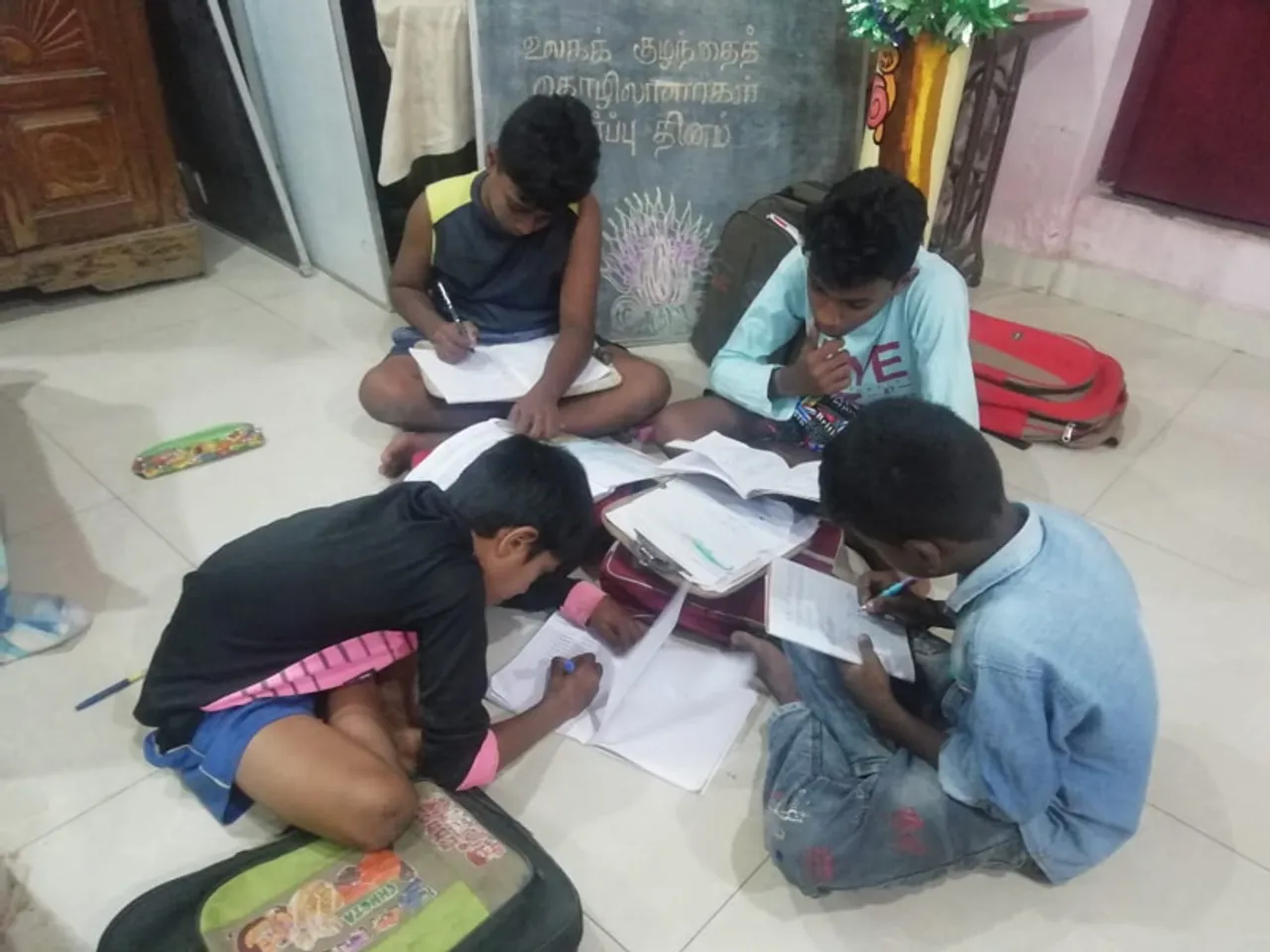 Reshma Kabir from Madurai grew up in a poor and orthodox family. Her family was opposed to her higher education or getting a job. However, Reshma completed her Master's in Food Technology and now works in a private hospital.
She also participated as an independent candidate in the Madurai Municipal Corporation elections in March 2022 and came in second.
Reshma says her mother was the first to associate with Mahalir Sakthi. "She used to work before marriage and used to write reports for the press. But, after marriage, she was restricted from working. She, however, got an opportunity from the Mahalir Sakthi Press for writing reports," she says.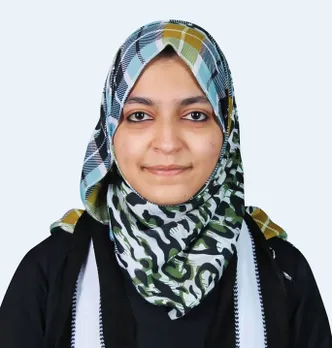 Reshma started going to the Mahalir Sakthi centre near her home when she was in class eight. "I thought instead of sitting alone and studying after school, I could come here and study."
Also Read: Raju Kendre: Farmer's son connecting youth from tribal & marginalised communities with India's top educational institutions
The NGO helped with her studies and also identified and honed other talents. "They helped me with public speaking skills. Today what I am is thanks to Mahalir Sakthi," says Reshma.
For 18 years, since 2005, Mahalir Sakthi, a Madurai-based NGO founded by C Gunaseeli, has been empowering marginalised women and children from the economically underprivileged Dalit, Adivasi, and Muslim backgrounds in Madurai slums.
Over the years, the NGO has transformed the lives of not just women and children but also their families, impacting generations and providing them with a life of dignity.
It supports children in their education and ensures they don't drop out of school by conducting after-school tuition classes for them. Additionally, it conducts tailoring and typing lessons for women to enable them to earn additional income.
Also Read: Abha Kunj: Zero-cost education gives a better future to Indore's underprivileged kids
Life experiences
Gunaseeli says her life experience is the main source of inspiration behind setting up the NGO and working towards the empowerment of the vulnerable in Madurai slums. 
"I also struggled to get educated. I had to take a one-year break after school. With great difficulty, I joined college and continued my studies with the help of many people. So, I know the thirst for education," she adds.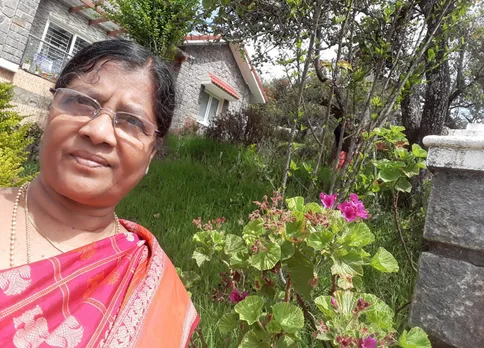 Gunaseeli says during holidays, she and her sisters made small garlands of flowers to earn some additional money to help their parents. "By doing this work, I learnt to earn while studying to help my family". 
In the mid-1970s, due to migration and the arrival of large groups of people from rural areas to Madurai, the area where Gunaseeli lived turned into a major slum. "I know every bit of life experience of slum children," she says.
Also Read: Listening, teaching & inspiring: How Chennai's TQI is mentoring students in 30 districts
Despite poverty, Gunaseeli was determined to study. She worked and earned money for her education. After her graduation, her father passed away. But a pastor helped her enrol free of cost for a postgraduate diploma in Social work and Community development in Bengaluru.
After that Gunaseeli worked with an NGO. In the meantime, she got a job with the Central Excise and Customs Department and served for nearly 30 years, before taking Voluntary Retirement in 1998.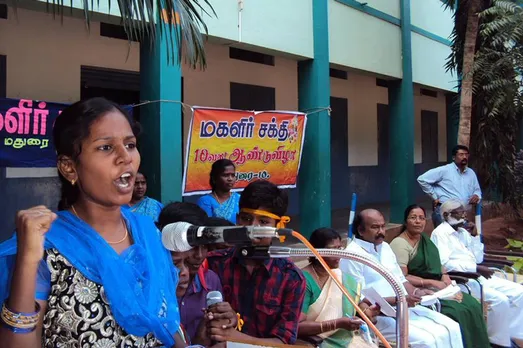 Using education to empower
Even while she was in the government service, Gunaseeli continued doing social work. The focus of her work was on women and children from the most marginalized sections of society.
Also Read: To Sir, with Love: Bhopal journalist empowers underprivileged girls through education
She says women and children from such backgrounds face many hardships including poverty, dropping out of school, drug addiction, alcoholism, debt bondage, torture of women and young girls, sexual abuse and health hazards.
"I strongly felt that education is the only weapon that could bring a change in their life… ensure they can get away from the hardships and lead a decent and dignified life. Education has changed my life and my life experience is an example."
That motivated Gunaseeli to launch Mahalir Sakthi, which means women power, with the help of a few friends.
Also Read: Sakhi for Girls' Education: 100% pass, zero dropouts among girls in Mumbai slums
Its model of education is group study or coaching. "One student, mostly at the college level, leads a small team of High School students. A team consists of five students. The coach is called a facilitator and others are called learners. Classes are held daily from 5.30 pm to 8.00 pm. Fifteen facilitators teach 75-100 learners.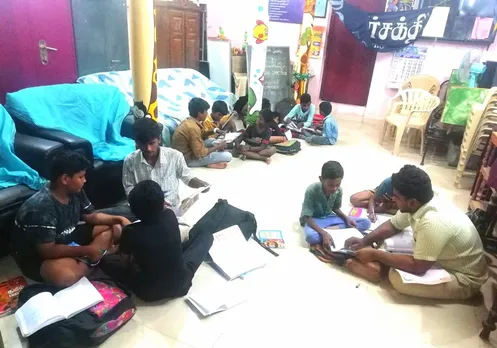 "Teach each other and learn from each other" is the motto of this method. In this way, they study their syllabus daily and clarify doubts."
The learners don't need to pay as they have little capacity for payment. The facilitators are paid Rs1000 every month from donations that Mahalir Sakthi receives and they use it to meet their educational expenses.
The challenges to education
Gunaseeli says the children living in slums face social and economic adversity and their family life is stressful.
"Almost all the fathers are alcoholics. The daily fight between parents leads to mental stress and disturbs their studies. The fathers squander money on alcohol instead of spending on kids' education."
Also Read: Bharti Foundation provides zero-cost education to over 40,000 underprivileged kids
Since the children come from very poor backgrounds, they face difficulty in paying school fees and buying uniforms, books and stationery. As they perform poorly in school, they don't get jobs nor are they able to pursue job-oriented/professional courses in higher education.
"Our centres and programmes are a way for them to concentrate on their studies and develop job-oriented skills besides becoming aware of the society's socio-economic situation. They are motivated to take up education seriously to lead a dignified and decent life. We help build their confidence to enable them to get away from these evil conditions," she says.
Also Read: Listening, teaching & inspiring: How Chennai's TQI is mentoring students in 30 districts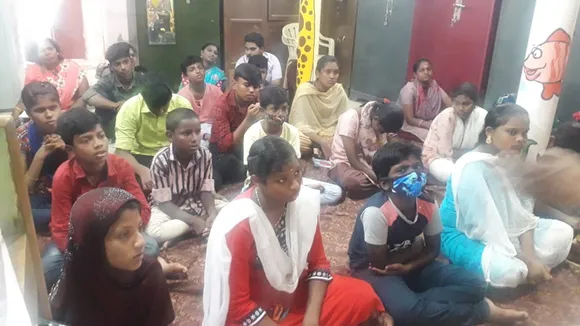 About their source of funding, Gunaseeli says: "Mahalir Sakthi gets the support of government bodies and donations from individuals and a few NGOs. Local fund-raising efforts including preparation of food items like pickles, nutritious flours and making fancy ornaments, bags etc. also generate some funds."
About her plans, Gunaseeli says: "Since education is the only source to empower underprivileged children, the services of Mahalir Sakthi to the poor and neglected will continue."
She says more programmes on enhancing moral values and awareness building are in the pipeline to save children from social evils and especially girls from sexual abuse.
(Sravasti Datta is a Bengaluru-based independent journalist, who writes art, culture and human interest stories)
Also Read: Coimbatore's Kalvi Thunai: How a retired couple's zero-fee education centre is giving a bright future to thousands of underprivileged children