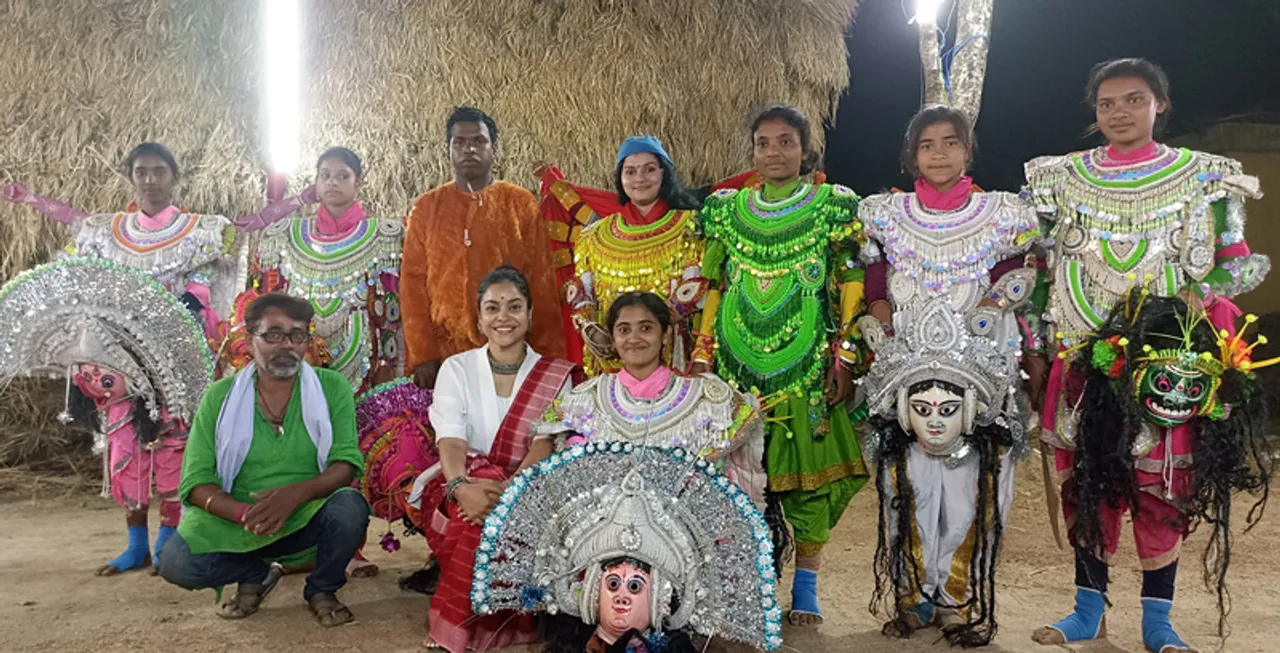 In 1817, farmers of Odisha, called Paikas, rebelled against the British rule's extortionist land revenue policy and other measures that hurt the locals. The Paikas were involved in cultivation during peacetime and offered military services to Gajapati rulers of Odisha during wartime.
The East India Company clamped down on the rebels and soon brought an end to the rebellion. The armies of most royal families of Odisha were disbanded. However, men of the warrior class continued to keep their bodies and minds fit by performing Chhau under the guise of a folk dance. 
Chhau is also called 'Veer Ras Chow' because of its similarity to martial arts which restricted its performance to only men.
Also Read: Nachnis of Purulia: Folk dancers who feed many families, fight for their rights & live to entertain others
Women performers of Chhau
Today, however, women have broken the stereotypes and are not only learning Chhau but also performing the folk dance at national and international forums. These women artists are helping preserve the dance form by performing and popularising it, and teaching about it in training centres and universities, giving it a new lease of life. 
In Chhau, a dance form with roots in Eastern India, artists enact scenes from the Ramayana, Mahabharata, and local folklore. It is practised in Seraikela (Jharkhand), Purulia (West Bengal) and Mayurbhanj (Odisha). While the use of masks is the hallmark of Seraikela and Purulia Chhau, the Mayurbhanj Chhau does not use them at all.
Also Read: Buried at birth, how Gulabo Sapera survived to become the global ambassador of Rajasthan's Kalbelia folk dance
Mousumi Choudhury, 24, who is one of the first women Chhau dancers from Maldi village of Purulia has learnt the dance from her father, Jagannath Choudhury, an accomplished Chhau exponent.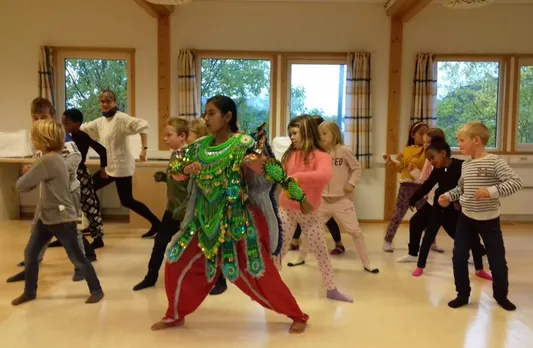 "My family encouraged me to learn Chhau. The Purulia form did not have women performers as it involves more martial movements. My family said it was important to focus on the dance and not think about being a woman," she says. 
She has trained many teams of girls in her village and has also done workshops in Mumbai and Kolkata, where even women above the age of 60 came to learn the dance. "I also train students at the Sidhu Kanu University in Purulia." 
She continues to do Chhau even after her marriage last year. There are over 30 women teams who perform the Chhau dance now. 
Sunita Mahato, another woman artist from Purulia, says, "Now we have several groups of women who are doing Chhau as they have been able to encourage others. The older artists train newer people, and we have 10-15 dancers in the team," she says. 
Also Read: Gotipua: Odisha's 16th-century dance that freed devadasis from temples is now struggling for survival
Rates also depend on the experience of the artist. Experienced artists get anywhere between Rs 1,000 and Rs 2,000 per performance. 
Efforts to revive the centuries-old dance
Chhau has been inscribed on UNESCO's Representative List of the Intangible Cultural Heritage of Humanity. Combining aspects of dance and martial arts, Chhau is typically performed during festivals. It is taught by teachers or Ustads, who are the master trainers. Earlier, Chhau was performed only in open akhadas or asars and the performances could be a full-night affair too but that has changed now.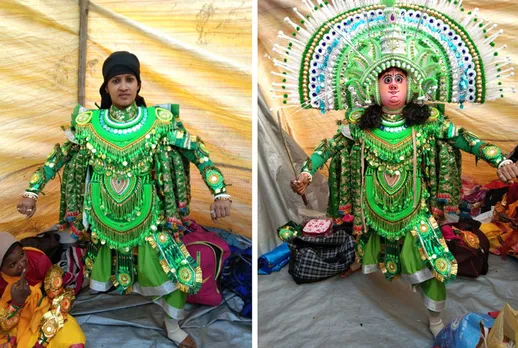 The dance is performed to traditional folk music and the use of drums is quite prominent. It is popularly sought out especially in the spring season when Chaitra Parva is celebrated. 
"In March and April, we keep very busy and have performances every day," Sunita says. 
Also Read: 'We need a paying audience to make performing arts self-sustaining': Odissi dancer Prachi Hota
After this, there was no looking back and she was one of the two women who were trained by the Sangeet Natak Academy in New Delhi. 
She is now working with Project Chhauni, an initiative of the District Administration of Mayurbhanj to revive the Mayurbhanj Chhau. "We need the support from the government and other organisations to help the artist community. We have many performances in the winter, and we have the patronage of the royal family at the Belgadia Palace who has created a revenue model with us," she says. 
"They invite us to perform for their guests and we get regular income. However, there is a need for better payment for the artists as many of them are leaving the art for better income," Subhasree adds.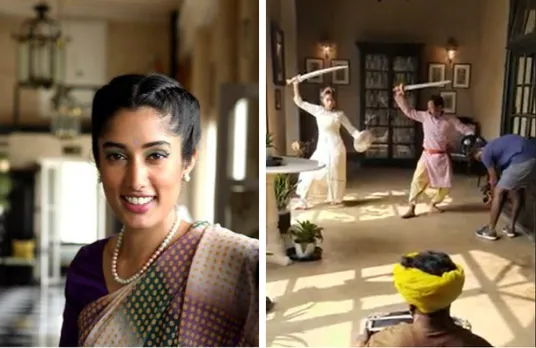 Akshita M Bhanj Deo, Director, The Belgadia Palace and Mayurbhanj Foundation, says, "Mayurbhanj Chhau, patronised by my ancestors, was taught to us as we grew up. Seven generations of my family have learned it. It reminded us that we were warriors and should be battle ready whenever his majesty needed us." 
Also Read: Thali ki Ramayan: The 150-year-old farmers' performing folk art from Uttar Pradesh
Numbers that don't add up
After the Paik rebellion, men continued to practice Chhau. But today, with no government or state support, Chhau is becoming extinct even though it is one of the only dances to host a 200-year-old national festival even to this day. 
"At the Belgadia palace, we host Chhau every evening for guests from all over the world with two local NGOs -- Project Chhauni and Mayurbhanj Foundation. This is to make sure that gurus, ustaads and their disciples have an income and are able to preserve and promote this cultural heritage among youth," Akshita says. 
"While the palace and the members of the royal family are promoting Chhau in every way possible, we hope the Ministry of Culture and the Centre and State governments will also help us," she adds.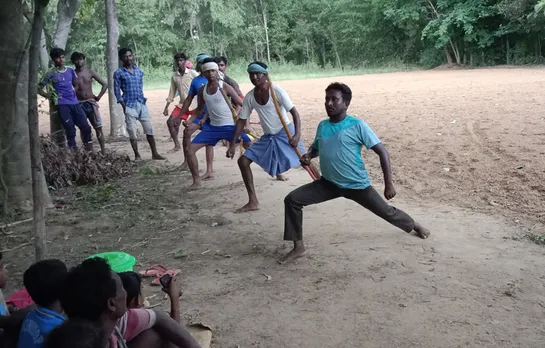 As things stand, little is being done to promote the artists, who are paid a pittance. 
"Usually, male artists get Rs 200 to Rs 400 per show while every female artist gets Rs 500 per event," points out Sambhunath Karmakar from Purulia district who learnt the dance from his father Anil Karmakar as a child. 
Also Read: Yakshagana: Karnataka's ancient theatrical dance art adapts to reach global audience
Some years back, he started the Apsara Sevayatan Chhou Training Center with government scholarship money where he trains the needy and interested boys of the area through well-known masters of the district. "But I don't know how long I can continue it. My family's financial condition is not good. There is no other source of income. I used the scholarship money to set up the training centre as it was my dream," he says. 
Chhau masks
A key aspect of Chhau is the usage of masks that are made by the Sutradhar community using paper pulp, cloth, and clay. The clay mask is made and dried in direct sunlight and then covered with powdered ash. Multiple layers of paper moistened with gum are pasted on this powdered mask and it is again covered with clay. 
On drying, clothes are pasted, and the mask is polished. Once dried the initial layer of earth is removed and a coat of white paint is applied. Lastly, the mask is coloured and embellished based on the character it represents. Typically, the entire family is involved in making the mask. 
While the Chhau mask of Purulia has a Geographical Indication tag, the dance form in Odisha does not use masks. 
Also Read: Bengal: Kushmandi's centuries-old wooden masks worn by Gomira dancers are now collectors' items for art connoisseurs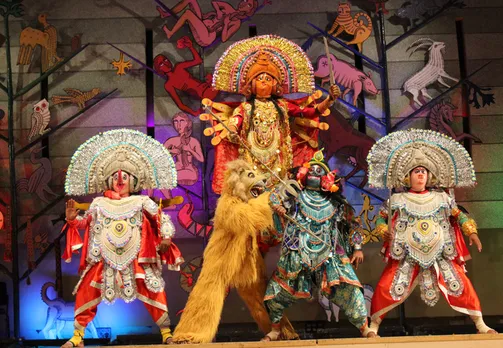 In 2017, the Indian postal department also released a stamp on the Chhau dance.
As a dance form on the verge of extinction, there is an urgent need to support Chhau. Many art organisations are also working for preserving Chhau in which clay masks represent the amalgamation of art and crafts. 
Also See: In pictures: Chhattisgarh's tribal folk dance Gaur Maria inspired by the wild bison
The Kiran Nadar Museum of Art (KNMA), continuing its efforts to expand its focus on culture, had exhibitions -- 'K Ramanujam: Into The Moonlight Parade' and Atul Dodiya: Walking With The Waves' for a week starting July 23, 2022 at Delhi. Saraikela Chhau dance was led by Padma Shri Guru Shashadhar Acharya and disciples Gunjan Josh and Shubham Acharya.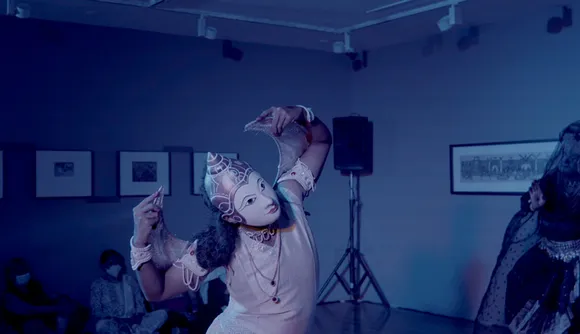 "The event was conceived as a spatial as well as an episodic journey from one exhibition to another, from one story to another, within the museum area. Laden with rich visuals and imagery the two performances carry narratives as if moving through a dreamscape," says Neha Tickoo, Associate Curator, KNMA. 
"Hosting the folk-dance form in the museum was to emphasise the strength of stories and visual images in the world of arts. In this way, the museum bridges innumerable gaps within the parallels across genres and styles of artforms," Neha adds.
As a dance form that has a history that goes back several hundred years, Chhau is in urgent need of attention. The question is who is listening?
(Bindu Gopal Rao is a Bengaluru-based freelance writer and photographer. Passionate about the environment, her interests include bird watching and looking for local and unusual angles in any destination) 
Also Read: Mardani Khel: Maharashtra's talims popularise Chhatrapati Shivaji's martial art legacy