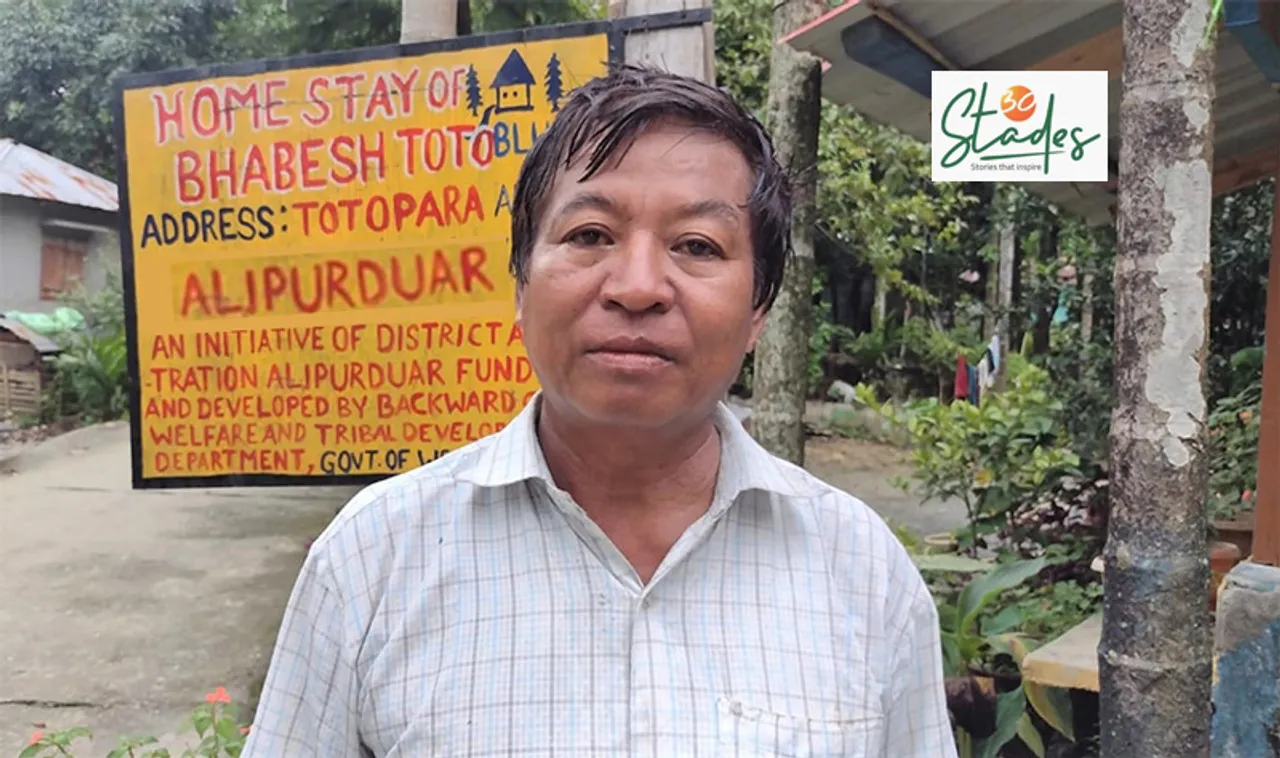 Bornomala, the Bengali language's alphabet, is a term that appeared in one of the Bangla songs by singer and composer Runa Laila. Every time the song was played on radio stations, Dhaniram Toto would listen intently.
The lyrics of the song were 'fosoler mathe meghnar teere dhuddu baluchare pakhider nire, tumi aami likhi praner bornomala.' (On the banks of the Meghna, in the fields of crops, in the nests of birds on the sand, you and I write the alphabet of life.)
Dhaniram a 59-year-old Grade-1 social worker with the West Bengal Backward Castes Welfare Department wished his language too had an alphabet so the history and culture of the Totos could be recorded for posterity.
While the Toto language has folk tales and songs, there was no script. It is thanks to the dream and effort of Dhaniram Toto, that the Toto language now has a script.
Dhaniram who studied till class 10, has authored 'Dhanua Toto's Kothamala' and 'Duemara Thitre' – a romantic novel. But he had to write them using the Bengali script. That too prompted him to think about developing an alphabet.
Also Read: India's Tot people: Chased out of Assam & living in West Bengal in search of identity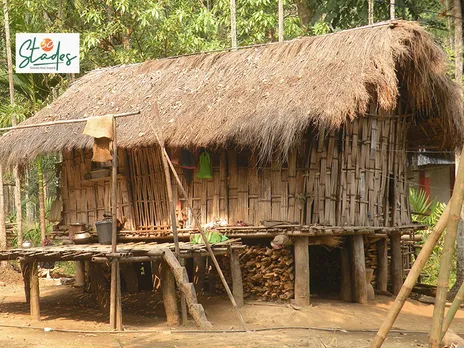 The Linguistic Survey of India conducted a survey on the Toto language in 1890, asserts Dripta Piplai Mondal, a faculty member in the Department of Humanities & Social Sciences at IIT Kharagpur. In actuality, Toto people speak a language they refer to as 'Dengka'.
The non-Toto people referred to their languages as Toto. Since Toto moved from Bhutan to China, the language can be referred to as a trans-Himalayan or Tibeto-Burman language. Dengka, which is a Sino-Tibetan language, was listed as a highly endangered language by UNESCO in 2009.
ABC of the Toto language
Dhaniram began his mission to evolve a script in 2005 and over the next 10 years, he noted down, erased, edited, refined and polished the phonetic representations of sound and meaning of words.
Not being a trained linguist, he faced several difficulties in matching sounds to words. For instance, in certain words, the vowel sound is repeated after a very brief pause.
Also Read: Coronavirus scare & India-China border tension grips Kolkata's Chinatown
In his quest, he came across some work by Toby Anderson, an Australian linguist who worked with Toto people. "Toby Anderson travelled to Totopara for the Summer Institute of Linguists around 10 years ago. He produced typefaces that were different from the Bangla script and recognised phonemes. Dhaniram finished the alphabet based on the analysis of the phonetic," says author-researcher Biplab Nayak. Anderson's work served as Dhaniram's inspiration.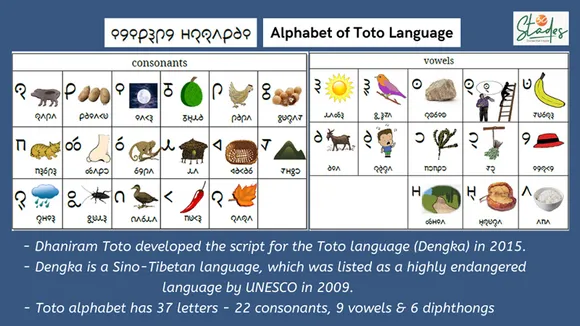 The Toto script possesses the ISO 15924 Code/Key Toto/294 and it officially made its debut on May 22, 2015. The ISO code is an international standard defining codes for scripts or writing systems. 
This alphabet can be learned by anyone in a week. If a blind person can read Braille, he or she can easily understand Toto's ABCs. It took a decade to give it a form. "At this point in my life, I would like any educational institution to step up and use my script to preserve our rapidly vanishing language. My biggest regret in life is not being able to attend college or a university," says Dhaniram who is now working on creating the grammar for the language.
Also Read: Seral Murmu: The Santhali filmmaker highlighting tribal issues and culture through cinema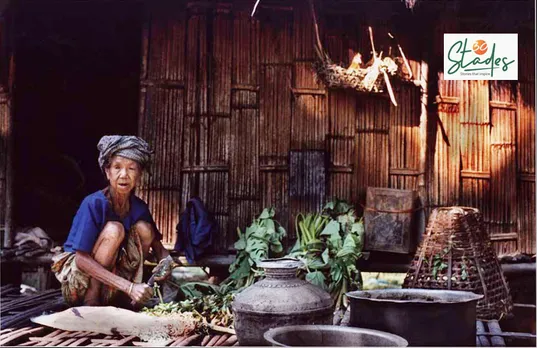 Numerous linguists, anthropologists and notable figures from Australia, Bangladesh, England, Germany, Spain, Netherlands and New Zealand visited Totopara. "A Dutch linguist named George Van Driem and a group of Maori from New Zealand have come to see me. I also got to meet Shantu Larma, the head of the Chakma tribe from Chittagong, Bangladesh. I received a book signed by renowned author Mahasweta Devi," says Dhaniram.
Saving a dying lingo
Toto is unquestionably an endangered language, says Samir Karmakar Assistant Professor, School of Language & Linguistics, Jadavpur University. 
"Certain steps can be taken to preserve the vanishing language, such as authoring books or creating dictionaries. Although we don't care about the people who speak the language, we are concerned about its preservation," he says. 
Also Read: How one Siddi woman in Gujarat's Jambur changed her community's fortunes
Every language endures in its own territory. If a person is prohibited from accessing water, land or forests as a result of the implementation of the new forest policy, they will relocate in order to survive, losing the ability to speak their native tongue and switching to a regional tongue, says Karmakar.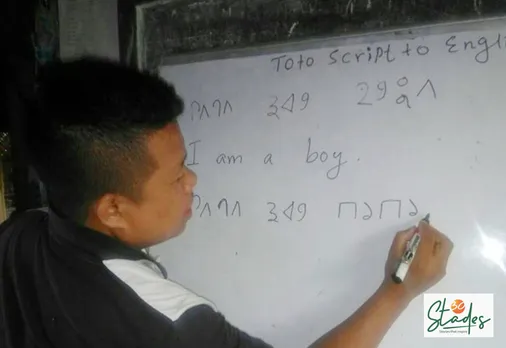 "Dhaniram prepared these typefaces based on his made-up concept. There are two distinct ways to pronounce a single letter phonetically. For instance, the letter A can simply be used as A, but it can also be used as AA. The issue of script composition is complicated," Karmakar adds.
He says that a script is made using basic shapes including circles, straight lines, upright lines, slanted lines, sleeping lines and others. The person creating the orthography, however, has complete discretion over whether to employ this strategy.
Nayak says as the script has no real-world use, it should continue to be a topic of study. "The Totopara schools did not embrace it as a curriculum or give it any credence. The role of the government is almost nonexistent unless the community makes an independent effort to preserve the language," he says.
Also Read: Mumbai's David Sassoon Library: A Baghdadi Jew's contribution to the Maximum City's architecture & reading culture
"Their community has to come up with a plan that will bring everyone together for this goal. Let the grandparents use this terminology while speaking to their grandkids. Children should be the focus. The community must take the first move; administrative or governmental assistance comes second," says Nayak.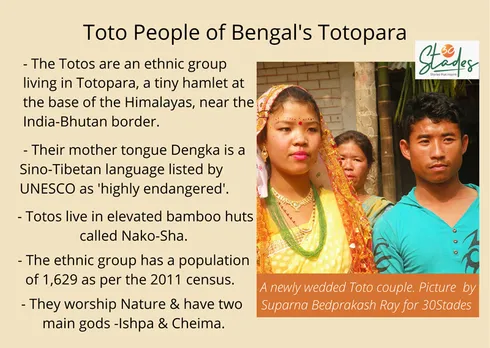 The Chittaranjan Toto Memorial Education Center, an NGO, has been at the forefront of Toto language education. "We teach Toto once a week, on Friday. Our class has 96 pupils in total. Only 60 pupils from Upper KG to Class 4 are taught Toto. The goal is to improve the vernacular so that kids don't lose interest in speaking their own dialect," says Prakash Toto, the institute's principal.
The Toto language would survive if it were included in the school curriculum, according to Dhananjay Toto, son of Dhaniram, who became the first person to receive a Master's degree in library science from North Bengal University in 2016.
Totos speak their native tongue among community members. But they speak Nepali or Bengali languages outside. Their children attend Bengali, Nepali or English medium schools.
Also Read: Kolkata Little Magazine Library: one-man effort to preserve rare books & periodicals
Totopara has two elementary schools. The first school opened its doors in 1990, and a high school with housing facilities was built in 1995.
About 25 people in the community possess graduation degrees, including one with a master's degree. According to a 2011 Census report, Totopara's literacy rate is 58.05 percent. The literacy rate for men is 69.33 percent while for women it is 45.45 percent.
The community has a post office, a bank and one basic healthcare facility. Some 350 families live in the six sectors that are equipped with all modern amenities. The government has constructed 200 pucca dwellings, each having a toilet and two rooms.
History
The Totos used to be a nomadic hunter-gatherer people. A significant influx of individuals having Mongoloid origin reached India through the Tibetan region about 800 years ago. While some relocated to Burma (Myanmar), others chose to live in India and settled in Totopara.
A section of them migrated to the area around Sawati River in Bhutan, but they were unable to stay for very long due to the Duar War (Anglo-Bhutan War) between British India and Bhutan in 1864-65.
There was no recorded literature about Toto until the start of the 19th century. Baboo Kishen Kant Bose, an employee of the British government, went to Bhutan in 1815. He wrote about them for the first time in 'Political Missions to Bootan' (1865). Totopara was under Bhutan's sovereignty during that time.
(Partho Burman is a Kolkata-based award-winning journalist. He writes inspiring human interest and motivational stories.)
(The picture at the top of this page shows Dhaniram Toto in Totopara, Alipurduar; courtesy of Prakash Toto)
Also Read: Fagun: India's only Santhali newspaper giving a fresh lease of life to tribal language & culture