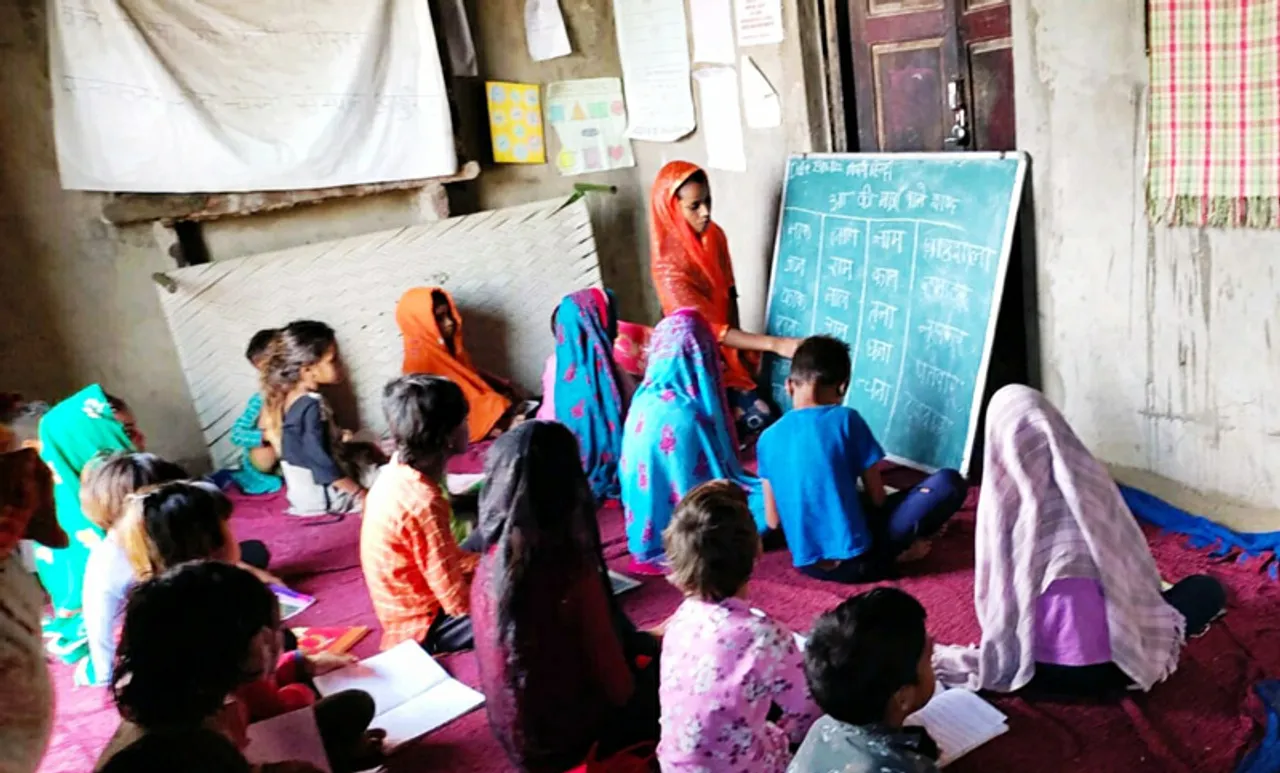 Often things taken for granted like going to school still present a challenge to children, especially girls, in remote tribal areas of Rajasthan. Rekha Kumari, 22, lives in Sirohi's Girwar village and belongs to the Garasiya tribe that is predominant in the district. Rekha was very young when her parents divorced and remarried other partners. 
The child was dumped at her maternal grandfather's home where she had to help with household chores. When her grandfather enrolled her in the local school, her maternal uncles strongly objected. But my grandfather insisted. So, I would do the housework and then attend school," says Rekha. Perhaps Rekha's grandfather realised that she had no support and that education would hold her in good stead. 
"I wanted to study but I was at a dead end. Then one of my aunts told me about Jan Chetna Sansthan, a local NGO, which was looking for volunteers to survey out-of-school girls."
Rekha contacted Richa Audichiya, the founder of Jan Chetna, and expressed her willingness to carry out the survey. Richa found Rekha was a bright, hard-working youngster and took her on board for a new programme called Sakhiyon Ki Baadi that the NGO was helming.
Also Read: Mahalir Sakthi: This NGO provides education & dignity to stigmatized children & women from Madurai's slums
Rekha, who is now doing her post-graduation and hopes to become a teacher, says girls in the tribal community face similar hurdles in getting an education.
Challenges to girls' education
Rajasthan has long struggled with women's education. The state has among the lowest rates of female literacy. The school dropout rate of girls in Rajasthan is about 20 percent, which is much higher than the 14.6 percent annual dropout rate of secondary school students (as per the 2020-21 report by Unified District Information System for Education Plus or UDISE).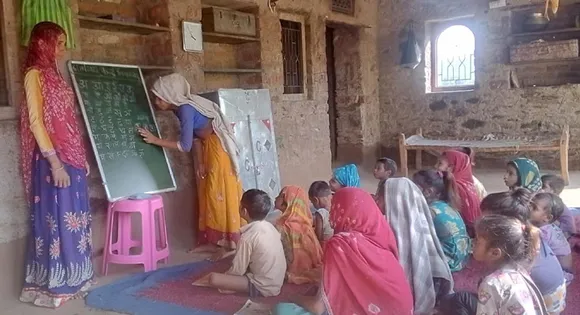 The state government, education experts, bureaucrats and NGOs have been trying to change the situation on the ground and bring more girls to school through various interventions.
Government schemes offering scholarships, cash, laptops, cycles and scooties to girls have helped to an extent. Yet there remain remote areas in the state where government schools have not reached.
In rural hamlets of Rajasthan, girls are often forced out of school owing to several reasons – poverty, illiterate parents, long distance to schools, the safety of girls, lack of toilets in schools, taking care of siblings, doing housework or earning money.
Also Read: Coimbatore's Kalvi Thunai: How a retired couple's zero-fee education centre is giving a bright future to thousands of underprivileged children 
"Considering these challenges, we realised to educate girls, we had to take schools to their villages and provide a simplified curriculum so they could learn easily," says Richa.
It was in this context that the Sakhiyon Ki Baadi (SKB) programme began in 2017 to tackle the issue of out-of-school girls.
Rupesh Bhatt, who heads a cluster of SKB centres in Abu Road block, Sirhoi, acknowledges that there is a change in the mindset of tribals towards education over the years. But he adds that there are still challenges in getting children from tribal areas to schools.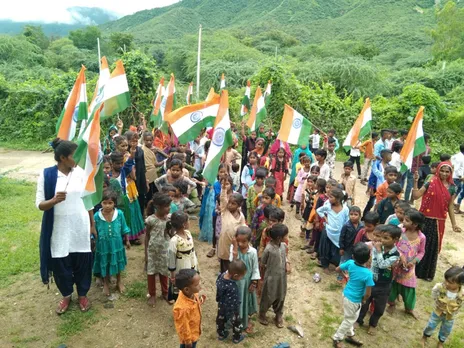 Rekha says families view education as something secondary for girls. "They do the housework, take cattle for grazing, bring water or collect grass. Most parents feel that girls will get married and take care of their homes. Education does not have much value for them," she says.
Bleak socio-economic indicators
Sirohi is situated in southwest Rajasthan. It has a rocky, hilly terrain as it lies on the massif of Mount Abu. Sirohi is one of the five districts from Rajasthan listed under the Aspirational Districts Programme. The main occupations in the district are agriculture and mineral-based industry.
The rural population in Sirohi is 79.86 percent and the Scheduled Tribes comprise 28.22 percent of the population as per the 2011 Census.
Also Read: Raju Kendre: Farmer's son connecting youth from tribal & marginalised communities with India's top educational institutions
As per DISE 2015-16, the dropout rate in government schools in Sirohi at the primary level is 2.47 percent for boys and 2.31 percent for girls.
At the upper primary level, the dropout rate is 0.46 percent for boys and 2.74 percent for girls. This sharply increases to 24.07 percent for boys at the secondary level and 24.26 percent for girls.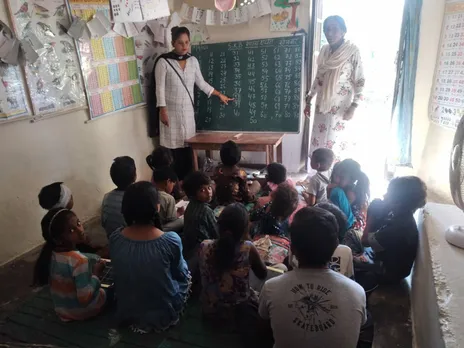 At the higher secondary level, however, the dropout rate falls to 12.13 percent for boys while data for girls is unavailable.
Change through community participation
Richa knows every nook and corner of the Abu Road block where she has been working among the Garasiya tribals for the past 30 years. She recalls her travels to the remote hamlets on foot as there were no vehicles or even roads. She and her team members would stay in villages, and interact with the residents to understand their problems.
"Our work in the field showed that due to the rocky terrain in the district and remote location of tribal hamlets, many areas are not covered by government schools or Anganwadi centres. So, girls did not have access to schools."
Also Read: Ekjut's community mobilistion mantra is transforming health and nutrition in India
The SKB programme is being implemented by Jan Chetna in Abu Road, one of the five blocks of the Sirohi district. The programme, launched in 2017, was conceived by the IIFL Foundation, the CSR arm of IIFL Group, the financial services conglomerate.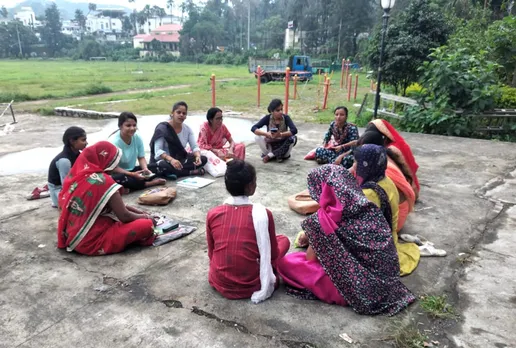 Jan Chetna runs 100 SKB centres in Abu Road block where approximately 3,000 tribal girl students in the age group of 4 to 14 years are receiving education.
IIFL has expanded the programme to other districts through different implementing partners.
The children learn English, Hindi and Math at the centres. The syllabus and teaching material are developed by IIFL in consultation with the Rajasthan State Board so the girls can be admitted to government schools later to continue their education.
"Every year, we enrol around 300 girls in government schools," says Rupesh. The SKB centres are operated by facilitators or Dakshas.
Also Read: Abha Kunj: Zero-cost education gives a better future to Indore's underprivileged kids
"Girls from the tribal community were selected as they are familiar with the language and culture. Moreover, we are providing employment to women who are seen as role models and it sends a positive message in the community," says Rupesh.
Once selected, the Dakshas have to survey their village of girls who have dropped out of school. If there is a minimum of 30 girls, a proposal is sent to IIFL to set up a centre. If feasible, it is sanctioned. The premises for the centres are provided by the community free of cost or at a nominal rate.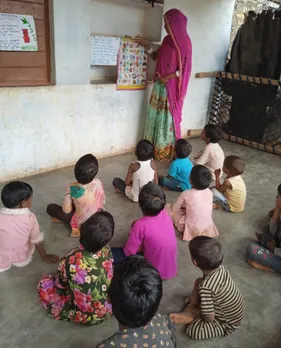 The children are taught for four hours every day through activities, songs and games. The timings are 12 noon to 4 pm in summer and 2 pm to 6 pm in winter.
The Dakshas are paid Rs 4600 per month. Their remuneration as well as the teaching material, books, stationery and infrastructure are all provided by IIFL.
Also Read: Sakhi for Girls' Education: 100% pass, zero dropouts among girls in Mumbai slums
For easy monitoring, the SKB centres are grouped into clusters. One cluster has 15-20 centres under a cluster head, who has to visit two centres each day. The centres are also monitored online.
Rekha says that for her, Jan Chetna and the SKB programme have been a lifesaver. "I had no one to support me. I was able to study only because Richa madam helped me," she says.
"I don't get help from my uncles so the money I earn as a Daksha supports me. I am glad I can contribute to the community by teaching girls. I too have learnt a lot in the process. Earlier I was scared to travel or talk to people. But now I am confident and manage everything on my own," says Rekha.
(Urvashi Dev Rawal is a Jaipur-based journalist specialising in development, gender, and political reporting)
Also Read: How i-Saksham's young education leaders are driving change in Bihar's most backward districts