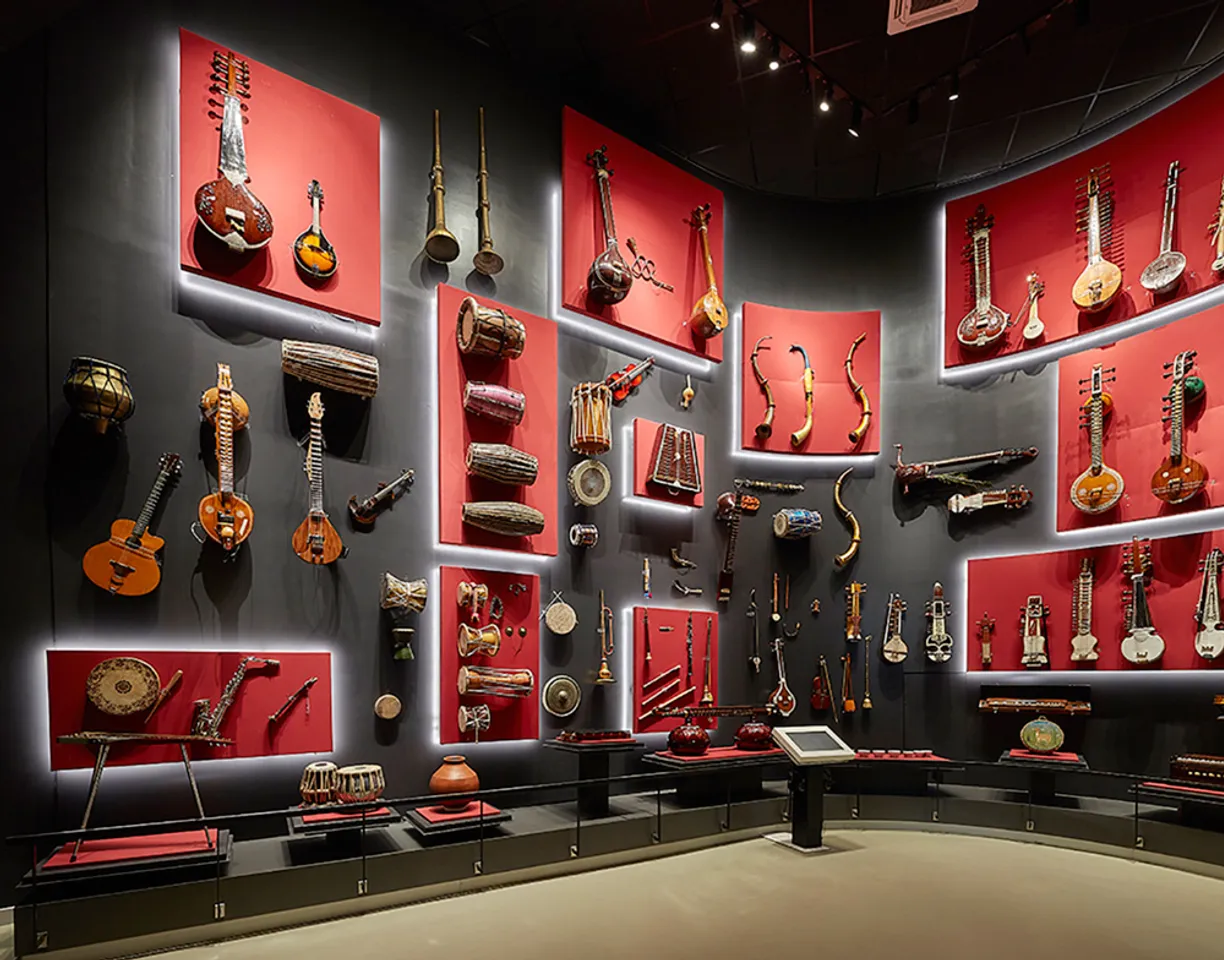 Where can you find a 'humming stone' and the 'tambura' belonging to M S Subbulakshmi in the same place? Where can you read the story of how Bhimsen Joshi ran away from home at the age of 11 in search of a guru? Where can you listen to 35 versions of the patriotic song 'Vande Mataram'? The answer: At the Indian Music Experience (IME) museum in Bengaluru, the first interactive music museum in the country. 
Formally launched in 2019, the museum has an enchanting 'Sound Garden' with musical installations that can be explored by visitors. Besides, you can see an array of nearly 200 musical instruments and the memorabilia of musical greats – the shehnai of Bismillah Khan, the sitar of Pandit Ravi Shankar, and the concert attire of Bhimsen Joshi. 
Also Read: How Ustad Moinuddin Khan is keeping the rich legacy of sarangi alive
Housed in an area of 50,000 sq ft, IME's nine galleries enable visitors to discover various genres and know the stories of iconic songs and music makers. Apart from the hi-tech multimedia exhibit galleries, IME has a learning centre for music education, several performance spaces, a cafe and a store. A non-profit initiative supported by the Brigade Group, IME is an institutional affiliate of the Grammy Museum in Los Angeles. 
Musical heritage
The vision of IME is not only to preserve India's rich musical heritage but also to introduce the youth to the diversity of Indian music. Describing why the need for such a museum arose, the first director of IME, Manasi Prasad says: "Indian music has immense diversity and history. But this diversity and the constantly evolving nature of Indian music has not been showcased to the world. Globally, there are several misconceptions. There is a belief that Indian music is spiritual which discounts the huge popularity of film music. No one knows about the 100-odd folk and tribal genres in India. We wanted to create a hub – a home for Indian music. There was no such space earlier."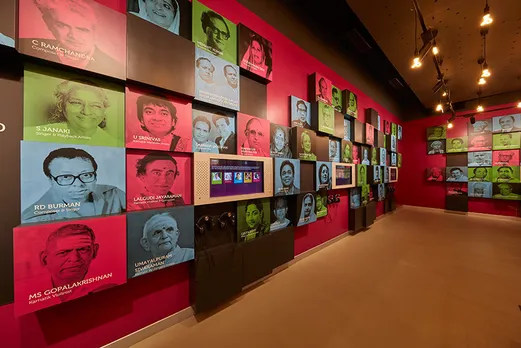 Despite the shadow of COVID, the museum is nearing one lakh visitors since its opening. "We get an average of 1000-1500 visitors per week. In addition, we have a strong online presence. The age range of visitors is quite diverse. While social media indicates that the 20-45-year age group is most engaged with us, we have volunteers from 15 to 80 years old! For our curated guided walk-through and school groups, the batch size is 20," explains Preema John, current director of IME. 
Also Read: Songs my Mother Taught Me: Archiving the history of family music from across India
IME's work spans five areas – exhibition, conservation, education, audience development, and community outreach. In 2020, the IME presented an important exhibition 'Ravi Shankar@100: India's Global Musician' to commemorate the centennial of the sitar maestro. The curation of www.chowdiah.com, a digital archive on violin maestro Mysore T. Chowdiah, is another impressive initiative. 
One more example of the conservation aspect is the display of instruments, like the peacock-shaped 'Mayur Veena', which are no longer being used. The museum is creating a digital archive, both for the benefit of researchers and the general public. "Audience development is a constant endeavour for us. To do this, we hold concerts, conversations, film screenings and festivals. Our learning centre and national and international collaborations also help in this respect. We want to become a national cultural centre to which people keep coming back," says John.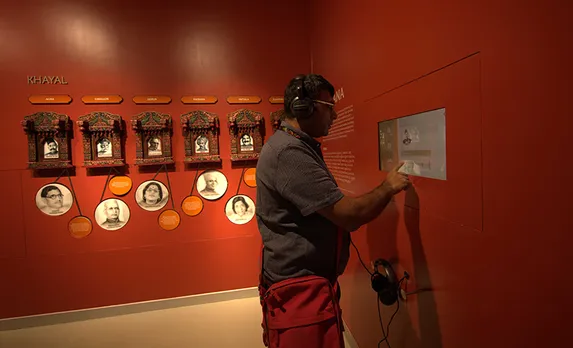 "We are unlike other museums which started with a collection. We started with the story we wanted to tell and then sourced artefacts and recordings of representative pieces of music to illustrate that story. These music recordings were of different genres and periods and were sourced from artists and archives across the country," says Prasad. 
"Amazing space…finally documentation of music is happening in a way it should be – there is information at your fingertips in a way that you can actually understand it, and interact with it to learn more about our musical heritage."

                     --Ustad Zakir Hussain, tabla maestro 
Inclusive project
IME's impactful 'Project Svaritha' targets children from two underserved communities – neurodivergent children and underprivileged children who do not have access to museums. "This is a very dear project of ours for which we have corporate support. Instead of just simple tours for these groups, we have focused on music therapy workshops. We do not want a superficial one-time museum visit but seek a deeper engagement. We would like some of the children to think of the arts as a viable career option," says John.
Music has a proven impact on cognitive ability, enhances communication skills, enables learning, has a calming effect, and is a powerful social equaliser. 
Project Svaritha capitalises on all these. Around 600 children from socially disadvantaged backgrounds have visited the museum so far. Seventy neurodivergent children have been involved in the project. Free music kits are given to the children to take home and continue their learning journey.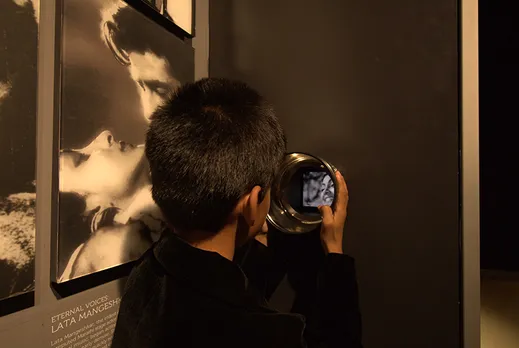 "Such experiences help our children deal with their sensory difficulties. Also, children with developmental disabilities do not get many opportunities to visit such places in their daily lives", says Gautami, parent of a child with autism. 
"I enjoyed learning about the flute. I got to learn how the musical notes Sa Re Ga Ma Pa Dha Ni Sa originated from nature and the sounds of animals," says Roshan, a child from a socially disadvantaged background who took the guided tour. 
Also Read: How 'Dohar' is trying to preserve folk music of Bengal & Assam since two decades
Room for fusion
"There is a perception that IME is more focused on classical music. This is not entirely true. The museum visit starts with a gallery of Contemporary Expressions – rock music and world music. We have entire galleries dedicated to different types of music," says John.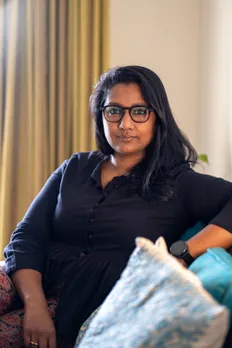 In collaboration with the British Council and Manchester Museum, IME had a Rhythm Xchange programme where they had folk music, cinema music, different types of fusion music, and even a rap battle! 
"It was a cross-cultural music festival to explore rhythm as a shared language between the East and West. As part of the year-long programme, four young musicians from India and the UK took part in a mentorship programme," elaborates John. 
Another initiative that highlights the eclectic nature of IME's activities is the Young Creator Safe Space (YCSS) which facilitates young musicians to find their own voice and respond to social issues using the arts. 
Also Read: Music of Women: Educationist Chandra Mukhopadhyay catalogues 6,000 rare folk melodies of Bengal & Bangladesh sung only by women
"Cohorts of young artists work together in a non-judgemental, non-didactic environment. They are mentored by senior artists in music, dance or theatre. The youngsters create music addressing issues like gender, climate change and the fallout of the pandemic. This space ensures that music does not remain in the entertainment or 'pure art' bubble but impacts social change," explains Prasad.
Popular radio announcer Ameen Sayani was delighted that he and his programme 'Binaca Geetmala' are featured in the museum. 
Engaging the youth
IME has 160 students in the learning centre and the majority are teens and pre-teens. "Since the learning centre is inside a museum, apart from learning the technicalities of vocal or instrumental practice, students can contextualise it with history. We also ensure they interact with national and international artists constantly, which keeps their interest going and broadens their perspective. I am not disheartened about the younger generation's dwindling interest in classical music," says John. 
Is the 'guru-shishya parampara' relevant today? Technology cannot teach music, it can only be an aid in the learning process, she asserts. The time spent with a 'guru' is irreplaceable. The fine nuances of music are only learnt from an experienced guru. While the pedagogy of Indian music is more oral, IME is trying to modernise music education to some extent by using textbooks.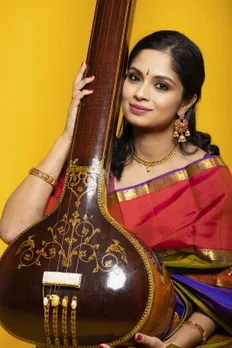 IME is unique among cultural organisations as it has a Youth Advisory Board (YAB) which consists of teenagers. "The board keeps our ideas fresh and helps us engage with younger people better. I take my young board extremely seriously," asserts John.  
Also Read: Dogri songs by Jammu siblings win hearts across the world
"The IME Museum trusted us with the power to be agents of change. They allowed us to truly make a difference, and helped each member of the team blossom! It's been a wonderful and unique experience," says Vasudha Dutta, a YAB member.
Innovative programmes
The Birdsong Exhibition launched in April 2022 explored the science behind bird vocalisations, as well as the influence of birds on music and culture. The exhibition brought together music and ecology and aimed at encouraging visitors to discover the importance of birds to the environment as well as traditional and popular culture, explains Prasad. 
Two other innovative programmes are the 'sound spa' and 'story ga ma'. The 'sound spa', held periodically, allows participants to spend an hour listening to the healing sounds and experiencing the vibrations of non-traditional instruments like the Tibetan singing bowls, gongs and chimes. 'Story ga ma' is to introduce very young children to music by using storytelling in a fun-filled, child-centric environment, she says.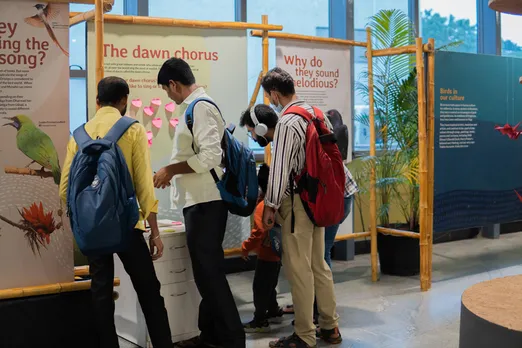 Interestingly, IME introduced an innovative 'Work from Museum' initiative during the COVID period. The idea was to emphasise that the museum belonged to the community. Techies as well as creative professionals benefited from the museum's inspiring environment. 
Also Read: With Baul songs, Bengal's Mansur Fakir preaches the message of humanity
Future plans 
"We are relatively a very young institution. We lost two years due to the pandemic. We have planned a few new galleries inside the museum. We hope to have a tribal music exhibit by next year. We want to grow our performances and our conservations around music. We are also planning a 'music appreciation' programme. There are more partnerships and special exhibitions in the pipeline," says John. 
Stressing the need for international collaborations, Prasad says: "They stem from IME's philosophy that music is a great bridge between cultures. The Grammy Museum tie-up helped us design the programme for neurodivergent children. We run 'artist in residence' programmes with German and Swiss organisations. We are also an institutional member of ISME (International Society for Music Education). It is important that Indian music gets plugged into international networks."  
(Aruna Raghuram is a freelance journalist based in Ahmedabad. She writes on parenting, personalities, women's issues, environment, and other social causes.)
Also Read: Vidya Subramanian: Chennai's MBA-musician helping music & arts teachers get global students