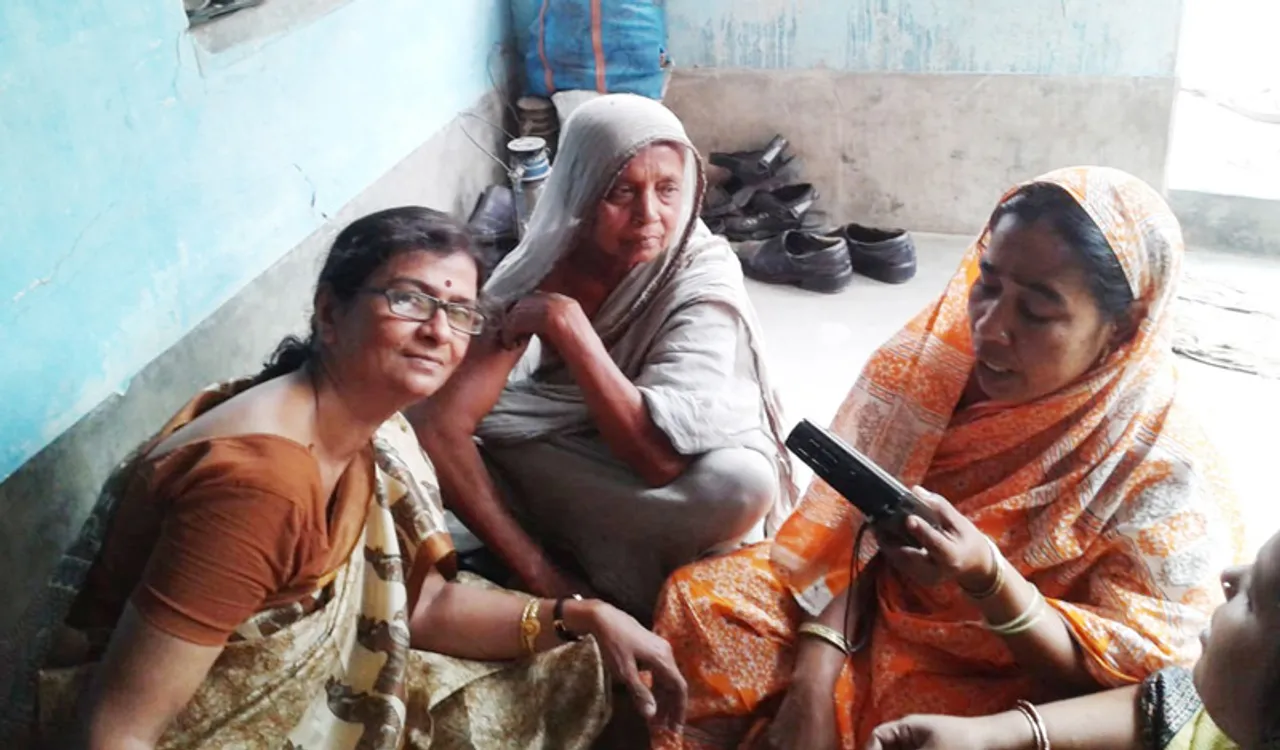 Women had a distinct voice in undivided Bengal. Whether it was daily chores or festivities, social events or the freedom struggle, women used music to express their joys, sorrows, struggles and sense of independence.
Chores around the house were done as women sang for themselves. Sweeping, mopping, cradling, and babysitting were all accompanied by lilting songs as were grinding, creating puffed rice, flattened rice, sifting husk from pulse, embroidering kantha, and making alpona on the floor.
There were songs specific to weddings, sowing, harvesting, and sun worship, for praising the river, to mark a girl reaching puberty, for a baby's delivery and even songs for accusation or simply libellous songs.
Also Read: Gotipua: Odisha's 16th-century dance that freed devadasis from temples is now struggling for survival
Her repertoire includes over 6,000 songs which are also called 'Betichawali Gaan' due to dialect variance in some areas. "Many women in our society are illiterate, but they have carved out a space for themselves with the help of these songs. If one wants to understand more about their voice, they should listen to women's music. We learn relatively little about women through the written literature," she says.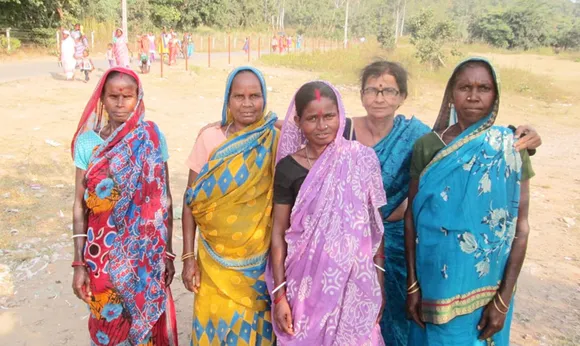 But these songs that were passed on orally from generation to generation are now fading into obscurity and Chandra is attempting to preserve them as they are an integral part of Bengal's social linguistic, musical, cultural and women's history. 
Also Read: How 'Dohar' is trying to preserve folk music of Bengal & Assam since two decades
Influence of Gandhi and the freedom movement
During India's struggle for independence, these songs too took on a nationalist hue. Women created songs that celebrated freedom fighters and expressed their fervour for independence from the yolk of the British.
Right through the 1900s as the anger against the British and the demand for a Free India grew the songs sung by the women too expressed these sentiments.
The songs not only hit out at the British through their lyrics, but they were also instrumental in spreading awareness about the freedom movement and motivating the people.
Also Read: Freedom fighter who participated in Quit India Movement rues growing inequality in independent India
The term 'Vande Mataram' also finds mention in these songs, one of which goes thus… 'partite bosiya chal… Chal Kore Aljhal Sovhi Bolle Bandemataram Sovhi Bolle Bandemataram' (women sit on a mat to sort out rice, then these ladies sing in unison Vande Mataram).
'Swadeshi Sindoor Diye Sajabo Sajan, Sindoorer Modhi Leka Bande Mataram (Write the word Bande Mataram in native vermilion and adorn yourself with it). It was one of the wedding songs popular during the Swadeshi Movement. Its objective was to create awareness among the general public regarding the use of indigenous goods.
The ordinary women revered freedom fighters like Mahatma Gandhi, and the sentiments found expression through songs. 'Desi Sajan Chamatkar Paro Bandhu Ekbar Bilatite Mon Diyona Gandhirajar Maan Merona'(pay attention to Gandhi raja's worth, since native clothing is a fantastic friend but not foreign). 
Conserving a heritage
Over the last 35 years, Chandra has met thousands of ladies who sang the songs by rote. Of the over 6,000 songs in her collection, around 1500 are from Bangladesh though she has never visited that country.
Also Read: Dogri songs by Jammu siblings win hearts across the world
Both secular and religious traditions are represented in Bengali music.
Chandra's goal is to conserve these distinctive tunes of the past before they fade into obscurity. She is digitizing both the lyrics and the music, as well as maintaining a written record in her book. At this year's Kolkata Book Fair, she released the book 'Narir Gaan Shromer Gaan.'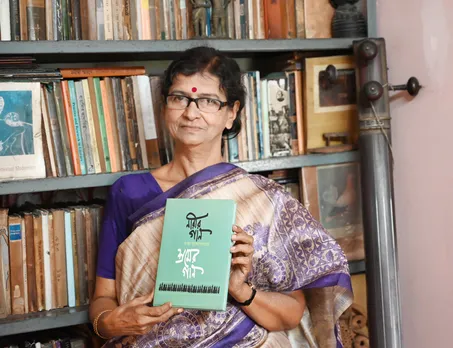 What prompted her to collect Betichawali Gaan? Chandra says her attention was drawn to a passage in Debiprasad Chattopadhyaya's book Lokayata Darshan, in which he stated that people used to sing songs for others even before the Upanishad era. The songs largely focused on the way of life.
Also Read: How Culture Therapy is transforming lives of inmates in West Bengal's prisons
"This piqued my interest. I then decided to go on a search to see where I might get similar music. My main goal was to master the skill of singing," says 67-year-old Chandra.
Setting the tone
In 1974, Chandra approached noted dramatist Bijon Bhattacharya, who staged such songs in his theatre. He sent her to Khalid Chowdhury, a violinist who was in charge of the play's staging. Khalid Chowdhury, Hemango Biswas, and Nihar Barua founded a folk institution to save music from extinction.
Khalid recommended that she take lessons from Mrinal Barua, a psychiatrist by profession who provided free musical lessons on Sundays.
Sensing her interest in Meyeli Gaan, Mrinal suggested she see his mother, Nihar Bala Barua who had quite a collection of these tunes. Chandra spent several years studying this kind of music with Nihar Bala Barua.
However, she was still dissatisfied till she met Bina Majumdar, a lady from Comilla (Bangladesh), who gifted her with some Comilla songs and also told her about melodies from Sylhet. "I didn't have a tape recorder back then," Chandra says, "but I was aware of the breadth of women's folk melodies."
Also Read: Buried at birth, how Gulabo Sapera survived to become the global ambassador of Rajasthan's Kalbelia folk dance
Journey of Collection
From 1996 to 97, Chandra was teaching English at Khalisakota Adarsha High School in Birati, Kolkata. One day during class, she heard drums being played from afar. Students told her it was Muslim women singing wedding songs.
She met Bedana Pal and Ashalata Pal. She carried her small tape recorder. "All I wanted to do was to record the music. The first song I gathered was from Dhaka, Bangladesh. 'Laal Pagudi Bandhe Mathay Amar Krishna Chale Mathura' (my Krishna goes to Mathura wearing a red turban).
Chandra also met 76-year-old Prabha Bhattacharya who gave her several Sylheti melodies.
Environment-Friendly Songs
Chandra began reading about Bengal's indigenous history. Work songs, motherhood songs, culinary songs, nature-worship songs and agricultural songs are all described in Meyeli Gaan.
Without water, agriculture is impossible. As a result, ladies venerate Lord Kartik and summon him to their homes and pray for rain. 'O Kartik Sunona Dhan Keno Bonona' (why don't you try your hand at crop farming, Kartik) they sing in unison while some ladies say, 'Megh Toh Sudhu Amar Bhai' (Cloud is simply my younger brother) to attract rains.
Also Read: Nirvana through dance: Uma Dogra's journey through Kathak
Every component of their natural surroundings is respected by women. From Sanjha puja (evening prayers), Nadi puja (river prayer) to Durva puja (grass worship), they pray to nature in every form through songs, says Chandra.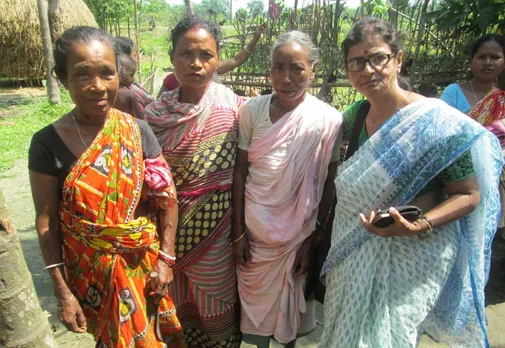 "We make a lot of noise about being environmentally conscious. These songs can teach us that. Humans, trees, animals, birds and other living things are included in the songs," she says.
"We observed that these Meyeli Gaan have two svaras (musical notes), three svaras and seven svaras of voice. Musical instruments are utilised sparingly because the focus is more on lyrics sung by women.
Also Read: Nachnis of Purulia: Folk dancers who feed many families, fight for their rights & live to entertain others
The social context
Have you heard Dhai-maa's (wet nurse) song before? A Dhai-maa is shown here, assisting a woman in labour to birth her baby. She pays her respects to Basumati (mother nature) before proceeding. "Bandhan Bandhiya Nowre O Mor Basumatir Paw Bandhan Bandhiya Nowre (let's start a relationship, o mother-nature)," she sings.
About mother nature, there are songs on Basundhara (earth), Surya (sun), Megh (cloud), Nadi (river), Maati (soil), Bedal (cats), Kukur (dogs), and even songs about friendship with plants and trees, as well as about agriculture.
Such as 'Mama Aiye Tui Ki Korli, Amar Dike Tui Ishara Korli (you made a move at me, uncle, what did you do), or another song about a lady going alone to pick leafy vegetables and her modesty was enraged by the landlord. 'Sei Katha Tor Phelbo Dosser Majhe' (your heinous act will be made public) and 'Babu Dhekhay Adhuli, Ebar Jodi Dekhas Babu Marbo Toke Sukhna Dheel' (I shall pelt him with stones if Babu continues to lure me with money) – are two songs that feature such subject, Chandra says. 
Also See: In pictures: Chhattisgarh's tribal folk dance Gaur Maria inspired by the wild bison
Future of Music
Women's music is rapidly disappearing. The people who came in from East Bengal possessed it, but their children and grandchildren are less interested in preserving it.
"Those who wish to understand more about women's perspectives on society, nature and relationships should walk by these Meyeli Gaan," Chandra says, "and if there is any desire, these songs will stay alive or perish here."
(Partho Burman is a Kolkata-based award-winning journalist. He writes inspiring human interest and motivational stories.)
Also Read: Songs my Mother Taught Me: Archiving the history of family music from across India