When Y.S. Pavithra and her siblings would spend time with their mother in her clinic as children, the little girl did not know that this would be a life-determining experience. Her mother was a doctor who started her career with a clinic near a slum. 
"People from underprivileged sections of society would come out of her clinic smiling. She seemed to make life so much better for them with a kind word and a reassuring touch. That affected me a lot as a child. I felt that I too must bring smiles to the faces of people," says Pavithra.
"The empathy and compassion I developed as a child motivated me to do something for the socially disadvantaged sections of society," she says.
Pavithra is a commerce graduate while her husband Ashok is from the IT sector. The couple decided to combine their expertise and set up a venture. However, an incident changed the character of their enterprise. 
Turning point
One day, when they were discussing hiring issues, Pavithra saw a physically challenged person cross the road. "That was a turning point. I suddenly thought: 'Why not employ persons with disabilities (PWDs)?'. There were two strong reasons for this. One, PWDs have limited opportunities to join the mainstream workforce and contribute productively. Two, attrition is a big problem in the BPO industry. So, why not hire people who would value their job and stick on?"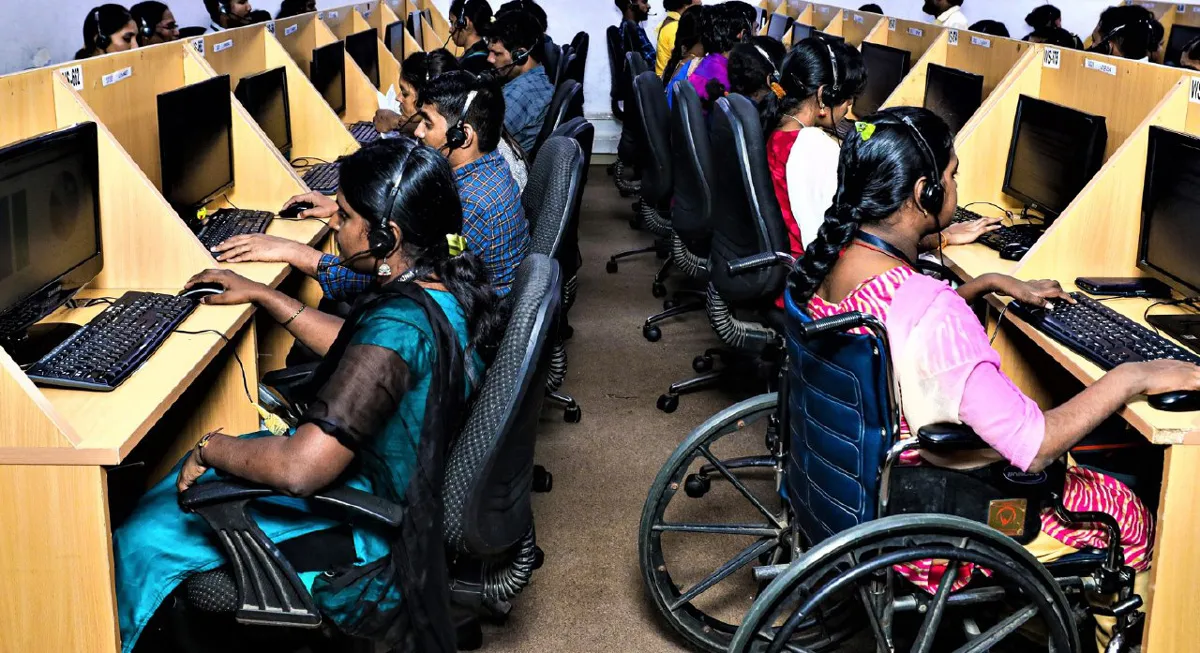 Vindhya e-Infomedia was set up in June 2006 in Bengaluru as a for-profit enterprise that would make a social impact as well. Today, the company is a 2600-strong enterprise. Close to 30 percent of the staff have some kind of challenge. These include people with visual impairment, hearing impairment, physical disability which makes them wheelchair-bound, muscular dystrophy, acid attack survivors, people on the autism spectrum, and those with short stature. 
In addition, the company is inclusive in other ways. 
It also employs senior citizens, socially challenged women, single mothers, transgenders, people from rural areas and those from lower economic strata. Vindhya hires people with limited education, trains them and motivates them to study further while working. 
Pavithra pursued a one-year executive management programme at IIM, Bangalore in 2012 and a three-month fellowship on leadership at Oxford in 2019 to upskill herself.  
Also Read: Echoes SOS: This Delhi café employs speech & hearing-impaired people
Why the name Vindhya? "Vindhya is my elder daughter's name, who will soon be 18 years old. The company is my second daughter. It needs as much nurturing and love as a child. My third daughter Tanushree is 12 years old," says Pavithra. 
Click here to join us on WhatsApp
Today, Vindhya is a leading BPO with two offices in Bengaluru and one each in Mysuru, Krishnagiri, Hyderabad and Nagpur. "We provide 360-degree support to our clients who are from the financial services, telecom, IT and e-commerce sectors, among others. We also provide hospitals with a 24X7 call centre to support patients. Some of our major clients are Wipro, Schneider, Yes Bank and Ujjivan Small Finance Bank," says Pavithra.
Pioneering inclusivity  
Inclusion was not talked about much at the time when she launched her venture. Over the past 17 years, our inclusive hiring policy has made an incredible impact, says Pavithra with elation. "Vindhya has created opportunities for more than 7000 people facing challenges. Some are sole breadwinners in their families," Pavithra says. 
Also Read: Karnataka: Clinical psychologist couple empowers differently-abled people to make ecofriendly handicrafts & earn income
"Many have gained confidence and experience and moved on to working for multinational companies after the initial break they got with us," she says.
"Our employees have grown to manage 40-200 people. Single mothers can support the education of their children. Some have been able to pay off their debts," she adds.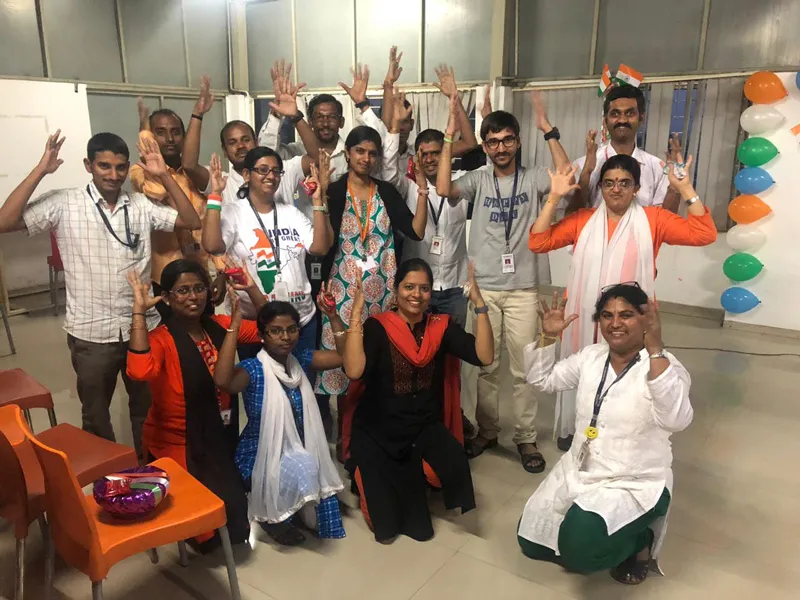 Penning her story in 'The Book of Aspiration – Inspirational Memoirs from Social Leaders' by social entrepreneur, Ved Arya, and development professional, Dhruvi Shah, Pavithra writes: "I aimed to build a model that would enable them (physically challenged and socially disadvantaged) to strengthen themselves and be an example for others and prove to corporates that a business that is run by people irrespective of skills, gender and disabilities can be as successful and sustainable as any other company would be."
To increase their reach, they connected with many NGOs, vocational training centres and skill development centres who worked in the inclusion space, for training their employees and soon established a network. Through them, they employed more PWDs and empowered them to be ambitious and successful. So much so, that until the role of assistant manager, they only follow their internal recruitment method, writes Pavithra. 
Also Read: SAI Centre: Novel neighbourhood initiative empowers adults with special needs
"With the combination of aspiration and networking, our socially conscious business model turned into a successful and sustainable company. It has resulted in companies warming up and welcoming people with disabilities into their workforce. Vindhya has been able to change mainstream perceptions," she writes in the book.
Overcoming challenges
Pavithra says her biggest challenge was that she was new to PWDs. Also, since she was not challenged herself, it was initially difficult to be accepted by her challenged staff. But soon her sincerity won their confidence and they started sharing their experiences with her.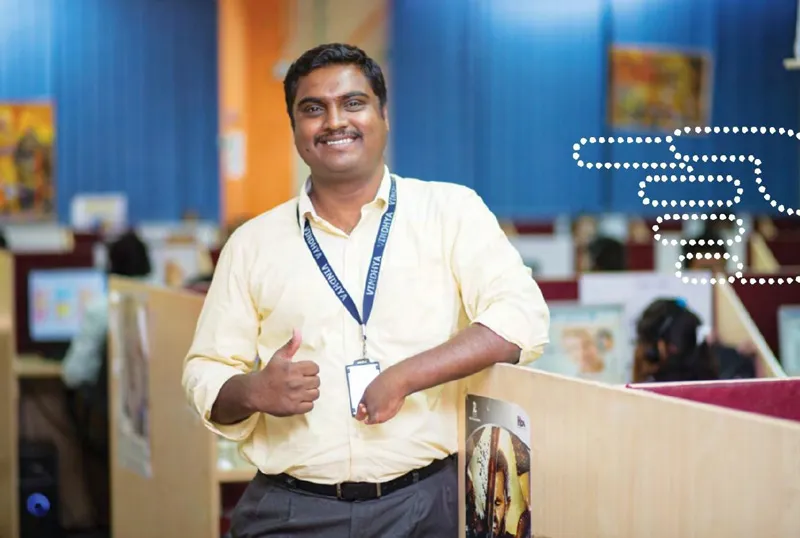 The next challenge for her was to get new business and income to continue with her bold social initiative. "I come from a middle-class family. I had just graduated from college and it was financially difficult in the initial years. Sometimes, I wondered whether my attempt to make a social impact made business sense. As we could not pay our employees much, we asked them how we could help them," she says. 
"One thing we did was to convert a conference room into a living space for the physically challenged who found it difficult to commute. We also set up a kitchen and provided three meals to them at subsidised rates," says Pavithra. 
Vindhya's challenged employees are very happy working for the company. Gajendra Khandwekar, 32, who has orthopaedic challenges in his left hand, has become an inspirational figure at the company's Bengaluru office. He is the sole breadwinner in his family which consists of parents, a wife and a two-year-old son.
Also Read: Devendra Jhajharia: The boy who lost an arm but won two Paralympic gold medals
"I like the inclusive culture at Vindhya and the fact that the company gives me opportunities to advance in my career. I joined Vindhya as a customer service executive in 2011 and today I am a senior manager (operations) and supervise 200 people. I work for around nine hours a day and travel to other cities where Vindhya has offices," says Gajendra.  
Avik Roy, 39, is a visually impaired employee of Vindhya. "I have been working for Vindhya for the past six years. I have received a great deal of support from colleagues and the management. Currently, I am a VI (visual impairment) trainer. I train new employees who are visually impaired to use screen readers. I also have other responsibilities in the company. My wife (who is visually impaired) has also joined Vindhya in the customer support division. I aspire to get promoted in my company," says Avik.  
Apart from the tremendous contribution of her employees, Pavithra credits her clients for understanding her motivation and supporting her. 
'Don't assume, just ask' 
Apart from providing a conducive environment in the company that would make them comfortable, she also had to facilitate the ability of the PWDs to work. "At Vindhya we believe: 'Don't assume, just ask'. Since I did know much about the challenges they faced, we asked them what they needed and what we could provide to support their work in our company. This has been an ongoing journey," she says.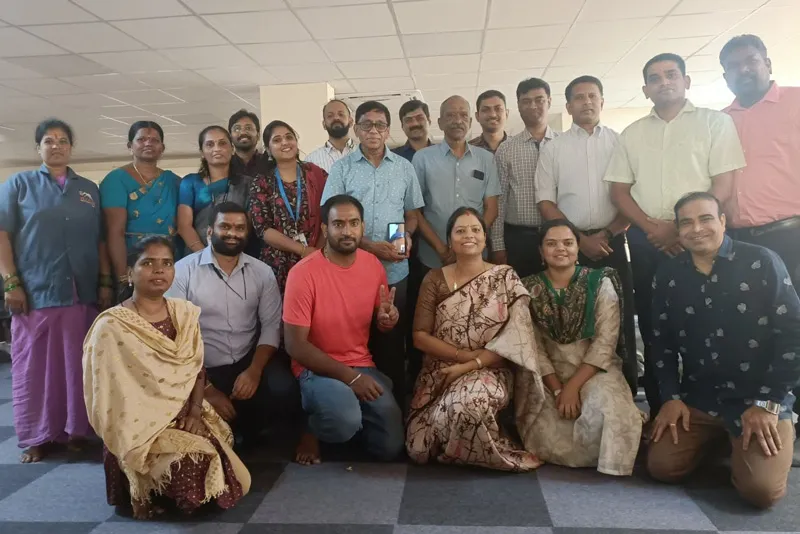 Pavithra narrates an incident when a hearing-impaired person came for a job interview. "I was trying to have a conversation using paper and pen. She conveyed to me: 'I will teach you sign language. You teach me the work required.' Soon, sign language became one of the universal languages in the company with everybody learning it and using it to communicate."  
Vindhya introduced simple manuals with photographs to help the challenged employees understand the work assigned to them. 
Braille manuals and audio training presentations helped the visually impaired while the hearing-impaired were trained using sign language. 
Pavithra ensured that the trainers were sensitised and were from among the employees. Many of them had challenges themselves. 
Also Read: How Coimbatore-based Swarnalatha J used her multiple sclerosis diagnosis to promote mobility friendly facilities
"We accepted our staff members with autism – their mood swings, lack of eye contact and dislike for physical touch. We understood that this was what it was like for them. They, in turn, accepted us and gradually opened up to us. In our first office, we did not have a ramp or lift in the beginning. But we soon made our office spaces accessible and inclusive," she explains. 
Coffee and chat sessions
Informal quarterly sessions where 25-30 people just chat are called 'Coffee with Pavithra'. "It's like a friend's circle. There is no agenda. We all talk about our experiences and our journeys. We come to know details about colleagues and the challenges they have faced. For instance, we may come to know that a colleague is an orphan or has had to struggle to get an education. The session lasts around two hours and at the end, many people are in tears. This is the first time they have felt heard and understood," says Pavithra.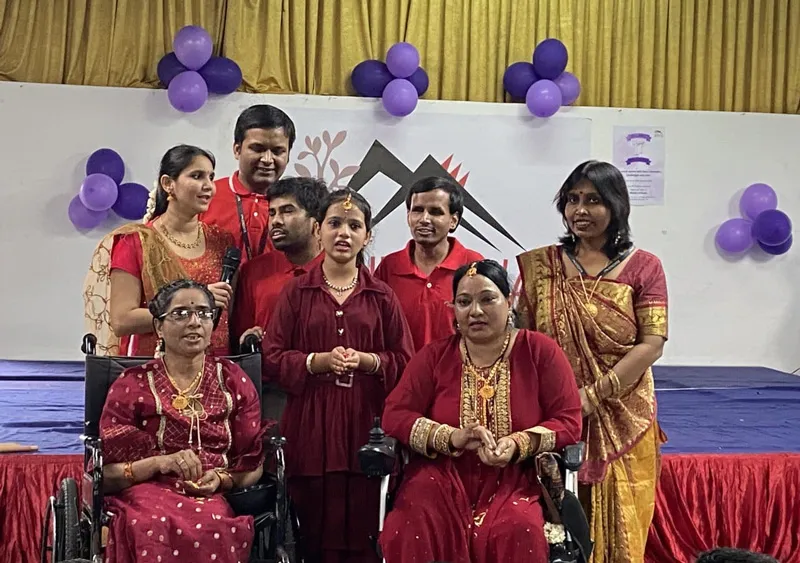 Interestingly, many office romances have blossomed in the positive, inclusive environment at Vindhya where there is a strong sense of belonging to one community, irrespective of caste or religion. Challenged employees have found their partners at Vindhya, bought flats and settled down. 
Vindhya has a daycare facility. It supports the education of one child of their employees. It provides assistive aids when required and has an academy for upskilling.    
When employees have fun times, the supervisor plans inclusive games. "We don't have a policy or mandate as such to be inclusive. We have just organically grown to be an inclusive workplace. We are not 100 percent there yet, of course. We are continuing to evolve," says Pavithra with a smile.    
Plans include expanding into Tier 2 and 3 cities to create more impact in terms of inclusion. "I wear a completely different lens when it comes to inclusion now. My larger dream is that in ten years, there should be less talk of inclusion. All companies should be equal opportunity ones. And, there should be no need for a prospective candidate to say: 'I am a PWD and I can work'," she says.   
(Aruna Raghuram is a freelance journalist based in Bengaluru/Ahmedabad. She writes on parenting, personalities, women's issues, environment, and other social causes.)
Also Read: How this Chhattisgarh engineer's inclusive café chain is breaking stereotypes