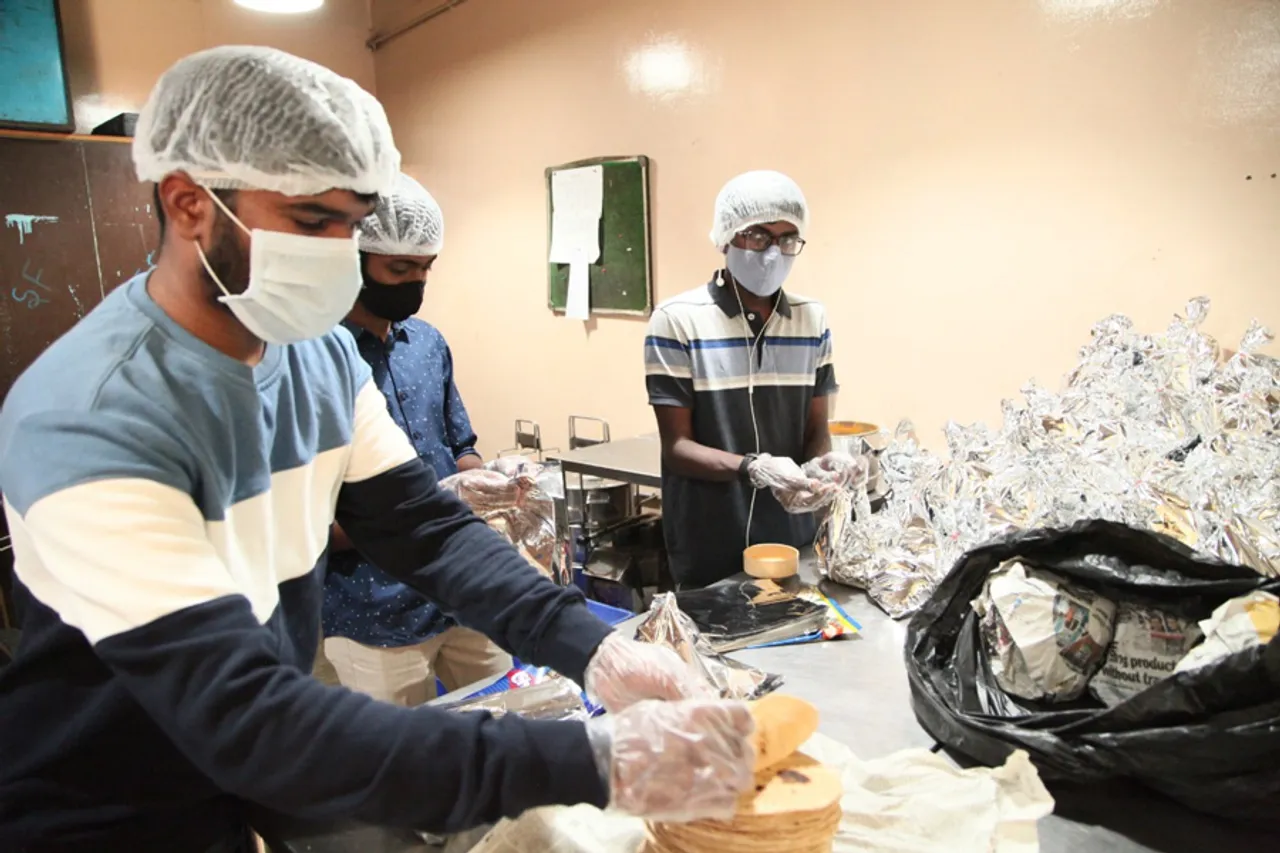 Ronita Ghosh's day begins at 4 am. The 40-year-old prepares meals that are to be delivered to COVID patients in Pune hospitals even as she attends to dozens of phone calls with requests for help. "One time it is about getting someone a fresh set of clothes and another time it is buying someone an oximeter. I handle a variety of requests from medical supplies, groceries, money for a cremation to basic food every day," she explains. 
But for the Pune-based restaurateur, food is an integral part of life – personally and professionally. When her restaurant Jikoni shut down during the lockdown, she used her knowledge and infrastructure to start 'Happiness Dabba,' a social initiative to feed the hungry.
Also Read: COVID-19 gives home chefs a leg up as restaurants remain shut
"I talk to them, share their grief, try to boost their morale and chip in money to help them go back to their homes," she adds.
The second wave of the COVID-19 pandemic continues to rage across India, infecting people and stretching the healthcare infrastructure. In this grim scenario, thousands of people from NGOs, support groups and the common public have risen to the occasion to help the patients as well as their families by providing medical facilities, financial aid and food to them.
Inside the kitchens
Some 20 days back, Ronita began with distributing 50 dabbas (tiffin) filled with 500ml of piping hot Khichdi every day to patients in Pune's Sassoon Government Hospital with her savings.
The meals go to patients in hospitals, frontline workers, ambulance drivers, homeless people, sanitary workers and COVID-affected patients quarantined in their homes.
Also Read: Coronavirus Lockdown: Kitchen warriors work round-the-clock to feed millions of migrant labourers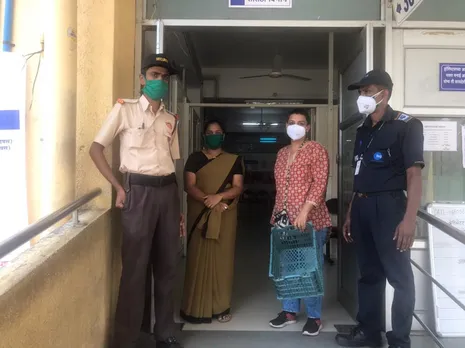 In over 20 days since the initiative started, Ronita and her team have distributed over 10,000 dabbas all over the city from Kalegaon to Ghorpadi. The cooks wear masks, sanitise themselves and take all precautions while making food.
In Bengaluru, another initiative, 'Food to your doorstep', has been sending out free meals to quarantined COVID-19 patients across the city for almost a month. The meals are sent to over 250 families in and around the city.
Vinod Kumar, the managing trustee and programme coordinator of the NGO, says they did a small survey and found that one-third of the COVID patients were hospitalised but three-fourth are quarantined in homes and many are unable to access their kitchens."
Also See: In pictures: hands that feed stray animals during COVID-19 lockdown
The meals, which are made after consultation with a dietician, consist of rotis, sabjis, rice, sambhar, boiled egg, papad, pickles and fruits.
"We follow up with the patients like our own family," he says.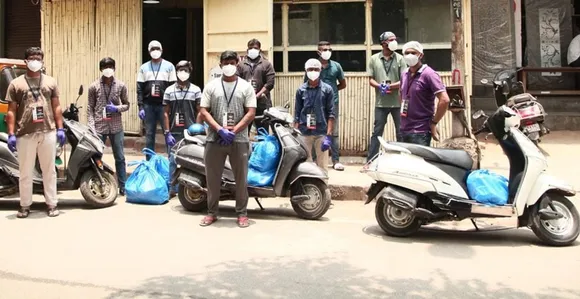 How do their kitchens work? "There are four kitchens in the city and each kitchen has two cooks and four helpers. The meals are prepared with all safety protocols and are packaged in bio-degradable disposable containers. The rations are procured from the local markets and the vegetables are bought from mandis."
Down south, 20-year-olds Nithyashree Kalyan, Samhitha Tera and Gayatri Kommera took up the responsibility of starting a meal service for quarantined patients around their home in Hyderabad.
Also Read: How home chef Sumitra Kalapatapu is popularising the little-known Andhra Brahmin cuisine
"We began with 20 boxes with rice, rotis, dal, sambhar or rasam and curd, but word spread quickly and soon we had 300-400 calls every day," she recalls. They couldn't cater to so many people so they took help from external caterers and started distributing 120 boxes all over the city.
Delhi-based Anupriya Singh's 'House of Kitchens' is an example. When she started it in August 2020 to promote home chefs and bakers who were affected due to the lockdown, she didn't know it will end up helping thousands during the second wave.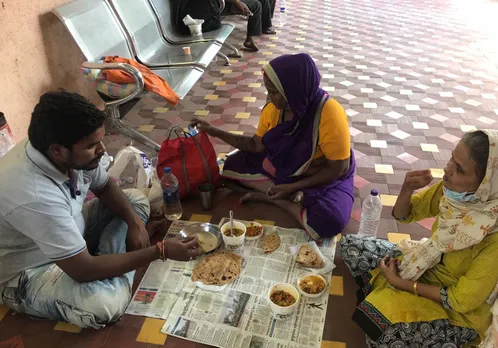 "In April, when I collated the first list of 11 home chefs catering to multiple areas in Delhi and shared it on social media, it went viral. That's when I reached out to other home chefs to support this cause and the response was overwhelming," she says.
Also Read: How 2 sisters are reviving cuisine of Bannuwal Hindus who migrated from Pakistan after Partition
Anupriya collects details of the chefs and their Aadhar card for proof. The chefs wear gloves, caps and masks and send pictures and videos of their kitchen for sanitation checks. The money goes directly to chefs.
Talking about how it benefits them, Anupriya says, "One of the home chefs explained that she started with Rs 200. Her husband lost her job and was at home. She made meals every day and earned Rs 45,000 in 15 days and was able to pay her daughter's school fees."
Delivering the food to COVID patients
Ronita is on the ground every day, delivering more than half the meals herself while her 'Happiness Dabba' team of 10 volunteers help in distributing the dabbas to Sassoon and other hospitals.
They also deliver to people quarantined at their homes after verifying the requests. While Good Quest Foundation uses Google Form for verification, Fresh Serve uses Google sheets to keep track of the patients' data.
"Once we get an order, we request the person give their personal details, their COVID positive reports, number of people affected in their family, for how many days they need the food and if they're allergic to certain foods or ingredients," says Nithyashree from Fresh Serve. She juggles an internship at a start-up from 10 am to 6 pm and her college work in the night while working for this initiative. 
Also Read: Cooking to survive vs cooking as a hobby: How coronavirus lockdown is changing food habits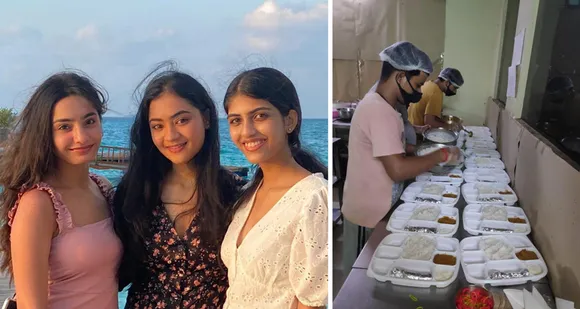 While Nithyashree takes care of the orders and coordinates with the caterers, her friend Samhitha helps curate the database and Gayatri books multiple Dunzos and Ubers so that the orders reach on time. She also keeps track of the finances.
They use food delivery services for areas where they don't have volunteers. But for deliveries in Jubilee Hills and Hitech City, two volunteers – Rahul Shah and Sagar Sen Gupta – help them. The delivery charges are Rs80-100.
Good Quest Foundation works with various teams to get the meals delivered. "The backend eight-member team collects the information of people who need meals via a Google form and verify the requests. Then, we create a list of beneficiaries and assign a group of volunteers," Vinod explains.
Also Read: From ragi momos to snails, how tribal food is becoming the ambassador for Jharkhand's indigenous culture
"Every day a roster is prepared, sent to the kitchen after which the trained volunteers make the contactless deliveries to doorsteps."
On the other hand, the House of Kitchens has collaborated with a delivery partner to send the meals. Anupriya elaborates, "Our official delivery partner Pappos has given us a dedicated helpline and packages are sent at a much lower price. Dunzo, Wefast and other delivery apps are also being used by home chefs."
Funding the kitchens
Although Ronita has used her savings to support the initiative, Jikoni customers initially helped with raw materials and money. "Now donations of cash and grains, food containers come from all over the country. Nothing can stop us from delivering meals," she says.
Also Read: Kashmir's local bread-baking thrives as kandurs serve up delectable breads
It, however, does get difficult to pay from one's pockets to fund a social initiative. Nithyashree says that the caterers charge nearly Rs 50,000 for a week to make the food that is sent to patients' homes.
The Good Quest Foundation too receives donations from the public. The NGO has partnered with Project Vision, Don Bosco Breads, Aifo, Echo and Orione Seva for the 'Food to your doorstep' initiative.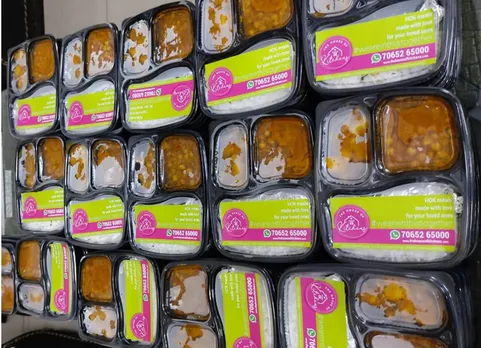 Anupriya Singh's 'Meals on Wheels' initiative which sends free meals in a van to government hospitals – started on April 25 - is sponsored by people from India and also from other countries including Singapore, the US and Australia. "Off late, we have been serving patients in LNJP Hospital and give meals to the families of patients, ambulance drivers, hospital staff, nurses and other care givers," she says.
Other social initiatives include Chennai-based Speech Therapist Deepika Venkatachalam's 'Cook for Covid' which provides food to patients all over the city and Satish Savitri Sarella's Future-India Foundation which caters to residents in Vijayawada, Eluru and Jangareddigudem of West Godavari district.  
At a time when hope is the only thing one can hold on to, these COVID food initiatives have made life easier for lakhs across the country. Their growth can help many heal well. 
(Narayani M is a Chennai-based writer specialising in longform writing and human interest stories.)
Also Read: Meet five friends from Chennai whose mission is to feed the hungry