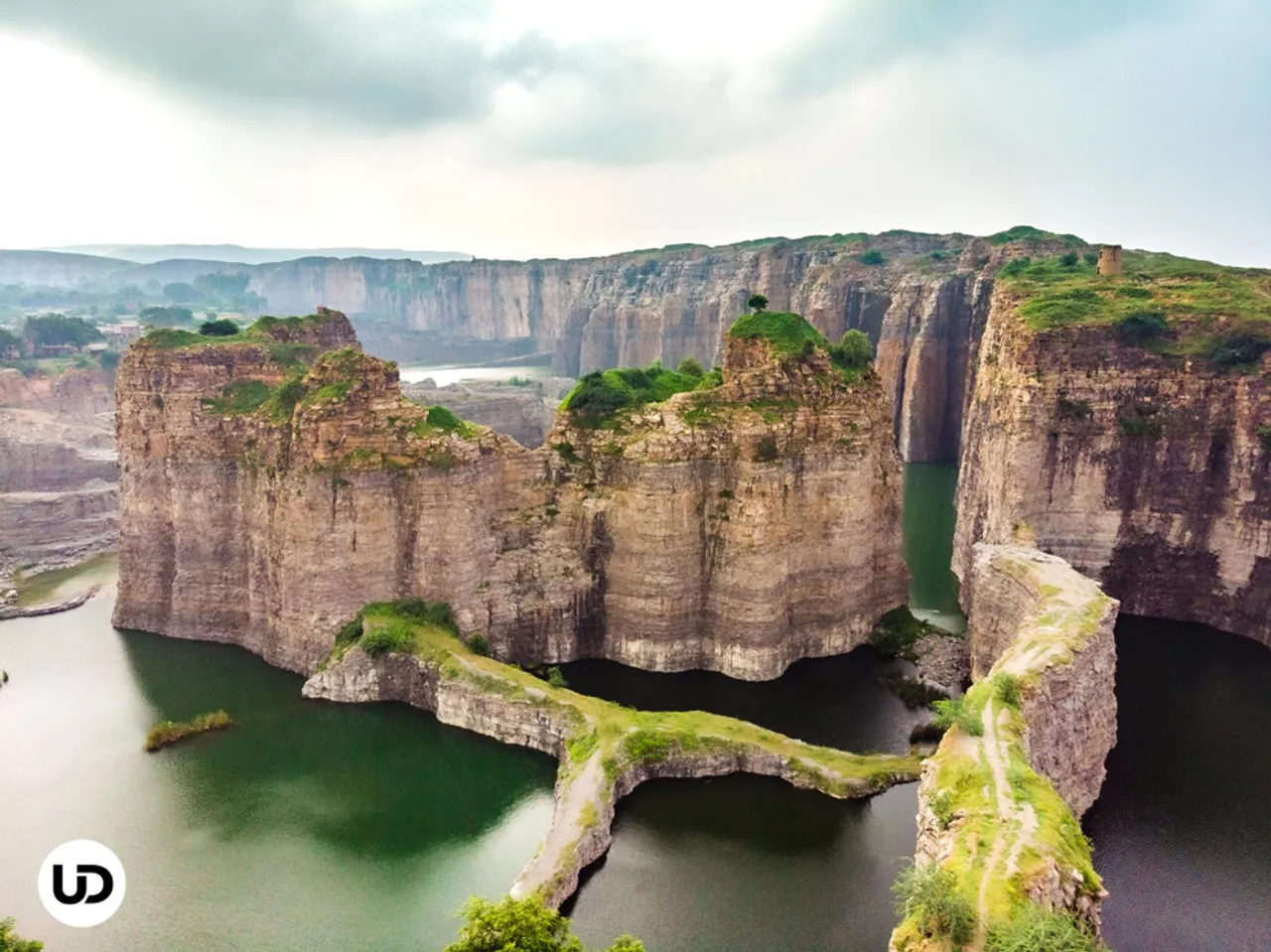 In the lap of the picturesque Kaimur range in Bihar's Rohtas district flows the Tutla Bhawani waterfall. Lush green trees in the backdrop of the majestic mountain range are reminiscent of the serene Western Ghats. But this beautiful waterfall, near the 12th century Goddess Tutla temple, was not known to most of the people of the state until its video, shot using a drone, was shared on social media in September last year. The video went viral. The result: During the last week of 2020, the little-known waterfall hosted 2 lakh people, as per reports.
This video was shot by Undiscovered Ventures, founded in 2017 by Ashish Kaushik, who loves to document the unexplored terrains of Bihar.
Also Read: Bihar-based startup takes the humble sattu to US, UK & Singapore
From the Tutla Bhawani Waterfall and the Three River Island Temple of Kahalgaon (Bhagalpur) to the making of Gaya's rice-based sweet Anarsa and other Bihari foods, his videos continue to receive millions of views and have attracted global attention, with national and international organisations partnering with him for work.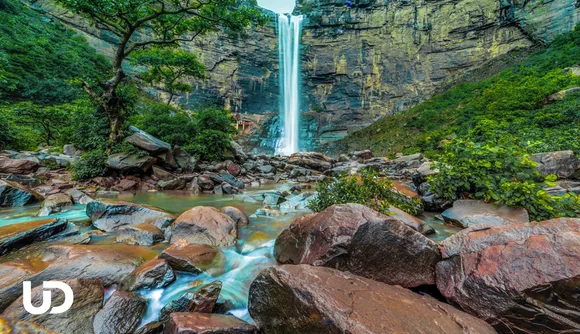 The videos are bringing about a swift change in the outlook towards Bihar, a state considered synonymous with the lack of development as well as opportunities.
Also See: How Bihar's Lahanti Club is preserving Santhali culture
Image makeover through visuals
Like many young students, Kaushik too was pressed to take up Science in class 12, keeping aside his love for photography. He had managed to get a camera by working part-time in the post office where his father worked. However, his dad asked him to leave the house after he could not pass the Intermediate examination.
He went to Delhi to study journalism, where he was often ridiculed for being from Bihar. Some of his teachers too refused to see Bihar beyond just a backward state and his friends judged him for the same.
While collaborating on a project with a friend, under which students were asked to search images of their home state and present them before a jury, Kaushik was shocked to find only pictures depicting poverty, hunger, and dirt in Bihar.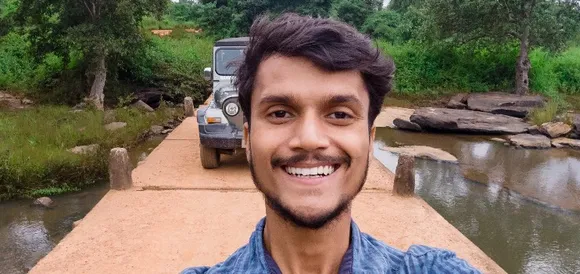 "Before visiting any place, the first thing we do is a quick online search; but looking at the images that popped up for Bihar shocked me. Belonging to an era where digital representation is an asset, I decided to work towards changing this image," he says.
Kaushik, belonging to the economically underprivileged group, started taking small steps towards his big dreams by exploring areas near the state capital Patna.
Also Read: Uttarakhand: Himalayan homestay empowers women through ecotourism
He rode to Rohtas on a scooter with his camera, captured pictures and posted them on his social handles, which garnered praises from friends and acquaintances. "My friends, who once considered this place backwards, were now interested in visiting. People were noticing my work and I felt that if it could bring about even a little change to the existing image of Bihar, I would consider my efforts fruitful," says Kaushik, who has also worked on projects for the World Bank.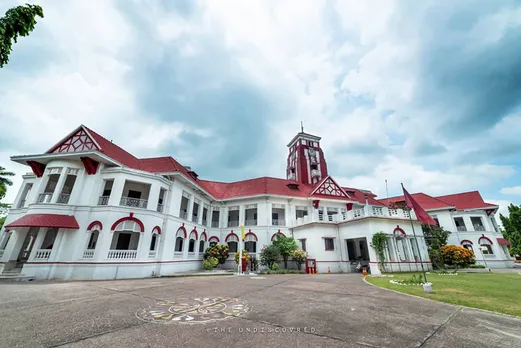 Passion, profession & documentation
With time, his popularity grew and his videos started receiving traction, crossing a million views within hours of being posted. Several videos went viral in the past few months and his Instagram following climbed to 38,100.
Also See: Visuals: World's only Floating Post Office on Dal Lake going strong even after 200 years
It was only recently that he started earning revenues from Facebook and his YouTube channel – The Undiscovered. "Just a couple of days back, I received Rs 15,000 from Youtube. However, this kind of content is not widely promoted and I haven't received even one percent of what I have invested so far," he says, adding that he is focusing on earning audience rather than money. Wider reach will eventually boost his business.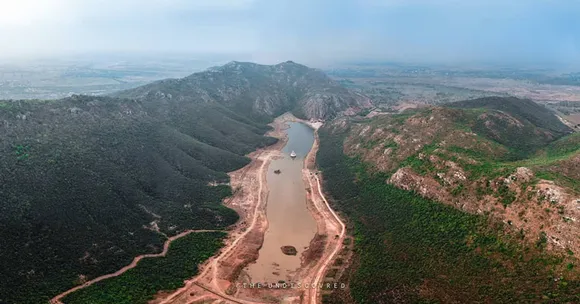 He also produces short presentations and ad films, which are his primary source of revenue right now. Undiscovered Ventures clocked revenue of Rs10 lakh last fiscal.
Also Read: Kalaroos caves: Kashmir's Russia connection through tunnels
Kaushik hires people on a project basis and pays them a part of the project commission, which varies between Rs15,000 and Rs20,000 depending on the nature of the project. To date, he has worked with 12 people.
Social media influencers, vloggers, and various companies now approach him for collaborations and projects, says Kaushik, who has worked for over a hundred organisations from different sectors.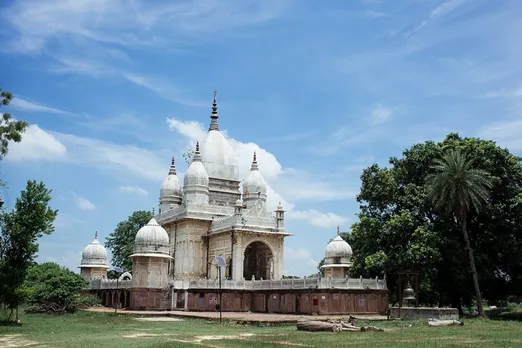 "Although I have explored 95 percent of Bihar, I have documented only a few locales as it is a time-consuming process. I took almost four years to finish the documentation on Rohtas," he says. He has covered in-depth areas including Patna, Gaya, Kaimur, Rohtas, Darbhanga and Bhagalpur.
Also See: How Bihar's GI-tagged Magahi paan is losing out to Calcutta & Desi varieties
Drones & other allies
Kaushik used his savings to buy two drones, which cost him around Rs 1.5 lakh each. The drones are used to capture aerial views of the places. The 5.4k resolution DJI drone has a 12 km range.
However, working with drones comes with its own challenges such as a high risk of crashes, signal loss, and seeking permission from the local authorities. Pilots of drones require a UAS Operator Permit-I (UAOP-I) for all flying purposes from the Directorate General of Civil Aviation (DGCA).
Also Read: Bihar's Sikki grass craft finds global market amid rising demand for eco-friendly artifacts
As his work gained prominence, it became easier to get regulatory nods. Even his stays are often sponsored by the local authorities or industry people as he is working towards promoting Bihar as a state with rich cultural as well as natural heritage.
"Earlier, I had to spend on food, lodging, etc., which grossed around Rs 10,000 per video but the amount has now come down," he says.
Thanks to videos and documents posted by Kaushik, locals are now proudly exploring and vlogging about Bihar. While his work would even leave the locals awestruck, people from other parts of the country often express an urge to travel to Bihar.
Shortly, Kaushik plans to set up his travel firm through which he aspires to promote tourism in Bihar. "People are still apprehensive of visiting Bihar, owing to the lack of infrastructure or proper knowledge but I wish to change that by providing them with the best," he says.
(Lead pic shows a part of the Vindhya Range at Sasaram, Bihar. Pic: courtesy Ashish Kaushik/The Undiscovered)
(Rishika Agarwal is a Patna-based writer specialising in art, culture and human interest stories)
Also Read: In pictures: India's 7 lesser-known tourist destinations