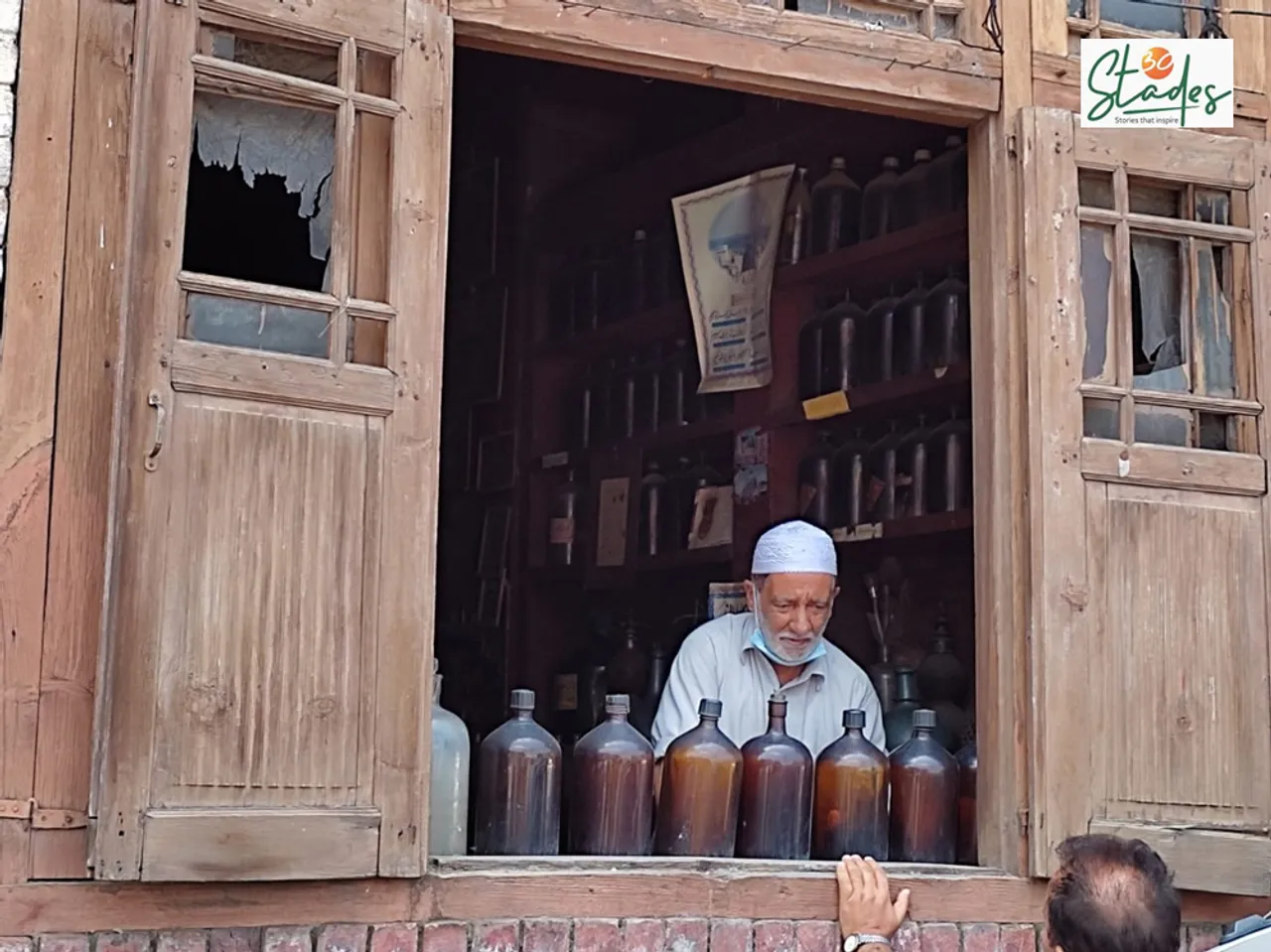 Filigreed decanters, dark-coloured glass bottles and antique jars are lined up on the wooden shelves of Arq-i-Gulab, a 200-year-old shop just a few steps from the Khanqah-e-Moula mosque in Fateh Kadal, downtown Srinagar. Large glass cauldrons and tall bottles hold the secrets of manual distillation of rosewater and preparation of other Unani medicines, which cured many people before modern medicine and mechanical distillation techniques overtook traditional knowledge. 
Battered by time, the dimly lit shop, with rose fragrance wafting through the air, is today run by Abdul Aziz Kozgar. Aptly named Arq-i-Gulab, meaning rosewater, it has been a witness to history for the last two centuries.
Also Read: Phool: where women turn temple flowers into incense, bio-thermocol & vegan leather
Nooristani was familiar with alchemy. On the directions of the saint, he began producing rosewater, which is sprinkled on shrines, in mosques and on devotees visiting these places. His family has continued the rosewater-making tradition over the centuries.
Fragrance of a bygone era
Aziz earlier worked with the state animal husbandry department but opted for early retirement and took over the reins of the family business about 15 years back. The quiet, withdrawn man is now certain that the craft will die with him. 
Also Read: With roots in Indus Valley Civilisation, can Gujarat's Khavda pottery reinvent the wheel?
Melancholic eyes glinting in his wrinkled face, Aziz continues this family occupation with devotion. Though running the traditional distillery is not of much help as far as the family financials are concerned, yet his commitment to preserving the dying trade is admirable.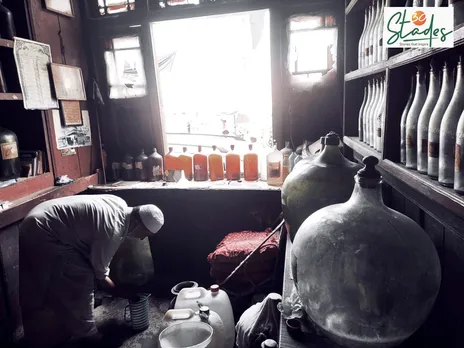 On one of the walls of Aziz's shop, a Persian couplet on an old photograph of a Sufi saint quite clearly illustrates the Kozgar family's affinity with the revered saint. "Yaani Aan Baani Musalmani, Mir Syed Ali Hamadani" (Mir Syed Ali Hamadani is the founder of Islam here).
They were experts in Unani medicine, which is the traditional Perso-Arabic medicine system.
They would extract syrups from herbs, flowers and condiments such as fennel seeds and cinnamon. A single extract would have many components and potions would be prepared with specific elements to cure various ailments. 
Also Read: How Kutch's Abdul Gafur Khatri is keeping alive 300-year-old Rogan art
From Unani medicine to Rosewater
Aziz's shop is filled with antique jars of all sizes, most of which he inherited from his father and forefathers.
Belonging to the times of the hakims, these containers came in extensive use when the hakims and Kozgars extracted herbal syrups that could cure almost any disease. They now lie stacked on the shelves, dusty and empty. 
All these syrups are quick remedies for body heat, stomach and kidney ailments besides others. These are still prepared in the same way as they were centuries ago. 
Also Read: How Nizamabad's 500-year-old black pottery is regaining lost glory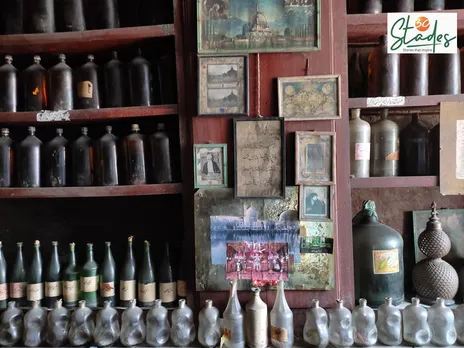 Aziz recalls his childhood when his whole family would take part in making rosewater and other syrups. "Those days we would have heaps of rose petals in our courtyard. Everyone in the family had knowledge about the preparation of various syrups," he says. 
A faded, handwritten paper pasted on a shelf of the antique shop displays the list of syrups and flower extracts that were once available from the kozgars.
Also Read: Kalaroos caves: Kashmir's Russia connection through tunnels
The process of making rosewater
Visitors can also see a hand drawing of a 'Karambiqh' (distillation apparatus) portraying the manual process of distillation as used by the kozgars.
The method of making rosewater is simple - freshly washed flower petals are placed in a large copper cauldron called deg and water is added to it. The deg is heated from below using zyun (firewood). The aroma of the flower mixes with the water, evaporates and passes through a tube into another copper container placed inside an ice water tank.
The warm vapour turns into water droplets and fills the cold container which has a capacity of almost 50 litres.
Fresh roses are collected from the gardens of far-off places like Shalimar, Harwan, Baramulla, Anantnag and a number of other villages.
Also Read: Kashmir's big weddings, dowries causing delayed marriages & mental anguish to girls, parents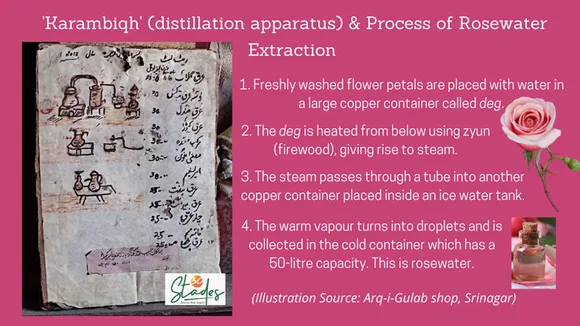 Back in the time of hakims, the kozgars made sure that the rose petals would be carried in large jute sacks on horsebacks as soon as they blossomed. 
While demand has fallen over the years, people from all over Kashmir still buy rosewater from his shop. It is used mainly for sprinkling on the shrines in Srinagar and outside as well as on devotees during religious gatherings.
Also Read: How one family has taken India's 1,000-year-old temple architecture to the world
Aziz is reluctant to share the sales or earnings but acknowledges that they have declined sharply.
There are many shops selling rosewater in the old city, claiming lineage to the 19th century. But Aziz has been able to preserve the traditional method of making rosewater despite the boom of modern and machine-made rosewater available in the market.
Also See: Visuals of paper maché: Kashmir's 700-year-old 'chewed paper' craft
The wilting rosewater business
Aziz rues his business may not survive due to the indifference of his three children towards the family business. Aziz's cousin Abdul Wahid Kozgar used to help him in the family business till 2011 but he too has left and now runs a chemist shop.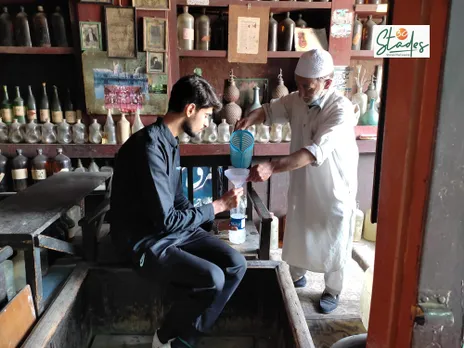 "This 200-year-old shop is close to my heart as it's a gift to me from my ancestors. I wish my children would also carry it forward to preserve this centuries-old tradition but I can't force them," he says.
Aziz says the young generation happily uses the rosewater from his shop but they don't want to do the work themselves.
Also Read: Kashmir's local bread-baking thrives as kandurs serve up delectable breads
Aziz doesn't want to push them into the trade. "In my time, there was a lot of money in it. How can I compel my sons to go into a trade that has got no future for them? I wish for them to do what their heart desires." he says. "This art for sure is going to die. I am running this shop with an aim of preserving an important part of us," Aziz adds. 
His desperate bid to preserve the family's legacy may not survive in this mechanized world. 
(Parsa Mahjoob is a Srinagar-based  freelance journalist)
Also Read: Gulab Singh Johrimal: How Delhi's 205-year-old perfumery patronised by the Mughals has innovated to attract younger generation