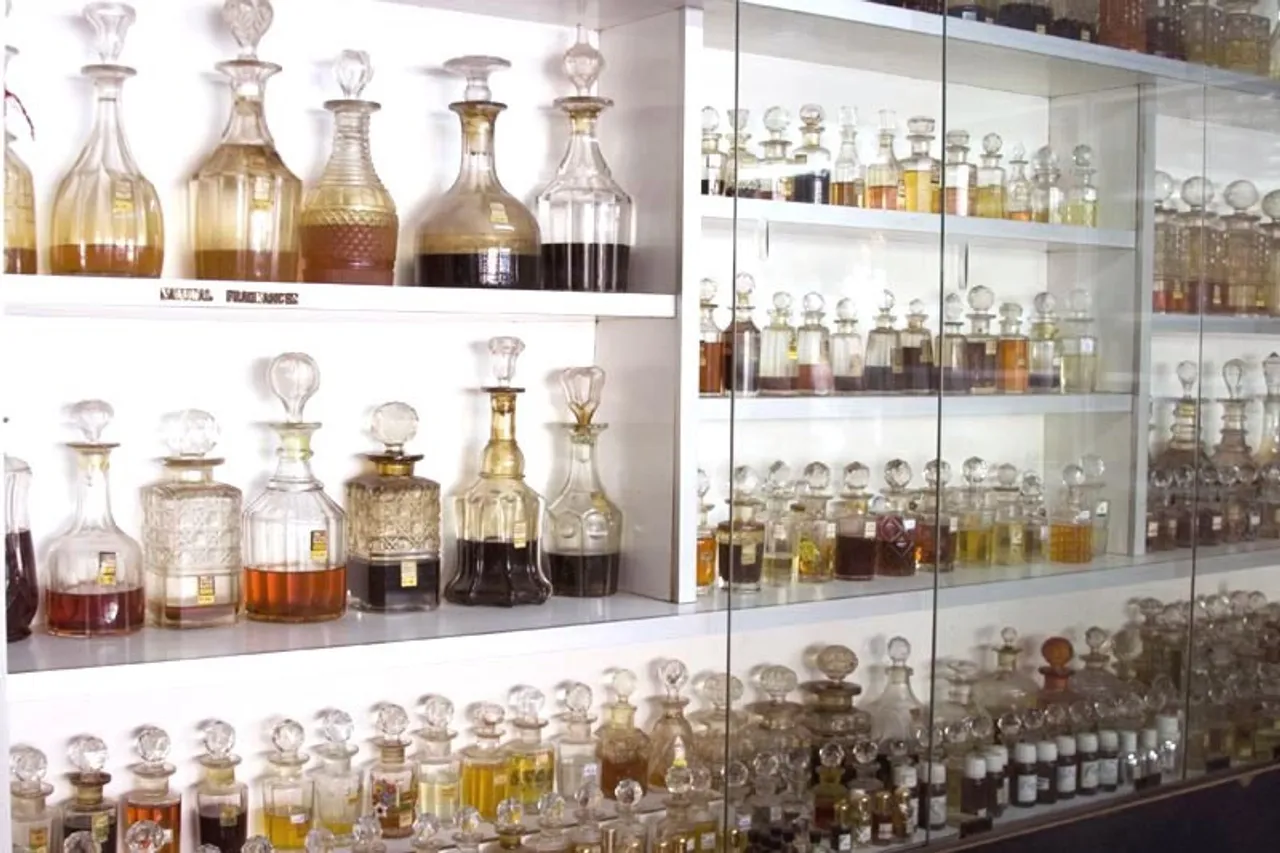 About 750m from poet Mirza Ghalib's haveli in Ballimaran, Chandni Chowk, is an ittar or attar (perfume) shop that's over 200 years old. Ghalib loved fragrances and legend has it that when he met his beloved in winter, he rubbed his face and hands with the warm and intense Hina attar. Ghalib is said to have been a customer of Gulab Singh Johrimal, the perfumery set up by Lala Gulab Singh and his son Johrimal in 1816. It is today run by the family's seventh generation.
The fragrance of the soil when it meets the rain after months of being parched (Gil mitti attar), pure extract of rose priced at Rs28,000 per 10ml and Exotic Nargis with the essence of flower Narcissus are among thousands of fragrances on offer at this perfumery.
Also Read: With roots in Indus Valley Civilisation, can Gujarat's Khavda pottery reinvent the wheel?
History fragranced by attars
The founder, Lala Gulab Singh, made non-alcoholic attar perfume oils, which were a hit with buyers.
Today, Gulab Singh Johrimal in Chandni Chowk doubles up as a tourist destination as it served the Last Mughals as much as the who's who of Delhi in the bygone centuries. And it continues to do so now as well – just that its clientele today is global.
Exports contribute around 25 percent to the total sales. The products are available online through its website and also sold by some e-tailers like iTokri,
Kannauj in Uttar Pradesh is called the 'perfume capital of India' as it is dotted with distillers and perfumers who make attars and essential oils using traditional methods. But in Delhi, Gulab Singh Johrimal remains one of the most well-known perfume makers.
Also Read: Pattachitra: Odisha's Raghurajpur turns hub of recycled art as artisans combine 12th century craft with sustainability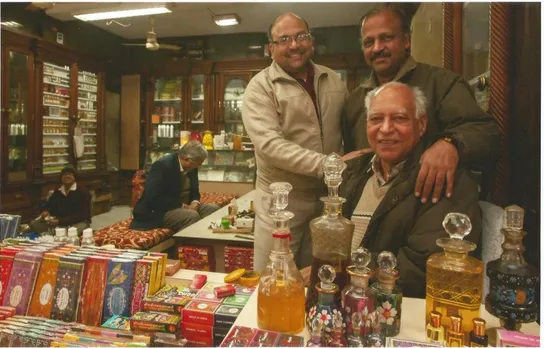 "We have a dedicated line of customers, including celebrities, who have been buying from us for decades. The shop has been popular among the elites as well as the masses," says Mukul Gundhi, who now runs the operations along with his elder brothers Atul and Praful. Their surname Gundhi is derived from the Sanskrit word 'gandha', which means a fragrant substance.
Undivided family
Before the trio, Ram Singh and Krishna Mohan Singh were managing the business, having taken over in the early 1950s from the previous generation.
Also Read: Joynagar Moa: the 117-year-old GI-tagged Bengali sweet that's going global now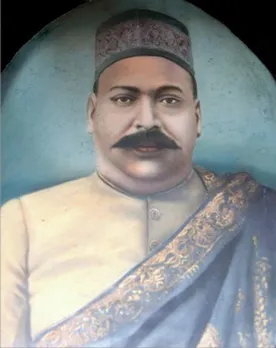 Apart from the fragrances, the heritage shop's identity is also defined by the glass bottles of various shapes and sizes lined up on its wooden shelves and the Belgian-cut glass decanters with stoppers, which stand out for their grandeur.
The family business has remained undivided over the centuries and now the children of three brothers, the eighth generation, are lending a helping hand in operations.
Asked what has helped the business survive the changing tastes and budgets of customers, Mukul says, "We have continued to innovate and adapt with times. And God has been kind."
When they took over the reins of the heritage shop, the products included only the pure attar, derived from flowers through distillation, and incense and dhoop sticks.
This has brought in more customers – those who like milder fragrances can also find something to suit their tastes.
Also Read: COVID-19: Padma Shri tie and dye craftsman for royals & Bollywood out of work after seven generations
Blends, on the other hand, use stabilizing materials, resulting in a fragrance that's not much different from what one tries at the outlet.
Secondly, the permutations and combinations from blending are endless. Like there can be 100 variants of rose blends depending on the ratio of other ingredients added to it, giving more choice to buyers.
Thirdly, blending has made fragrances pocket-friendly for buyers. "People, especially youngsters, today want something economical. Pure attar is expensive," Mukul says. Like a 10ml bottle of Ruh Rajnigandha (the essence of Tuberose) costs Rs 10,000 but a Rajnigandha blended fragrance can be bought for Rs 500 for 10ml.
Also Read: How Kutch's Abdul Gafur Khatri is keeping alive 300-year-old Rogan art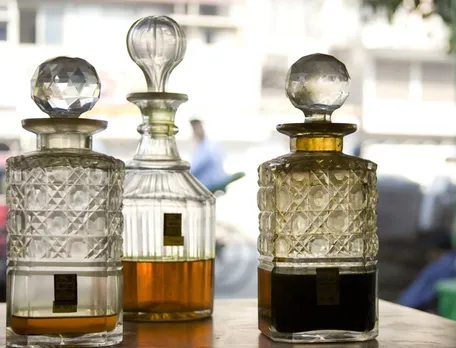 And finally, the prices of flowers, woods and other raw materials have gone up manifold in the last two decades, making most perfumes unaffordable unless blended with other extracts. "Flowers are natural resources and not unlimited," he says.
Mukul, Atul and Praful have also expanded the product range to include handmade soaps (without animal fat), room fresheners and reed diffusers to meet the demand of present times.
The making of attars and essential oils
Roses for their products come from Gulab Singh Johrimal's own plantations in Mathura and other places in Uttar Pradesh while Kewda or Kewra (Pandanus) is procured from the coastal areas of Odisha and Andhra Pradesh and jasmine from Coimbatore.
Also Read: How Nizamabad's 500-year-old black pottery is regaining lost glory
"We buy sandalwood from Australia and Africa, where it is cultivated in farms. Though Indian sandalwood is the best (with 95 percent santalol), procuring it locally is difficult because government regulations restrict its cultivation," he points out.
When Lala Gulabchand and his son Johrimal set up the business in 1816, they followed the thousands of years old Indian Deg Bhapka distillation process to extract the natural perfume oil.
In the Deg Bhapka technique, flower petals and water are put into copper pots called degs and then sealed using a mix of cotton and clay. The pot is connected by a bamboo pipe, called chonga, to another copper vessel called Bhapka, which is placed inside a water tank. The pot is heated over earthen stoves using wood. The first distillate is cooled down and the liquid is collected. This liquid is transferred to an empty copper pot and distilled again to extract the attar.
Also See: Soaking, boiling, dyeing, washing…the creation of Madhya Pradesh's Bagh print in pictures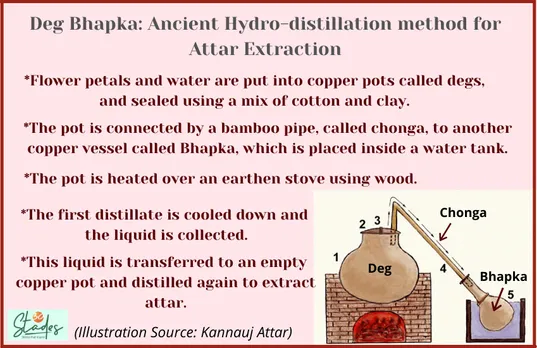 They offer 15 types of attar, starting from Rs4,000 for 10 ml of chameli attar and going up to the famous Ruh Gulab (pure extract of rose flower) at Rs28,000 per 10ml.
"This mitti ki khusbhu is preserved on sandalwood oil as the base," Mukul explains
Also Read: Rajasthan's Badshah Miyan takes 700-year-old leheriya craft & natural dyes to the world
Their essential oils, over 100 in all, are mostly used in aromatherapy and include a huge variety including peppermint, thyme, clove, eucalyptus, orange, lemon, lavender, green apple, green musk and even green tea.
While their business and clientele has grown over the years, Mukul feels the government must also do its bit by supporting traditional family businesses which are also part of the country's heritage. "All the government incentives and support are directed towards start-ups and new-age enterprises. There are no schemes for old establishments which also provide employment and are an important part of the economy," he says.
"In the last 35 years, small businesses like us have been facing rising documentation requirements and newer regulations, which make things difficult. There should be some ease of doing business for small players and not just big corporate houses," Mukul says.
(Rashmi Pratap is a Mumbai-based journalist specialising in financial, business and socio-economic reporting)
Also Read: How COVID-19 and India-China tensions have changed India's 900-year-old Patan Patola weaving