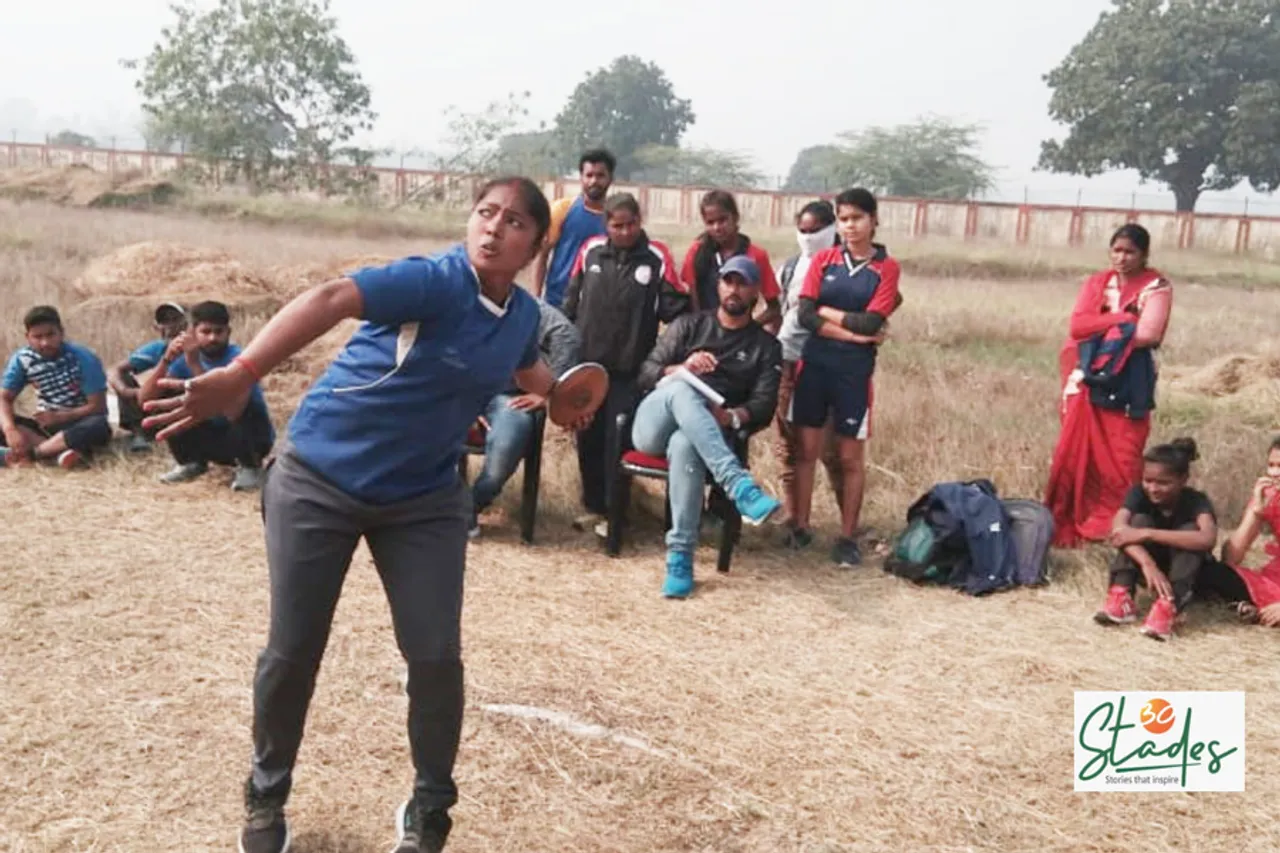 For a young girl from a small town in Uttar Pradesh, pursuing her dream to become a sportsperson was seen as an act of rebellion by her family and society. They expected her to give up sports and settle down like other girls of her age. But Anjani Gupta, now 29, and mother to a four-year-old, would have none of it.
Hailing from Bechu Khan Ka Purwa in Sultanpur town of Uttar Pradesh, Anjani took on her family and society to pursue her dream of being a mountain climber. Despite lacking the financial wherewithal and support from her family, she laboured on her own for several years to successfully summit several peaks.
Her hard work has now paid off.
Also Read: Kashmiri teen turns mentor to speech and hearing impaired sportspersons
Anjani is excited and looking forward to the expedition. A team of six climbers have been chosen for the Indian contingent. Apart from Anjani, there is a mountaineer from Etawah, two from Haryana and one each from Delhi and Ranchi.
Mount Elbrus, at 5,642 metres, is the highest peak in Russia as well as Europe. It is located in the Russian republic of Kabardino-Balkaria. The team members will reach there at the end of September and begin the 11-day climb from October 2.
Also Read: How Coimbatore-based Swarnalatha J used her multiple sclerosis diagnosis to promote mobility friendly facilities
The path to her summit, however, has been a tough one.
But Anjani stood firm, never wavering in her determination to become an athlete.
The rebel with a cause
Anjani was in class 6 when she got interested in sports. She sought permission from her parents and, luckily for her, they agreed. Anjani began playing all sports in her school – running, kho-kho, javelin throw and volleyball. She was a natural athlete and soon began participating in competitions at school, college, university and then the state level.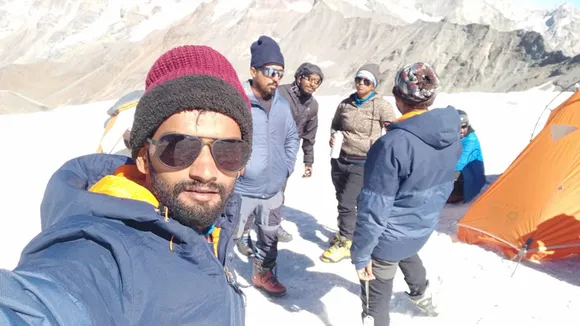 "Whenever I used to see others playing, I would feel a strong urge to play as well. I would feel their achievements on TV. That is why I began participating in sports," says Anjani.
Her father used to work as a cook in the Public Works Department in Sultanpur, earning Rs. 18,000 a month. But it was not sufficient to run a joint family as other family members did not have a steady income.
Also Read: Devendra Jhajharia: The boy who lost an arm but won two Paralympic gold medals
In 2006, Anjani's father passed away and no relatives came forward to help the family. Thankfully her father's job was granted to her brother.
The family spent many sleepless nights to avoid being drenched. Besides poverty, Anjani also had to face resistance from her family and society.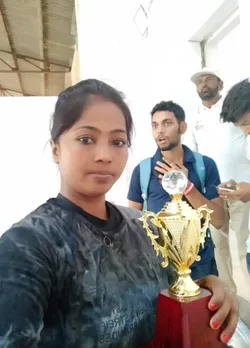 "My brother was not happy that I played sports. Neighbours too would push him to stop me, a girl, from playing sports. They would say that I wear short pants and play with boys when I should be married," she recalls.
In high school, she was introduced to handball and learnt that the sport offered the scope to play internationally besides good job opportunities. So, she began playing handball. "Others take around one month to learn handball, but I learnt it in just a week. Because I was dedicated and was putting in extra hours to practice," says Anjani.
Also Read: Buried at birth, how Gulabo Sapera survived to become the global ambassador of Rajasthan's Kalbelia folk dance
She was mentored by handball expert Suresh Bonkar from 2003 to 2010 when he was a sports officer in Sultanpur district. Given her expertise, she won three silvers, two golds and one bronze medal in handball competitions at university, state and national levels.
Family pressure
In 2016, Anjani, then 25, was married to Shyam Bahadur from Amethi who runs a fertiliser shop.
"When my in-laws came to see me, they did not have any objection when I told them that I wanted to study and play sports. But after the marriage, their attitude changed. They refused to allow me to study or support me financially."
Anjani continued to study with financial support from her mother and also kept up her sports regimen.
Also Read: How free education became a passport to London and Rome varsities for underprivileged Kerala boys
But Anjani did not give up. Her husband, she says, was a silent bystander and could not do much as they live in a joint family.
But when she was featured in newspapers for her achievements in handball and mountain climbing, the attitudes became more favourable.
To continue her exercise and training, she walked 3 km daily from her house to reach the sports stadium in Sultanpur.
Anjani is currently putting up at her mother's house as she does not get much time to practice at her in-laws' place. "When I am at my in-law's house, I wake up at 4 am, exercise for two hours before starting household work. I also exercise for about an hour in the evening after finishing all the chores," she says.
Also Read: How Culture Therapy is transforming lives of inmates in West Bengal's prisons
Her in-laws are still not happy with her and she finds herself saddled with more household work than other women of the family. She and her daughter are mostly ignored by the family members.
The peak to success
"Despite so many hardships in Anjani's way of playing sports she did not give up. She became more resilient. I think that is the reason she managed to achieve so much despite poverty and other hurdles," says Anjani's coach Suresh.
Anjani is all praise for her coach Suresh, saying that he has trained her to become not only physically fit but also mentally stronger which is crucial in sports. He has also helped her financially wherever needed.  
It was during the Youth Icon 2020 awards ceremony that Anjani thought of taking up mountain climbing as a sport. During the ceremony, she met several athletes and was particularly impressed by the mountaineers.
Also Read: Mardani Khel: Maharashtra's talims popularise Chhatrapati Shivaji's martial art legacy
"I was inspired by the achievements of mountaineer Arunima Sinha. I thought if she can make her name in mountain climbing then why can't I?" says Anjani.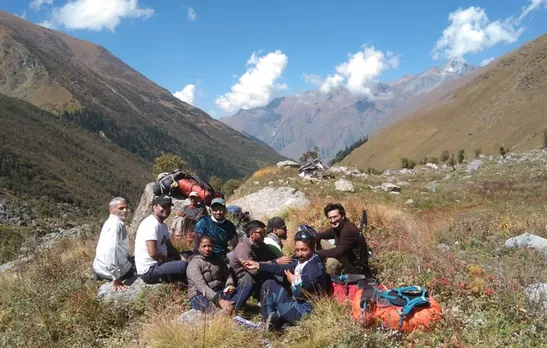 Arunima is the world's first female amputee to scale Mount Everest in India, Mount Kilimanjaro in Tanzania, Mount Elbrus in Russia, and many more.
After several months of rigorous training and trekking on mountains, Anjani managed to excel in mountain climbing competitions. On October 10, 2020, she summitted the Kalanag or Black Peak, at 6387 metres the highest of Saraswati mountain range in Garhwal Himalayas of Uttarakhand as well as the Saraswati Devi Mountain (Bandarpunch I, 6316 meters, and Hanuman Parbat (White Peak, Bandarpunch II, 6102 meters).
Also Read: Ramakrishna Dhar: Artiste who once romanced theatre on European stage now lives in poverty as blacksmith
"I also exercised for three hours every day to train my body for the rigours of mountain climbing," says Anjani.
She takes has a high protein diet of chana (Bengal gram), jaggery, soybean and munakka (a variety of dehydrated grapes) in the morning followed by eggs and bread. Lunch is usually dal, vegetables and chapattis and dinner is a glass of milk or one chapatti and dal. She eats fish or chicken two or three times a week.
"I am thankful to those who helped me in my journey. People helped me because they realised that I can do something remarkable in sports. Now I am looking for another Rs4,40,000 for the Mount Elbrus expedition and I believe people will come forward to help me," Anjani's voice echoes with hope.
"The world is nasty if you are nobody. You have to work hard on what you are passionate about and make yourself worthy by achievements in your field. Then the world will be yours," Anjani puts it philosophically.
(Bilal Khan is a Mumbai-based independent journalist. He covers grassroot issues, LGBTQ community and loves to write positive and inspiring stories.)
Also Read: Kashmir's first woman footballer defies odds to follow her dream