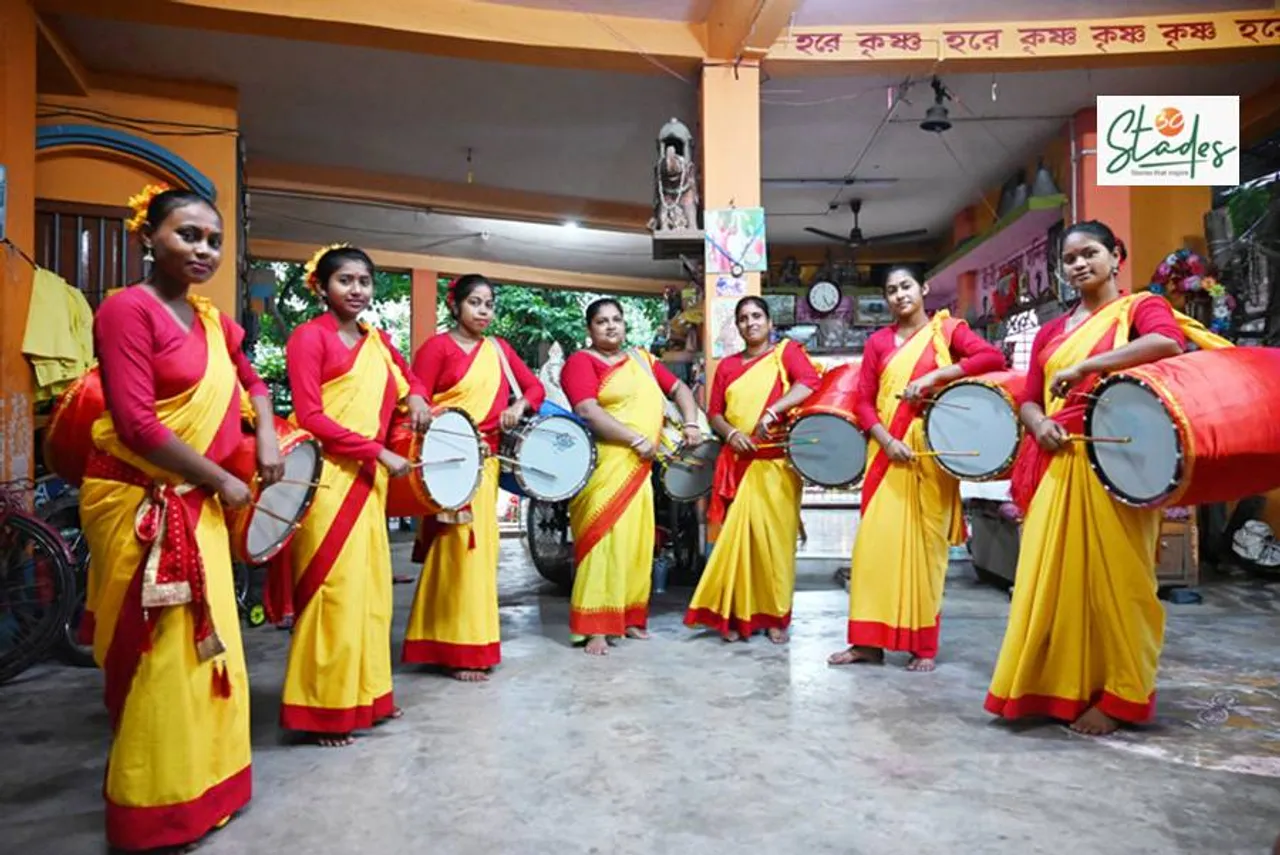 Each resounding stroke of the dhak played by 14-year-old Mithu Das highlights the ancient folk instrument's hypnotic and meticulously crafted sound. She is playing a rhythmic pattern on the dhak as she gets ready for Durga Puja at her Gurukul in Bidhanpally in North 24 Parganas District of West Bengal.
"I've spent the last two years perfecting the technique of playing the dhak. Today, I work as a professional dhaki. I first saw my mum playing it and that caught my interest. So, I began training with my Guru Gokul Das. I have given several performances in Delhi, Bengaluru and Kolkata," says Mithu with a smile.
While the tradition of dhak dates back several hundred years, it was mainly men who played the instrument, mostly during Durga Puja. With time, the tradition declined as dhak was played only seasonally, leaving little scope for dhakis to earn.
In 2010, Gokul Chandra Das introduced women dhakis in Kolkata and this has breathed a new life into the community. Das founded 'Maslandapur Motilal Dhaki Dot Com', an NGO that has been teaching dhak to women and men. Under his tutelage, many women have learnt the art form. He formed a group of six women and four men dhakis who first performed during the Durga Puja in 2010. The group is now famous and receives between five to 25 invitations to perform every month. 
Also Read: Music of Women: Educationist Chandra Mukhopadhyay catalogues 6,000 rare folk melodies of Bengal & Bangladesh sung only by women
Das performed at a gathering in Los Angeles and had the privilege to accompany table maestro Ustad Zakir Hussain in 2010. During his stay there, Das went to a store to buy a Saxophone for his son. "I stopped at a music store. The proprietor was a Caucasian woman. I saw her playing each musical instrument as she showed a client how to use it. I watched her play several instruments. That gave me the idea to teach dhak to the women in Bengal," he says.
Back then, there were women tabla, harmonium, sitar or flute players, but no dhaki. He approached his daughter, daughter-in-law and some relatives and encouraged them to learn as they were hesitant. With continued reassurance and motivation, six women agreed to begin the training.
Sonam Roy, a PhD candidate at the Delhi School of Economics, researching women dhakis, says, "There are around 150 women dhaki groups in West Bengal, inspired by Gokul Das."
The sisterhood of the dhakis
The annual festival of Durga Puja, when the Goddess visits the earth after defeating the demon Mahishasura, comprises many rituals. Dhakis play a different tune and beat of the dhak for every ceremony, from the arrival of the Goddess to her immersion on Dussehra or Vijay Dashami. 
Eight pots of water mixed with honey, sugar, sandalwood paste, and other items are used for the holy bath of the Goddess. The dhaki performs a variety of musical patterns during Durga Puja, according to the rituals. There are different beats for the Sandhya Aarti (evening prayer), Chakshudaan (drawing eyes of the idol), Devi Baron (applying vermillion to the deity's feet and face) and Bhasan (immersion of the idol).
Also Read: With Baul songs, Bengal's Mansur Fakir preaches the message of humanity
The Bol or beats for Agomoni (welcoming Goddess) will be Ta Dhin, Ta Dhin, Ta Dhin, Tak Dhina Dhin Dhin Tak, Tete Dhidhi Natin, Nakita Natin, Nakita Natin, Tarterekete-Terekete Dhin. The beats are set to different taal (musical measures).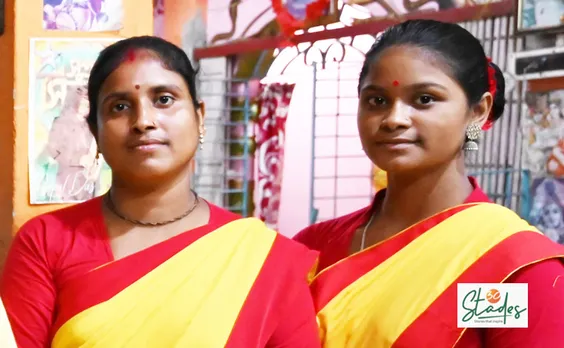 Uma Das, 31, is Gokul's daughter-in-law and one of the first female dhakis to play the instrument. "My father-in-law began teaching me in 2010. I was hesitant as I didn't know how to play the instrument. I kept banging on the drum. But my Guru taught me to wear the drum around my neck and strike with two sticks. I caught on to that and started practising seriously," says Uma.
She began practising for two hours every day. Six months later, her Guru was happy with her progress. "I gradually began performing in public at local events with other ladies. We played dhaks for the first time in Kolkata in 2011 during the Agomoni (welcoming the Goddess) event on Mahalaya," recalls Uma. And since then, there has been no looking back.
Also Read: Bobbili Veena: Andhra's artisans overcome challenges to keep 17th-century musical legacy alive
Uma says: "When Suruchi Sangha of New Alipore, Kolkata, (a cultural club renowned for its Durga Puja) learned about women dhakis, it instantly reserved the group for the 2012 celebrations. We continued to perform for them until 2021 with our team of six women and four men."
"We were unknown, as was our skill. However, the credit for our recognition goes to Guruji, who instructed us," says Uma who was felicitated by the Kalighat Puja Committee in 2021.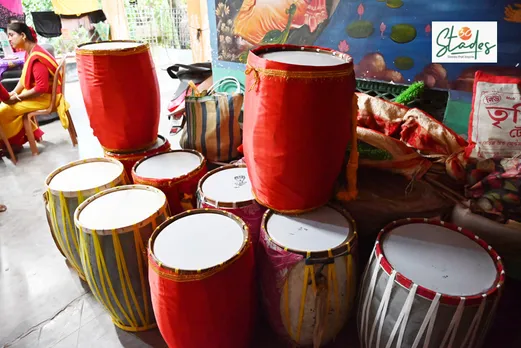 The growing demand for lady dhakis has prompted women from low-income households to join the organisation, which benefits them financially. Gokul Das offers free training to them.
For the year 2022, the organisation has made bookings with 10 different Durga Puja pandals. They are in Bhopal, Guwahati, Kolkata, Lucknow, Ranchi and Siliguri. Male dhakis are present in each team along with the women.
The dhak is supplied by Gokul's institute. The standard outfit for a lady dhaki is a sari, either white or yellow with a crimson border, and a red or golden coloured blouse. These saris are given by Gokul. The women are provided with a pick-up and drop-off service from their homes.
Women empowerment through dhak
Women dhakis are in the age bracket of 14 to 52 years. The majority of them are housewives, who come from low-income families. Though playing the Dhak is strenuous, these women have mastered the art and are earning a tidy sum.
Also Read: How 'Dohar' is trying to preserve folk music of Bengal & Assam since two decades
They are additionally paid for other events. The women practise for one-and-a-half hours every day to maintain their drumming abilities.
To perform dhak for the Durga Puja Festival 2022, Deepali Das, 45, is now in Switzerland. While Uma Das (31), Mithu Das, Tithi Sarkar (15), Anita Das, 19, Jhumpa Mondal (21) Rima Biswas (22) and Dipika Das (35) are performing in Kolkata.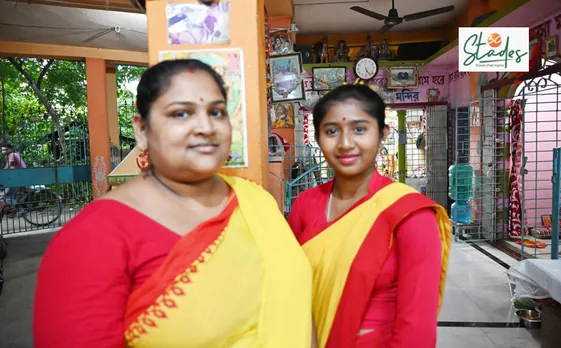 "I make good money by playing the dhak. I am not dependent on my husband. If I want to buy something for myself, I can pay for it. I also help my husband if he runs out of money. The joy of giving is indescribable," Uma says.
Anita Das, a 19-year-old student who has been with this organisation for seven years, says, "I have been able to visit places, meet different people, even celebrities, because of the shows. We earn money and enjoy ourselves," she says with a big smile.
"I had never dreamed that one day I would be on television," Mithu says.
Also Read: A quaint village in Hooghly becomes manufacturing hub for string instruments
The man behind successful women dhakis
Gokul Chandra Das, 54, is known as the 'Dhaki Samrat' in Kolkata. He is a professional percussionist who plays both eastern and western musical instruments. He started playing dhak, when he was 4 years old, under the tutelage of his father and Guru, the late Motilal Das.
In 2013, he founded 'Maslandapur Motilal Dhaki Dot Com' in honour of his father. Das received the 'Dhaki Samrat' award in Kolkata in 2004. Since then, he has given performances across the world as a member of Pandit Tanmoy Bose's Taal Tantra Orchestra.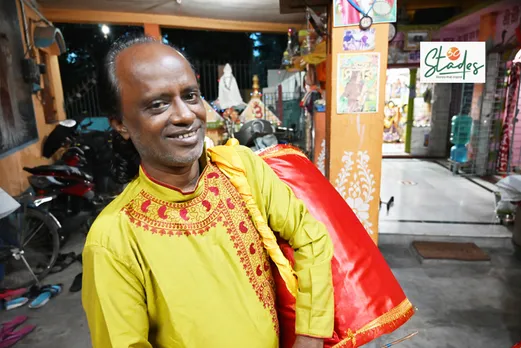 To encourage women Dhakis, Das made some changes to the Dhak and the allied practices. "Women cannot play the wooden dhak while carrying it on their shoulders as it is heavy. So, we created a unique kind of dhak for our ladies," Gokul explains. 
"Since we travel a lot, we have dhaks that are specifically made for our facilities. The sizes have been reduced to fit the car, rail and aeroplane boxes," says Gokul.
Also Read: Nachnis of Purulia: Folk dancers who feed many families, fight for their rights & live to entertain others
History of the dhak
According to independent researcher D. Daschoudhury, Dhak dates back roughly 3,000 years. The instrument is recorded in the chronicles of Fa Hien, who visited India in the fifth century (375 - 417 AD).
"King Dharmapala II of the Pala dynasty built the Buddhist Vihara in Paharpur which was a hub of Buddhist learning in the eighth century AD. People dancing and playing instruments like the dhak, kansar, cymbal and veena are shown in the terracotta figures," he says.
He says the dhak was used in earlier times for music, dance, warding off wild creatures, announcing the time, sounding warnings, in addition to being employed in sacrificial rites.
The process of making dhak
Dhak is manufactured from a single mango log, according to Satish Das, 78, who has been manufacturing it the old-fashioned way at his workshop in Aranghata village in Nadia District for the last 30 years. The wood is carved into the shape of a barrel with an edge that is 1.5 to 2 inches thick. Typically, the base is one inch smaller than the top. Goat and calf skins are used to cover the top and bottom.
Outside the dhak, a single joint-free calfskin lace is stretched to the bamboo rims with 18 to 20 holes with a space of four fingers, depending on the size of the dhak. The lace is used to tighten the hide in order to produce high-quality reverberation.
Read: Defying stereotypes and bullies, Patna's Ankita Raj makes a statement with street art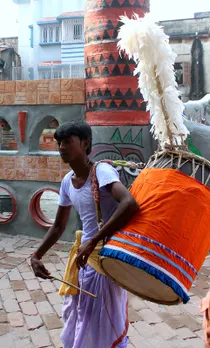 "The weight of a man's dhak ranges from 6.5 to 7 kg, while a woman's dhak is between 5 and 6.5 kg," he adds.
Calf hide or rolled-up clothing is used to make the shoulder and waist straps. Two rings, made of iron, steel or brass, are used to secure it. A feather and a velvet fabric cover are used to decorate the dhak. Earlier, a crane feature was used, but nowadays, feathers made of plastic replaced it.
To play the percussion instrument, two thin bamboo sticks around the size of a hand are needed. The end of the stick closest to the holder must be thicker. Women use cane sticks. A new wooden dhak costs between Rs 8000 and Rs 11000 for men and between Rs 6000 and Rs 8000 for women.
While the dhak and dhakis have evolved over the centuries, what remains unchanged is the significance of the instrument and its players during the Durga Puja festival. And now women players have taken the art to new heights.
(Partho Burman is a Kolkata-based award-winning journalist. He writes inspiring human interest and motivational stories.)
Also Read: High Priestess: Women priests break down gender barriers