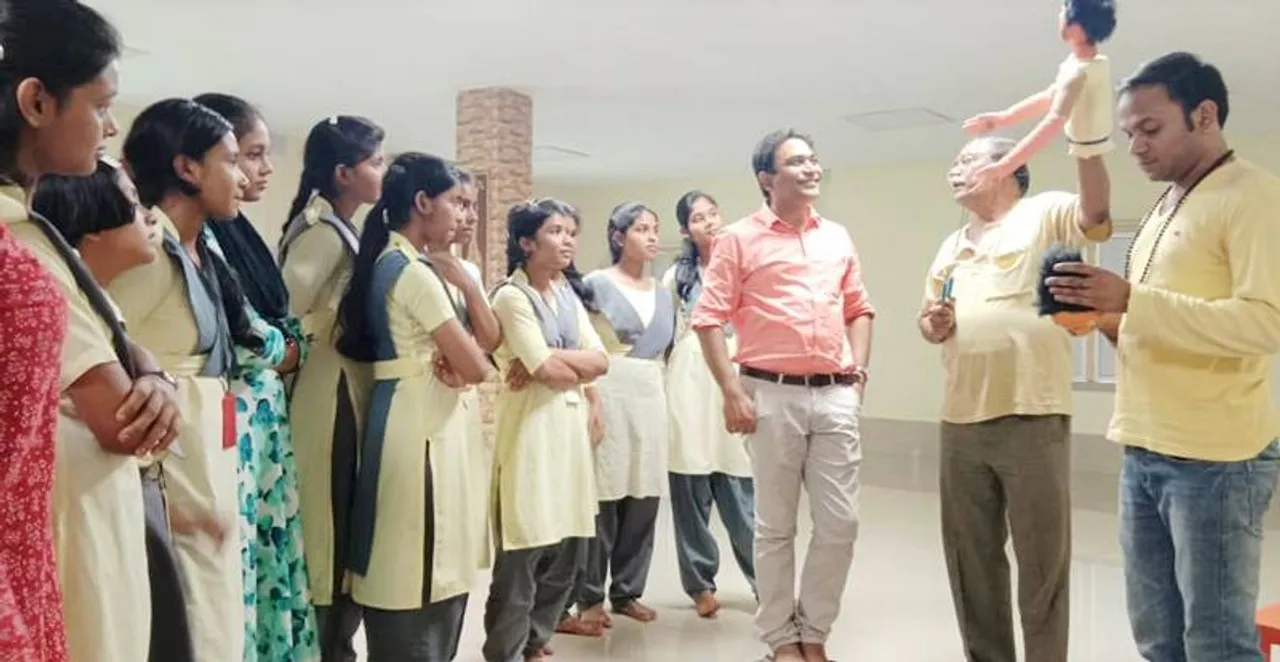 Sometime in the early 1980s, former Prime Minister Indira Gandhi and film actor Ashok Kumar were watching a puppet show being attended by many celebrities in New Delhi. The puppets enacted the popular Middle Eastern folk tale Aladdin from the Arabian Nights. And the person manoeuvring the puppets was Dr Suresh Dutta, a renowned puppeteer who later received the Sangeet Natak Akademi award (1986) and the Padma Shri (2009).
Both Indira Gandhi and Ashok Kumar came away impressed with the show. In their comments in the guest book, both mentioned that the show was "like viewing a 70-mm coloured film after the curtains opened," recalls Dr Subho Joardar, a well-known puppeteer and founder of Bangopootool Puppet Passion.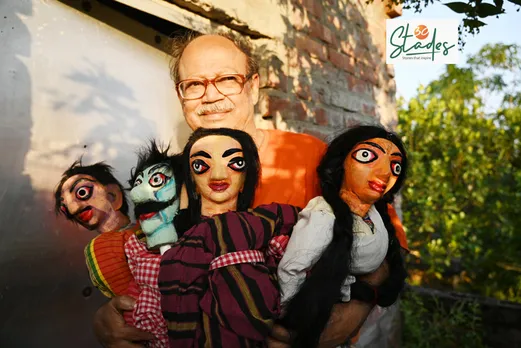 Bangopootool is a non-profit that has been working for the past 22 years to revive and promote West Bengal's folk puppetry, called Putul Naach, by guiding social and research work as well as performances. While Putul means both a doll and a puppet, Naach is dance, meaning dance of the dolls.
Also Read: MP's Jhabua scripts a success story with its traditional tribal dolls
The origins of puppetry in India
Throughout the course of history, puppets have been used for political, religious and social purposes.
Dr Joardar, now 79, cites instances of puppets being used by Emperor Ashoka to promote Buddhism over 3,000 years ago, the Pope's prohibition on puppet performances in defiance of the Vatican doctrine, and the popularity of adult puppet shows in Europe.
"Animated storytelling or puppets have a wide audience. It has a profound effect on people's minds regardless of gender, age, caste or religion. Puppetry is an ideal medium for public communication as its effect is significant," says Dr Joardar, adding that puppets are an effective way to impart social teaching.
Few people would know that puppetry originated in pre-Aryan Gangetic Bengal (bordering the Ganga river).
Puppet theatre in India goes back 5,000 years. At the time, puppetry served as a means of not only entertainment but also education and information for the people.
However, despite its roots in India, puppetry is a forgotten folk art. It cannot keep up with the fast-paced and contemporary modes of entertainment which are available 24X7.
Also Read: Tholu Bommalata: Andhra's leather puppet makers breathe new life into the 2200-year-old craft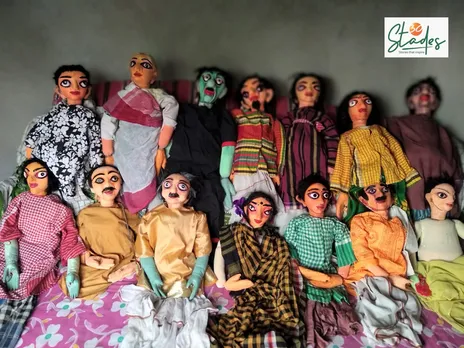 Dr Joardar's organization Bangopootool has been supporting the traditional puppeteers, who have received a new direction and focus. More importantly, thanks to Dr Joardar's efforts, puppetry has been included in the undergraduate curriculum in many schools and colleges.
He is currently preparing for the Dhaatu International Puppet Festival 2023, which will be held in Bengaluru in January next year. At this festival, his 15-member troupe will perform live puppet shows, hold workshops and conduct seminars on puppetry.
He is training his troupe at his two-story residence-cum-workshop in Baruipur, South 24 Parganas District, about 30 kilometres from Kolkata.
Making puppets hi-tech
West Bengal is home to four different puppet forms -- the string puppet, glove puppet, shadow puppet and rod puppet. Dr Joardar has been practising puppetry since 1980. After 20 years of work, he founded his group in 2000.
Also Read: Kartik Gaggar: The CA taking Indian arts and artisans to the world through experiential tourism
"Rod puppetry is my area of expertise. I'm not a part of the traditional puppeteers' community. I am a senior accountant who has retired from CAG. Dr Suresh Dutta brought me into his group in 1980 so that I could professionally contribute to the puppet theatre and puppet music because I had a background with the National School of Drama," says Dr Joardar who has made contemporary puppetry simpler with his Rod Puppet.
Theoretical and empirical research on rod puppets led him to the conclusion that, among the four forms of marionettes, rod puppets are the most human-like.
"I'm actually a theatre person. Puppetry is closer to the theatre. Theatre performers like me, who developed a fondness for rod puppets, had a message to get through. "I have examined the advantages and disadvantages of rod puppetry and turned it into the simplest way to communicate with people," he says.
"We introduced a small device called 'gapit' in the contemporary rod puppet in 2012. It is held in place with a puppet rod and is not used in conventional puppetry," he says.
He says lack of technical knowledge and failure to modernize has caused the conventional puppeteers to fall behind.
"The puppeteers continue to produce bulky puppets. An old-fashioned puppet or toy as they call it may weigh anywhere from 5 kg to 15 kg. Consider what it must be like for a puppeteer to perform for hours while holding a heavy toy. One cannot only maintain a raised hand for five uninterrupted minutes. It takes strength and expertise to tolerate the pain," Dr Joardar explains.
Also Read: Women artisans help resurrect Karnataka's Kinnal hand-painted woodcraft
After the gapit-equipped puppet, Dr Joardar introduced puppets which can open their eyes, blink their eyelids and move their lips for certain special effects.
Puppetry in Curriculum
Dr Joardar laments that there are no puppet schools or puppetry courses in India. He feels that this art must be passed on to the next generation. Children should be instructed in puppetry and how to make lighter puppets which are easier to manoeuvre. "Children rapidly master puppetry. I have observed this in several workshops."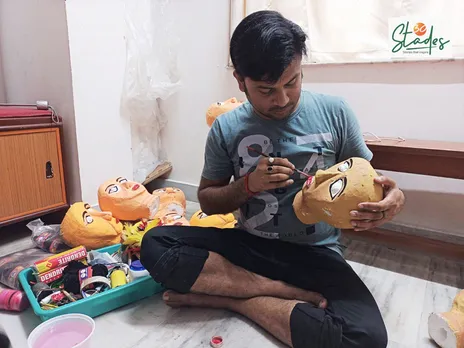 Dr Joardar is much admired for his work in making puppetry accessible to the general public through simple means. Some prestigious universities, including Jahangirnagar University in Bangladesh, American University in Egypt, Dhaatu Puppet Theatre in Bengaluru, Tripura University, Vidyasagar University and Rabindra Bharati University have invited Dr Joardar and his group to stage puppet performances.
In 2019, Egra Sarada Shashi Bhusan College, part of the Vidyasagar University in East Midnapore, introduced a graduate course in puppetry. One of the textbooks, 'Bangodesher Pootool Natyakala', has a chapter by Dr Joardar. A puppetry course will soon begin at the Ramakrishna Mission at Narendrapur and Baruipur College.
Dr Pradip Sardar, a member of Bangopootool and a faculty at the Egra Sarada Shashi Bhusan campus, says the University Grants Commission (UGC) asked Bangopootool to hold a workshop in 2019.
Also Read: From online performances to vaccination, Bangalore's StillSpace Theatre helps artists keep alive their arts during the pandemic
"The head of the theatre department was so moved by our performance that she insisted her pupils study this discipline. We sought UGC permission and after it was granted, puppetry was included in the curriculum," says Sardar, 32, a faculty member of the theatre studies department.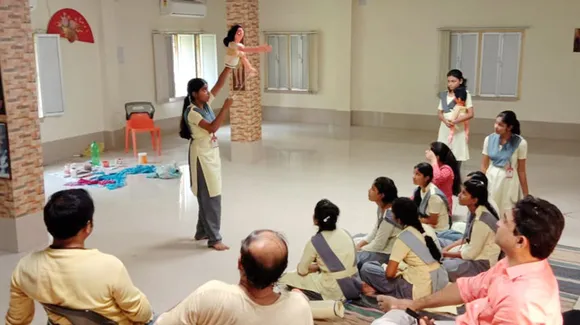 Dr Sardar, who received the Shamindranath Tagore Memorial Merit scholarship from the West Bengal State Academy of Music Drama Music & Arts in 2017, says puppetry is a multifaceted art.
"Every puppeteer can sketch. He must have an artistic sense of acting as well as an understanding of music, song, art and literature," says Dr Joardar who has written 600 songs and composed the music for 150 songs.
Bangopootool conducts workshops in government schools in Bengal. It has also trained seven puppetry groups in Nadia, Purulia, East Midnapore, South 24 Parganas, Dinajpur, Cooch Behar and Bankura districts.
Also Read: Maharashtra's Chitrakathi painting: keeping alive the legacy of Chhatrapati Shivaji's spies
These seven groups trained by Bangopootool are now using puppetry to promote welfare schemes and awareness campaigns run by the West Bengal government.
Contemporizing rod puppets
All the Bangopootool rod puppets are 3.6 feet in height. A toy is made proportionately with a head, face and chest. It is devoid of legs which are added only for special shows. The costume is worn below the waist.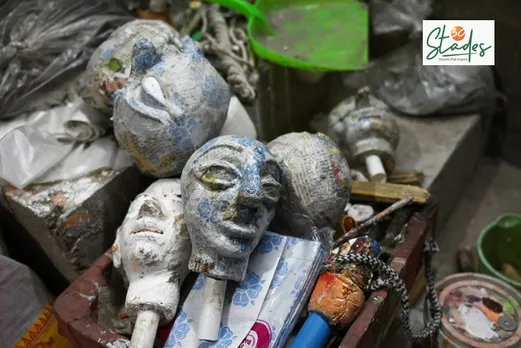 The body and head are made of sponge and thermocol, respectively, and are connected by a PVC pipe. The palms are made of thermocol and wood.
Paper-based components are attached to the head and serve as the lips, ears, nose and eyes. Wigs and eyelashes are also used. The hand is constructed of foam and the hosiery material is wrapped to create skin. Puppets also wear costumes and jewellery.
Also Read: Nachnis of Purulia: Folk dancers who feed many families, fight for their rights & live to entertain others
"The advantage of our puppets is that, unlike conventional rod puppets, they have an operable head that can be moved around. By just changing the puppet's attire, we can quickly swap the puppet's head to suit the needs of a certain persona," says Dr Joardar.
About 150 to 200 different toys are kept ready for the show, but toys are not how Bangopootool makes money. The troupe charges between Rs 10,000 and Rs 40,000 for every performance, depending on the location. Each puppeteer receives between Rs 500 and Rs 1000 per performance.
Making puppetry relevant for GenX
"Puppetry is slowly fading away because the current generation is not interested in the art form. They think that puppets are hard to control. It takes a lot of time and technological know-how. It is our fault. We, the adults, were unable to convince kids about the value of puppetry," Dr Joardar states.
Dr Sardar adds that the group has been working on new stories to draw the interest of adults and children.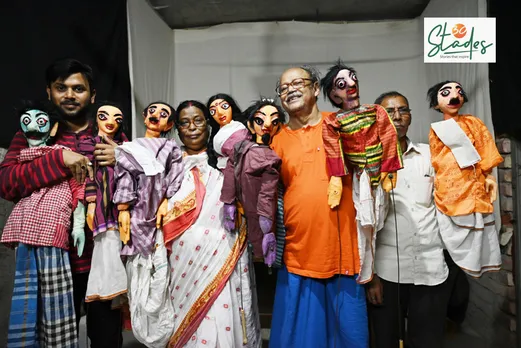 "To spark young audiences' interest, we have developed a fresh plot line. Dr Joardar wrote the children's drama 'Surer Talwar', which won in the scripts category at the West Bengal State Academy of Dance, Drama, and Visual Arts.
"Even if film or theatre perishes one day, our colourful puppets will go on," Irish playwright George Bernard Shaw once said.
Dr Joardar and Dr Sardar agree. "We teach theory, practical, toy-making, acting, and music. This keeps students motivated. We place a greater emphasis on choreography and puppetry workshops than on live performances. Wherever our team goes, we aim to train a fresh, youthful troupe of puppeteers to ensure the traditional art's survival," Dr Sardar signs off.
(Partho Burman is a Kolkata-based award-winning journalist. He writes inspiring human interest and motivational stories.)
Also Read: Bengal: Kushmandi's centuries-old wooden masks worn by Gomira dancers are now collectors' items for art connoisseurs