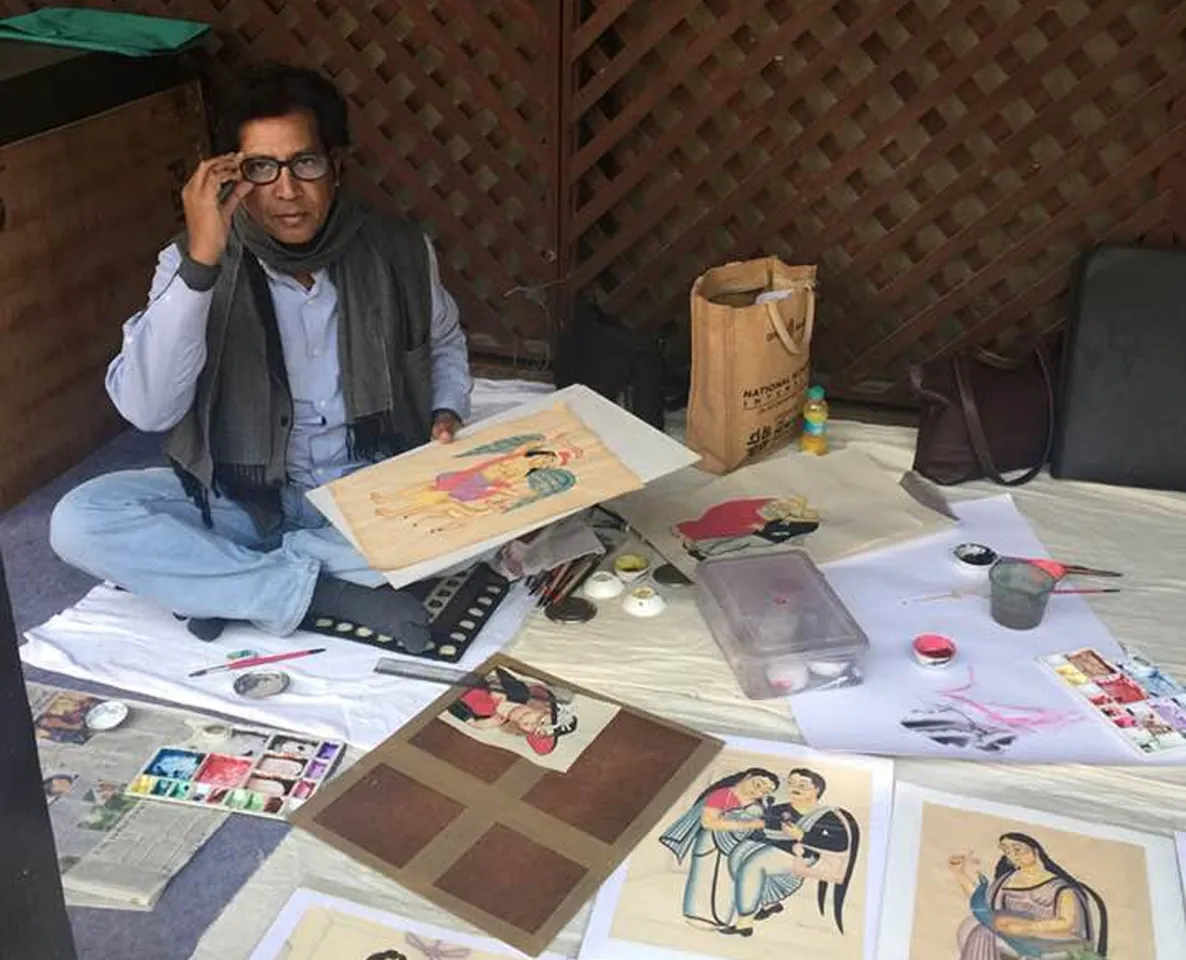 When Kalam Patua was 12, he began assisting his paternal uncle, the late Baidyanath Patua, in making clay idols at their Jhilli village in Murshidabad district of West Bengal. Born in a family of painters and sculptors, Kalam had a natural inclination towards the arts. His uncle first allowed him to paint the body of the idols, which did not require too much precision. 
The avid learner soon graduated to painting faces with fine strokes and also began assisting his uncle in making patachitra - the 12th-century scroll paintings first patronised by Ballal Sena (1160–1179), the second ruler of the Sena dynasty of the Bengal region.
"My home was my art university, and my paternal uncle is my guru. He, my father Bholanath Patua and my maternal uncle Gopal Chitrakar taught me the intricacies of drawing and painting. With artistes all around, there was never a dearth of teachers," says Kalam, who retired as the postmaster of Rampurhat head office in October 2022.
While learning art at home, Kalam continued to focus on his studies and passed class 12th in 1981. He subsequently joined the ITI (Industrial Training Institute). "I saw an ad for a job in India Post in a local newspaper and applied for the position, I was selected and joined the local office of India Post on August 1, 1983," he says.
The postmaster painter
While he worked at the post office from morning till late evening, the night drew him to his brush and colours. 
"I was postmaster by the day and painter by the night," he says. At around this time, people began to learn about the artist-postman and Kalam received encouragement from senior artists and officials. "One of them was the late Manik Sarkar, the Deputy Director of Information and Cultural Affairs, West Bengal, at that time," he says.
Also Read: How Kalyan Joshi has made Rajasthan's 1,000-year-old Phad paintings trendy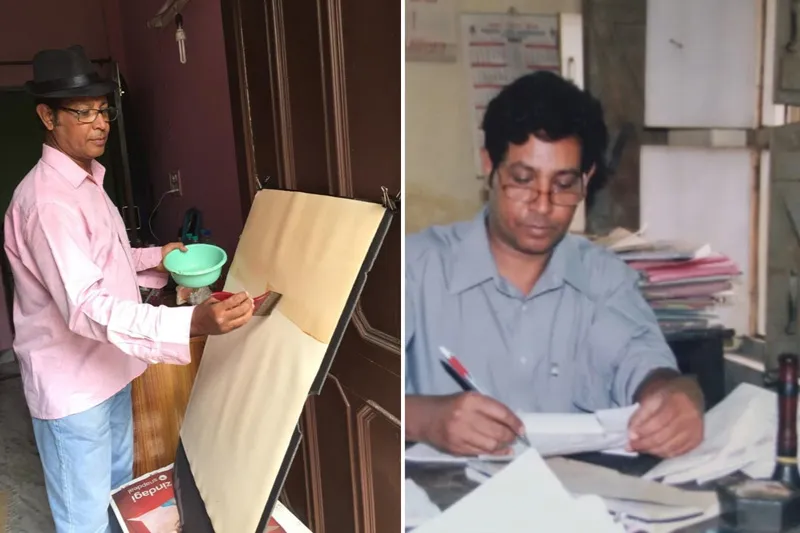 Sarkar encouraged him to participate in painting competitions and workshops. "The turning point was in 1987 when I stood third in a painting competition at Medinipur. People who saw my work said it looked similar to Kalighat paintings of Jamini Roy (the celebrated painter and one of the most significant modernists of Indian art)."
The truth, however, was that Kalam had neither heard of Roy nor seen his paintings till then. Later, bureaucrat Samir Roy Choudhury took Kalam to Kolkata's Gurusaday Museum of Folk Art, which houses over 3,000 artefacts collected by ICS officer and folklorist Gurusaday throughout his career (1905 to 1941). 
Choudhury also took him to Roy's home, where Kalam saw his works. "That was the first time I saw the influence of the Kalighat folkart on Roy's paintings. I was drawn to it and decided to visit Kalighat to learn more about the art style," he says. 
Calcutta's Kalighat style 
Kalighat paintings were made by Patua artists between the mid-19th and early 20th century around Calcutta's (now Kolkata) Kalighat temple. Idol makers living near the temple made these paintings as souvenirs for devotees visiting the Kali temple. The paintings featured Hindu gods and goddesses and supplemented the income of Patuas.
"Unlike patachitra, which are detailed, time-consuming and made as scrolls (measuring up to 20 feet), Kalighat paintings were originally made on A3 size paper. With the use of sweeping brush strokes, Patuas could make them quickly before the visitor boarded the train," says Kalam.
Moreover, the Kalighat paintings involved just one or two figures and the background was left blank to save time. This created the defining features of the Kalighat genre. 
Kalam's visit to Kalighat in 1988 in search of painters, however, did not yield any results as the Patua community around the temple had discontinued the craft during the 1930s. 
According to some accounts, the massive earthquake that hit Calcutta in 1934 led the Patuas to abandon the art and most of them went back to their villages. Alongside this, the rising popularity of imported printing technology and photography made Kalighat paintings less interesting for visitors.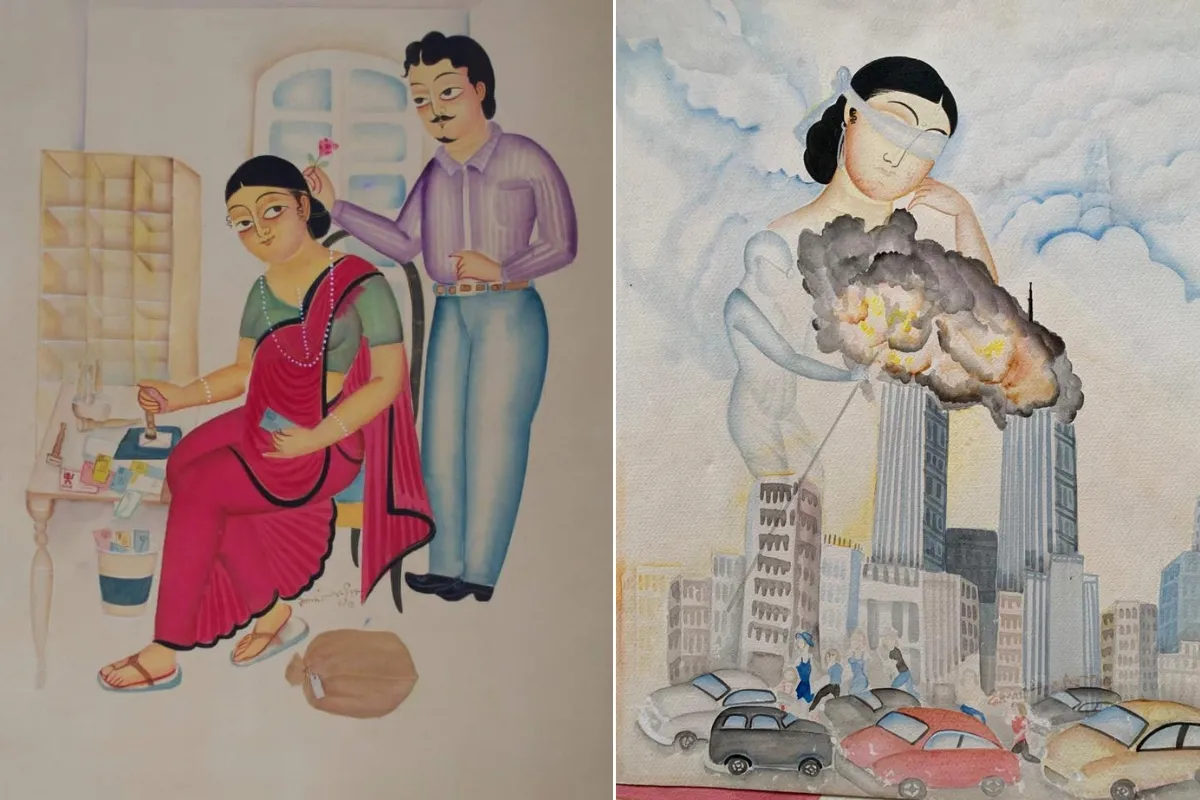 "I did not find a single painter practising Kalighat style when I visited the place in 1988. That's when I decided to learn more about the art form and revive it," Kalam says.
More here: Warli painting: Maharashtra's 10th-century tribal folk art moves from mud walls to modern living rooms
Revival and contemporisation of Kalighat paintings
Kalam began by observing the old Kalighat paintings in museums and people's homes. Dr Asish Kumar Chakraborty, who was the curator of the Gurusaday Museum in the late 1980s, allowed him to study the museum's original Kalighat paintings in detail. 
"It took me around two years to fully learn the style," says Kalam, whose work has been exhibited at the Museum of Civilization in Canada, the National Museum at Liverpool, the Chicago Children's Museum and the Victoria and Albert Museum in London.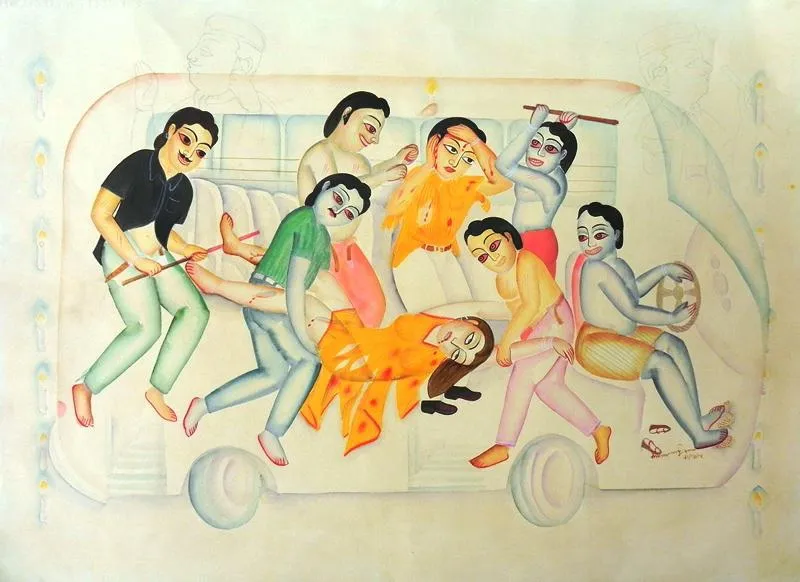 With bright colours and bold outlines, Kalighat paintings earlier depicted gods and mythological characters. Over time, however, these paintings began to reflect the society of the 19th century with civil servants (babus) and their wives (bibis). 
"I copied very old Kalighat works to learn the painting form and made pieces on social as well as religious themes. This was the beginning of my journey to revive Kalighat paintings," he says. 
Kalam, however, soon began to focus on the contemporary urban life that he observed around him and by 1989 he was selling Kalighat paintings to art patrons around him. "While I sold them for a few hundred rupees, many of the buyers further sold them for over Rs one lakh a piece," says Kalam, who received the Aditya Vikram Birla Kala Kiran Puraskar in 2003-04. 
Also Read: Cheriyal: How Telangana's centuries-old scroll art continues to educate and entertain even today
Kalam's art is woven around socio-religious themes and is often a satire on middle-class double standards. With four decades of working in India Post, many of his paintings are based on life and work in post offices. 
With bare essentials in the background, his characters are either mythological or present-day men and women. He has also created works around social issues of dowry, communal violence and the 2012 Nirbhaya gang rape and murder case. 
"I changed the subject but not the technique of Kalighat paintings," Kalam says. 
"I have adopted the technique of using one stroke and one brush. Speed is a key factor in Kalighat style. If the painter is not quick with the strokes, the paper will absorb extra water colour and the effect will not be good," says Kalam.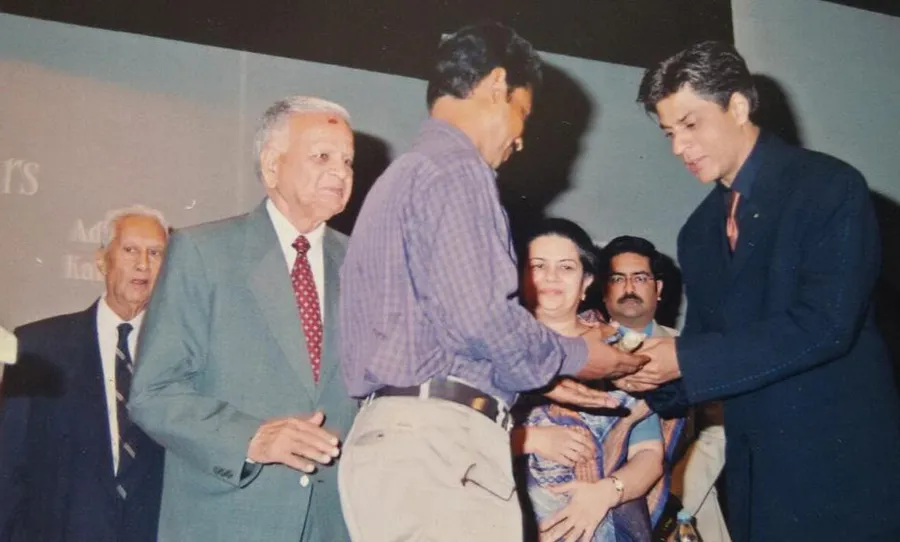 As the word spread about his works spread, many artisans from the Patua and  Chitrakar communities once again started making Kalighat paintings.
However, Kalam himself discontinued painting for almost eight years from 2014 for reasons he does not want to disclose. He resumed work at his home studio in Rampurhat after retirement in October 2022. 
"It takes three to four days to make one painting of 24 inch by 18 inch," he says. 
"Otherwise, artists have to face exploitation by middlemen," says Kalam, who now makes only Kalighat paintings and not patachitra scrolls.
He sells his works directly to people who contact him with their specifications besides through exhibitions. His work is also part of the permanent collections at the Crafts Museum and National Gallery of Modern Art in Delhi, at the Victoria and Albert Museum in London as well as private collections in India and around the world.
Also Read: Pithora art: How Jhabua's Bhuri Bai broke centuries-old taboos with a brush & colours
With the rising popularity of his art, many connoisseurs also get tattoos of his paintings made on their arms, back or other parts. "Some people take permission before using my works for tattoos but most others don't ask me," he says.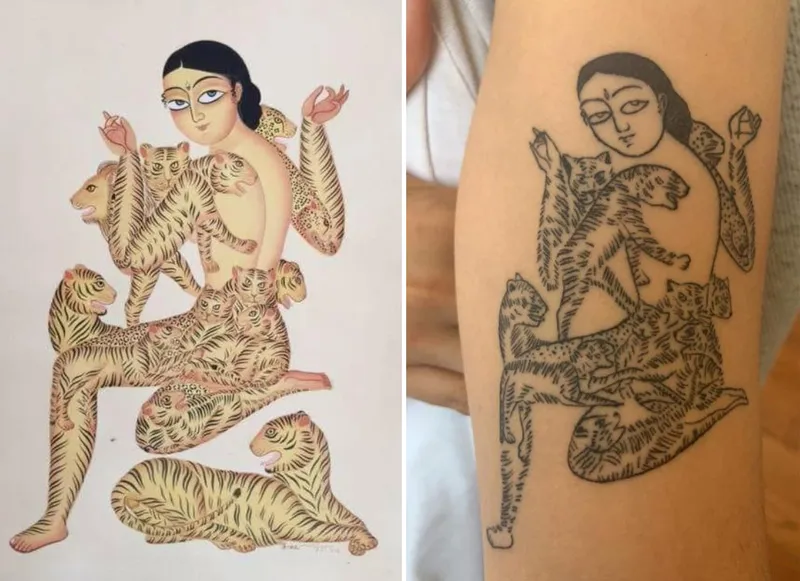 Traditionally, the paintings were made on thick newsprint. "I use watercolours on paper. I buy colours from the market and also make my own colours by adding some ingredients," he says, pointing out that a 20ml tube of colour costs over Rs1,000.
Kalam did not leave his passion while pursuing his day job. For him, painting is life and he is enjoying creating art now, after retirement, even more than before.
(Rashmi Pratap is a Mumbai-based journalist specialising in business, financial and socio-economic reporting)
Also Read: India's Mona Lisa: Bani Thani, the high point of Kishangarh School of Art