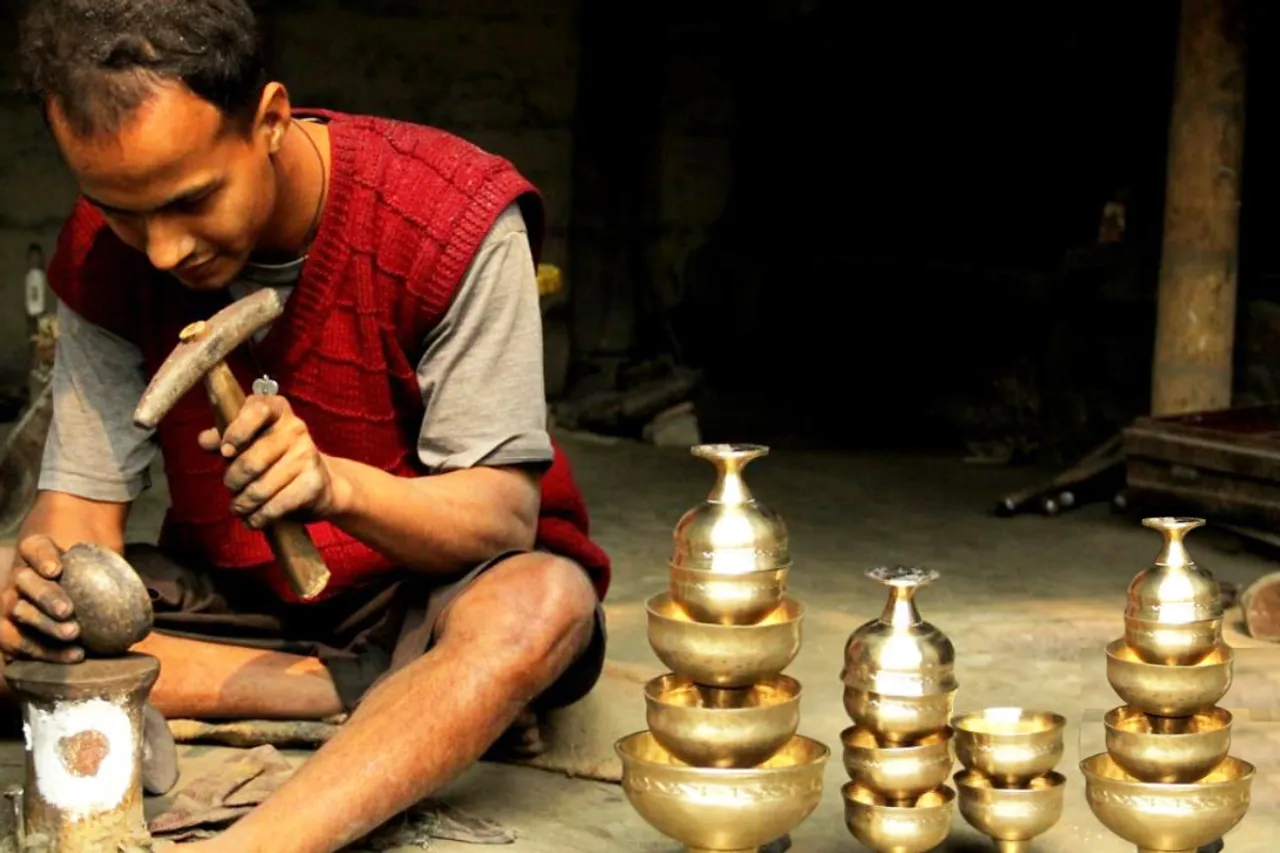 When Dhruba Jyoti Deka was pursuing his postgraduation at Pondicherry Central University in 2016, he realised that his colleagues from other states had little familiarity with the North East. So Dhruba, along with his friends from the North East, organised shows highlighting the culture of the region. That experience became instrumental in launching his artisanal bell metal enterprise in Assam a year later.
"My friends from other states were unaware of the culture, crafts, music, dance, and cuisine of the North East. After I did the shows, they were fascinated at the novel art forms and the rich cultural diversity of the region," says 29-year-old Dhruba.
That episode set him thinking about showcasing the North East to a much larger audience. After returning to Guwahati in 2016, Dhruba and his brother Bhaskar Jyoti put their heads together on how they could best promote the culture of the region.
The result was their enterprise, Brahmaputra Fables, which has given a global platform not only to bell metal artisans from Sarthebari but also to 3,000 other artisans and weavers from North East India. 
The hub of bell metal
Dhruba hails from Sarthebari village, about 80 km from Guwahati, which is a hub of brass and bell metal work. People in Sarthebari have been practising the craft for several generations. The brothers zeroed in on it. 
Bell metal, also known as bell bronze, is an alloy of copper and tin. It is used for making bells, cymbals and utensils besides home décor and utility items. 
"There are still plenty of skilled bell metal artisans in Sarthebari. But since they are cut off from the market, they are fleeced by middlemen who purchase goods from them at low rates and sell for high profits in the market," says Dhruba.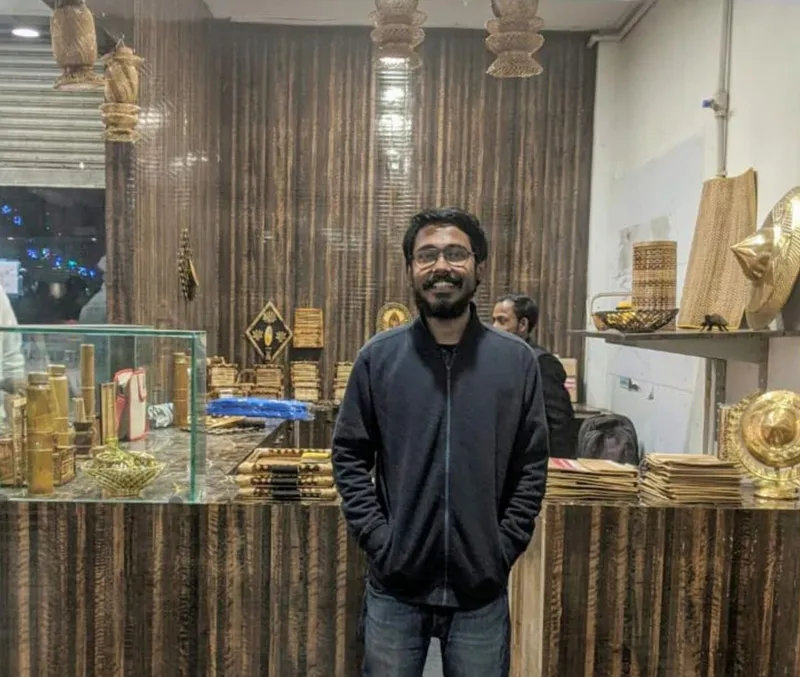 His research found that no one was selling bell metal products online. "I thought it was a good business opportunity. It was also a way to showcase the craft and get artisans a good price for their laborious work."
Since Dhruba knew artisans in the village, he got in touch with them and discussed his plan to sell the handcrafted items online. Several artisans showed interest. So, in 2017, with 30 artisans onboard, he started his for-profit enterprise, Brahmaputra Fables which sold bell metal wares and some other products from the North East.
"My aim was to improve the artisans' livelihood and to showcase the culture and traditions of North East India." 
Initially, the response was good. "I got orders from friends and neighbours. But since I did not have knowledge about business, the sales dipped," he says.
Also Read: Bidri: The metal craft creating magic in black and silver for over 500 years
Dhruba then joined a course in the School of Social Entrepreneurs in Delhi. He learnt the ropes of running a business and he registered his social enterprise Brahmaputra Fables in 2020.
During the Covid pandemic, they made masks to provide employment to the artisans but were also readying their inventory which they sold online after the pandemic. The enterprise has also tied up with India Retail Hospitality and Reliance Retail, which are sourcing bell metal wares to sell in retail outlets.
Brand Sarthebari
While researching for business opportunities, Dhruba came to know that the market is flooded with duplicate items that pass off as bell metal. Moreover, machine-made bell metal items from Kolkata and Moradabad are sold in the market at cheap prices.
"People from Nepal and Bhutan purchase bell metal items from the market, write 'Made in Nepal' or 'Made in Bhutan' on them and export them to China and Tibet where they are in large demand in monasteries. I wanted to stop this and give the rightful identity to the craft," he says.
Dhruba then decided to create a unique branding for the products handmade by artisans from Sarthebari by emphasising artisanal craftsmanship and designing a distinctive logo and good quality packaging to appeal to upscale customers. The direct-to-customer (D2C) brand has been recently launched as The Bellsmith Co. by Brahmaputra Fables.
Also Read: Manipur's Longpi Pottery: Made using stone without the potter's wheel
Brahmaputra Fables is incubated at IIM Calcutta Innovation Park and the advisors there suggested they go with the branding of bell metal wares as a lifestyle product. "We are making traditional wares for the new generation to keep them linked to their culture and also sustain the craft. I want to make this a lifestyle product," explains Dhruba.
There are 30 bell metal artisans on rolls with the enterprise. They make around Rs1000 per day and are also given health insurance, says Dhruba.
Artisans use traditional designs to make utensils or items used in daily prayers and religious ceremonies. The products are priced between Rs500 and Rs7000. 
Dhruba has introduced home décor and daily use items to cater to an urban audience. While the craftsmen know their craft, Dhruba organised some training workshops with government institutions to handhold them on new designs as per market demand, packaging, and how to maintain the products and sell them online.
He has also started artisanal tourism in a small way. Tourists can visit artisans in Sarthebari, see the process of making bell metal ware and even take a class. "We have collaborated with four-five master craftsmen for this," he says.
Showcasing the North East
Dhruba also sources traditional items from artisans across the North East and these are sold through the company's website under its marketplace model.
The items include traditional handloom sarees, eri silk and mulberry silk sarees and mekhelas (traditional Assamese sarongs), shirts, jackets, t-shirts, bags, cushion covers, handicraft items such as mugs, table mats, runners, bamboo bottles, bamboo planters, home décor, gifting products and ethnic foods. These are priced between Rs600 and Rs15,000.
Dhruba sources the products from 3,000 artisans across the North East. "Many of them are based in villages and reaching markets is a struggle. Our website provides them an easy means of marketing and income; so they are associated with us," he says.
The craftspeople earn double the income by selling through the website than in the local market. The enterprise receives between 30 and 50 orders per month with most of the sales coming from Delhi, Bengaluru and Hyderabad.
Dhruba says he invested around Rs15 lakh in the business. He also got assistance of Rs5 lakh from the My Assam Start-up Fund, Rs5 lakh from the Start-up India Seed Fund and as Rs50,000 from Facebook Fuel for India Aid for small businesses. He expects the company will break even in this financial year.
Also Read: Zishta: Taking handcrafted homeware from India's 48 craft clusters across the globe
History of bell metal craft
Bell metal craft is Assam's second largest handicraft sector after bamboo. The craftsmen are locally referred to as 'Kahar' or 'Orja'.
The craft dates back to the 7th century AD. Historical records show Kumar Bhaskar Varman (600 AD to 650 AD), king of medieval Kamarupa (now Assam) and the last of the Varman dynasty, had gifted drinking cups made from bell metal to Harshavardhana who ruled over north India around the same period.
Also Read: From a daily wager to a food entrepreneur, how Assam's Diganta Das set up a successful business
It is also mentioned in historical records that a pair of 'bhortal' or cymbals, a musical instrument, was gifted to the Chinese scholar Hieuen Tsang during his visit to Kamarupa.
The Ahom kings who ruled Assam between the 13th and 19th centuries promoted the craft. The ruling dynasty used utensils made of bell metal and the tradition continues to date. 
People believe that utensils made of bell metal have certain medicinal properties that prevent intestinal problems and help in cleansing the body due to the presence of certain minerals.
The craftsmen in Sarthebari still prepare the objects by hand, adhering to the age-old technique of using the tools required for burning and shaping the metal.
The main tools are anvils of different sizes that are locally known as balmuri, chatuli and akue, hammers, pincers, flies, and chisels. For polishing the wares, clay, jute fibre, rice bran, mustard oil, charcoal, borax, zinc and shalpatra are used. 
Also Read: Tamul's areca nut leaf plates travel from Assam to the world as plastic ban gets stronger
The objects made by the artisans in Sarthebari are kalah (water pot), sarai (a platter or tray mounted on a base), kahi (dish), bati (bowl), lota (water pot with a long neck) and tal (cymbals).
Process of Sarthebari bell metal craft
The process of making bell metalware is tedious and requires a lot of strength.
The raw material is mostly bought from Kolkata and is often in the form of old used bell metal items like plates and bowls. After being broken into smaller pieces, they are melted in the fire vent, called Kah Galuwa Apor in the local language.
Also Read: Siblings take Manipur's Kauna craft to the world, help triple artisans' incomes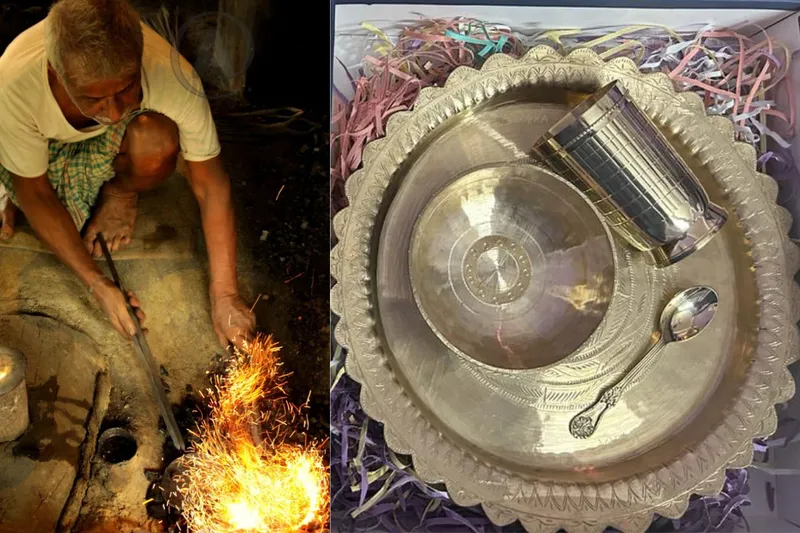 Once melted, the liquid metal is poured into small crucibles made of clay and dabbed with mustard oil.
The metal solidifies, forming small round ingots. These are again heated in the furnace to soften them and are then hammered continuously to give the required shape.
After the rough shape of a bowl is formed, it is beaten with a small hammer to give it a final shape.
The rough edges of the bowl are filed manually using a flat iron filer. The burnt layer from the bell metal bowl is scraped off using a long iron rod with sharp edges called the Khonta by the local craftsmen. This is basically done to bring shine and glaze to the bell metalware.
 Once the basic bell metal bowl is made, the base is heated in a fire vent called the Kunda Apor.
The base of the bowl is fixed to a rolling bamboo tool called the Kunda Saal by using sealing wax. The Kunda Saal is made to spin and a sharp-edged instrument, twisted at the tip, is used to carve rings into the spinning bowl.
The final touch is given using a sharp tool made of iron, called Dhonukar as it is shaped like a bow. One end of the Dhonukar is placed inside a metal cup that the artisan holds in his palm to apply pressure while the other end is used to carve motifs and patterns on it.
(Urvashi Dev Rawal is a Jaipur-based journalist specialising in development, gender, and political reporting)
Also Read: Woman on a mission: Subrata Pandey is supporting tribal women, reviving lost crafts in Odisha