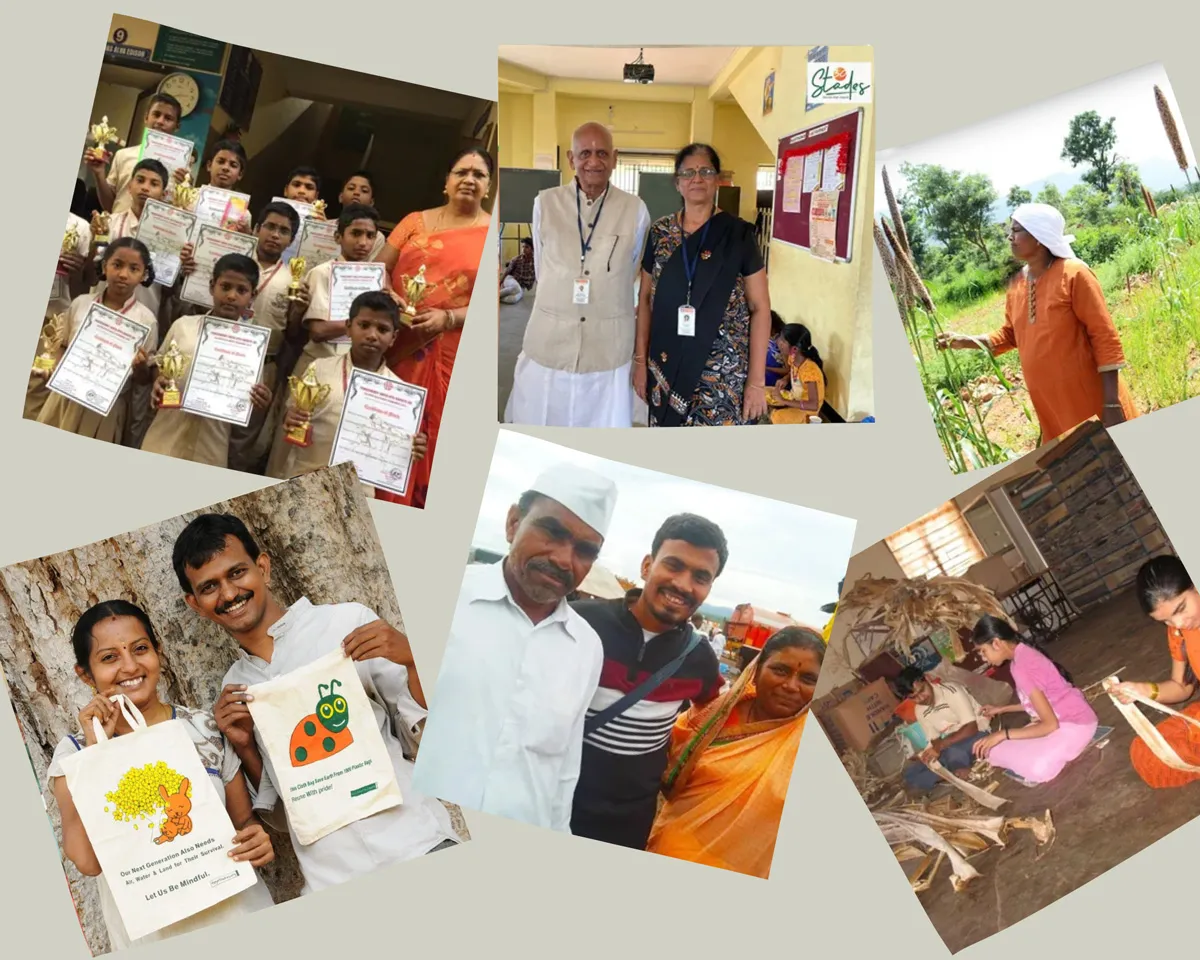 As 2022 draws to a close, it's time to look back at some of the most inspiring people whose stories we brought to our readers. From Bengal to Maharashtra and Arunachal Pradesh to Puducherry, these men and women have bettered the lives of hundreds of people and deserve our respect and gratitude.
Of these inspiring people, some are young and some are old and some have even retired from their jobs. Some are from cities, and others are from villages and tribal areas. Some gave up cushy jobs to pursue a higher calling while others braved challenges and made it big. 
But the common factor was that they all stepped out of their comfort zone to help others and to make a difference in society and the world we live in. 
Here are ten real-life inspirational stories:
1. Madurai-based couple Krishnan Subramanian and his wife Gowri Gopinath were disturbed by plastic pollution and air quality in metropolitan cities. But instead of carping like most of us do, they decided to take action.
Krishnan and Gowri quit their comfortable corporate jobs at Amazon and IBM respectively and moved to their hometown Madurai.
They started making cloth bags and got a good response from people around them.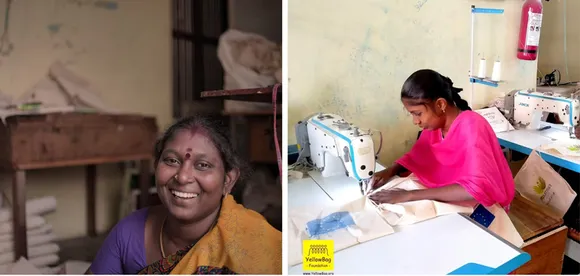 In 2014, they started YellowBag, aimed at encouraging a sustainable lifestyle by bringing back the cloth bag. Today, YellowBag exports its eco-friendly bags across the world and provides livelihood to marginalized women in low-income communities in the temple city's Mathichiyam slum. Over 250 women have benefitted from sustained livelihood while working with YellowBag.
Their story: Manjappai: Madurai couple quits Amazon & IBM to make ecofriendly cloth bags; clocks Rs 3 crore turnover while empowering Mathichiyam slum women
2. Raju Kendre belongs to a tribal community from Maharashtra and has seen the challenges they face from close quarters. His parents live in the Pimpri village of Buldhana district, Maharashtra. Growing up, Raju saw first-hand the struggle of youth from the tribal community to study and find jobs.
In 2017, he set up EKlavya in Yavatmal city. Eklavya helps tribal students get access to higher education. 
About 60 students are selected for a four-month residential programme in Eklavya where they are provided food and accommodation. They are given extensive training on self-improvement, clearing entrance exams, interview skills and information about various scholarships, fellowships and career options.
Raju has helped over 350 youth from marginalised communities enrol in premier higher education institutions and secure fellowships and scholarships. 
For his work, Raju received the Chevening Scholarship in 2021 under the Global Leadership Program and also made it to the Forbes 30 Under 30 list in 2022.
The story: Raju Kendre: Farmer's son connecting youth from tribal & marginalised communities with India's top educational institutions
3. By the time Techi Anna had turned 21, she was already the mother of three children. The first one, her daughter, was born when she was just 17. With an unemployed husband and a big family to take care of, Techi began to sell clothes and imitation jewellery for a living.
Her life changed after she was elected as a panchayat member in 2009. She met a lot of people and learned new ideas and concepts.
During a visit to Poma village, the then Arunachal governor suggested setting up of bamboo cottage industry to create livelihood opportunities. The idea appealed to Techi and she began to make products like bamboo hats, baskets, and storage boxes.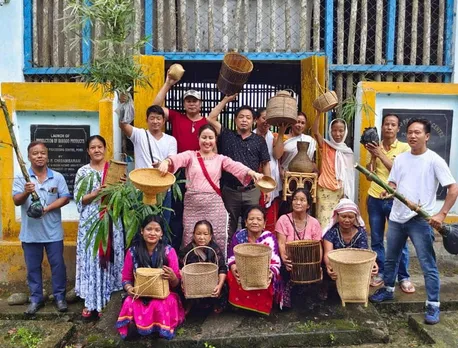 After a couple of years, her business picked up and today her venture, Poma Bamboo Processing Industry employs 26 full-time artisans besides working with small entrepreneurs who operate from homes to make bamboo handicrafts, furniture and jewellery. 
Her enterprise has clocked a turnover of Rs50 lakh this fiscal (FY22). 
Techi has also provided training to about 3,000 people from Nepal, Kashmir, Delhi, Mumbai and other places.
Her inspiring story: Married at 16, how this Arunachal woman fought poverty to become bamboo millionaire
4. Dr Mala Giridhar and her husband Dr Giridhar gave up their comfortable life in Mumbai to return to Sirsi town in Karnataka and serve people there. The clinical psychologist couple started Chetana, a rehab centre for the disabled, in Siris in 2007. 
Mala says rural or remote areas most often do not have mental health facilities and that was a big factor in the couple's decision to move to a remote area.
Chetana has turned around the lives of around 30 people suffering from various disabilities by treating them, supporting them and upgrading their skills so they can work and become economically independent.
The patients at the rehab centre are taught to make pen holders, watch frames, photo frames, boxes, paper pencils and cloth bags. There are 30 persons with mental illness working under Chetana and producing about 20 types of products. All the products are biodegradable, non-plastic and made using recycled products.
Their story: Karnataka: Clinical psychologist couple empowers differently-abled people to make ecofriendly handicrafts & earn income
5. Debal Deb, an ecologist from Bengal, realised the importance of conserving heirloom seeds back in the 1990s. He quit his job with World Wide Fund for Nature-India (WWF-India) and travelled to remote villages in Odisha and Bengal where he collected 152 traditional folk rice varieties.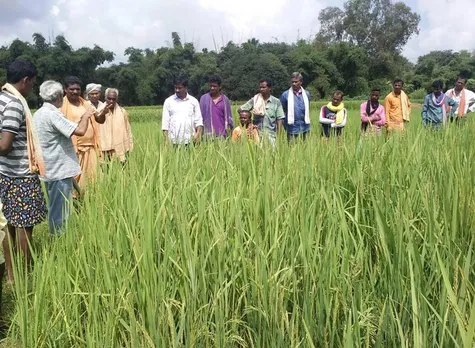 With no support forthcoming from the state agriculture department, he began his native seed conservation journey without any institutional funding or support.
Today, Deb has conserved 1,480 heirloom or native rice varieties which he has shared with over 7,600 farmers across India free of cost. 
He set up a seed bank, Vrihi, which has become South Asia's largest open-access rice gene bank with seeds from India, Bangladesh, Sri Lanka, Pakistan, Philippines, Thailand, Korea and Italy.
His story: Debal Deb: Seed warrior who has conserved 1,480 traditional rice varieties & shared them for free with over 7,600 farmers
6. Meera Chandran worked in Tata Consultancy Services (TCS) for 16 years before she decided to chuck her job and take up the conservation of native plant species and eco-restoration of degraded lands.
She co-founded Forest First Samithi in 2010 while still in TCS. But she quit in 2014 to devote all her time to forest restoration, conservation and supporting local livelihood in the Western Ghats.
Forest First began with work towards the restoration of private lands and coffee estates. Over the years, the NGO began working on degraded forest lands and sacred groves. Today, Forest First Samithi has restored over 300 acres of land in Wayanad (Kerala) and Kodagu in Karnataka in the Western Ghats.
The story: Meera Chandran: This woman quit TCS to fight invasive plant species & restore degraded forests of the Western Ghats
7. V Siva Swamy, 73, and his wife Mahalakshmi moved into a retirement home in 2010. Mahalakshmi began teaching our housemaids' children and soon they were showing signs of improvement in their studies. The couple then bought a small building and converted it into a free tuition centre for poor children.
Swamy says Kalvi Thunai started in 2014 as a public charitable trust. It only accepts children from government schools. 
The trust has 150 students from classes four to 12. There are 10 teachers and each class has one teacher allotted to them. Students from classes 11 and 12 have two teachers—one for the science group and one for the commerce group.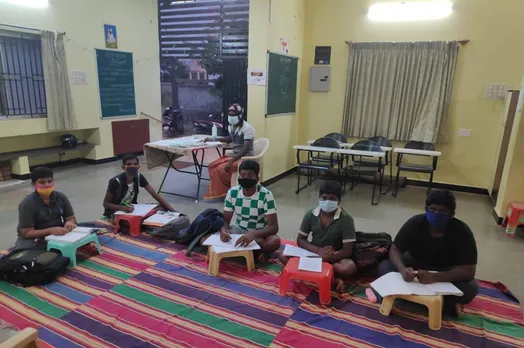 The teachers help students in revising the lessons they have studied in school, clearing their doubts, explaining concepts again for better understanding and ensuring that children finish their homework.
More than 1,000 schoolchildren have been educated at the centre so far. No student has failed either the class 10 or 12 board exams in the last eight years. 
With the aim to ensure that children complete their schooling and join a program focussing on skills, Kalvi Thunai launched vocational courses in 2017. They offer coaching classes for various exams such as CA entrance, MS Office, Tally, Aari embroidery and a three-month soft skills programme.
Their story: Coimbatore's Kalvi Thunai: How a retired couple's zero-fee education centre is giving a bright future to thousands of underprivileged children 
8. Over 25 years ago, Special Educator and Therapist Dr Bhuvana Vasudevan started giving occupational and speech therapy, teaching about 50 slow-learner students in Puducherry. 
Some parents noticed an improvement in their children and urged Dr Bhuvana to start a school. Thus, was born Bridges Vidyalaya in 1998 with financial help from philanthropists and the government.
Today, over 500 students with a diverse spectrum of neurodiversity including dyslexia, autism and ADHD (attention deficit hyperactivity disorder) are being taught at the non-profit Bridges Learning Vidyalaya higher secondary school in Puducherry.
The school has been successful in remediating over 6,000 students including neurodiverse individuals, dropouts and COVID-19 orphans into mainstream education.
Many of the students have completed MBBS, Engineering, B.Com, MBA, photography and other professional courses after passing out of Bridges Vidyalaya. Some have been placed in top companies like TVS and Lenovo.
The story: Bridges Vidyalaya: This Puducherry School is mainstreaming students with developmental disorders; many are now doctors, engineers, MBAs & more 
9. In 2015, a group of second and third-year medical students from B. J. Medical College, Pune, Maharashtra, started Lift for Upliftment or LFU to help prepare students for medical entrance exams for free. So far, they have helped over 100 students from backward communities land admissions in government medical colleges. 
Lift for Upliftment (LFU) tutors underprivileged and marginalized students for NEET or National Eligibility cum Entrance Test (Undergraduate).
Over the years, LFU has developed a sustainable work model where they encourage medicos to contribute a few days of their lives to teaching young kids.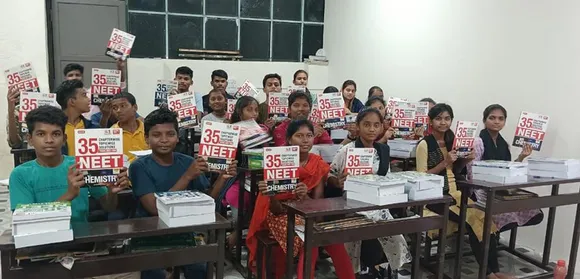 Every year, Lift for Upliftment runs four batches of 30 students each. There are two batches for 11th and 12th Class students for the Pune branch and another two residential batches for tribal students called the Ulgulaan batch. A special batch of 15 seats is reserved for students who are repeating the exam. 
Read: How free medical coaching by Pune's Lift for Upliftment is helping marginalized & tribal students become doctors 
10. When Valliammal Palniyappan came to her husband's village Nallur in Karnataka's Chamarajanagar district in 2004, she saw vast stretches of land lying vacant. Her husband Rajan said farmers had given up agriculture due to declining soil productivity and mounting losses.
Before marriage, Valli had worked with street children whose parents had migrated from villages due to a lack of profitability in farming and were now working as hawkers and rag pickers in the city.
Valli says she realised that the solution to this problem was to go back to organic farming.
In 2006, Valli started work in 22 villages in Chamarajanagar. She and a friend conducted farmer training sessions, teaching them to make bio-pesticides and organic fertilizers using inputs available on the farm, their use and the timing of their application. 
Since 2006, Valli's NGO Anisha has trained over 2,000 farmers in organic farming and set up 410 kitchen gardens in 20 villages in the Martalli region of the drought-prone Chamarajanagar district.
The NGO also collects native seeds from senior farmers and remote villages and gives them to farmers for free.
Her story: Karnataka's MA, LLB woman trains 2,000 farmers in organic farming; helps schools to set up kitchen gardens for mid-day meals