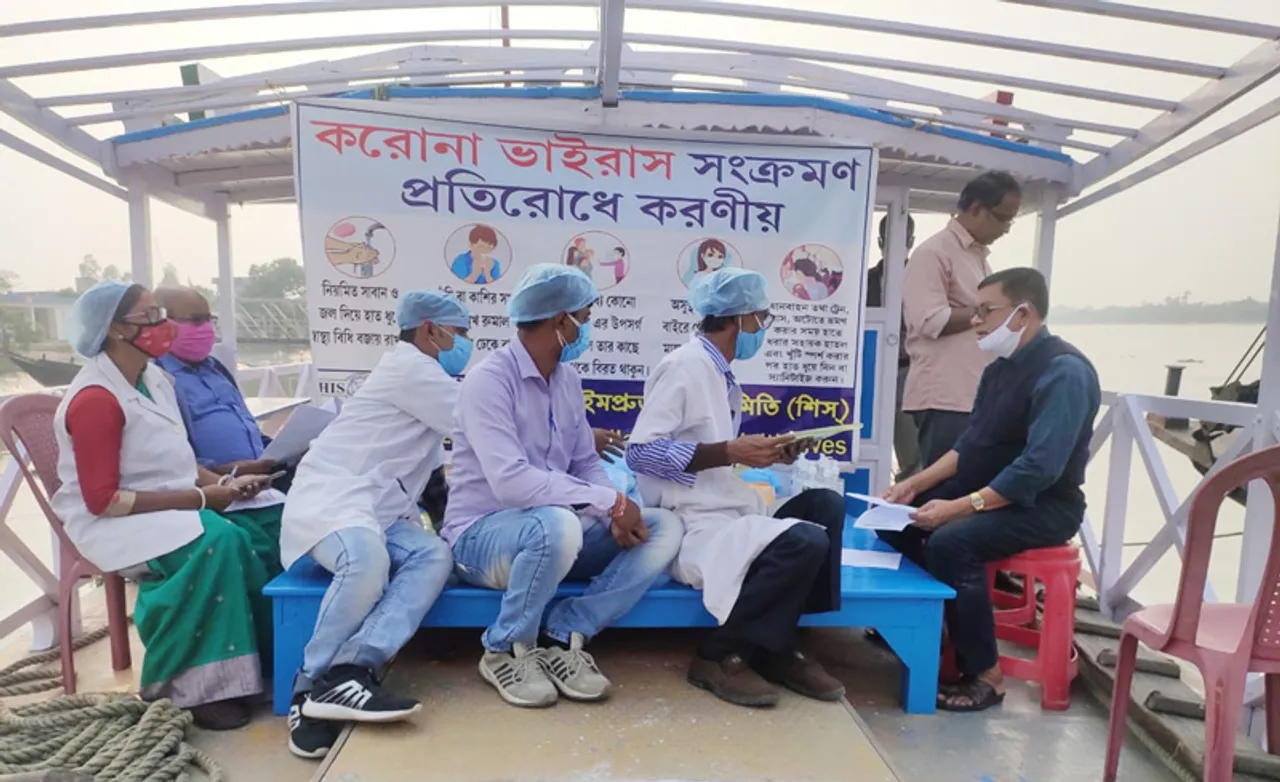 Marzina Bibi, 48, from Atapur village in Sundarbans suffers from diabetes and scabies. Caused by saline water, scabies is a skin disease common in the mangroves. Because of her low immunity, she visits her doctor every Wednesday. But instead of going to any government or private hospitals which are many kilometres away, Marzina goes to a floating clinic in the Bay of Bengal.
She has been seeking consultation at the boat clinic every week for the last four years and feels much better these days. Marzina is among lakhs of people in the inhospitable terrain of Sundarbans who have been benefitting from medical services provided by four clinics-on-boats since 1997.   
"The regular check-ups and medicines proved helpful. I am recovering from my infection and the sugar level is also under control," Marzina says. 
Also Read: From weathering cyclones to tiger attacks, how Sundarban inhabitants forge resilient lives
Operated by SHIS (Southern Health Improvement Samity), the boats provide relief to the dwellers whose only other option is to visit the local faith healers or quacks. 
The mobile medical clinics navigate 2,000 square kilometres every week, reaching millions of underprivileged inhabitants living in the climatically vulnerable region.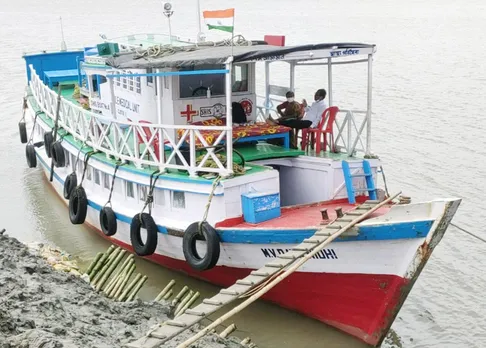 Sundarbans or Sunderbans spans the area from the Hooghly River in West Bengal to the Baleswar River in Bangladesh's Khulna division. The population of Indian Sundarbans was 4.4 million (44 lakh) as per the 2011 Census. 
Also Read: Sundarbans residents turn homes into homestays as tourists look for authentic Bengal experience
"We try to fill the gaps in remote areas where healthcare facilities are not available," says SHIS Founder-CEO, Mohammad Abdul Wohab, underlining that they don't compete but collaborate with the state government.
Bridging the gap between people & healthcare
Jinna Giza, in-charge of a boat clinic, says the distance between some islands and the nearest hospital is about 20-30 km. With limited economic means, patients, especially from marginalised communities, cannot afford to spend money on transportation. Crossing three or four rivers for their treatment in public hospitals is a costly proposition. 
Also See: COVID-19: Srinagar's Dal Lake gets first-ever boat ambulance service
Given the reach and scale of the clinics, the West Bengal Government is now working jointly with them. SHIS has been entrusted with the responsibility of implementing some of the government health projects. The floating clinics have also obtained permission to administer COVID19 vaccines.
A majority of people come with mosquito-borne diseases like Malaria or Dengue which are common in the Sundarbans forested area. Others visit with complaints of respiratory, gastrointestinal and skin problems.
Also See: How cash is reaching India's remote villages amid coronavirus lockdown as governments release subsidies for the poor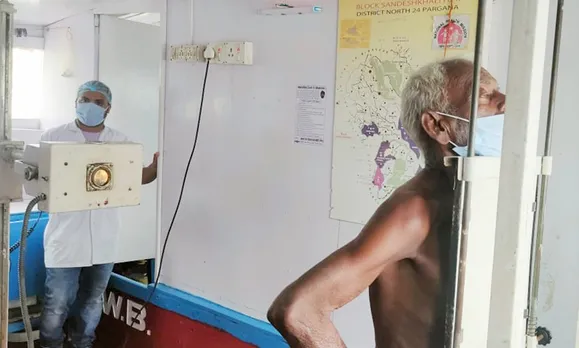 Very soon, the boats will also be equipped with snakebite serum. Snake bites are common in the Sundarbans, which is home to 37 species of non-venomous and venomous snakes, including the king cobra. Several people have lost their lives in absence of the serum. 
The boats will be also equipped with solar-powered refrigerators to store serum. 
Designed to provide both medical and diagnostic services, the clinics are equipped with beds, saline stand, oxygen cylinders, mobile X-ray, pathology unit and medical storeroom.
The Boat Clinics sail from four locations - Hasnabad, Sandeskhali, Gosaba and Patharpratima.
Also Read: West Bengal's Gaighata: Where arsenic toxicity in livestock is now adding to poison in human bodies
Wohab says, "About two-thirds of children are identified with curable diseases. However, their health condition deteriorates because medical services cannot reach faraway locations. Their treatment becomes challenging owing to the lack of immediate medical attention,"
The genesis of Boat Clinics
In 1978, Sundarbans was hit by floods. The floods wrecked the area, which rendered 2 million people homeless and several water-borne diseases were reported. Being an inhabitant of Padampukar village at Bhangar in South 24 Parganas District of West Bengal, the sight of people in distress troubled Wohab.
Also Read: Bengal: Boat makers of Balagarh struggle to keep afloat the 500-year-old craft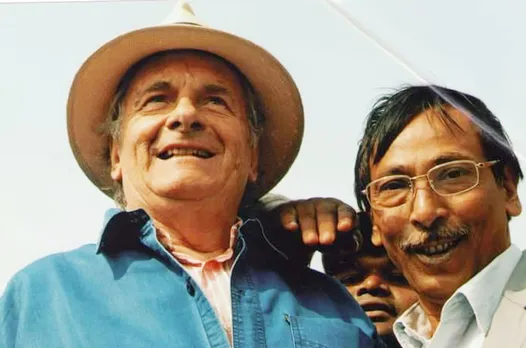 At the age of 29, he began volunteering as a rescue operator. He caught the attention of Brother Grandjean Gaston 'Dayanand', a Switzerland-born philanthropist who visited Sundarbans riverine area and set up medical camps to assist people suffering from tuberculosis. Brother Gaston advised Wohab to continue serving people in misery.
Wohab decided to establish a health centre but had no land to set it up.
"With the help of Sabitri Pal, a volunteer then, who is now our President, SHIS -- a non-government organisation was founded on May 13, 1983. We haven't looked back since then," recalls Wohab, a social activist-cum-lawyer.
In 1986, French author Dominique Lapierre, who wrote The City of Joy, visited Sundarbans and was perturbed with the healthcare facilities for the locals.
Also Read: Kolkata floating market gets tourists but awaits regular customers three years after it opened
Doctors, NRIs and foreign medical professionals besides volunteers also provide their expertise to the NGO.
Notably, the clinics functioned on rented boats before these four boats. Some generous donors from Western countries offer shelter, funds and expertise.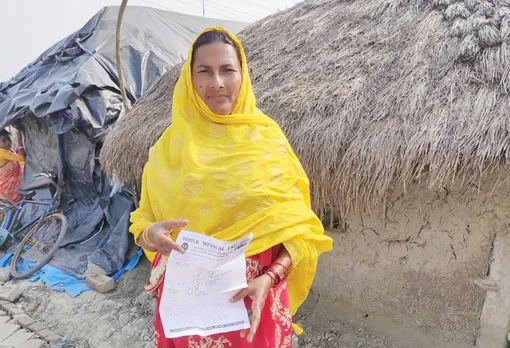 Despite the floating clinics, Sundarbans populace still counts on quacks owing to their easy accessibility for immediate medical aid. About 3,000 quacks are active in the area. However, the critical cases are referred to the boat clinics when quacks cannot help the patients. Some patients contact the boat clinics directly over the telephone. 
Also Read: In pictures: History of mass vaccination in India
A million lives and counting
Believe it or not, the boat clinics have treated over one million patients in the last financial year. As per the records between April 2020 and March 2021, a total of 1,208 camps were set up at various locations at Hasnabad, Hingalganj, Sandeshkhali, Basirhat, Gosaba and Patharpratima Blocks, where 24,049 reproductive mothers were examined and 3,396 new babies were born. 
A total of 82,592 patients were healed while 8,321 blood tests and 3,374 X-rays were conducted.
"I got my baby girl delivered here at the Community Centre in Bayermari-II in Sandeshkhali–I Block. My baby and I are doing fine. We get medical service close to our village, hence, we avail all the amenities from medical tests to consultation," says Ruksana Bibi, 30, who belongs to Kayalpara village.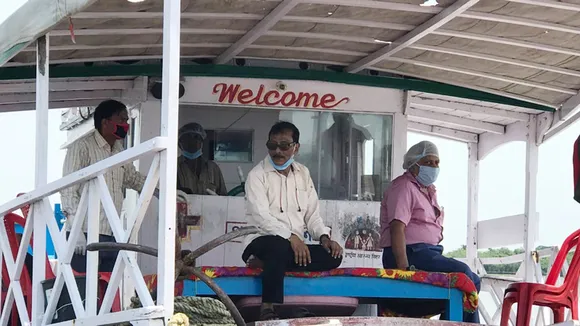 Dr Antany Mollick looks after Clinical Decision Support (CDC) cases and says they are fully equipped for normal deliveries and neonatal care. All the medicines are facilitated by the State government for the babies delivered here.
However, some facilities are not available. "We can't execute blood transfusions here due to unavailability of blood, which is a challenge.
Also Read: Delhi nurse narrates his life experience as a COVID-19 warrior
Thus, patients with Postpartum Hemorrhage (PPH) or other complications are referred to either Chittaranjan Hospital or B.C. Roy Hospital in Kolkata," adds Dr Mollick.   
People above 50 years arrive with complaints of blood pressure, sugar, stomach ulcer and scabies. "Seeing the condition of the people motivated SHIS to introduce the Mobile Boat Dispensary Service. It arranges health checks and healing for the marginalised people at the remote and inaccessible islands," says Wohab.
Mobile clinics offer medical service round-the-year and emergencies like floods and cyclones are no exception. It also provided sanitisers and masks to almost all the people during the pandemic. SHIS also analyses the sanitary situation in villages regularly.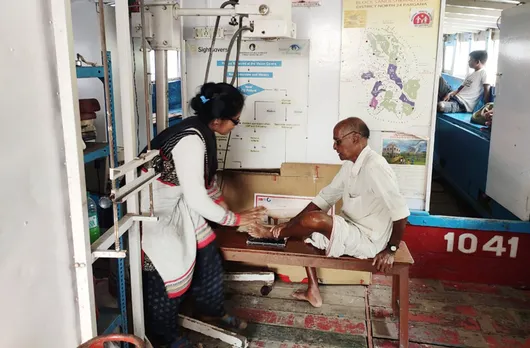 However, they refer tiger attack victims and other serious patients to the major hospitals for treatment as they require constant medical attention.
The 'Floating Healers' through its uncompromising services, willpower and endurance have been trying to ensure that no patient in this forested area goes without treatment. SHIS has also won a bid to operate a Mobile Medical Unit under National Rural Health Mission. For their 30 years of support to mankind before self, Md. Wohab and Sabitri Pal were conferred with Ghanta Ananyaa Sanmaan in 2012.
(Partho Burman is a Kolkata-based award-winning journalist. He writes inspiring human interest and motivational stories.)
Also Read: Man-animal conflict: Tiger attack survivors in Sundarbans share their stories