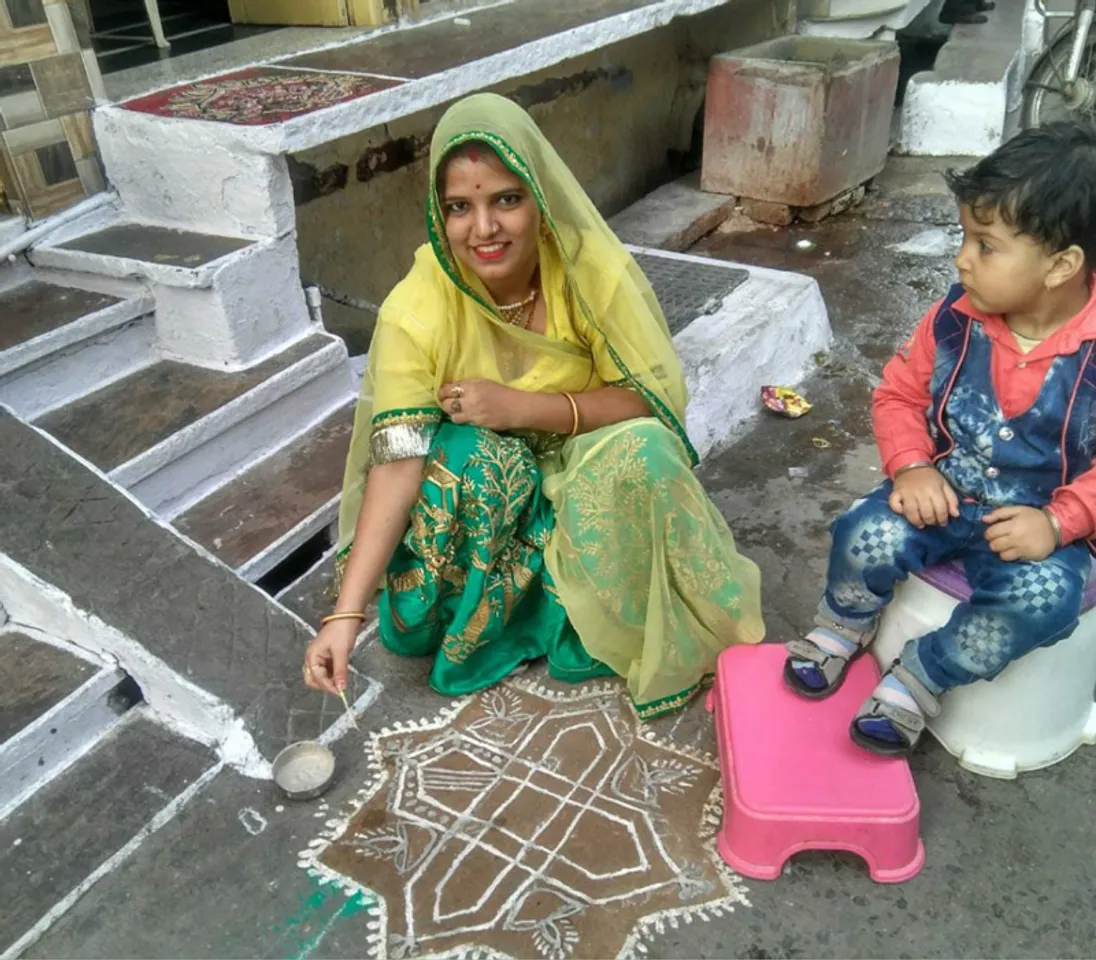 wp:html /
With practised ease, Kaushalya Devi Sharma draws an intricate Mandana on the floor of her house in Baran town of Rajasthan. Belying her 80 years, her nimble fingers run on the floor, drawing beautiful patterns and shapes that are artistic works of art as well as lucky charms.
Kaushalya Devi is among the few women in Rajasthan who are still practising the art of Mandana. For the last many years, she has been trying to preserve the folk art that is made on walls and floors of houses using white chalk on a red background.
Her Mandana drawings have been gifted to Indian presidents, prime ministers and governors and she has held workshops with several eminent persons to showcase her art which she learnt as a six-year-old from her mother.
Also Read: Jharkhand: Saving Khovar and Sohrai arts of 'painted villages'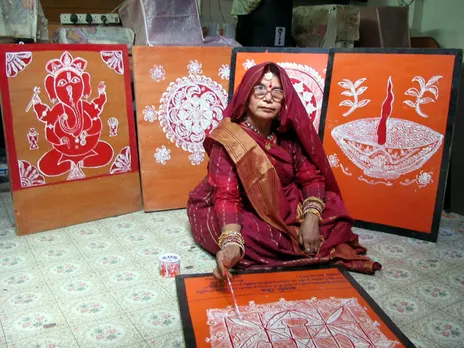 "But the art is now almost dead as the younger generation is not interested," she adds.
In Bhilwara town, Vidya Devi Soni, another Mandana artist, is trying to conserve and promote this folk art. Vidya Devi, 74, drew her first Mandana when she was 10 years and she has carried on that tradition to date. She says the art is passed down through generations from mother to daughter as women are largely seen as responsible for the house. "With urbanisation and education, women have lost interest in taking forward their legacy," she says.
With the rapid urbanisation in cities where concrete has replaced all natural materials, there is little scope for Mandana art. 
Also Read: Maharashtra's Chitrakathi painting: keeping alive the legacy of Chhatrapati Shivaji's spies
History of Mandana
The art of wall paintings has its origins in prehistoric times. Cave paintings have been found in various parts of the world that date back over 40,000 years. The rudimentary paintings depict animals, human figures and geometric patterns.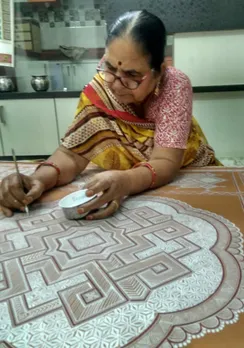 Mandana paintings are one of the oldest forms of tribal art in India and were inspired by nature. The word Mandana comes from the Hindi word Mandan, which means to draw, to beautify.
It is known by different names in different parts such as Satiya in Gujarat, Kolam in South India, Rangoli in Maharashtra and Purana in Uttar Pradesh, Madhubani in Bihar and Mandana in Rajasthan and Madhya Pradesh.
Also Read: Pithora art: How Jhabua's Bhuri Bai broke centuries-old taboos with a brush & colours
Mandanas are inspired by nature and often depict birds, animals and plants. Sometimes they would depict scenes from their daily lives. For instance, Vidya Devi Soni recalls Mandanas showing water being drawn from wells or water bodies.
But Mandana is more than pure aesthetics. 
So, the beautiful geometric and floral patterns on walls and floors also have religious significance. For instance, people believe that drawing a tree at the entrance of their house protects the house and inhabitants from evil.
The Mandanas and Meenas: A lost legacy
The Mandanas by women of the Meena community are arguably the most well-known in Rajasthan. The Meenas are an ancient semi-nomadic tribe spread across Rajasthan and neighbouring states.
Meena women have drawn Mandanas for centuries as decorations or on festivals and special occasions. Eminent artist Madan Meena, who did his doctorate on Mandanas made by women of the Meena community, says their Mandanas have been by far the best he has seen.
He has researched Mandanas made by other communities in Rajasthan and other states. "As compared to others, the Mandanas by the Meena women are far superior," he says.
Also Read: How Kalyan Joshi has made Rajasthan's 1,000-year-old Phad paintings trendy
Meena travelled across the state taking photographs and documenting the Mandanas as well as the traditions of tribal and nomadic communities. He has around one lakh photographs and 500 paintings of Mandanas done by the Meena women.
Meena, who is the director of the Adivasi Academy in Gujarat, has also written a book as well as several research papers on the art of women. He held several exhibitions in India and abroad to showcase the Mandana paintings. "People wanted me to paint the designs but I did not want to commercialise the art. I wanted to promote it as widely as I could," he says.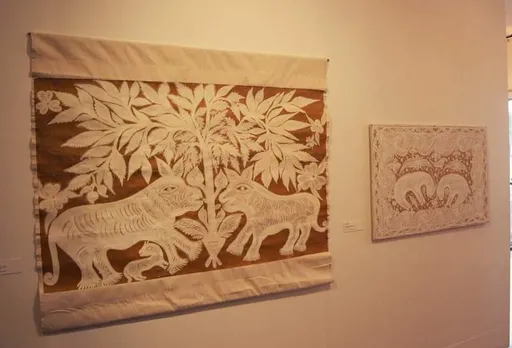 "The women themselves were not interested in selling their art. They told me 'we don't make it for money. We make it because we like it'. The art rightfully was of the women, not mine," he says.
However, Mandana is all but dead among the community women now. "The modern, educated Meena women did not see it as a sign of their identity but as a sign of backwardness," he says bluntly.
Also Read: India's Mona Lisa: Bani Thani, the high point of Kishangarh School of Art
Types of Mandana
Mandanas can be categorised into four types: those drawn on festivals and special occasions, those based on Vaastu, location-specific and season-specific. Each Mandana had a story and song associated with it.
The square or Chauka denotes prosperity while triangles, circles and swastikas are considered auspicious. Floral motifs are associated with religious beliefs and magic while geometric ones are associated with tantric beliefs.
According to both Kaushalya Devi and Vidya Devi, different Mandanas were made at different spots in the house. For instance, in the puja or prayer room, there would be a Mandana with a diya, and the chulah or earthen stove would have a Swastik on it.
Also Read: Cheriyal: How Telangana's centuries-old scroll art continues to educate and entertain even today
Festivals such as Diwali, Holi, Rakhi, Teej, and Gangaur merited their own Mandanas. Vidya Devi says on Diwali, a Chauka or square Mandana would be made which is considered auspicious and a harbinger of prosperity. Mandanas with diyas and kalash would also be made on Diwali.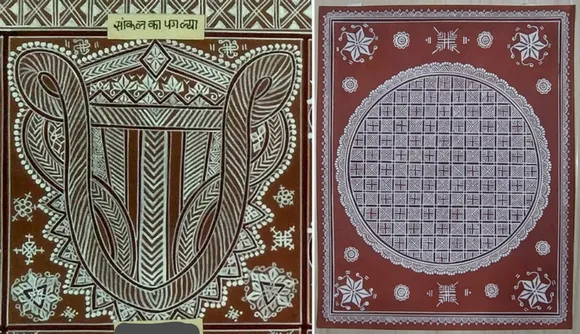 Mandanas symbolising Goddess Lakshmi's feet would also be drawn on Diwali. A shatkon or hexagon Mandana made by joining two triangles also represents the goddess Lakshmi.
During marriages, a Lakshmi-Parvati ki chaupad Mandana was made while on Holi a Mukut ka Mandana, and on Gangaur a Shakkar Para ka Mandana was made.
Creating a Mandana
There is a particular method to draw a Mandana. First, the walls and floors are levelled by plastering them with a paste made from a mixture of mud and cow dung. After that, a coat of geru or red ochre powder is applied to the surface. The designs are drawn using Khadiya or alabaster clay mixed with water.
The wall painting is done with a brush made from the twig of a date palm tree while the floor designs are made by soaking a cloth in the khadiya and squeezing it onto the floor. Then the women make the design using their fingers. Mandana's beauty lies in its rustic nature and imperfect proportions.
Madan Meena says Mandana does not follow any principles of proportion. The different elements of nature are put together in a balanced and symmetrical manner to show harmony.
Also Read: Warli painting: Maharashtra's 10th-century tribal folk art moves from mud walls to modern living rooms
Meena says the Mandanas done by the Meena women have a variety of figures but their forte is the moradi or peacock which they paint in different styles on the front walls of their houses.
The Mandana paintings by the Meena women depict experiences from their lives. They draw animals, birds, and figures that are no longer in existence but only in their memory. An occasional figure of a tractor or bus also features in their art, he says.
Efforts at preservation
Mandana art is still alive mainly due to efforts by individuals such as Kaushalya Devi and Vidya Devi. Kaushalya Devi's son Jitendra Sharma says she has documented 100 of the 600 designs she knows. Apart from this, she has also created 40 new Mandana designs.
Sharma says his mother remembers 600 Mandana designs and the songs and stories associated with them. "Around 10 years ago, I felt we should document these Mandanas so they could be preserved for posterity. With a grant from INTACH, Kaushalya Devi made 100 Mandanas which have been preserved in the INTACH national library," he says.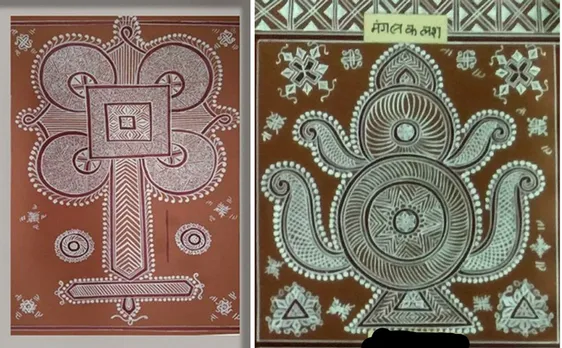 The Mandana paintings were 2x3 feet and were painted on plywood using mud mixed in varnish so they would sustain for a long time.
INTACH has made a documentary on Kaushalya Devi and is bringing out a book on her Mandana designs.
Vidya Devi too has documented some of the 300 Mandana designs she knows. Her son Dinesh says he has helped his mother transfer her knowledge on paper and canvas. "My mother would make Mandana at home during festivals and other occasions. When visitors saw them, they asked if she could make it for them. I thought if we could transfer the designs on canvas, it would acquaint the younger generation with this tradition and help preserve it," says Dinesh.
Also Read: Kavad: Rajasthan's portable shrines
So, he encouraged his mother to make small paintings using the traditional technique.
Four years back, the Bihar museum purchased 50 of her Mandana paintings to showcase the art in its gallery. Vidya Devi also conducts online courses to teach Mandana and doctoral students too have visited her to learn about ancient art. She's also innovating and trying to bring Mandanas on sarees.
Kaushalya Devi too has conducted workshops and trained students. A student from Germany has also learnt the art of Mandana painting from Kaushalya Devi and is teaching students in her country.
In fact, she donated her ancestral house in Baran to be converted into a school for Mandana art where students learn from teachers trained by Kaushalya Devi. She has received a lifetime achievement award from INTACH for her significant contribution.
Although efforts are being made to preserve Mandana paintings, the art is likely to remain alive only on paper for future generations to admire.
(Urvashi Dev Rawal is a Jaipur-based journalist specialising in development, gender, and political reporting)
Also Read: From Vrindavan to Nathdwara, how an idol's 7-year-journey gave birth to Rajasthan's Pichwai paintings