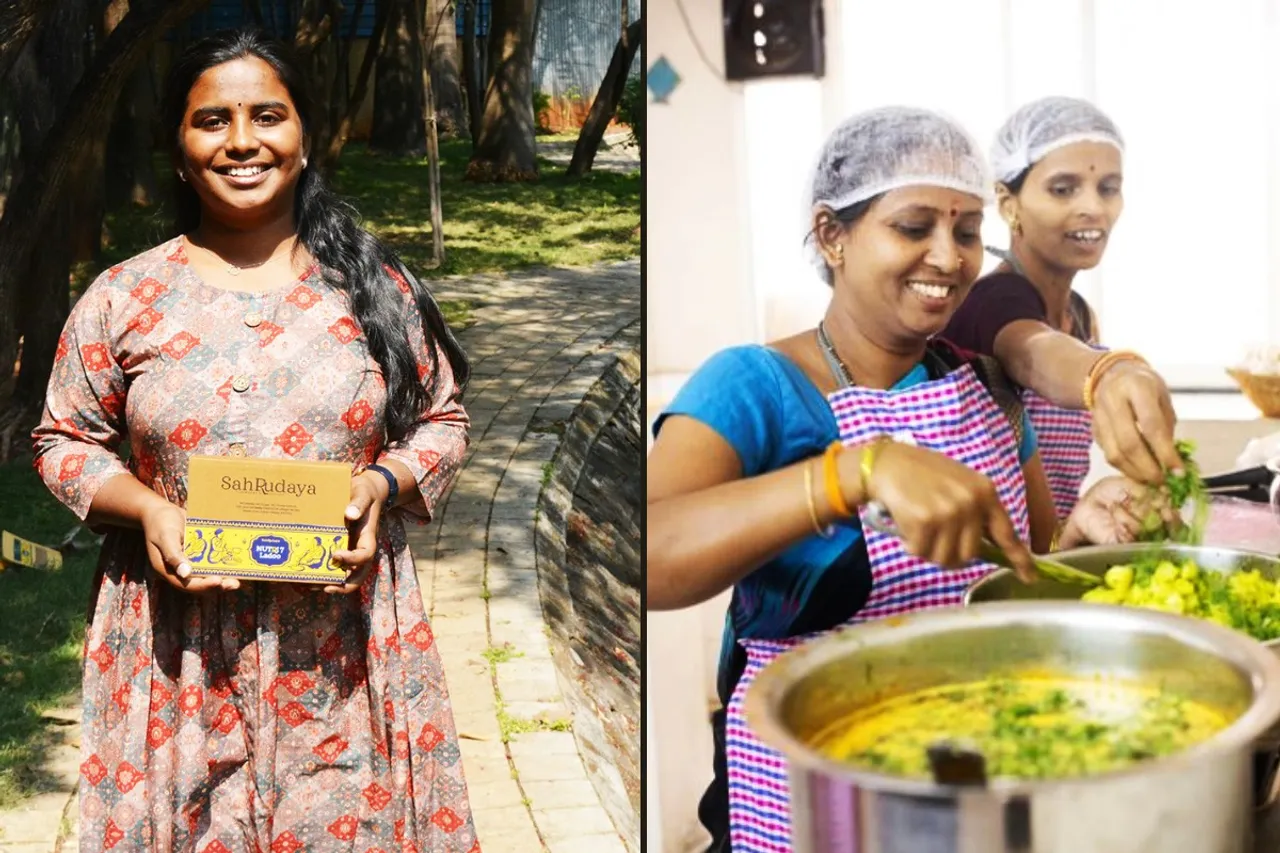 For Kalyani Chavali, handling a test tube and round-bottom flask in a laboratory comes easy. So does using a kadhai or rolling pin in the kitchen. In fact, she sees a close similarity between the laboratory and the kitchen. 
A chemical engineer from the prestigious Institute of Chemical Technology in Mumbai, the 24-year-old has found her calling in food processing. In 2021, she set up Sahrudaya Foods in Talegaon on the outskirts of Pune to provide healthy snacks and sweets to consumers and livelihood to rural women who are custodians of traditional recipes.
Interest in problem-solving
Kalyani belongs to Hyderabad but was born and brought up in Pune. She discovered her interest in problem-solving while doing a brief internship at the Pune Mahanagar Parivahan Mahamandal Ltd (PMPML) office when she was just 16 years old. "Also, from childhood, I always wanted the freedom to do what I wanted. This, and my interest in problem-solving, drew me to entrepreneurship," says Kalyani.
What drove her to become a food entrepreneur is more emotion-related though. "I recollect in my childhood that every celebration started and ended with food. Food spelt enjoyment. As children, we would help our mothers and grandmothers in the kitchen in the preparation of delicious sweets and snacks. Those memories are very dear to me," she says.  
After her chemical engineering, Kalyani had plans to go abroad for further studies but Covid put a pause to that. To keep herself busy she joined Vigyan Ashram in Pabal, a village in Maharashtra, to work on a project on vitamin D deficiency.
Also Read: Computer science professor turns millet entrepreneur, earns Rs 3 crore annually
From chemical engineer to food entrepreneur 
Serendipity played a role in charting the course of her life after that. At Pabal, she met many rural women using traditional recipes to make tasty, nutritious food like 'moringa chikki' and 'saptadhanya laddoo'. Many of the women were using ingredients grown on their own farms. Her childhood memories were triggered by seeing the women coming together to make food. Also, their simplicity and love drew her into their inner circle.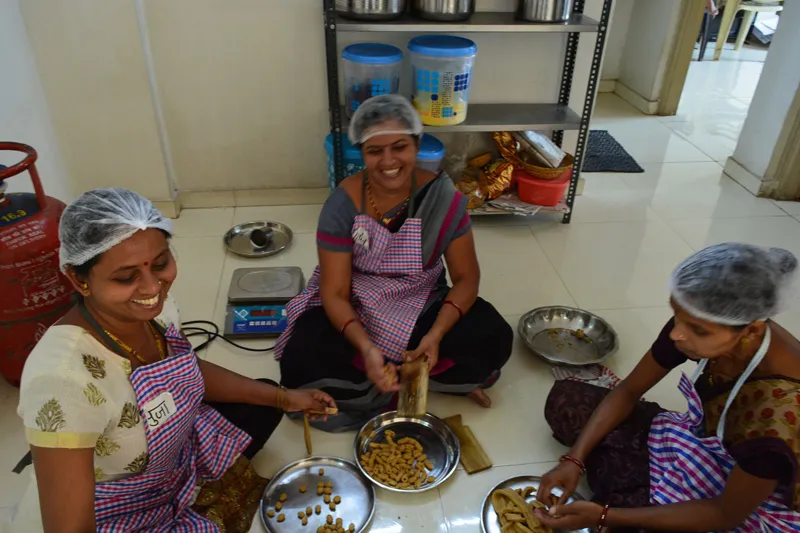 "I observed that these women excelled in making food with limited resources. I got involved in helping them standardize their recipes and market their handmade food products. This interest led me to think: 'Why not set up a food processing start-up?' I dreamt big. I wanted authentic, traditional and healthy food from Indian villages to be appreciated globally. Sahrudaya Foods started its operations in Pabal and later moved to Talegaon."   
Also Read: This investment banker quit Goldman Sachs to become successful idli entrepreneur in Bengaluru
Today, Sahrudaya has over 2,500 online and around 3,000 offline customers in Pune including corporate clients. The enterprise gets large orders from Delhi, Mumbai and Bengaluru. 
Sahrudaya also has loyal customers in New Zealand, Japan and the US. In fact, a temple in California is a regular buyer. So, Kalyani's dream is coming true.
"From March 2023 onwards, our revenue has been over Rs 2 lakh per month. Our top-selling products are 'gaarelu', a snack from Telangana, and 'moringa chikki' (made using drumstick leaves). Other favourites are 'saptadhanya ladoo' (made with seven grains and branded as Nutri 7), soft 'til gud laddoos' (made with sesame and jaggery) and an Andhra speciality 'gavvalu', with chocolate and spicy variants. For the til laddoos, fresh sesame seeds are sourced directly from farmers giving the product a special flavour," describes Kalyani. 
No regrets
She has no regrets about not going abroad for further studies. In a significant coincidence, she got the Startup India registration certificate when she was in the visa office. "I decided to stay back in India. I believed that India was growing well. I wanted to be a part of that growth," she says with a smile.  
Also Read: How a daily wage earner set up Rs 250-crore breakfast company ID Foods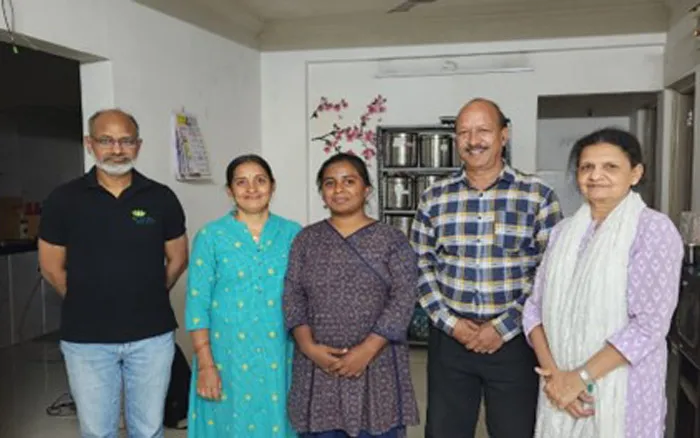 When she started in 2021, finding buyers was difficult. Kalyani started sending the food products to COVID care centres as a nutrition-rich package. Two of the ingredients they use, moringa (drumstick) leaves and flaxseeds, are immunity boosting. That way she found a supportive group that continues to buy from Sahrudaya. 
Her venture succeeded in getting a grant of USD 12,500 (Rs 10.4 lakhs) from Startup India. Kalyani's efforts received a further boost when she obtained a two-year fellowship from The Buddha Institute, given to social entrepreneurs, for 2022-24. 
She will be given Rs 10 lakh over the period of two years by the institute and mentoring right through the fellowship. 
Using her knowledge
The chemical engineer, who opted to be an entrepreneur, is using her engineering knowledge in the food business.
Kalyani's chemical engineering background has helped her in her food venture in two ways – in the areas of nutrition retention and maintaining consistency of products.
"To ensure retention of nutrition, we do not expose the moringa leaves to heat as that destroys the vitamin C in them. So, I have tweaked the recipe slightly. Also, we lightly roast the seeds we use so that the natural oils in them, which help us in the binding process, are preserved," she says.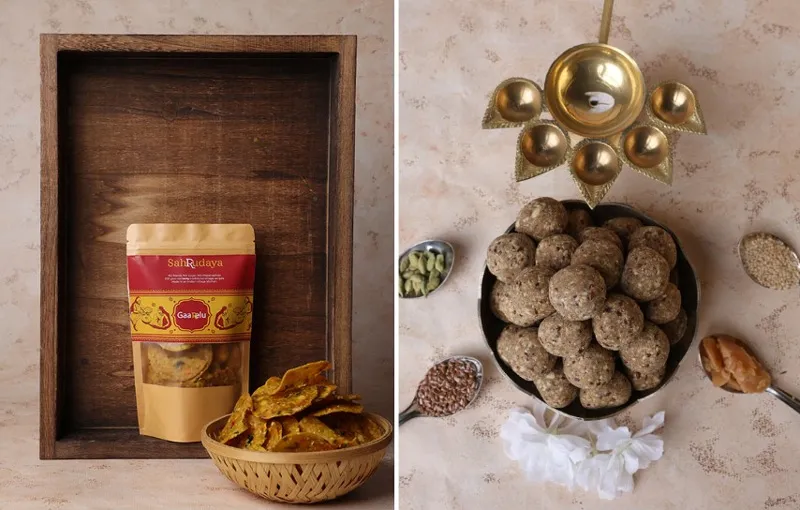 Sahrudaya has put in place SOPs (standard operating procedures) for all products to maintain consistency in taste and texture, she explains. Her work has led to women empowerment. She has trained over 160 women in different states, some of whom have set up their own enterprises. 
"I have trained women in Assam and Jaipur and several places in Maharashtra. I have helped them standardize recipes and in turn, learnt about the local recipes and cuisine. I mainly help other enterprises with cost and quality," she says. 
"Interestingly, in one of the early training sessions I used the example of Parle glucose biscuits to emphasize how the quality, taste, size and price have remained almost unchanged over the years. I advise them to achieve the same in their laddoos and chivdas."  
Also Read: Kashmir's retired teacher turns food entrepreneur at 65; empowers farmers 
Why Sahrudaya is different
There are three aspects of the enterprise that make it special. One, the handmade food products do not contain maida (refined flour), sugar, chemicals or preservatives. Usually, the FMCG food items have preservatives and complex sugars like maltodextrin and liquid glucose, she says. These complex sugars are addictive and harmful to health. Knowing this, Kalyani worked on the moringa chikki recipe to eliminate the use of liquid glucose and vanaspati. 
The second aspect is that the food products are made in a kitchen by a group of women and not in a factory.
"Making 'gaarelu' is a tedious, labour-intensive process. We were exploring using machinery. But food experts told us that would require us to include certain additives in our recipe. We decided not to do that. I also believe that when women cook food in a kitchen there is love and care involved which makes the taste special. You cannot get that taste in a factory," she says emphatically. When they scale up, Kalyani's plan is to have multiple kitchens.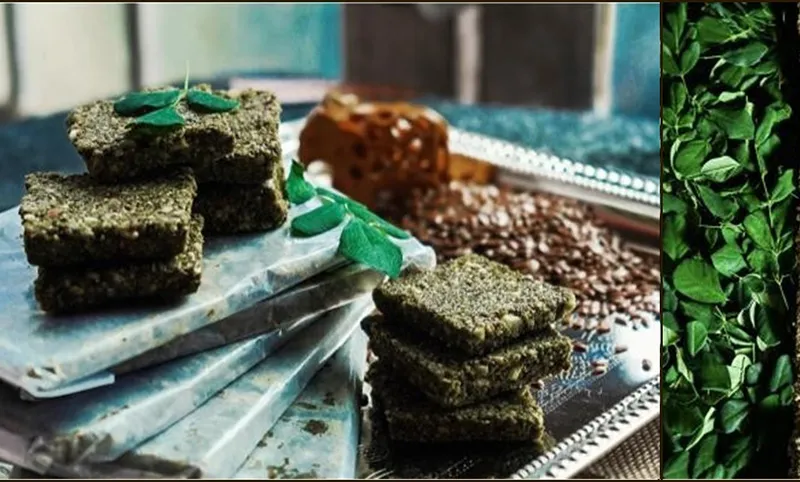 The third reason that makes her venture special is that the foods are made using traditional (in some cases 500-year-old) recipes. "We are launching dink laddoos (made using edible resin) soon. When we asked our women for recipes, they came up with 17! My mother shares recipes from Telangana and South India. Our women specialize in Maharashtrian foods. Customers also get involved. They tell us about their childhood recipes and want to know where they can get such foods," she says.  
Also Read: Triguni Eze Eats: How 79-year-old Radha Daga's ready-to-eat meals travelled the world with Indigo airline
Marketing strategies 
Apart from online sales, Sahrudaya products have a presence in some organic stores. The venture has also collaborated with organic cafes. Incidentally, its products are popular at the Bal Gandharva Rang Mandir, a renowned theatre in Pune. 
"We also participate in farmer's markets and exhibitions. We collect customer data at such meetings and contact interested customers. We have started a subscription model as well where we offer discounts. We also supply our food to a few senior citizen homes and childcare centres. They are interested in our nutritious ready-to-eat snacks," she says.
"Around 68 percent of our business is repeat orders from satisfied customers. We will be on portals like Amazon and BigBasket soon," says the woman entrepreneur. 
Sahrudaya minimizes wastage and is able to meet its orders because of the pre-processing of ingredients. "Since we deal with perishable products, we make them after an order is placed. But our SOPs are such that making to packing takes 6-7 minutes only. So, the food is freshly made and dispatched," she says.  
Also Read: Aamon: Tribal women in violence-hit Bengal province triple incomes with organic rice; revive traditional varieties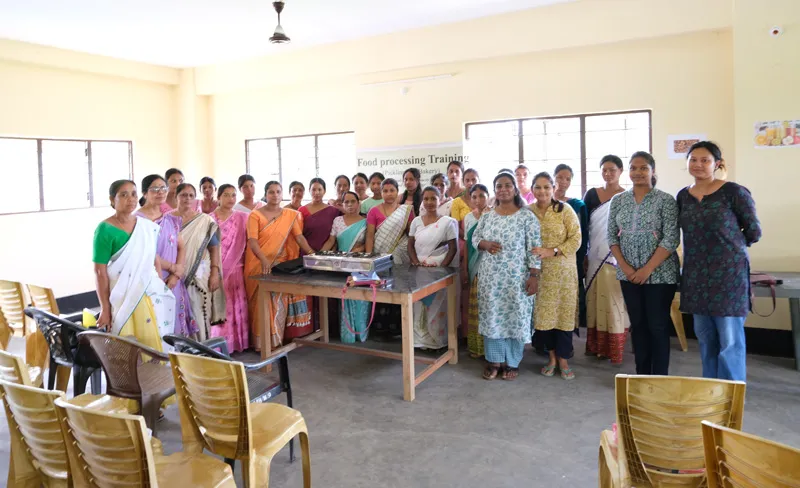 Neha Aswani, a digital media marketing professional based in Pune, orders from Sahrudaya Foods regularly. "I have been buying their products for two months now. I order practically every week. My favourite item is the 'gaarelu'. I also like the chutney powder. I am looking forward to the dink laddoos which they are going to launch soon. Why I like the food is that it has no maida and sugar, has less oil and is authentic. I also admire the fact that the venture gives rural women a source of livelihood," says Neha.     
Empowering employees by sourcing it right
Apart from providing direct employment to women, Sahrudaya also enhances their incomes indirectly.
Seventy percent of the ingredients used in Sahrudaya products are sourced from employees. They are either farmers themselves or have relatives who are farmers. 
This ensures that the ingredients are unrefined or unpolished. The women work from 12 to 5 p.m. after they finish their household chores and earn Rs 6,000 a month. They live in surrounding rural areas.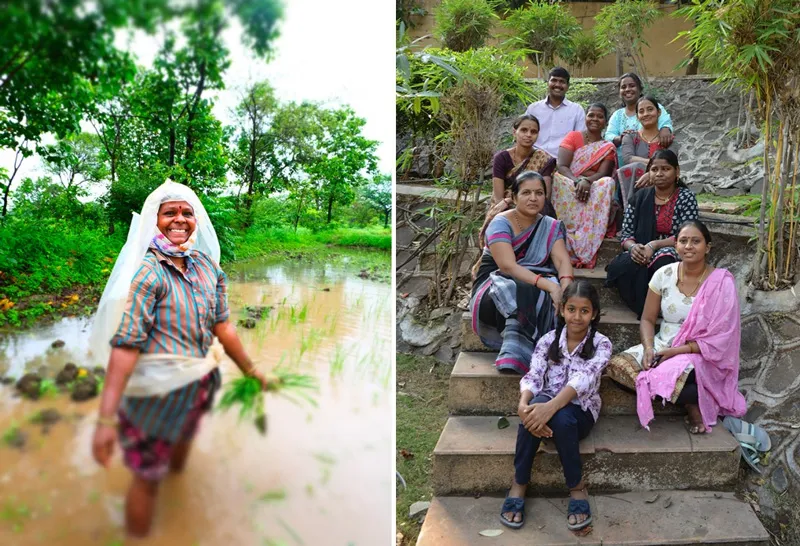 Subhadra Yevle, 40, belongs to a village on the outskirts of Pune. She has four children and her husband has been working as a porter in a company for the past 13 years. Her in-laws live with her. "I like working at Sahrudaya Foods as it is like working at home. The women who work with me have become my friends and I can share my feelings and experiences with them. Moreover, I am able to contribute towards supporting my family. I work for five hours and help make laddoos and different types of snacks. Kalyani madam's mother Laxmi madam taught me how to make these foods," says Subhadra. 
Incidentally, Kalyani's mother Laxmi plays a critical role in the initiative. She manages the women employees and organises the kitchen. "She joined me because she wanted to help me as she felt I was working very hard. However, she was a bit sceptical as no one in our family has had a business so far," relates Kalyani.
What is it that motivates her? "It is the vision of collaborating with and training rural women, and providing people with good food options that are tasty and natural," says the spunky young entrepreneur. 
(Aruna Raghuram is a freelance journalist based in Bengaluru/Ahmedabad. She writes on parenting, personalities, women's issues, environment, and other social causes.)
Also Read: Käse Cheese: Chennai's all-women artisan cheese startup empowers people with hearing impairment; expands operations to Gujarat & Rajasthan