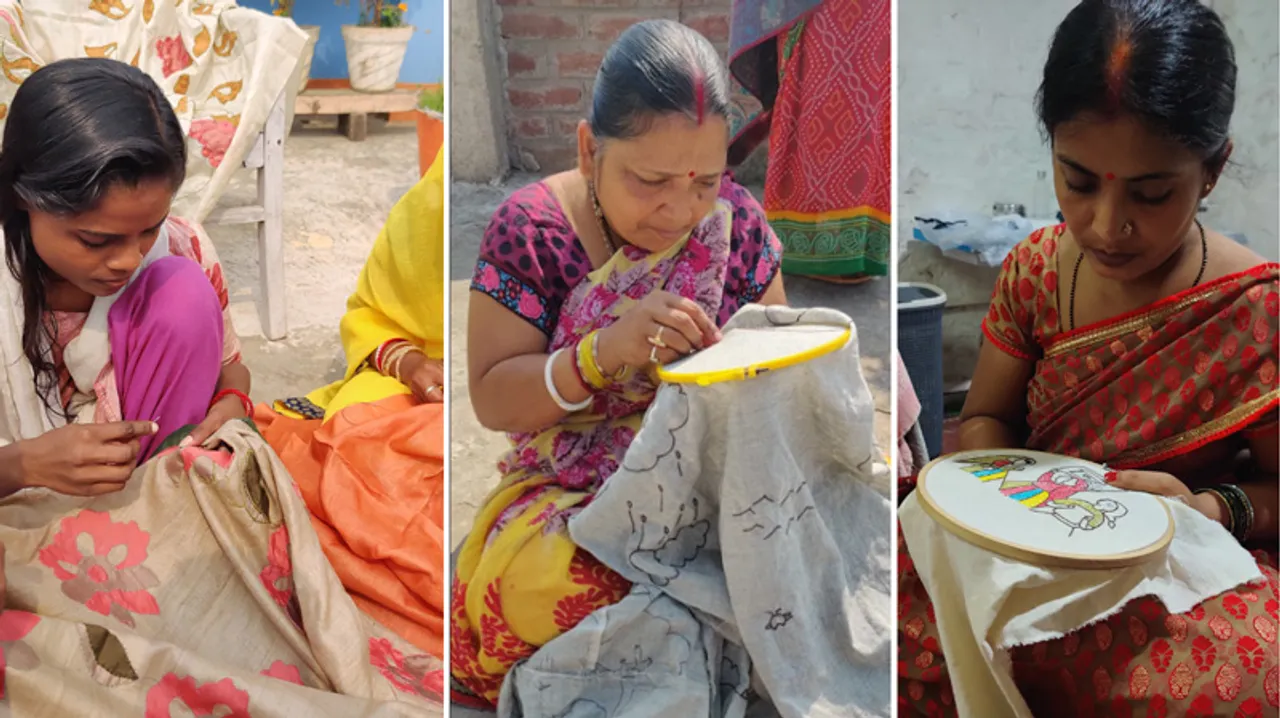 While studying and working outside Bihar, suave Sumati Jalan would constantly hear people tell her that she did not look like a Bihari. The constant refrain and lack of the rich culture and history of Bihar became the motivation for her to turn entrepreneur and revive the ancient crafts of the state. 
"I spoke fluent English and was well turned out. That led people to remark that I did not sound or look like a Bihari. That baggage was with me and I wanted to change the negative perception towards Bihar," says Sumati.
"Since I was interested in arts and crafts, I planned to work in this sector," she adds.
Her exposure to art began at a young age. Her great-grandfather, Dewan Bahadur RK Jalan, had a large collection of antiques from around the world. The objets d'art were once owned by emperors, kings and noblemen in India, Europe, China, Turkey, Tibet and Africa. There are documents, manuscripts, linen, bone china crockery, weapons, and other masterpieces. The collection is displayed at the Quila House owned by Sumati's family.
Also Read: School dropout woman entrepreneur skills 4,000 Kashmiri women in crewel embroidery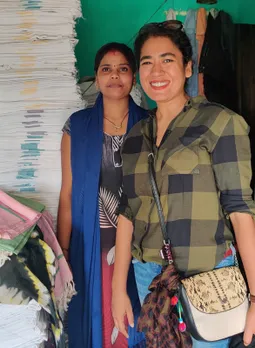 "Through these artefacts, I had an emotional connection with these places though I didn't know where they were on the map. So, the link was that a beautiful artefact or craft can evoke emotions in you. I also named my enterprise Bihart because it goes further than just the clothes you buy," says the 43-year-old.
In 2020, she launched her clothing brand, Bihart, which showcases weaves and crafts from Bihar. Its products include mulberry silk-extra weft sarees, fishnet scarves, hand applique and Sujani kurtis, Tussar silk and applique dupattas, cotton-silk Sujani crop tops and accessories like belts and bags. 
Bihart uses upcycled fabric for crop tops and belts. All the products are made using locally handspun and hand-woven fabric, minimizing carbon footprint.
Losing their skill
Sumati who studied in Jaipur, Delhi and London and has degrees in Linguistics, literature and Law, moved back to Patna in 2018. Not having a concrete plan, she interacted with weavers who came to the city to sell their handloom products.
Also Read: Himachal: Married at 15, how Lalita Vakil revived the dying art of Chamba Rumal embroidery
"I tried to understand their craft and their struggles. Most of the weavers told me that the younger generation is not interested in the family craft. They were moving to cities and working as labours," she says.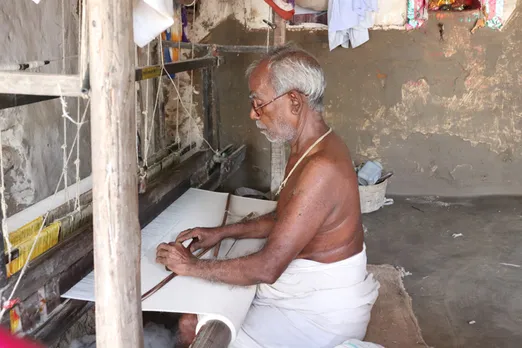 "The stories I heard from them became the motivation for me to revive the ancient weaves and embroideries of Bihar."
Sumati travelled widely across Bihar to various craft clusters and saw the artisans at work.
The Sujani embroidery
Initially, Sumati sourced Madhubani sarees from the weavers and sold them online. But she soon realised that Madhubani was widely known and many people were working for its propagation.
She then turned her attention to the lesser-known but beautiful embroideries of Sujani and the applique work done by women.
Sujani is said to have originated in the 18th century in Bhusara village of Bihar. The craft was born out of necessity when women would stitch two or three pieces of old sarees or dhotis together to make quilts.
 The women embroidered intricate designs with colourful threads and a simple running stitch on the patchwork quilts that were often used to wrap newborn babies.
Also Read: How this Bengal family is reviving traditional muslin weaving using organic cotton
Currently, Sujani embroidery is done in Bhusara and 15 other villages in the Muzzafarpur district and a few villages in Madhubani in Bihar. The distinct embroidery got the Geographical Indication or GI tag in 2006. Sujani embroidery can be done on cotton as well as silk.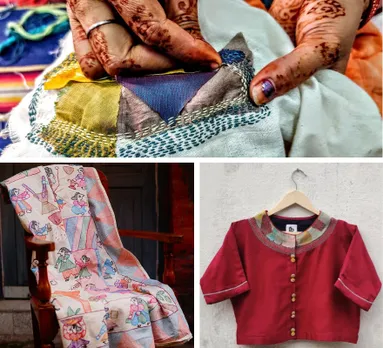 The process begins with tracing the outline of the design on the cloth using a tracing wheel and tracing sheet. Then the background is filled with fine running stitches in the same colour as the base cloth. Over this, a thicker chain stitch is done with brown, red or black thread to outline the motifs and these motifs are filled with fine running stitches, using threads of various colours.
The traditional Sujani motifs showed people dressed in colourful clothes, rituals, and festive celebrations. Flowers, plants, birds, animals, deities, the sun, the moon and mythological characters all find a place in the designs.
The Sujani embroidery with its colourful patterns has with time moved from quilts to apparel and home linen.
Khatwa – Bihar's ancient applique work
Khatwa is an applique technique that was used in the past to make tents and canopies called kanats. The designs for the large tents included trees, flowers, animals and birds.
Khatwas were made by cutting large pieces of cloth into smaller patches and joining them to create new designs. There is another style of Khatwa which is a form of reverse appliqué. In this, the designs are cut out from the top cloth. Then they are sewn using tiny hemming stitches onto another fabric with a different colour that will highlight the cut-out designs.
Also Read: Dehradun: How Purkal Stree Shakti is quilting joys & empowering women in the foothills of the Himalayas
The applique is embellished with embroidery using chain stitch, running stitch, buttonhole and blanket stitch.
A contemporary touch
Sumati works with silk, cotton and silk-cotton fabrics. She has adopted three weaver clusters in Bhagalpur, Bihar Sharif and Nalanda and two clusters with women embroiderers in Muzaffarpur and near Patna.
"Most weavers work on a small scale. Many have pit looms at home where they sit for long hours to weave the fabric. Some have moved to power looms and they can make more fabric with less effort," she says.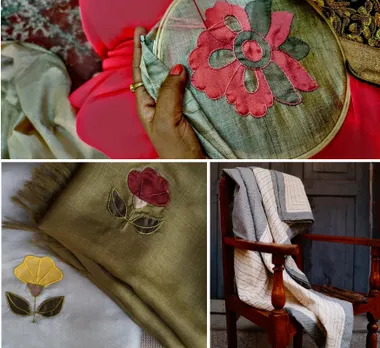 "The weavers are still exploited and are paid low wages. Since they are not aware of new designs and techniques, they make low-quality products and get low prices," says Sumati. 
"The challenge is to invest in the artisans, handhold them and upskill them to make high-quality contemporary products that can fetch a good price in the market. That will ensure the survival of the craft and its artisans."
While most weavers still hold on to traditional designs, Sumati has hired textile designers and design experts from NIFT, Patna, Bhubaneswar and Delhi and from NIFD to help create contemporary products that will appeal to an urban and global audience.
"Traditional designs have elephants, bells, lotus, fishes and other images from folklore. However, I introduced small geometric patterns that will have a wider appeal and will help the craft as well as the craftspersons survive," she says.
Sumati narrates that when she introduced the weavers to the new designs, they were very reluctant to learn.
Also Read: Dr Hemalatha Jain: The professor reviving age-old handloom weaving of sarees in Karnataka
"The weavers are suspicious because they have been cheated in the past. NGOs and designers would approach them for work but not pay them. They thought I was another memsahib visiting them for some touristy photos. So, it was a challenge to get work done," she recalls.
Eventually, they agreed and Sumati paid for the training of the weavers to learn the new designs. 
Now, after working with Sumati, the weavers trust her and do the work willingly. "But they call me utpataang (ruckus) madam as they feel I give them unconventional designs," she laughs.
Sumati pays the weavers between Rs500 and Rs800 per day for the work and supplies all the raw materials required.
Women artisans in Muzaffarpur and near Patna do applique work and Sujani embroidery after their household chores. "When the women have some time to spare, they gather at one woman's house and do the embroidery," says Sumati.
"With the women, the challenge is you have to tell them exactly what you want. I have to make the design, do the tracing, buy the threads with the colours we want and give them a sample to fill in," she says.
In all, Sumati is working with three clusters of weavers and two clusters of women artisans. Each weaver cluster has about 10 members while the artisan cluster has about 14 members. "The number varies according to the order we get," she says.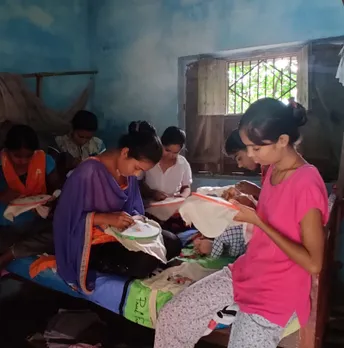 "Sujani is so versatile and a lot of work is being done. But the women are exploited and underpaid. Often, designers use the craft but don't give credit to the craft or the artisans. So, the craft is available but not known. For instance, Kantha work sells as Kantha or Lucknow chikan sells by that name but Sujani does not sell as Sujani. I am trying to change that," she adds.
Also Read: Samoolam: How Usha Varia's social business crocheted a success story while empowering rural women in Bihar
Refreshing the business
Sumati launched her first collection of sarees, kurtis, dupattas, bed covers and home linen in February 2020, priced between Rs8,000 and Rs14,000. It was well-received and sold online through her Instagram page.
However, soon after, Covid struck and her business came to a standstill.
"During the pandemic, I was mostly sourcing Madhubani sarees from weavers just for their survival," she says.
Sumati has invested Rs 32 lakh from her own savings into the business. 
Since her firm was a proprietorship, she was not able to apply for funding. She is now in the process of converting the firm into an LLP so she can avail of funding.
Sumati also works as a corporate trainer with KPMG and Grant Thornton. "I teach report writing skills. I travel to different cities and hold two-three day workshops. The money I earn, I invest in Bihart," she says.
Also Read: How Rangsutra has tapped the skills of rural artisans and turned them into entrepreneurs
She says with good orders, she can break-even for some months or else face losses for several months. With things picking up after the Covid pandemic, Sumati is now creating a whole new line with Sujani and applique work.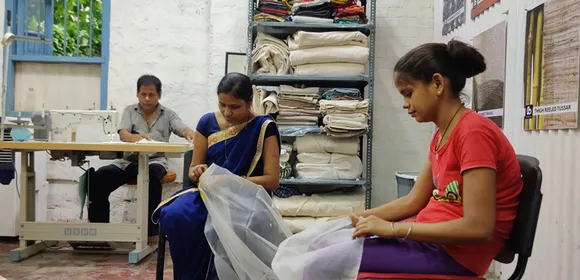 "Last November, I made some money in my teaching assignments and infused the funds in Bihart to relaunch it with a new collection. I worked with my textile design and fashion design teams to create new designs. The theme was infinity and the thought behind it was to use only four kinds of fabric, use only handmade, good quality fabric, also make western wear and do away with home linen."
The collection was sold through her Instagram account, website and clothing brands such as Jaypore, Vayu Design, Paperboat collective etc. Last year, she opened a retail store in Patna.
Sumati is grateful to her father, who is in the real estate business, for supporting her. He has helped her acquire office space, a workshop and a store, all rent-free.
Also Read: Toda embroidery: Preserving tribal craft from the Nilgiris stitch by stitch
Sumati customises the clothes as per the customer's choice. It can take 4 days to two weeks to deliver a finished product.
The prices of her crop tops are Rs 4000 onwards while the sarees with hand aari work go up to Rs25,000. Her Sujani belts made with upcycled fabric sell for Rs1,000.
Her focus now is on strengthening marketing. "Our major markets are Mumbai, Pune, Hyderabad and Bengaluru. We get most of our orders from these cities and are focusing attention here."
Sumati acknowledges that a lot needs to be done to save the crafts and the artisans.
"We are too small to create even a ripple in the ocean. But I hope my work will catch someone's interest and attention on the weaves. If I can help even one weave survive, it will be worth all the pain and the effort," she says.
(Urvashi Dev Rawal is a Jaipur-based journalist specialising in development, gender, and political reporting)
Also Read: Anitha N Reddy: How this art historian is reviving Siddi quilts