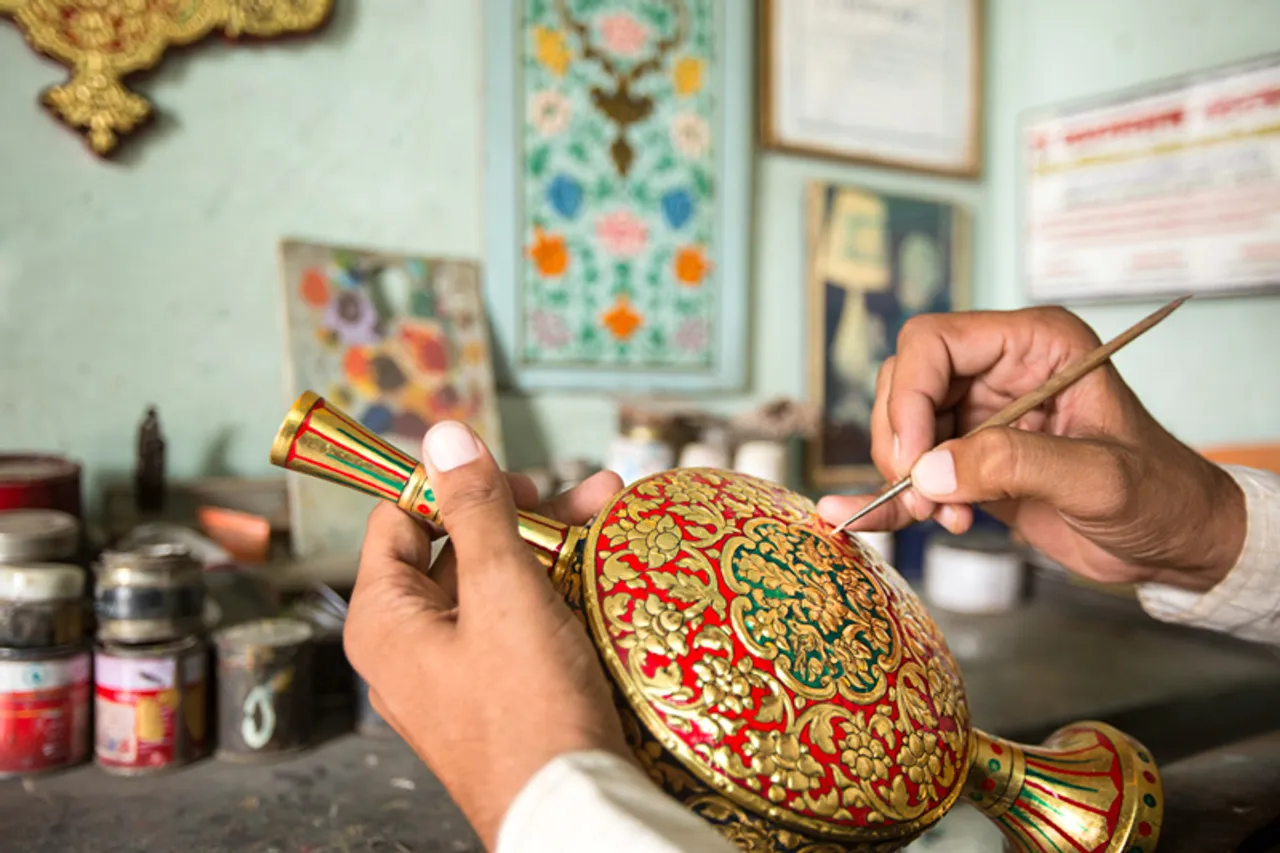 In 1975, there was only one Usta artist left in Bikaner. The 400-year-old art form involving miniature paintings in gold and bright colours on camel hide, walls and other surfaces, was in the danger of dying out. 
The state government gave it a new lease of life by setting up a training centre in Bikaner where hundreds of students learnt the intricate art. But now, almost half-a-century later, Usta art is once again facing an existential crisis.
In 1975, Hisamuddin Usta was the only artist pursuing Usta. But after the training centre opened, the art was revived. "However, 15 years back the government shut down the training centre and the art is again in danger of dying out," says Ayub.
Also Read: From Vrindavan to Nathdwara, how an idol's 7-year-journey gave birth to Rajasthan's Pichwai paintings
The Bikaner school of miniature painting thrived under the Rathore clan of rulers who ruled Bikaner. The style was started by master painter Ustad Ali Raza of Delhi who was visiting the Bikaner court in the mid-17th century.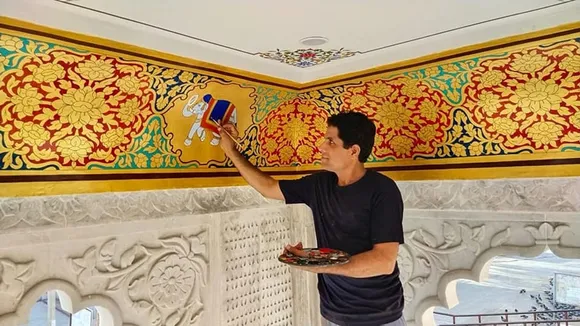 The miniature school is a mix of Mughal and Rajput styles and the paintings were characterised by awkwardly proportioned human figures with small bodies and large heads. The paintings delved into subjects inspired by the royal court, depicting royal activities, hunting, war expeditions, sports and leisure. 
Also Read: Cheriyal: How Telangana's centuries-old scroll art continues to educate and entertain even today
There were also religious themes such as Krishna Leela and Vaikuntha Darshan. The Vaikunth Darshan painting is displayed at the Bharat Kala Bhawan in Benaras Hindu University. Prominent Usta artists were Ruknuddin, Nathhu, Isa and Rashid.
Lateef Usta, an art and heritage expert, says during the time of the princely states, kings would commission paintings of gods and goddesses which the Usta artists made with dedication. On festivals such as Diwali, Holi, and Janmashtmi, the artists would present paintings of Hindu deities to the kings.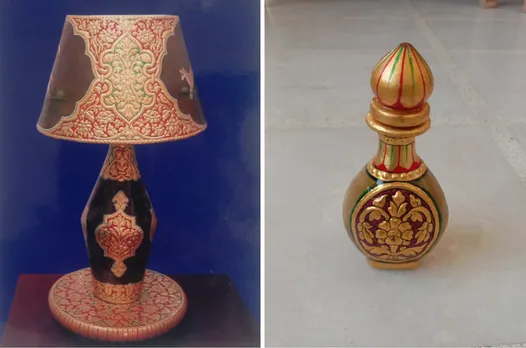 He narrates that in 1851, the Great Exhibition was held at the Crystal Palace in London, showcasing the culture of all nations with over 14,000 exhibitors from around the world. Many Indian princely states sent their unique and precious artefacts. 
India's wealth and splendour in workmanship were also on display. The Koh-i-Noor and Daria-i-Noor diamonds were among the artefacts showcased. Amid this fabulous collection, Bikaner's Usta art also was on display.
Also Read: Women artisans help resurrect Karnataka's Kinnal hand-painted woodcraft
The Persian connection
The tradition of Usta paintings dates back to the 17th century. It is believed to have originated in Persia from where it travelled to Multan (in Pakistan) and then to the Mughal courts. 
Raja Rai Singh, the king of Bikaner, who was in the court of Akbar, was impressed with the art style and brought seven Usta artists to his court in Bikaner. Their delicate and skilful work can be seen in the Anoop Palace, Chandra Palace, Karan Palace and Phool Mahal in the Junagarh Fort. 
Also Read: Maharashtra's Chitrakathi painting: keeping alive the legacy of Chhatrapati Shivaji's spies
Lateef Usta says the British were quite taken by the art form and wanted to carry it to Europe. So, the tradition of artwork on camel hide began. Initially, pots of leather were made which were used for storing itr (perfume) and for decorative purposes.
Later, it was contemporised and the art was painted on wood, marble and glass. The artefacts too became varied in a bid to keep the art relevant and to cater to the demands of buyers.
Also Read: Jharkhand: Saving Khovar and Sohrai arts of 'painted villages'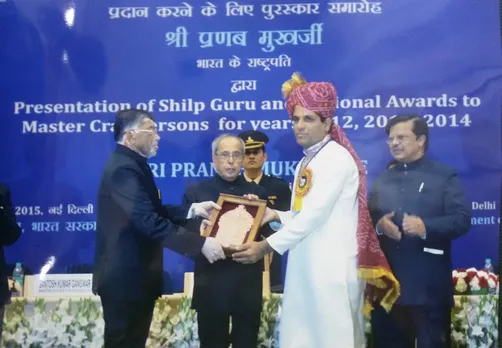 Lamp shades, photo frames, window frames, mirror frames, jewellery, paperweights, chandeliers, shields, swords, boxes and such decorative pieces are made now.
However, Ayub says the uniqueness of Usta art in Bikaner is that it is done on camel hide in the traditional way.
The process of making Usta art
Explaining the laborious process of Usta on camel hide, Ayub says creating a piece takes up to one week, depending on the intricacy and dimension of the art piece being made.
The Usta artist gives a clay mould in the shape of the artefact to be made to the tanners who pull the hide over the mould. The mould is then left to dry for a few days. The hide acquires the shape of the mould and becomes hard.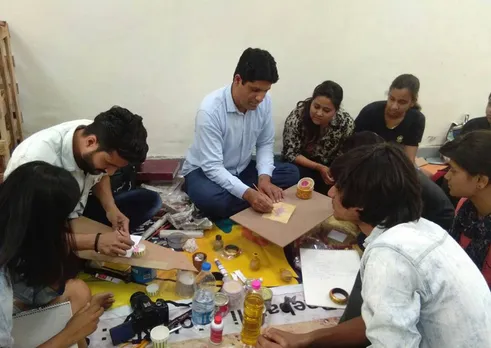 Also Read: With roots in Indus Valley Civilisation, can Gujarat's Khavda pottery reinvent the wheel?
It is then that the work of the Usta begins. The artisan gives a generous coat of oil on the hide. The oil laminates it and forms a protective cover, ensuring that the leather will not spoil in moist conditions.
The artist makes the design on paper and from there it is embossed onto the leather. Clay is ground finely and mixed with resin to form a paste which is applied to the design. A coat of yellow paint is done followed by a coat of orange paint to give it a glazed finish.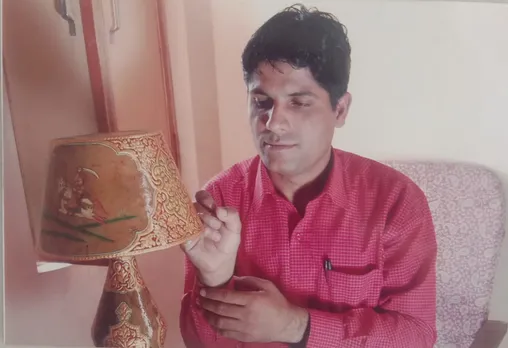 When the paint is almost dry, the gold foil is applied over the area that is embossed. Using a fine brush, the design is outlined with black paint. Traditionally the brush used was made of squirrel hair.
The part of the design where there is no embossing is filled with bright colours such as red, green, blue, yellow and orange.
Also Read: Blue Tales of Pink City: How Jaipur's GI-tagged Blue Pottery moved from palaces & tombs to living rooms across the world
The entire process to create an artefact takes about a week of hard labour.
Lateef Usta says that traditionally, stone pigment colours were used. Stone pigment colours are made by grinding and crushing stones into a fine powder and mixing it with resin or adhesive to make a paste. Stone pigment colours are very long-lasting and they have a natural shine which does not fade. Unfortunately, these are rarely used today.
On the pricing of the products, Ayub says it depends on the intricacy of the work and the dimensions of the artefact to be made.
Also Read: Latticework: How the Persian stone craft moved from Taj Mahal to living rooms for survival
Damage done by fakes
Artist Hanif Usta, 54, says the proliferation of fake Usta products has caused much damage to the original art. Hanif whose family has been doing Usta art for several generations received the President's award in the field of culture in 1993.
"Fake products have cut prices. These products are available for Rs400-500 while genuine products start from Rs1000 and go up to over Rs60,000," he says.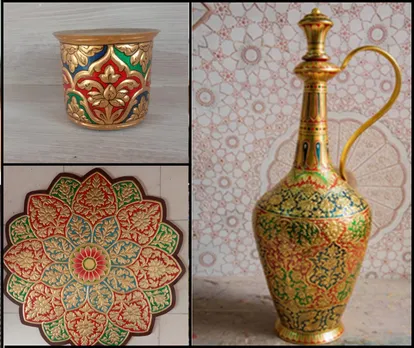 "There is no demand for genuine products. The art requires hard work. labour and material but there is no income so youngsters are moving away from this art form," he says.
The government apathy has also furthered its decline by not taking any steps to help artists in marketing, he says. While students studying art and architecture come to him for training but that will not help to save it. "They are interested in only getting certificates, not in promoting and preserving the art," he says.
Also Read: How one family has taken India's 1,000-year-old temple architecture to the world
Hanif mainly caters to local demand. "People on Bikaner who understand the value of Usta art give gifts to friends during weddings or festive occasions, some people get walls painted. This is our main source of earning," he says.
Waning popularity
Ayub recalls that he almost gave up his family tradition when he was a student in school. "In class 12, one of my subjects was Painting as a subject. My teacher once asked me why I was not pursuing my ancestral art form. At the time I was not keen on taking up Usta painting because I did not see a future. But I was destined to follow the family tradition," says Ayub. So, after he finished school, he enrolled in the training centre for Usta art in Bikaner and learnt the art from his guru, Hanif Usta.
Ayub was awarded the Rajasthan state handicraft award in 2010-11, the national merit award in 2012, the Rajasthan Hastashilp Ratna award in 2017 and the National Award in 2014.
Ayub says the younger generation is not interested in Usta art because it is not a paying proposition.
Also Read: Molela: Rajasthan's terracotta plaque art patronised by Bhil, Mina & Garasiya tribal communities
Lateef too belongs to a family of Usta artists but he chose not to follow the tradition. "I know how to make Usta art but I did not make it my means of livelihood because then I would have to make compromises," he says.
Lateef points out several reasons for the shoddy state of the art. 
Artists need to be updated about the developments taking place in the field of their art. They should try and read material related to their art.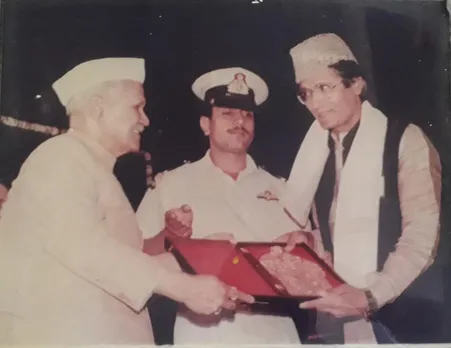 "In our society, artists are seen as being intellectual and spiritual. But there is nothing wrong with artists being worldly-wise and commercial. Many people who act as middlemen have exploited artists and become rich and famous while artists languish. This must change," Lateef says.
Also Read: Aranmula Kannadi: How tech-savvy GenNext is preserving Kerala's 500-year-old metal mirror craft
Usta art should be introduced into the curriculum of art colleges and artists can be invited as teachers and speakers.
Market linkages should be developed so artists can explore e-commerce sites to sell their wares. Traditional marketing is not enough they need to be more aggressive, he suggests.
Artists should become acquainted with technology so they can use it to their benefit, he says.
Another important issue is market research. "It is important to know your market before you sell but artists almost never do that," says Lateef.
(Urvashi Dev Rawal is a Jaipur-based journalist specialising in development, gender, and political reporting) )
Also Read: Pattachitra: Odisha's Raghurajpur turns hub of recycled art as artisans combine 12th century craft with sustainability